Every week we roundup the best music news from the past week
Follow us on Social Media
Iron Maiden get Royal Mail stamp of approval
Happy New Year everyone and welcome to another edition of our weekly music News Report!
We start this week with the news this week that the Royal Mail have commissioned 12 new Special Stamps celebrating the legendary Iron Maiden.
Maiden become only the fifth music group to feature in a dedicated stamp issue following in the footsteps of The Beatles, Pink Floyd, Queen and The Rolling Stone – illustrious company indeed.
Iron Maiden founder member and bassist, Steve Harris comments:"We were all absolutely astounded – in a good way! – when we heard first about the commemorative project, and equally pretty much speechless when we saw the stamps for the very first time. They look superb and I think they really capture the essence and energy of Maiden. We're all very proud that Royal Mail has chosen to honour the band's legacy like this and we know our fans will feel the same way."
Iron Maiden manager, Rod Smallwood adds:"As a band who have never played by anyone else's rules for over 40 years, it's very gratifying to see them honoured in their home country in this way. We're proud to show how these six band members are still appealing to more and more fans every year with their music and their legendary shows – which I think these stamps really capture well. It's also fantastic that Eddie has been honoured too – it's incredible to think that Her Majesty, may she rest in peace, saw these and lent her iconic silhouette to them too."
David Gold, Director of External Public Affairs & Policy, Royal Mail, said:"Few bands in the history of rock music can be called bona fide rock legends – but Iron Maiden are just that – and more. With legions of devoted fans of all ages and from every corner of the globe, not only have they changed the way rock music sounds, but they have also changed the way it looks. We fully expect their fans will love these stamps as much as we do."
You can pick up your collection here.
Read our review of Download Festival 2022

Peter Gabriel debuts 'Panopticom'
Our News Report takes a look now at the best new releases from the past week and up first is 'Panopticom', the brand new single from Peter Gabriel.
You can listen to the track above, which comes from upcoming new album, 'i/o'.
"The first song is based on an idea I have been working on to initiate the creation of an infinitely expandable accessible data globe: The Panopticom,' says Gabriel. 'We are beginning to connect a like-minded group of people who might be able to bring this to life, to allow the world to see itself better and understand more of what's really going on."
The release of the track on the full moon is no coincidence and in true Gabriel fashion the approach for 'i/o' will be a little different from the norm. The lunar phases will guide the release plan in 2023, with a new song revealed each full moon.
"Some of what I'm writing about this time is the idea that we seem incredibly capable of destroying the planet that gave us birth and that unless we find ways to reconnect ourselves to nature and to the natural world we are going to lose a lot. A simple way of thinking about where we fit in to all of this is looking up at the sky… and the moon has always drawn me to it."
Each new release of music will come with a specific piece of art, "we've been looking at the work of many hundreds of artists," says Gabriel, and 'Panopticom' features the work 'Red Gravity' by David Spriggs.
"It was the theme of surveillance that connected me with the work of David Spriggs because he'd done a piece relating to that. David does this amazing stuff using many layers of transparencies so you get these strange creations with a real intensity to them. Part of what he does is imagine what art might look like a few years in the future and then try and create accordingly and I think he's done that very successfully in this particular piece."
More here.
Find Full Pelt Music on Youtube
The Hold Steady share 'Sideways Skull'
Next up, you can check out 'Sideways Skull' above, which is the brand new single from The Hold Steady.
The group have returned with news of their ninth studio album, 'The Price of Progress', arriving March 31st.
"Sideways Skull is a rocking song about rock and rollers," says frontman Craig Finn. "In this case, they've been taken out of the game for a bit of rest, but still keep their dreams alive as they discuss past glories. We loved the big sound of this when Tad Kubler brought it into the band, and the studio performance of it felt especially joyful. We're happy to put this forth as a first look at The Price of Progress, and the album's title even comes from this song."
Pre-order your copy here.
Read our 'Year In Review 2022'
The Murder Capital debut 'Return My Head'
There isn't long now to wait for 'Gigi's Recovery', the new album from The Murder Capital, which arrives January 20th.
There is even less time to wait to hear their track, 'Return My Head', which you can listen to above now!
Front man James McGovern explains further on the themes: "Return My Head was written in a place of pure frustration, feeling like our sanity had been unwillingly removed through periods of isolation. All I wanted at this point was to get my head back, and to throw it away again. But on my own terms. 'Return my head, and throw it to the crowd'"
Bassist Blake had the following to say about the making of the video:

"I wanted to show the rag dolling that can occur to us going from one state of being to another, while always remaining being the same person. The extensions of ourselves that we create to protect ourselves even when we're alone, and the evident and necessary advice that we receive to continue following and perusing our passions from our friends and family, demonstrated by my own family friends Megan, Nic, Ruairí and Pump.

To me, 'Return My Head' is the desire to return your mind to a place of peace and stability, and the belief that to do so, is possible. We shot it in my old secondary school recreational hall. We produced it ourselves. At its best to me, the narrative of the 'Return My Head' about coming back to a safety."
Pre-order your copy here.
Read our review of Pearl Jam live at BST Hyde Park
Sleep Token share new tracks
The mysterious Sleep Token also had new music to share with week with not one but two tracks to highlight in our News Report.
You can listen to 'The Summoning' above and 'Chokehold' below!
More from the band here.
Read our 2022 Album of the Year list
The Lemon Twigs return with 'Corner of My Eye'
The Lemon Twigs returned this week with their new offering, 'Corner of My Eye', which you can listen to above.
On the release, the band say, "We recorded this track winter of 2021 in our old rehearsal studio in Midtown, NYC. Apart from the vibraphone, the instrumental track was recorded live with Andres Valbuena on drums and Daryl Johns on upright bass. We laid down the vocals late that night once the traffic outside had died down. We've had the song for a while now, so we're excited to share it with fans who may have heard it live over the years!"
More from the band here.
The Slow Readers Club share 'Modernise'
Also sharing new music this week was The Slow Readers Club who debuted new single, 'Modernise', which you can of course check out above.
The track comes from upcoming album, 'Knowledge Freedom Power', which is out on February 24th.
The band commented, "'Modernise' is about the constant need to learn and adapt to changing, it's a bit of a techno fear song."
Pre-order your album here.
Listen to our Spotify Playlists
Ryan Hamilton shares 'Haunted by the Holy Ghost'
Finally in our News Report this week we bring the latest from Ryan Hamilton who this week shared his new track, 'Haunted by the Holy Ghost'.
You can listen to the track above, which will feature on the upcoming album of the same name which is due for release on March 10th.
Of the song, Hamilton says, "I grew up in a VERY conservative Church of Christ. We used to go to church 3 times a week. There are parts of that upbringing that I will never shake. The "fear of God" is ingrained in me, & will seemingly be a part of me forever. Like a ghost, haunting me. This song is about that."
Pre-order your copy here.
Read our review of Alter Bridge live in London

As always we conclude our News Report with the latest additions to our 'Discover' New Music Playlist!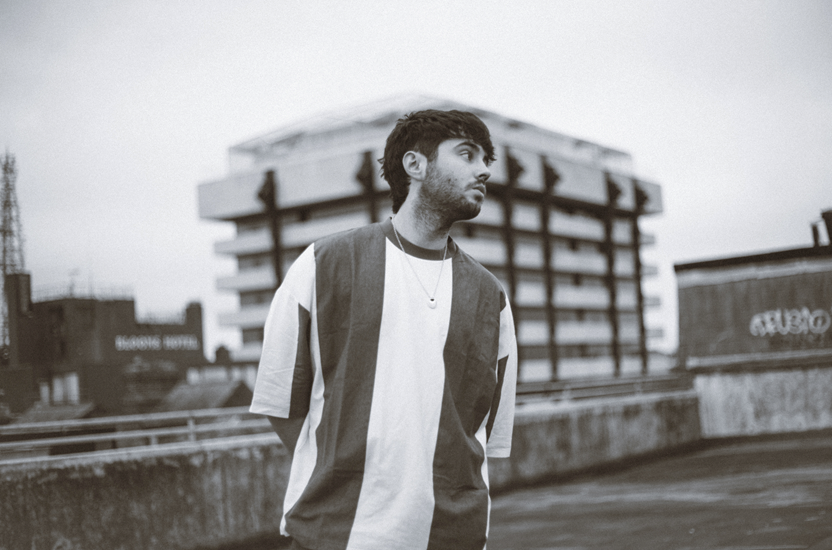 Somebody's Child – 'I Need Ya'
Somebody's Child aka Cian Godfrey has shared new single 'I Need Ya' – another taster of his debut self-titled album out 3rd February.
Godfrey says, "This was one of the first songs that defined the sound and pace of the album. We've been playing it live for a while now and have been dying to get it out. Some of this album can be boiled down back to my chronic fear of growing older. To me this track in particular is a gentle reminder to stay young for as long as you can." 
On the video he adds "Drift culture is a big thing in Ireland and when the director came to me with the idea I immediately thought it was cool as some of my friends are big into it. We didn't want an emotional video but something fun and energetic, while also shining light on an Irish subculture that goes a little unnoticed. It was a lot of fun."
Blake Cateris – 'Days, Weeks, Months & Years'
Australian Sydney-sider, Blake Cateris has shared reflective folk singer-songwriter single, 'Days, Weeks, Months & Years'.
"This song is about living out of balance with yourself. Watching the world go by feeling like you might be losing touch with far more important things in life than what you're focusing on right now.
It's a daily struggle to break old and unhealthy habits that no longer serve you or have been damaging you for some time. But the struggle is what we live for.
I've played in many different types of bands – hard rock, rock n' roll, modern rock, hardcore, straight up punk, pop punk, art rock, the list goes on. But nothing quite feels as honest to myself than the music I'm making right now and this is a big step in the right direction for me to start living a more balanced life" – Blake Cateris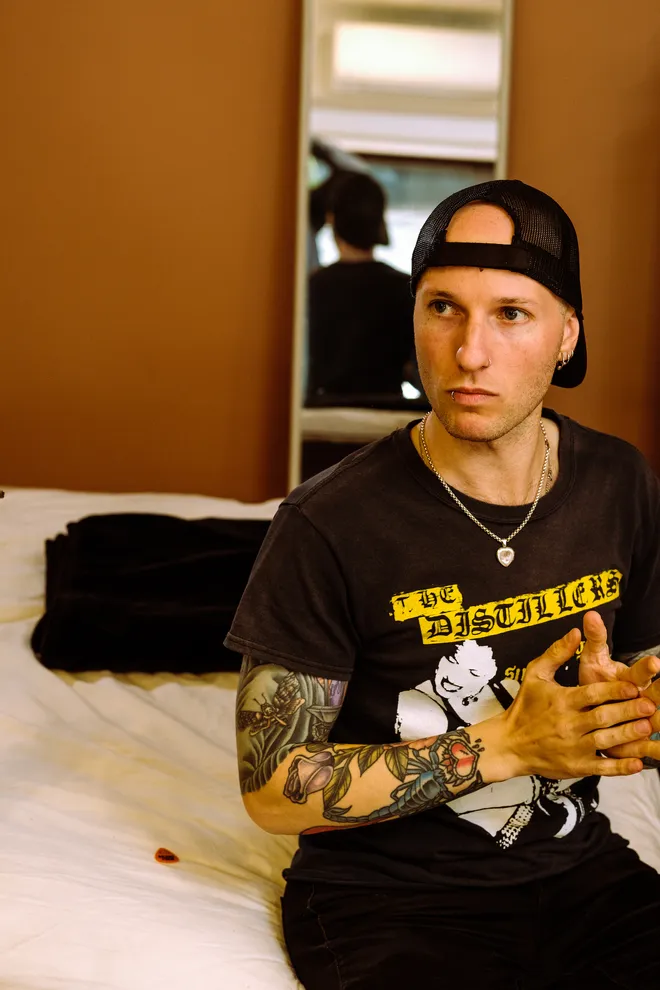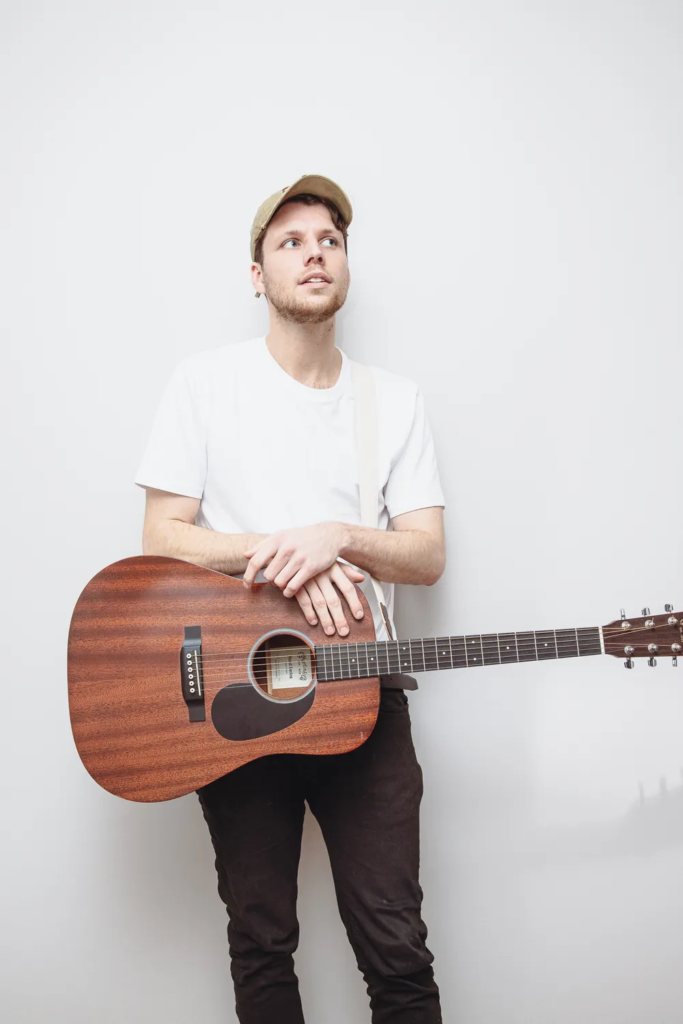 Ed Barnes – 'Criticise The Poor'
Fellow Aussie, mid-wave singer-songwriter Ed Barnes also joins the playlist this week with his single, 'Criticise The Poor'.
The track comes from his Frank Turner mastered new album.
"It was a blast working on Ed's new record, it's fantastic, and this is a standout song – hitting the mark while raising a smile, and catchy as hell to boot." – Frank Turner
Listen, Follow and Discover your new favourite act now with our 'Discover' New Music Playlist
Then find out the stories behind the songs on our 'Discover' New Music Podcast!
Share our News Report on Social Media