O2 Kentish Town Forum, London
Wednesday 15th December 2021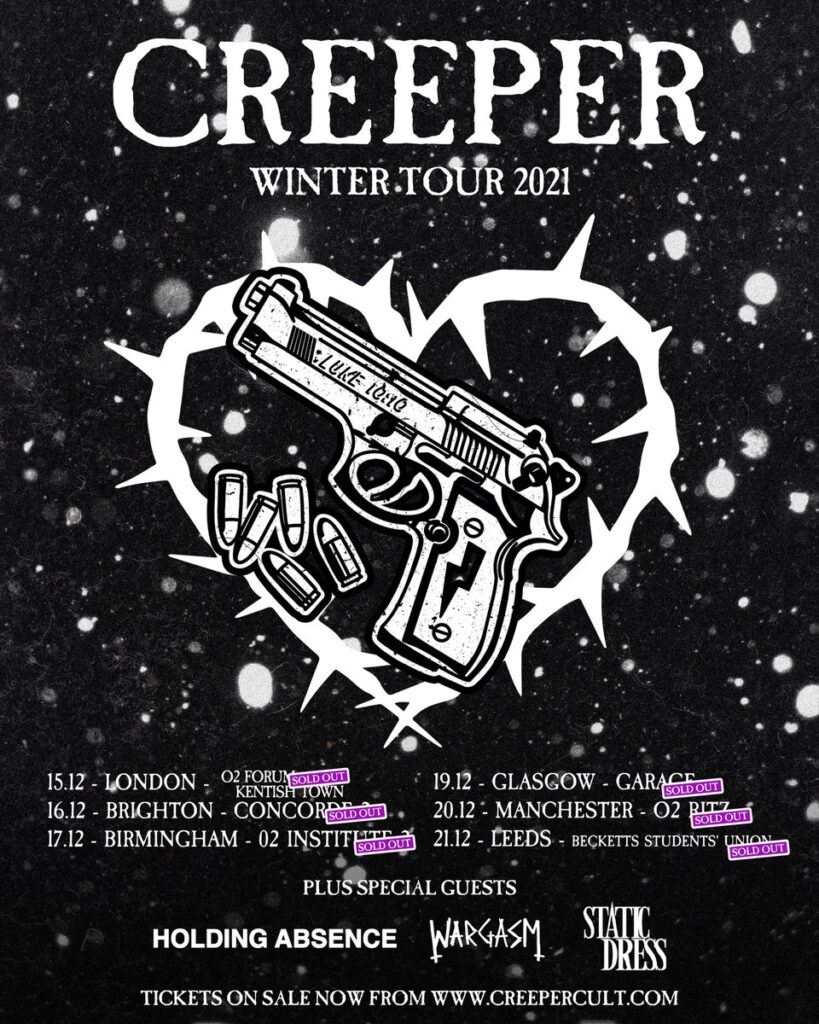 Follow us on Social Media
CREEPER – O2 KENTISH TOWN FORUM – LIVE REVIEW
Since leaving their Callous Heart jackets on the KOKO stage back in November 2018 the normally well thought out plans of Creeper have hit road block after road block.
With their second record arriving during lockdown, this tumultuous period appeared to be ending with their arrival of their previously postponed headline tour. Alas, the show tonight at the O2 Kentish Town Forum in London takes place amid more uncertainty as the pandemic rages on.
Support act Wargasm are unable to play due to COVID and many of the sold out crowd clearly are also missing. The night should be a celebration, but the atmosphere is cautious, there is an impending sense of doom.
Music though is the great equaliser and can take away all of life's worries, even if only for a while. Opening act Static Dress do a fantastic job of raising spirits and blowing away doubts. The crowd are instantly sucked in and the band capitalise on their short time on stage superbly. Crowd definitely warmed up!
With no Wargasm, it's straight onto main support for this tour, Holding Absence. Having released one of the albums of the year in 'The Greatest Mistake of My Life', anticipation is high for their set. Over the next 30 minutes the band lives up to all of the hype that comes their way.  
An assured and uplifting performance from a band on a massive spike in upwards trajectory. 'Afterlife' and 'Wilt' close out a short but very sweet set which captures the hearts of those in attendance. It shouldn't be long before Holding Absence are headlining venues of this size.
Our headliners tonight however are Creeper. The band have battled adversity to arrive at their biggest headline show. Their cult following are out in force, even if the attendance drop reported by the Music Venue Trust is in evidence. The night has a special feel, and if any band can meet the high expectations then it's Creeper.
Musically stunning and theatrically spectacular, Creeper take their audience on a journey of delight. From the time they arrive on stage to the moment they leave, Creeper exude confidence. This show builds on everything the band has presented since their inception and makes a statement. This is a band at the peak of their powers. This is the celebration that it needed to be.
A mixture of material features from across their career from their debut EP to recent release 'American Noir'. The evolution of the band is clear for all to see, and so is the effort put into the show.
It may have taken slightly longer than expected to arrive at this level of venue, but on this showing Creeper are still on course to progress into even bigger buildings. This tour is a master class from the purveyors of grandiose rock and roll theatrics. Let's hope that Creeper now get a clear run towards their destiny.
Share this review on Social Media