Every week we roundup the best music news from the past week!
Follow us on Social Media

Glastonbury Festivals reveals line-up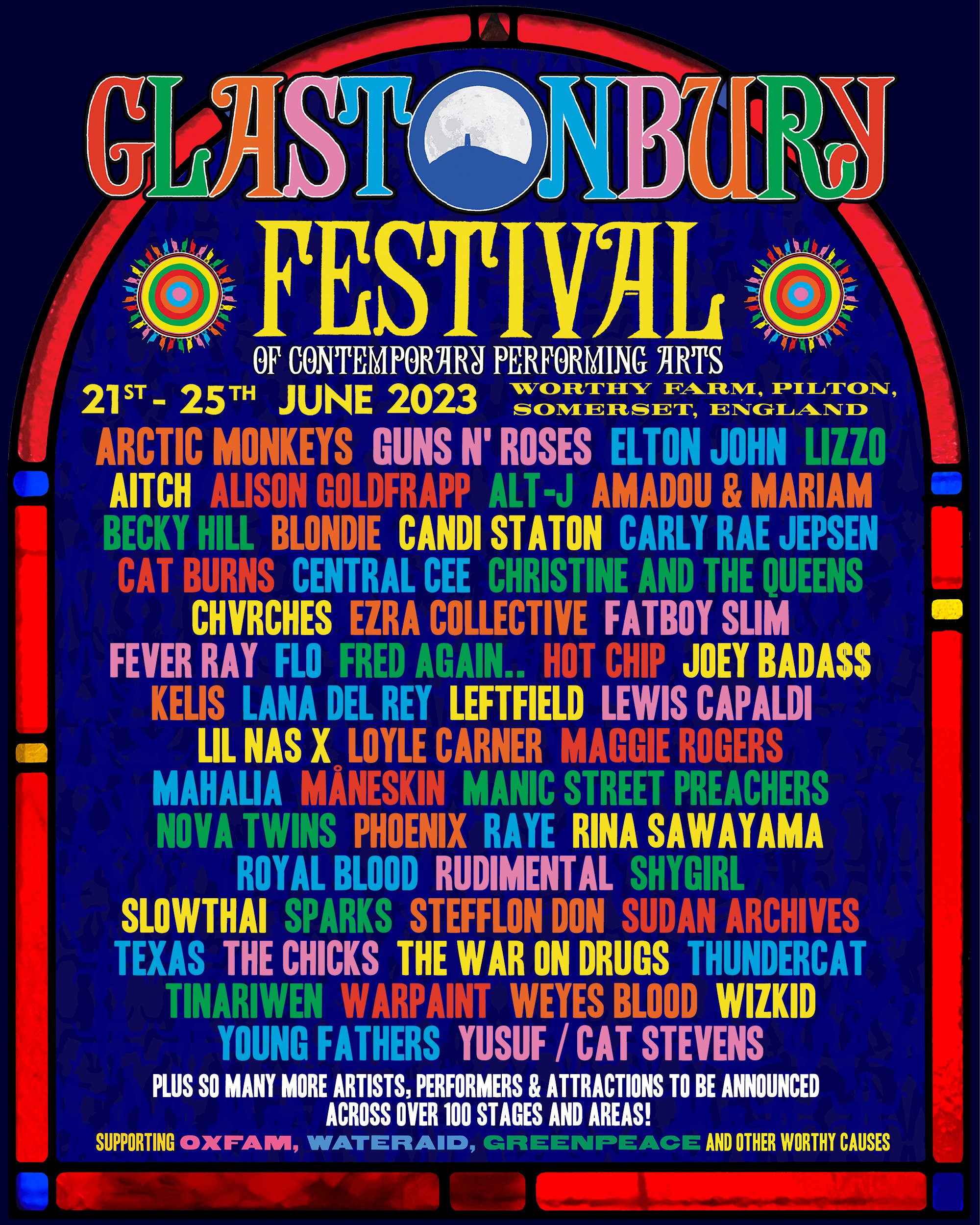 Welcome everyone to another edition of our weekly music News Report!
Where else could we start this week other than with Glastonbury Festival and their initial 2023 line-up! We now know that Elton John will be joined in headlining the Pyramid Stage by Arctic Monkeys and Guns N Roses!
Also playing over the weekend will be Alt-J, Blondie, Manic Street Preachers, Nova Twins, Royal Blood, slowthai, Texas and Legends Slot filling Yusuf (Cat Stevens).
More here.
Read our review of Nova Twins live in Norwich
Reading & Leeds reveal latest additions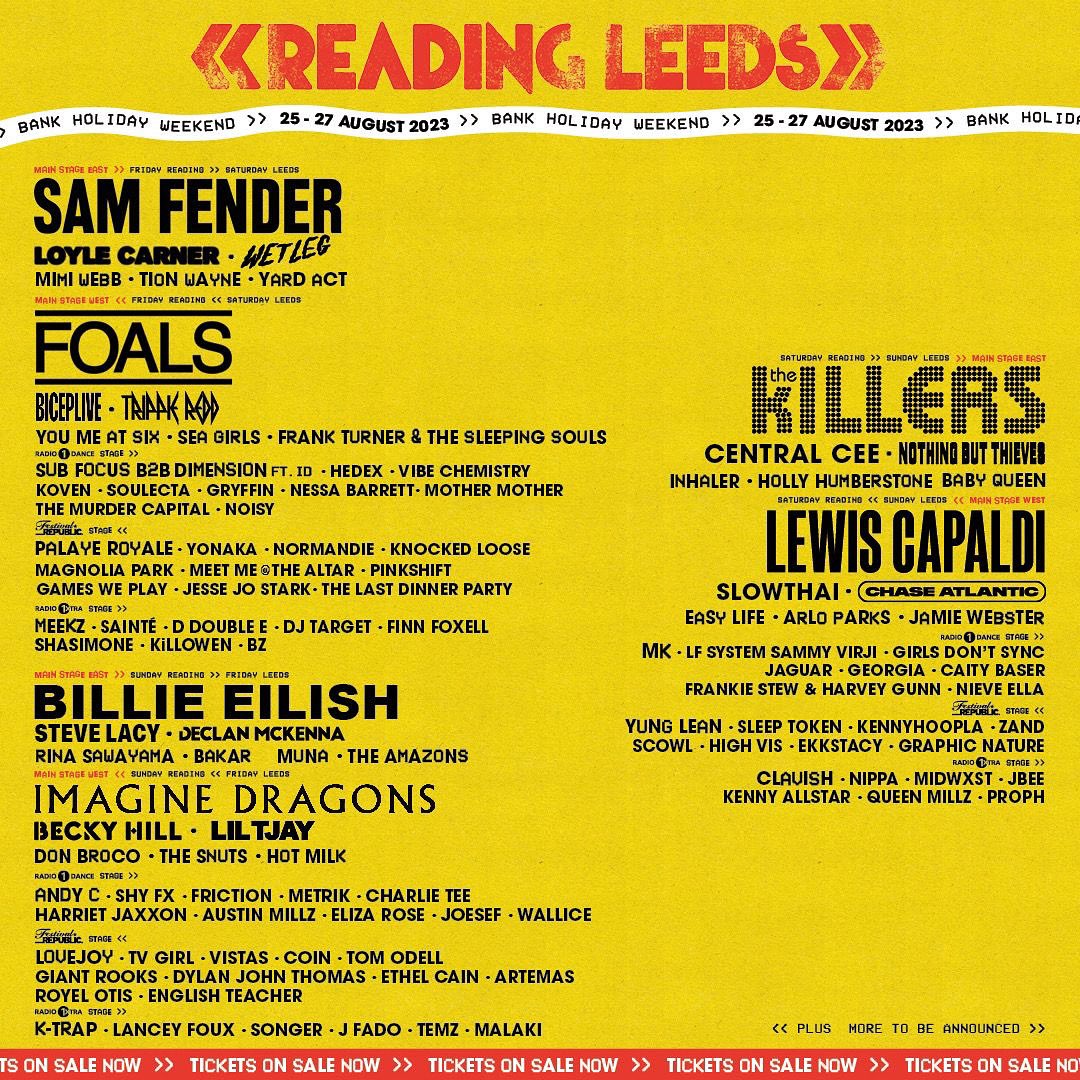 Another major festival dropping line-up additions this week were the August stalwart Reading & Leeds Festivals.
The likes of The Amazons, Frank Turner, Easy Life, Palaye Royale, Sleep Token, Sea Girls, Vistas, The Murder Capital, Normandie, Knocked Loose, Yonaka, Yard Act and Don Broco join the line-up.
They join the likes Sam Fender, Foals, The Killers, Billie Eilish, Imagine Dragons, Wet Leg, You Me At Six, Nothing But Thieves, The Snuts and Hot Milk.
Tickets are here.
Watch The Full Pelt Music Podcast with guest Frank Turner
2000trees line-up grows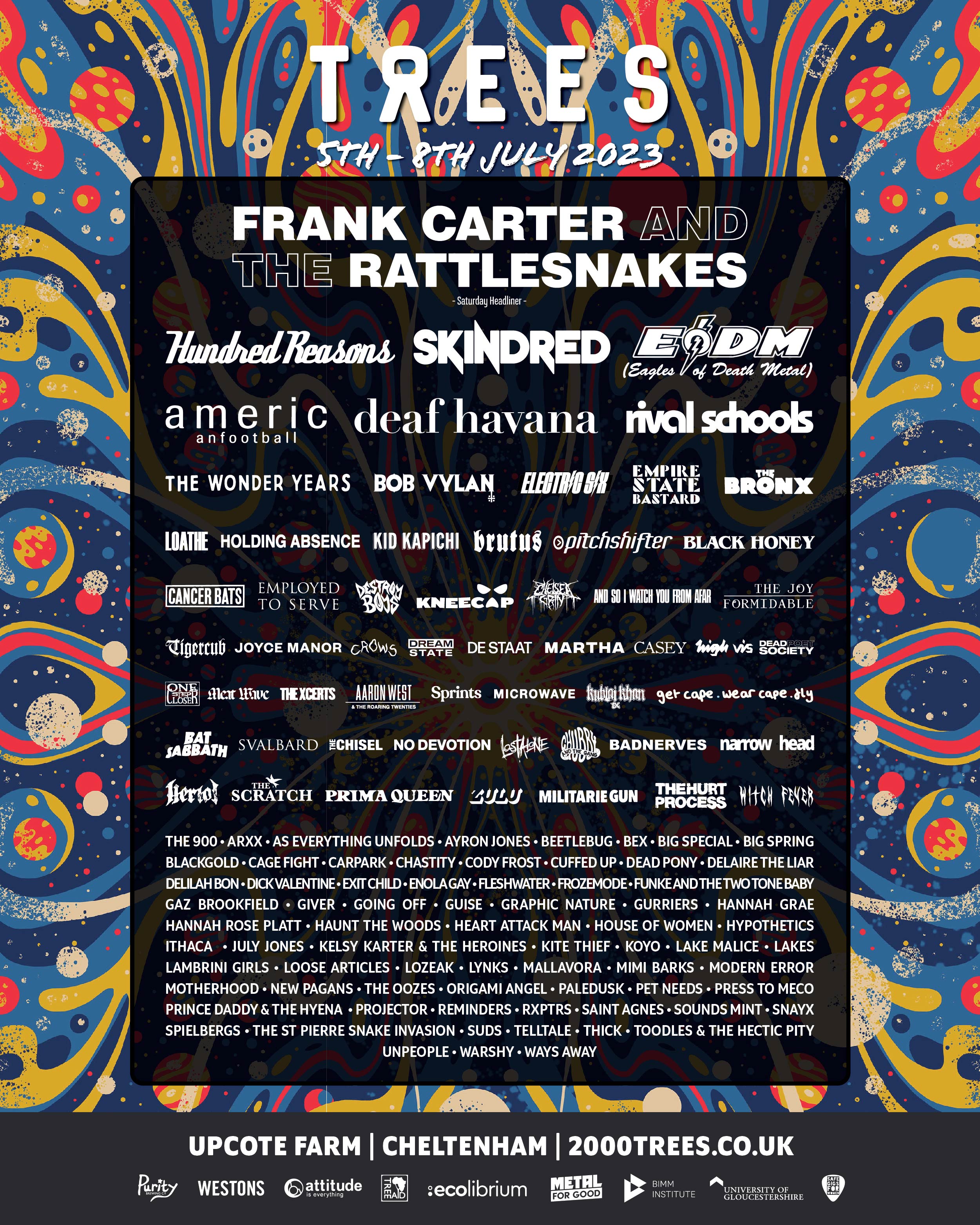 It was a good week for festival fans this week as our News Report continues with this stunning line-up from 2000trees Festival!
The absolutely stacked line-up now features added American Football, Eagles of Death Metal, Electric Six, Employed To Serve, Joy Formidable, Tigercub and Black Honey.
The full line-up also hosts the likes of Frank Carter and the Rattlesnakes, Hundred Reasons, Skindred, Deaf Havana, Rival Schools, Bob Vylan, Empire State Bastard, Holding Absence, Kid Kapichi, Cancer Bats, Dream State, LostAlone, Witch Fever, Blackgold, Guise, Mimi Barks, Pet Needs, Press To Meco and many more!
"For us, seeing fans just as excited about the bands lower down the line up as they are about the bigger artists is what 2000trees is all about, and this announcement is no different. Heriot and Kneecap were big personal highlights from 2000trees 2022, so to be able to have Heriot return to smash the Main Stage and Kneecap bringing the carnage to the Forest Stage is going to be something special! And there's still two headliners to come sooner than you might think…" – Festival booker James
Tickets are here.
Check out our Podcasts including guests Guise, Pet Needs & Press To Meco
Standon Calling line-up expands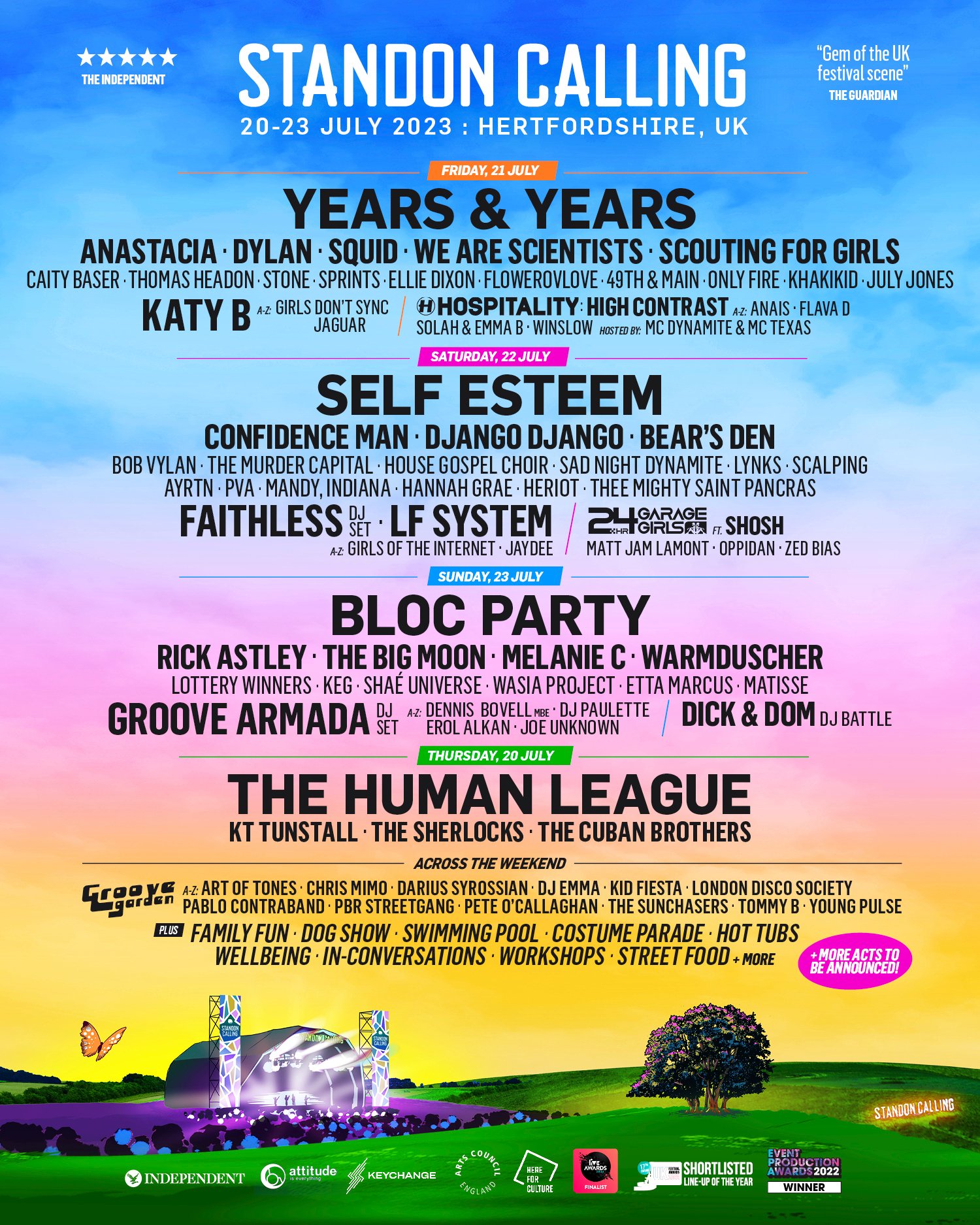 Also unveiling more of their line-up this week were Standon Calling. The event is due to be headlined by Years & Years, Self Esteem, Bloc Party & The Human League.
Playing across the weekend will be the likes of Rick Astley, Squid, We Are Scientists, Bob Vylan, The Murder Capital, The Big Moon, Lottery Winners, KT Tunstall and The Sherlocks.
Sharing in the excitement of today's news, Rick Astley said: "I can't wait to head back to Hertfordshire for Standon Calling this July, hope to see you all there!"
Tickets are here.
Read our review of Bob Vylan live in London
The Long Road announce first names for 2023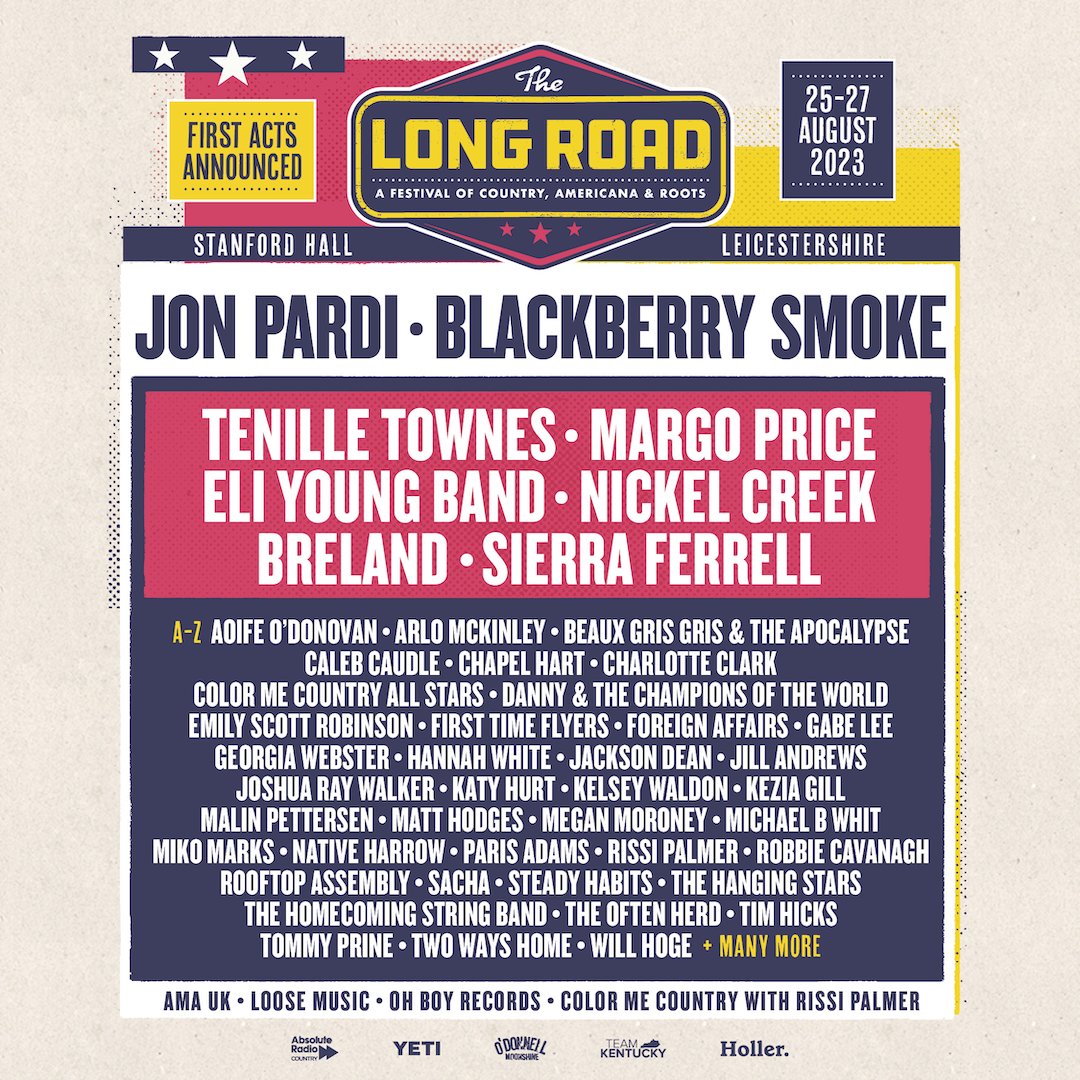 Leicester's The Long Road festival returns in 2023 with a line-up including Jon Pardi, Blackberry Smoke and many more.
Commenting on today's announcement, TLR's Tennessee-born Creative Director Baylen Leonard said: "We're delighted to announce the first wave of artists for The Long Road 2023. Our festival is about offering a unique, inclusive experience for our visitors, with amazing music, great food, and a welcoming atmosphere. Our line-up reflects the very best in Country and Americana music today, and we can't wait to welcome visitors to Stanford Hall for what is going to be a truly unforgettable bank holiday weekend."
Tickets are here.
Read our review of Beans On Toast live in Norwich

Kings of Leon announce Wrexham shows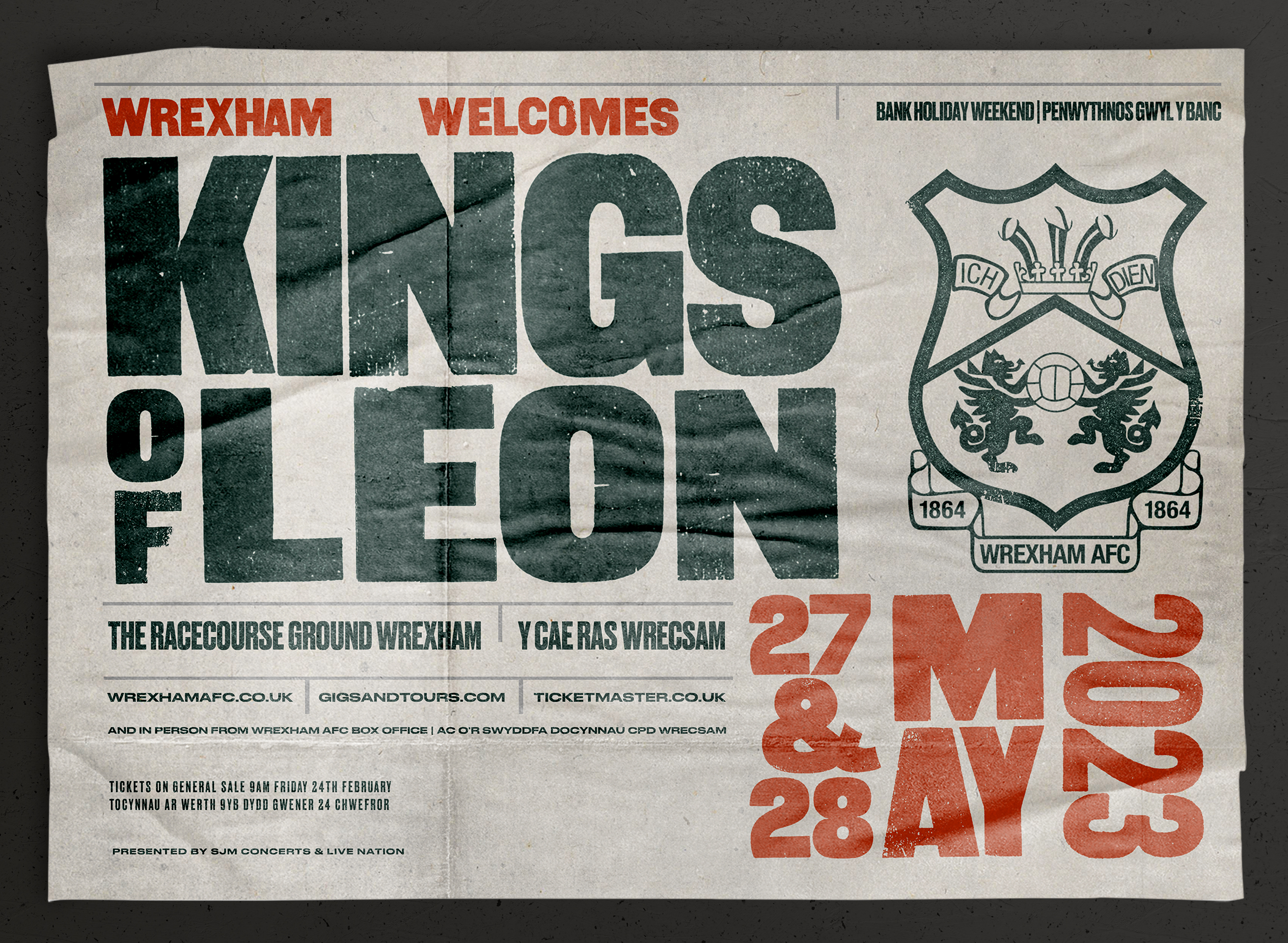 We move our News Report on now to the best tour announcements from the past week and we begin in Wales as Kings of Leon reveal two special dates at the Racecourse Ground in Wrexham this May.
Tickets are here.
Find Full Pelt Music on Youtube
Ashnikko announces UK shows
Also this week, pop disruptor Ashnikko announced her hotly anticipated world tour and debut album 'WEEDKILLER', which is out June 2nd.
Speaking on the announcement Ashnikko states "My bioluminescent heart is glowing. My post-apocalyptic fae world is here for you to journey into. My wings have been ripped out, but I've built them anew using WEEDKILLER machine parts. I am the one sent here to eliminate you, WEEDKILLER."
Tickets and album pre-orders are here.
Read our review of 'This Is Why' from Paramore
British Lion announce summer tour
British Lion next in our News Report as this week they announced a new UK and European summer tour including dates in Manchester and Nottingham.
Steve Harris comments, "We just had a brilliant time on the January UK tour and it's great to be heading out again in 2023. I'm really looking forward to BOTH Summer tours this year!"
Tickets are here.
Read our review of British Lion live in Norwich
The Almighty announce special reunion shows
The rumours are true and the original line-up of The Almighty are reuniting for three special shows later this year in Glasgow, Manchester and London.
Support comes from Balaam and the Angel.
Tickets are here.
Read our review of Black Star Riders in Ipswich
The Hu announce additional tour dates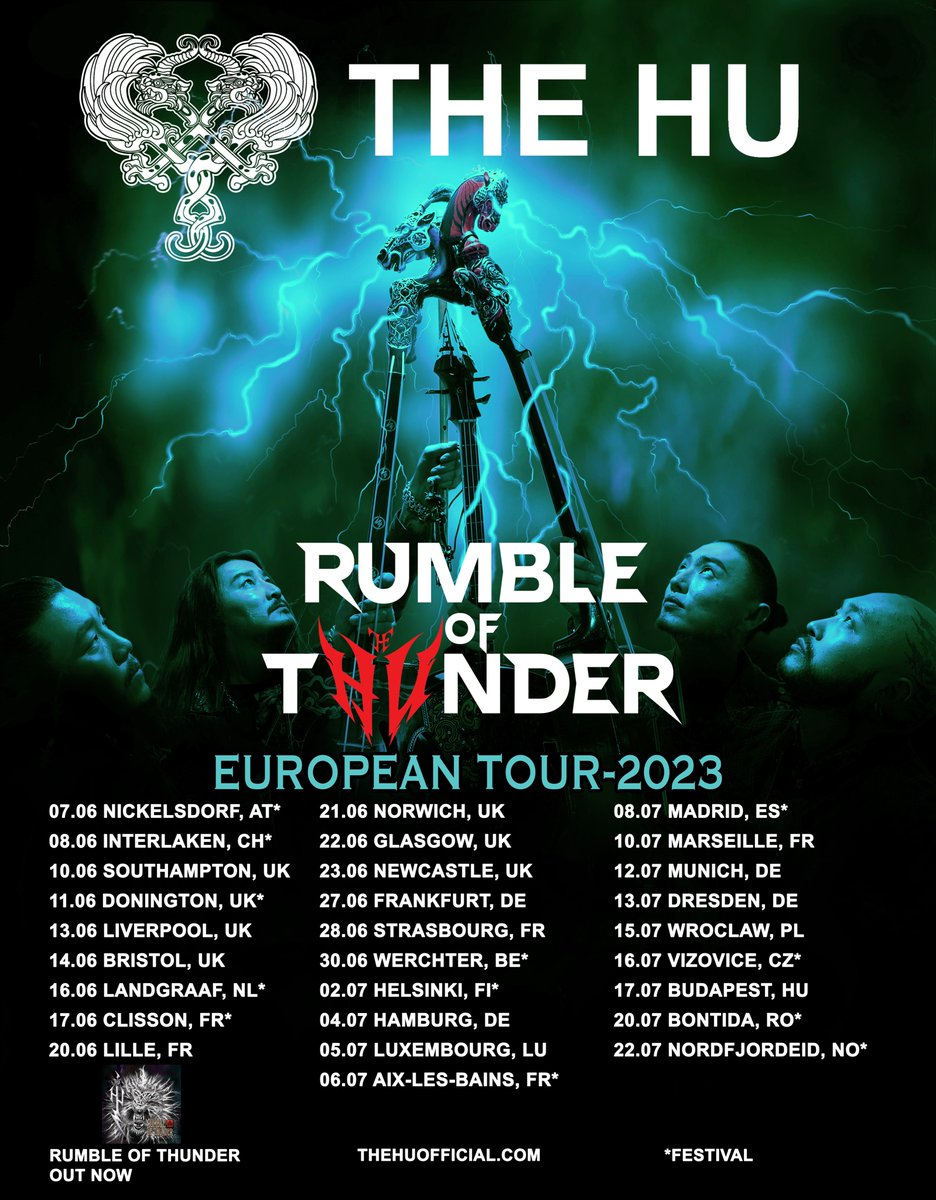 Alongside their summer festival appearances, The Hu have revealed a string of headline shows across the UK and Europe.
Tickets are here.
Read our review of Download Festival
Theory of a Deadman unveil UK Tour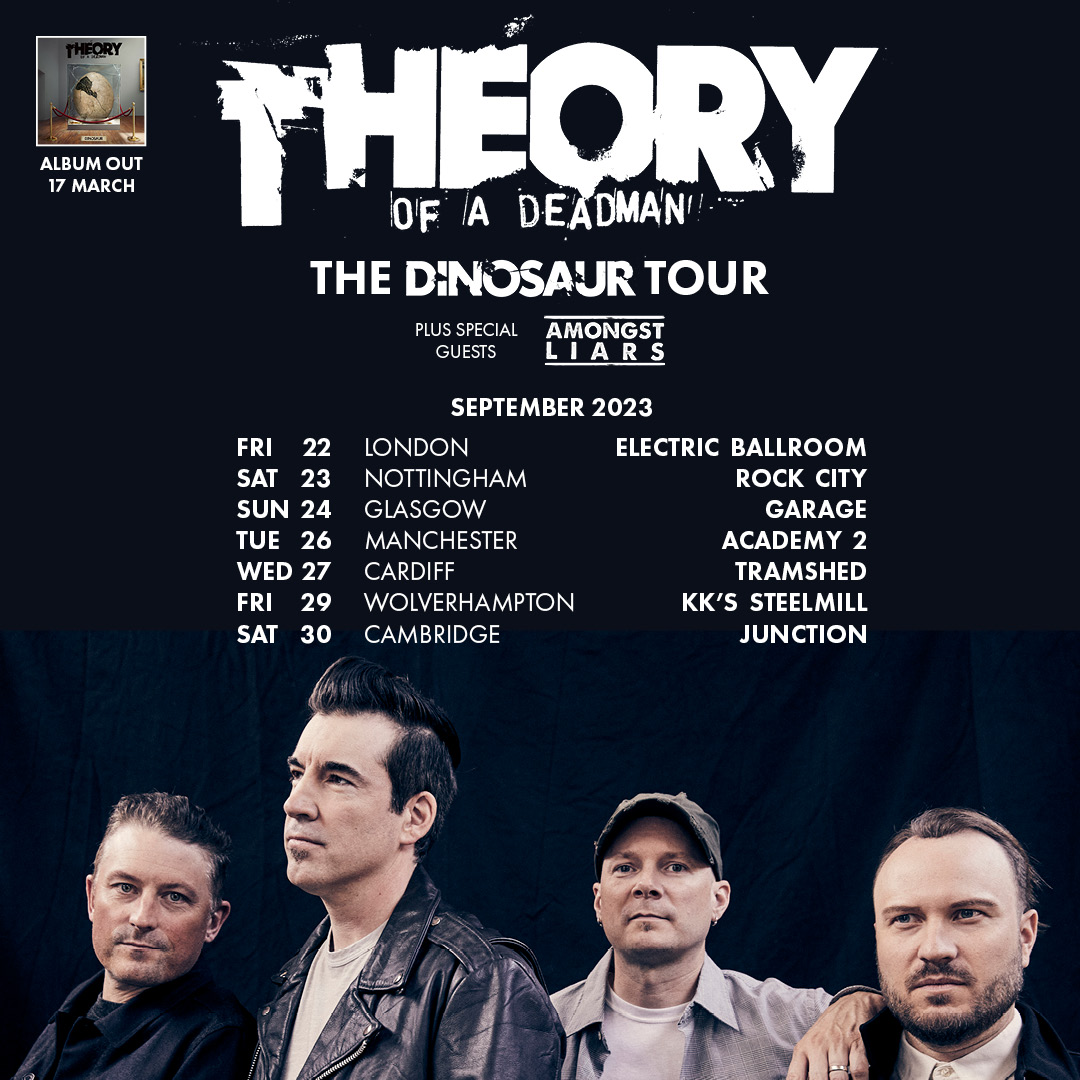 Canadians Theory of a Deadman are headed to the UK in September for the 'Dinosaur' tour with guests Amongst Liars.
Their new album, 'Dinosaur', is out March 17th.
Tickets and pre-orders are here.
Read our review of Bullet For My Valentine live in Cambridge
grandson reveals new tour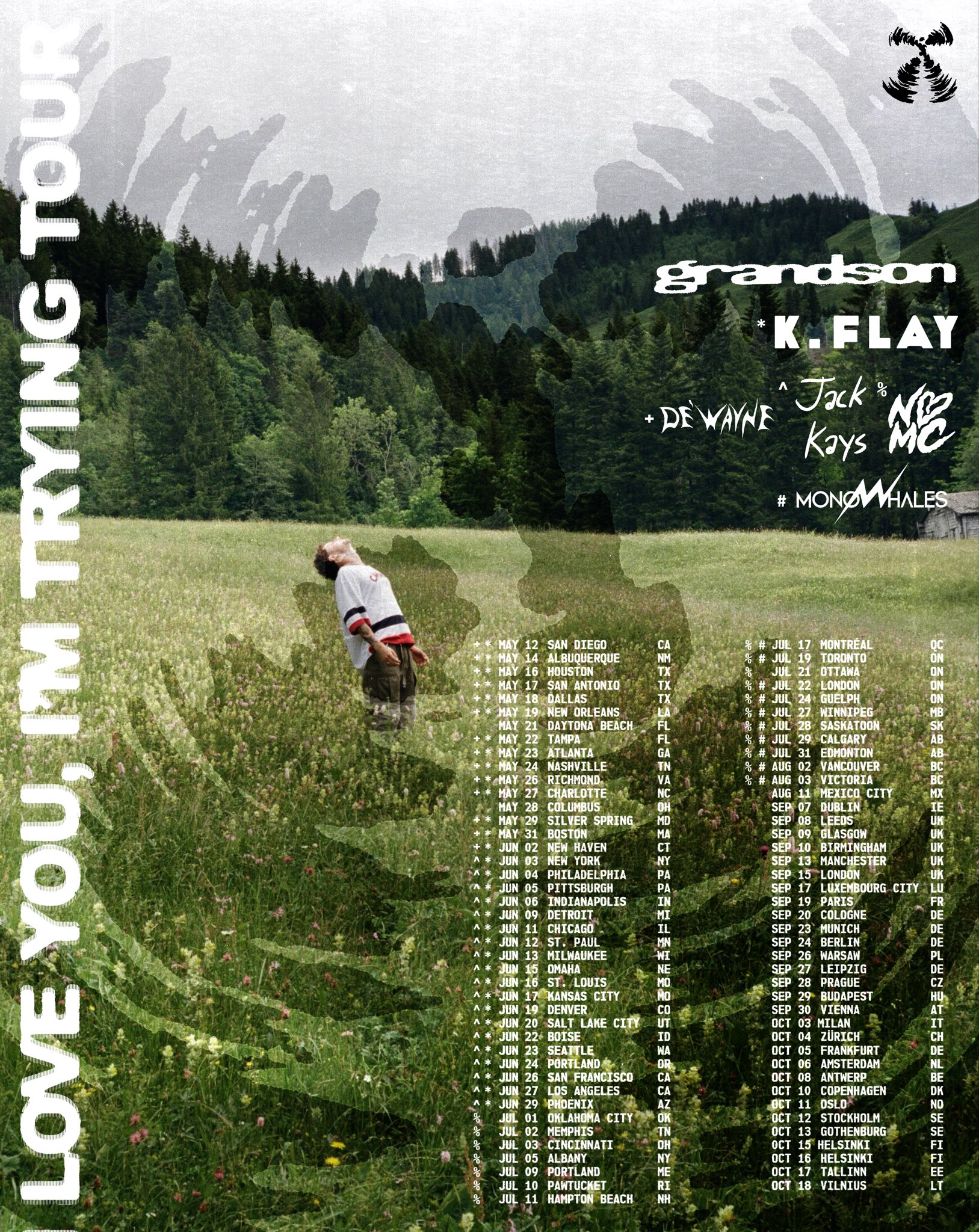 To launch his second album, 'I LOVE YOU, I'M TRYING', grandson has revealed a huge world tour including a number of stops in the UK in September.
Tickets are here.
Read our review of YUNGBLUD live in London
Empire State Bastard reveal debut headline shows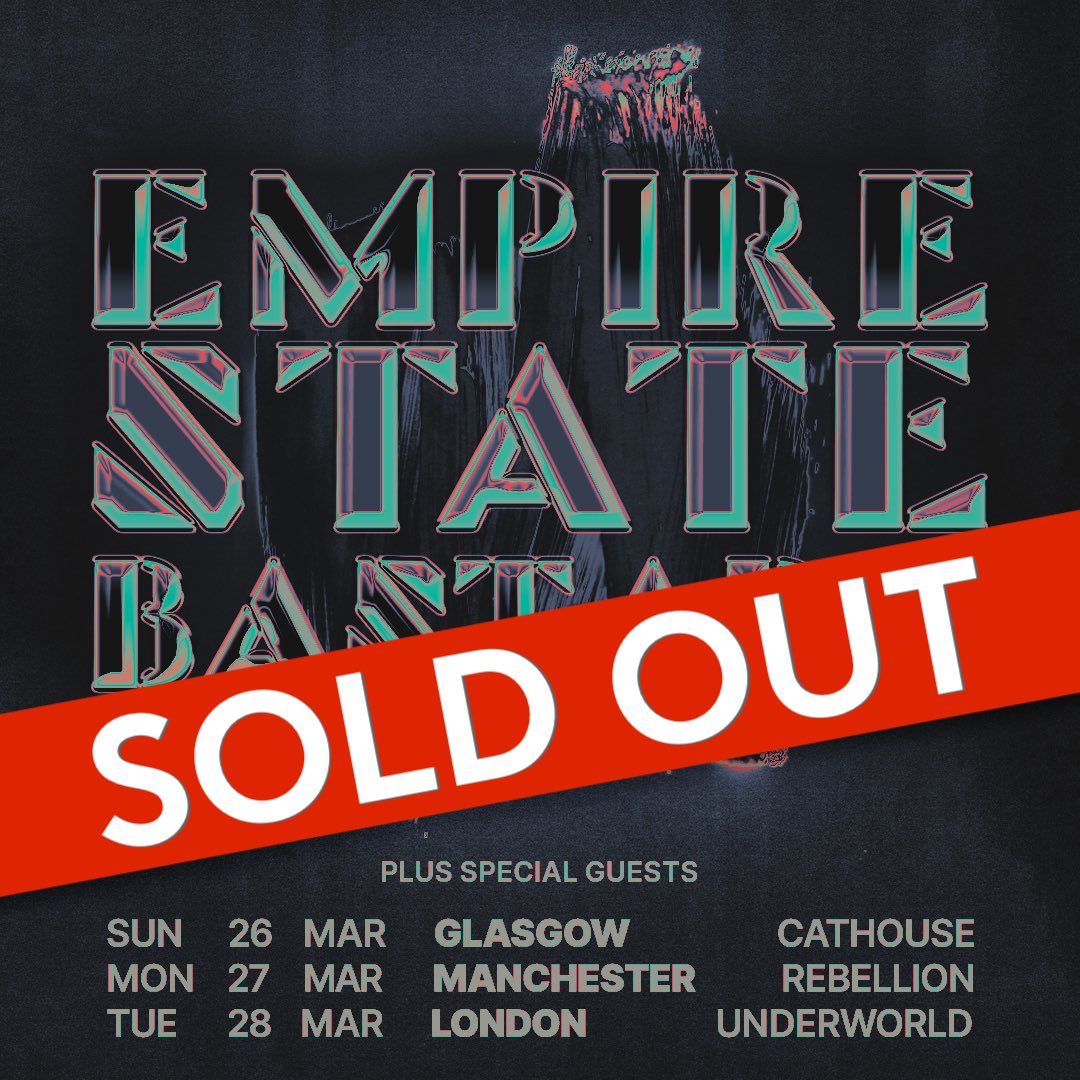 Hype continues to build for the new project from Biffy Clyro duo Simon Neil and Mike Vennart – Empire State Bastard.
This week saw the duo confirm their first headline shows and confirm that the iconic Dave Lombardo will join them on drums!
Tickets sold out in a flash, but you can find more info here.
Read our review of Biffy Clyro live in London
Vistas set for new tour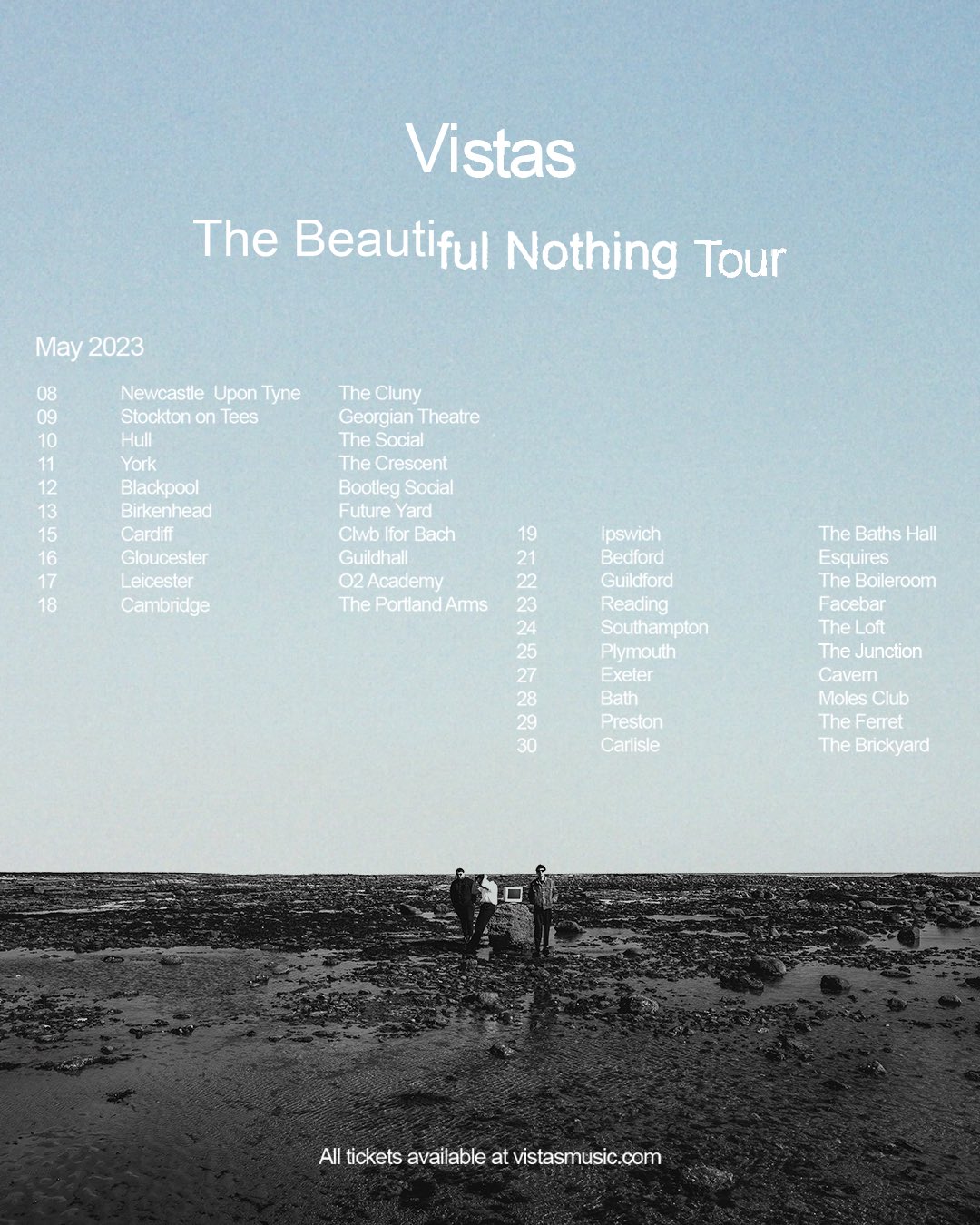 The final tour announcement in our News Report this week comes from Vistas who will be back out on the road this May.
Tickets are here.
Read our review of Y Not Festival 2022

Metallica debut 'If Darkness Had a Son'
Our News Report looks now at the best new releases from the past week and we begin this week with Metallica!
The legendary band are readying their latest album, '72 Seasons', which is out April 14th. This week that meant the debut of new single, 'If Darkness Had a Son', which you can listen to above.
Pre-order your copy here.
Listen on our 'Hard & Heavy' Playlist!
Underoath share new single 'Let Go'
This week saw Underoath return with their brand new single, 'Let Go', which you can check out above.
In discussing the song, the band said, "This is actually the first song we completed after recording (last year's) Voyeurist. It took a few different forms but we got it to a place where we knew this is what it should be. It's about letting go of whatever trauma or demons that might be holding you back. As hard as it is to make those decisions sometimes, I feel like we can never grow without stepping out of those toxic environments."
More here.
Listen on our 'Hard & Heavy' Playlist
DMA'S share 'Something We Are Overcoming'
DMA'S have this week shared their latest single, 'Something We Are Overcoming', which you can listen to above.
The track comes ahead of new album, 'How Many Dreams?', which is out March 31st.
"'Something We Are Overcoming' started as a moving ballad about perseverance but quickly morphed into a trancey anthem of a side quest that is slightly but steadily DMA'S. We hope you like it." – DMA'S
Pre-order your album here.
Listen on our Spotify Hot List!
snake eyes debut 'no one is truly cool'
Brighton's snake eyes have shared new single, 'no one is truly cool', and you can check out the video above.
Commenting on the new single, vocalist Jim Heffy says: "I met a bloke in a band I like at a festival after separately having a really lovely chat with one of their bandmates. he was stand-offish and, to be honest, a bit of a prick, giving proper 'too cool for school' vibes. the whole exchange left a bad taste in my mouth."

"the fake cool guy thing can only go so far. no need for a fake personality. just be real, be yaself. even Keith Richards puts down the whiskey and cigs sometimes and watches 'the last of us' in his pants with a bowl of nik naks like everyone else."
The official video for the track was created by the band's drummer and visual director Thomas Coe-Brooker, who explains of the concept: "in keeping with the song, we thought it'd be fun to make a really cool looking video in the least cool of spaces – a family garage. kinda like when you're having band practice as a teenager and you're all really sending it like total bad asses…but ultimately, your mum's seconds from bursting in to tell you it's too loud and that your dinner's ready. that, but with satisfying, nicely framed angles and dreamy in-camera long exposure, 90s style."
More here.
Listen on our Spotify Hot List!
Watch Episode 13 of our 'Discover' New Music Playlist with guests Scruffy Bear
Read our review of Ghost live in Birmingham

As always we conclude our News Report with the latest additions to our 'Discover' New Music Playlist!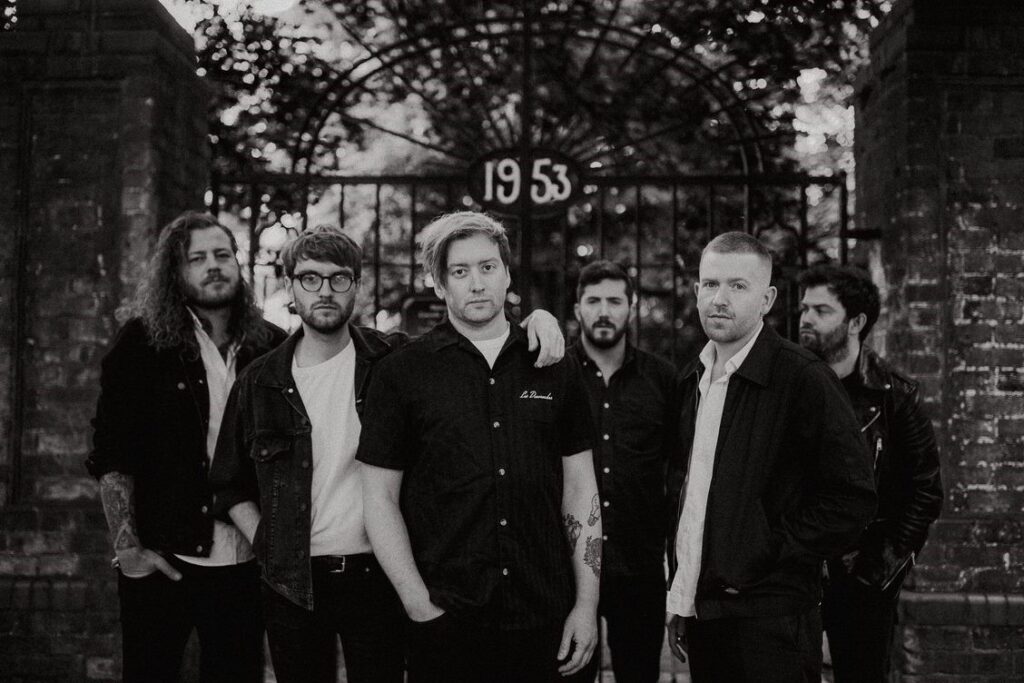 Hell's Ditch – 'Ghosts'
Hell's Ditch have shared new single, 'Ghosts', ahead of their debut EP, 'Take Cover', out March 23rd.
Vocalist Nick Davis explains: "Ghosts is about the hanging weight of the past, the present and the future. Capitalism puts a premium on individual success, which leads people to feel like their failing if they don't achieve certain goals or milestones. It's all too easy to plant trees, grow them, and then cut them down inside the confines of your own head. I wrote most of the lyrics while watching my cats seemingly stare at nothing on the ceiling".
paradise fell. – 'VICES.'
Alternative artist paradise fell has shared their debut offering 'VICES.'.
"VICES. is a frantic confrontation of the irony; that something which kills us slowly, sets us free in the moment. It makes us feel alive. The bad habits we have are the only things that can save us from the drudgery of daily life. The very things that are killing us, become a cornerstone of our identity. They become familiar. They become part of who we are. A comfort in a chaotic world." – paradise fell.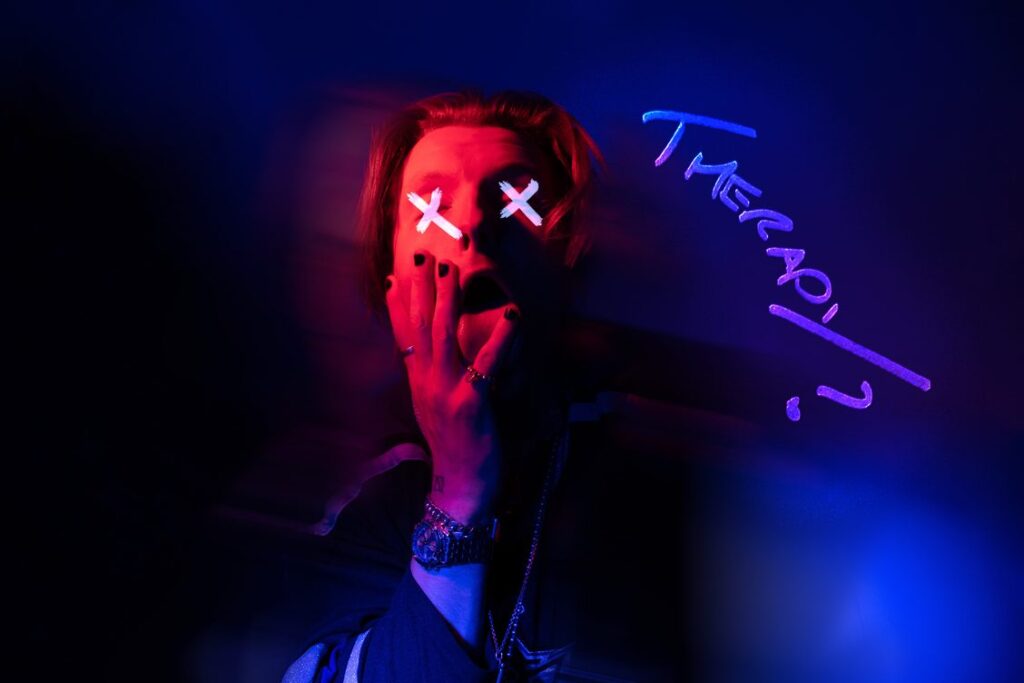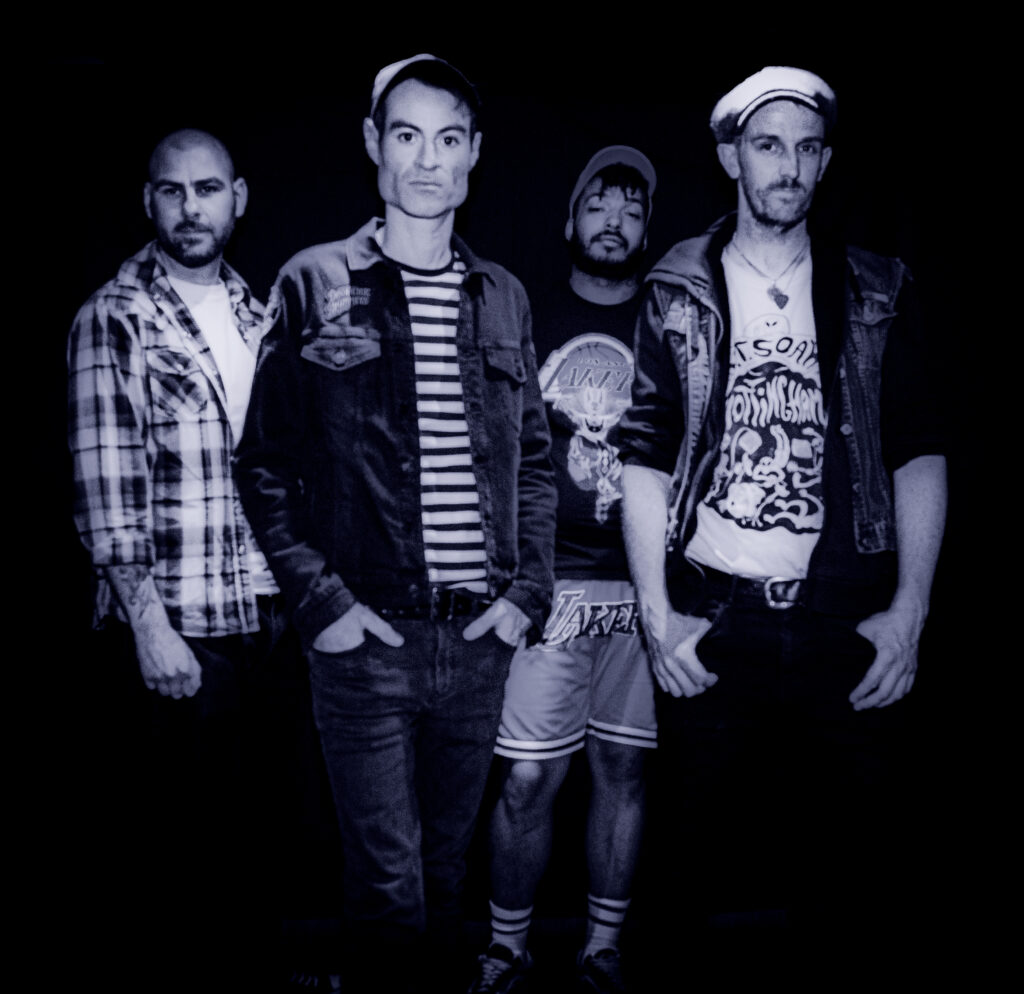 Hunch Power – 'Eye for an Eye'
Hunch Power hits back with their new pacifist anthem, 'Eye for an Eye'.
"I'd been wanting to write a pacifist song about revenge for ages. I was sure about borrowing Ghandi's famous words for the title and chorus but I couldn't find the right music to go with it. One day I remembered an old idea I never demoed and realised the music matched perfectly so I wrote new lyrics and the band loved it" – Singer Harvey Springfield
Listen, Follow and Discover your new favourite act now with our 'Discover' New Music Playlist
Then find out the stories behind the songs on our 'Discover' New Music Podcast!
Share our News Report on Social Media