We roundup the best music news from the past week!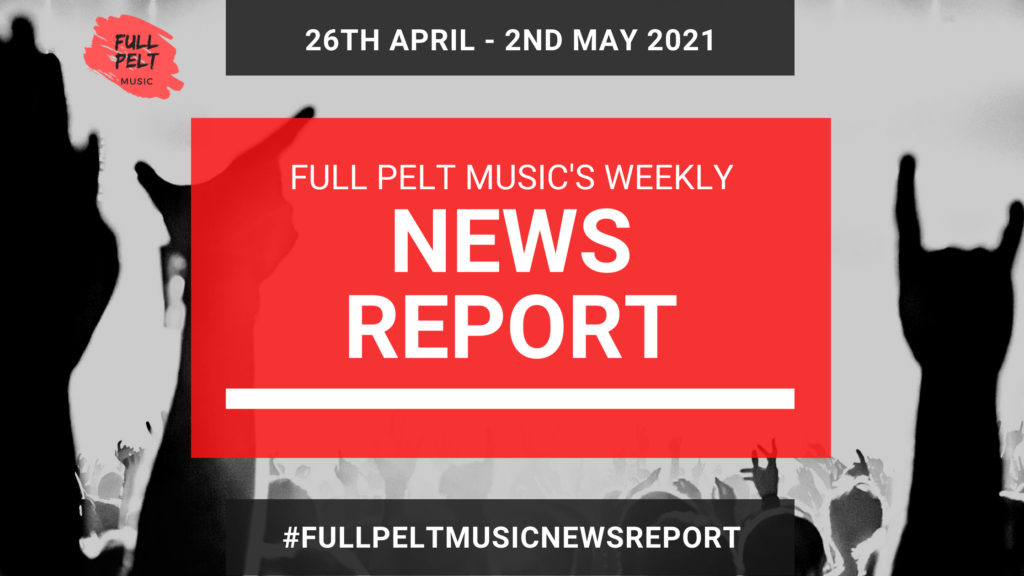 Every week we roundup the best music news from the past week in our News Report. To stay up to date with the biggest news be sure to follow us on our social channels:
Download Festival makes huge additions to 2022 line-up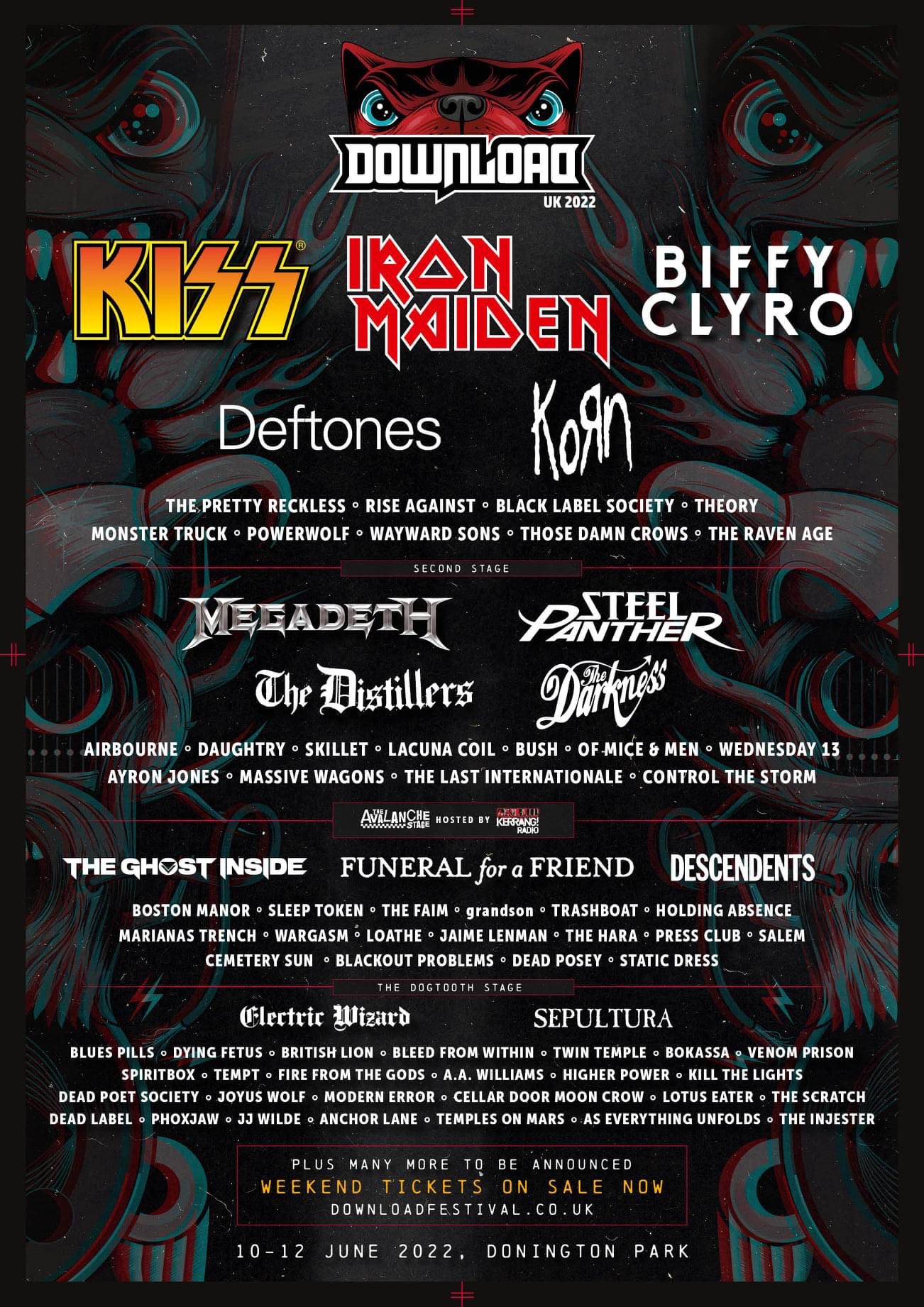 This week has been full of ups and downs for the UK Festival industry. We have seen numerous cancellations, but also many line-up announcements. We are going to concentrate on the positives as we begin a festival heavy edition of our News Report.
First up, a festival that has already moved to 2022. This week Download Festival announced the bulk of the artists joining headliners Kiss, Iron Maiden & Biffy Clyro!
The main stage will host the likes of Korn, The Pretty Reckless, Rise Against, Theory, Monster Truck, Wayward Sons and Those Damn Crows.
Read our review of 'Death by Rock and Roll' from The Pretty Reckless
Hitting the second stage will be The Distillers, The Darkness, Airbourne, Skillet, Lacuna Coil, Massive Wagons and The Last Internationale.
The Avalanche stage features Funeral For A Friend, Boston Manor, Holding Absence, Wargasm, Jamie Lenman and Salem.
Read our review of 'The Greatest Mistake of My Life' from Holding Absence
Whilst sinking their teeth into the Dogtooth stage will be Blues Pills, British Lion, Bokassa, Venom Prison and Lotus Eater!
Pick up your tickets here.
Y Not reveals massive line-up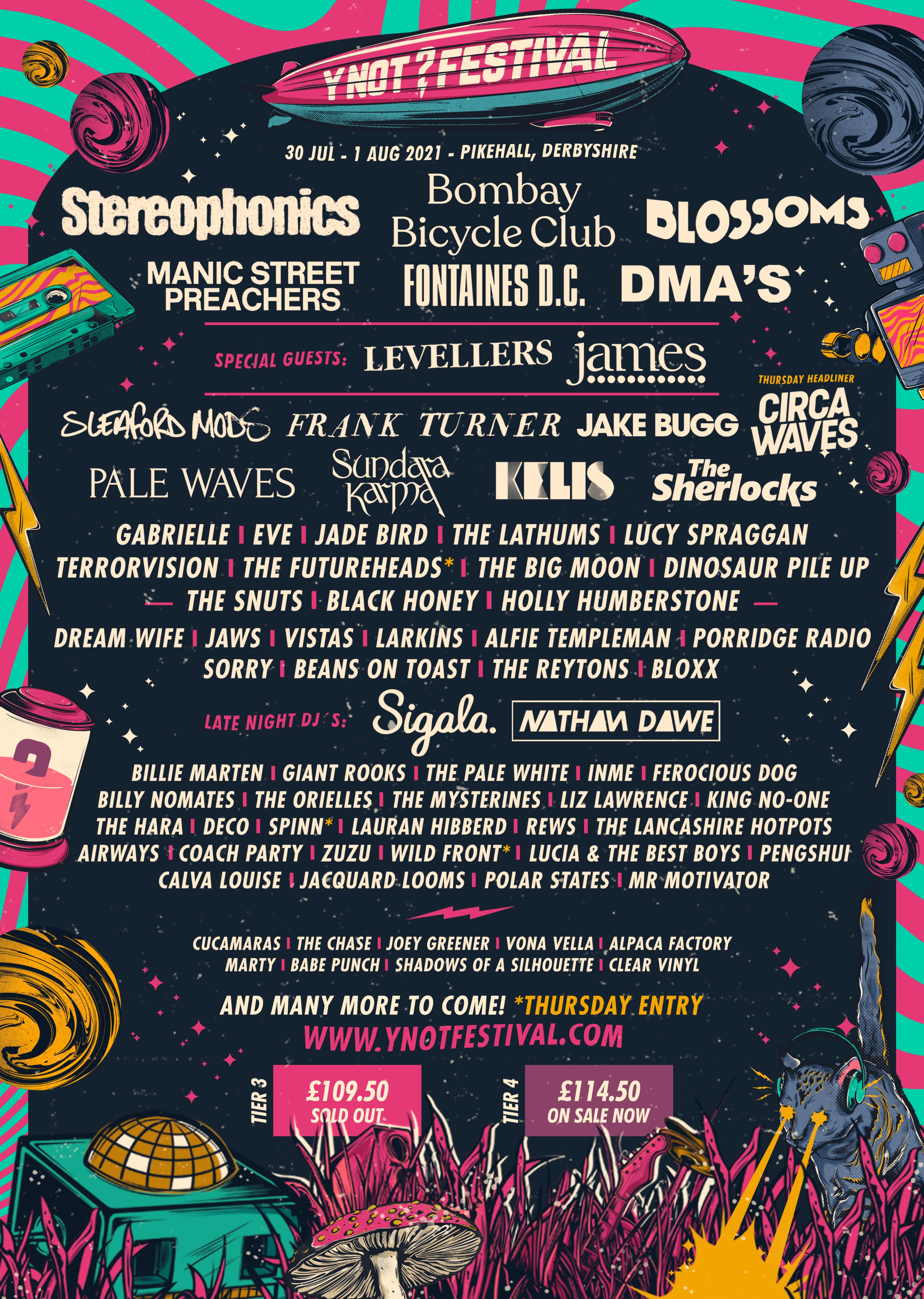 Staying in Derbyshire, and Y Not Festival has announced a massive line-up for this year. Taking place over the weekend of July 30th to August 1st, the event will be headlined by Stereophonics, Bombay Bicycle Club and Blossoms.
Also featured at the top of the line-up are Manic Street Preachers, Fontaines D.C., Levellers, James, Frank Turner, Jake Bugg, Circa Waves and Pale Waves.
Read our review of 'Who Am I?' from Pale Waves
Plus an incredible supporting bill featuring The Futureheads, Dinosaur Pile-Up, The Snuts, Black Honey, Dream Wife, Vistas, Beans On Toast, InMe, Ferocious Dog, REWS and Zuzu!
Read our review of 'Written & Directed' from Black Honey
Grab remaining tickets from here.
Tramlines announces sell out line-up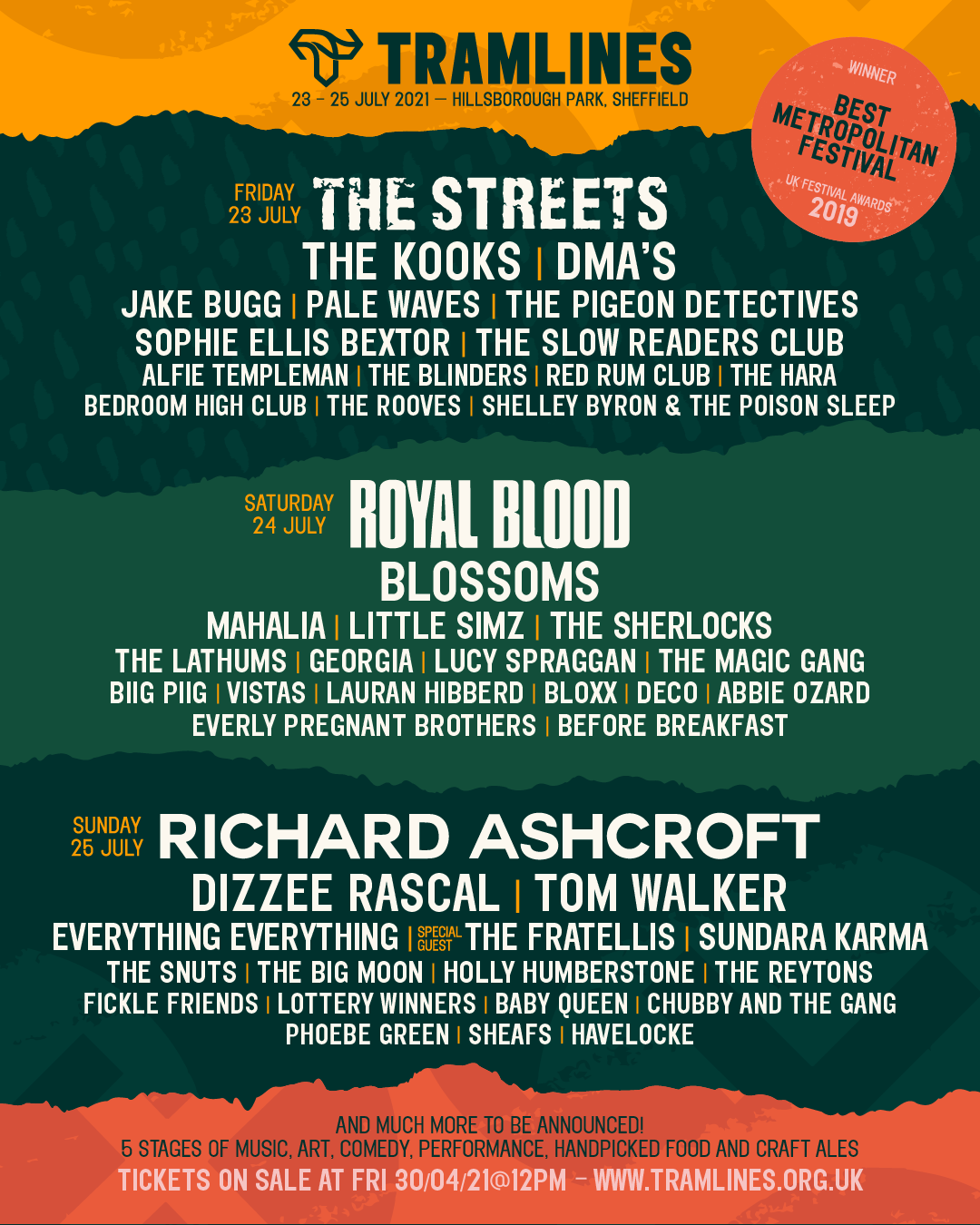 Tramlines festival has this week announced a huge line-up for 23-25 July. Such a huge line-up that the Sheffield event has now completely sold out. You can however register for ticket alerts here.
Headline acts The Streets, Royal Blood and Richard Ashcroft are joined by a host of established and new acts. Friday brings sets from The Kooks, Jake Bugg, Pale Waves and The Pigeon Detectives.
Saturday will feature Blossoms, Vistas and Lauran Hibberd. Whilst Sunday will close out the event with The Fratellis and The Snuts amongst others.
Read our review of 'Half Drunk Under A Full Moon' from The Fratellis
Boardmasters follows sell out trend with line-up reveal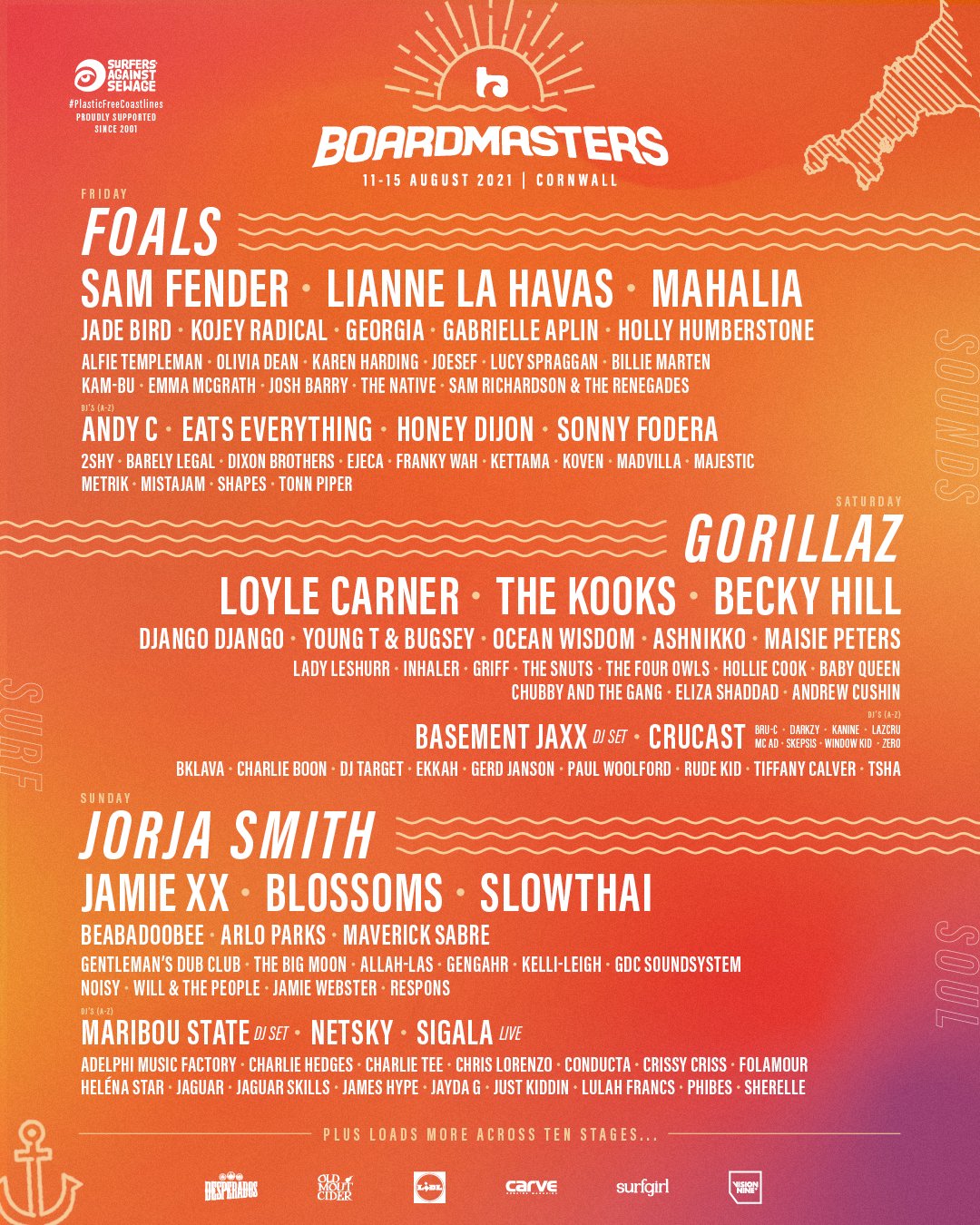 The trend of festivals selling out also continued with Boardmasters. The Cornwall event revealed a line-up headlined by Foals, Gorillaz and Jorja Smith before immediately selling out.
Also joining the line-up are Sam Fender, The Kooks, The Snuts, Blossoms, Slowthai and Gengahr. The festival is sold out, so check here for any ticket information.
Read our review of 'W.L.' from The Snuts
Victorious Festival makes additions to line-up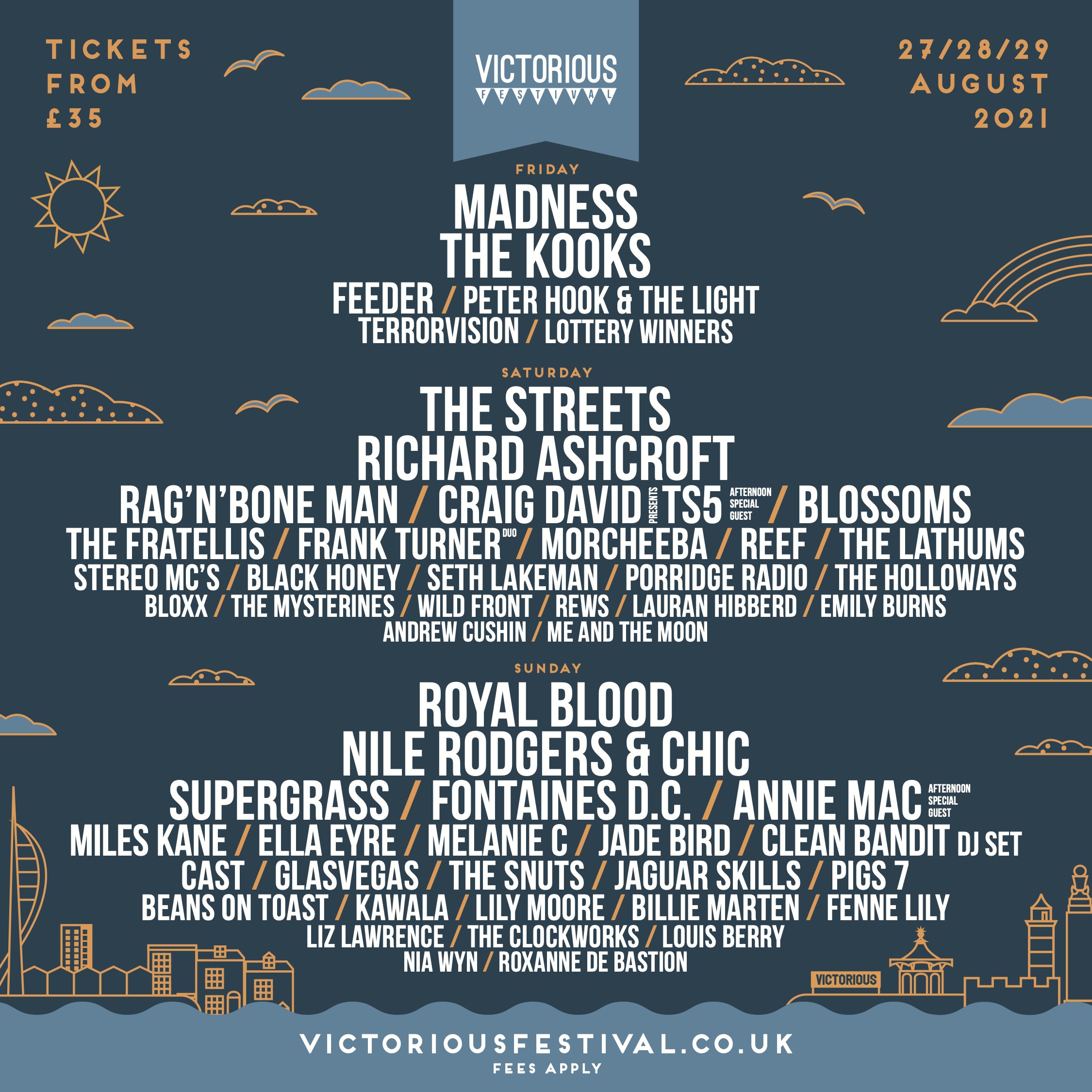 We said that our News Report would be festival heavy this week, and we meant it. As we continue to report on the best announcements of the past week we head to Portsmouth.
Victorious Festival has this week added additional names to its line-up. Fans can now expect to see the likes of Nile Rodgers & Chic, Frank Turner and Lottery Winners.
They join an already packed event headlined by Madness, The Streets and Royal Blood! Pick up tickets here.
Read our review of 'Typhoons' from Royal Blood
More bands and an extra stage for 110 Above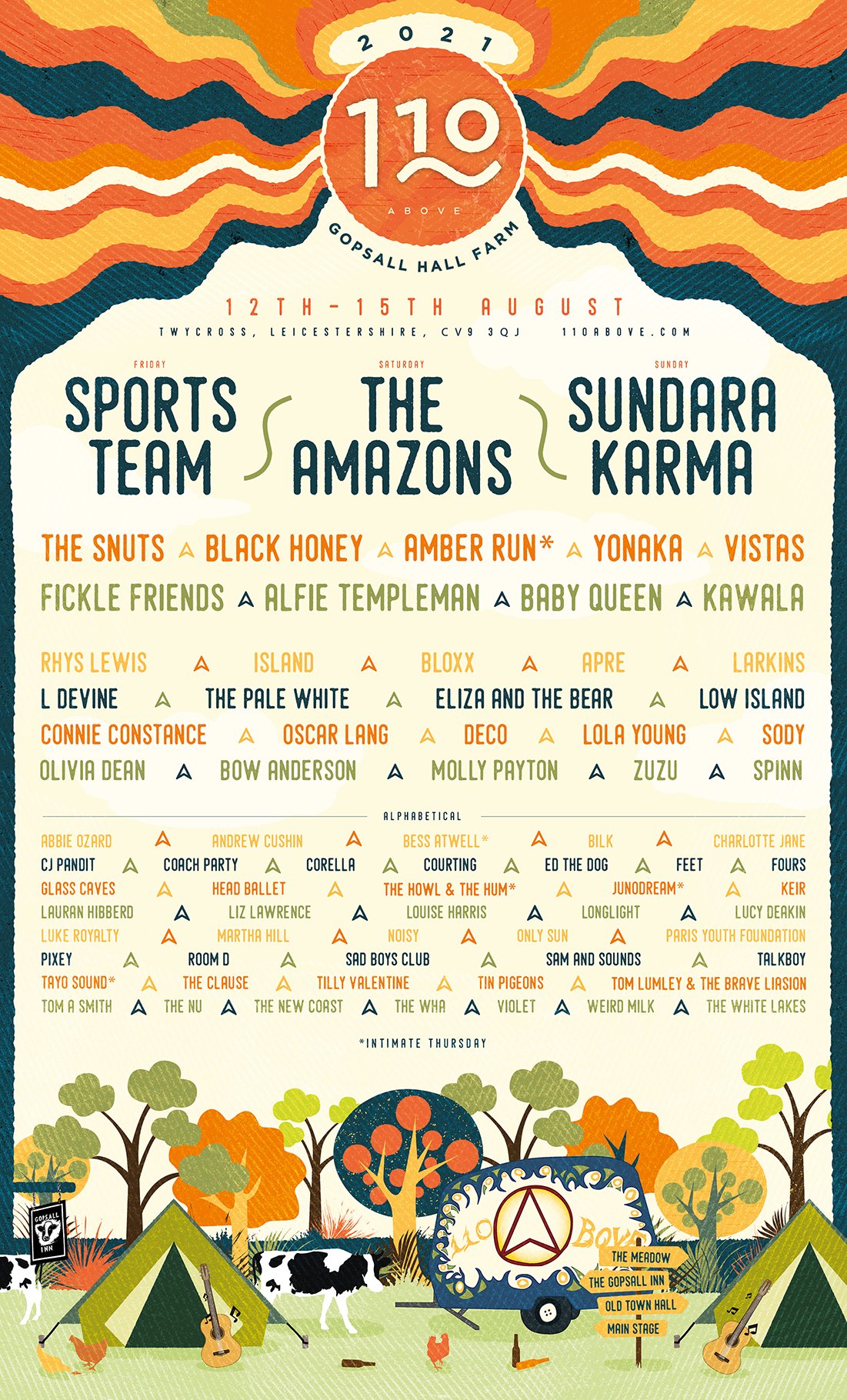 Leicestershire now, and 110 Above Festival. The event has added even more names whilst also announcing a new stage. The Elizabeth Stage will be headlined by Fickle Friends, Black Honey and The Snuts!
Headlining the main stage will be Sports Team, The Amazons and Sundara Karma. For tickets you'll want to head here.
Black Deer keeps getting bigger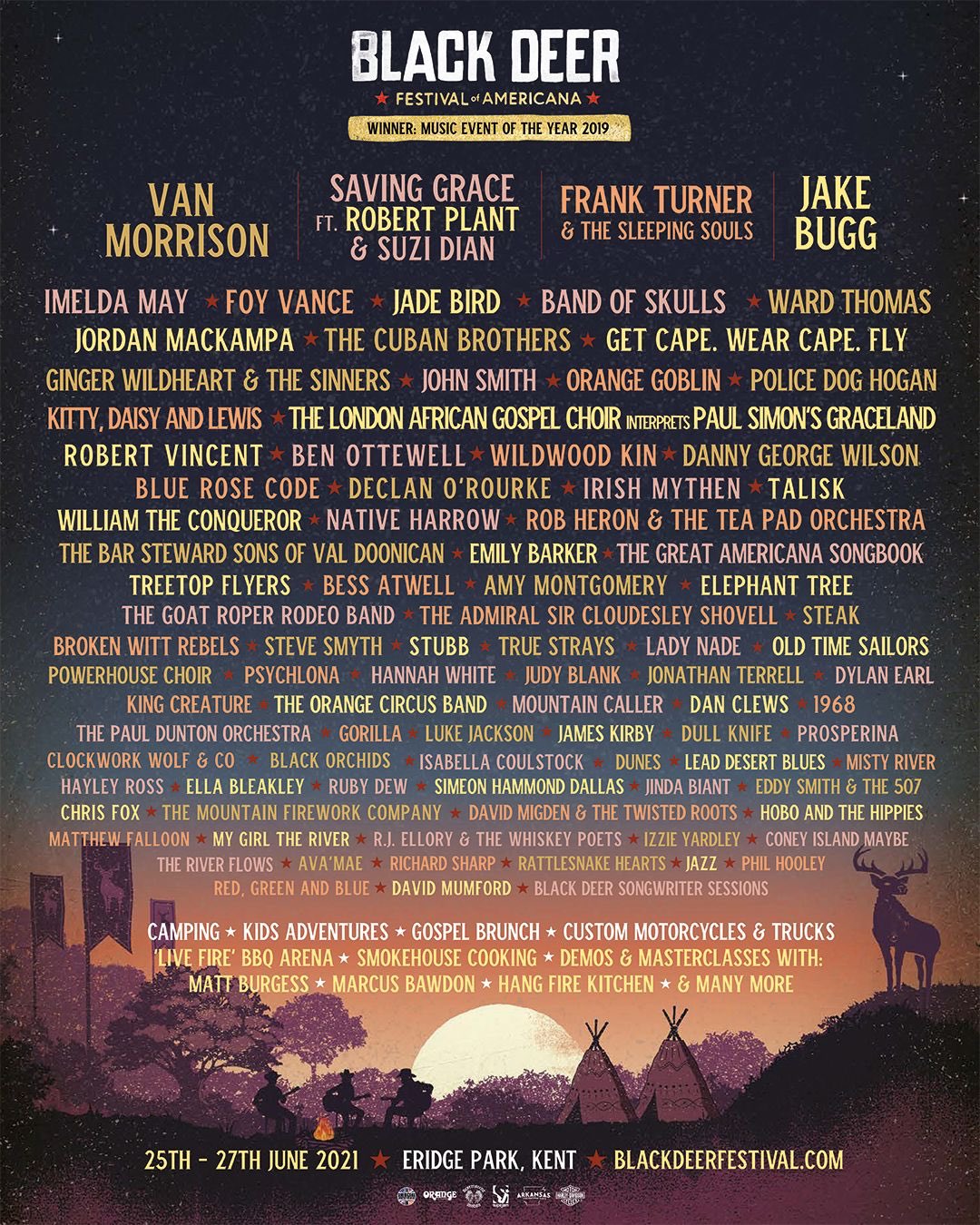 Black Deer Festival in Kent continues to grow bigger and bigger. The event which takes place 25th – 27th June 2021 has this week made further additions to an already stellar line-up.
Added are Jake Bugg, Ginger Wildheart & The Sinners and many more. They join the likes of Frank Turner, Imelda May, Band Of Skulls, Emily Barker and Broken Witt Rebels.
Grab your tickets here.
Steelhouse Festival draft in The Darkness!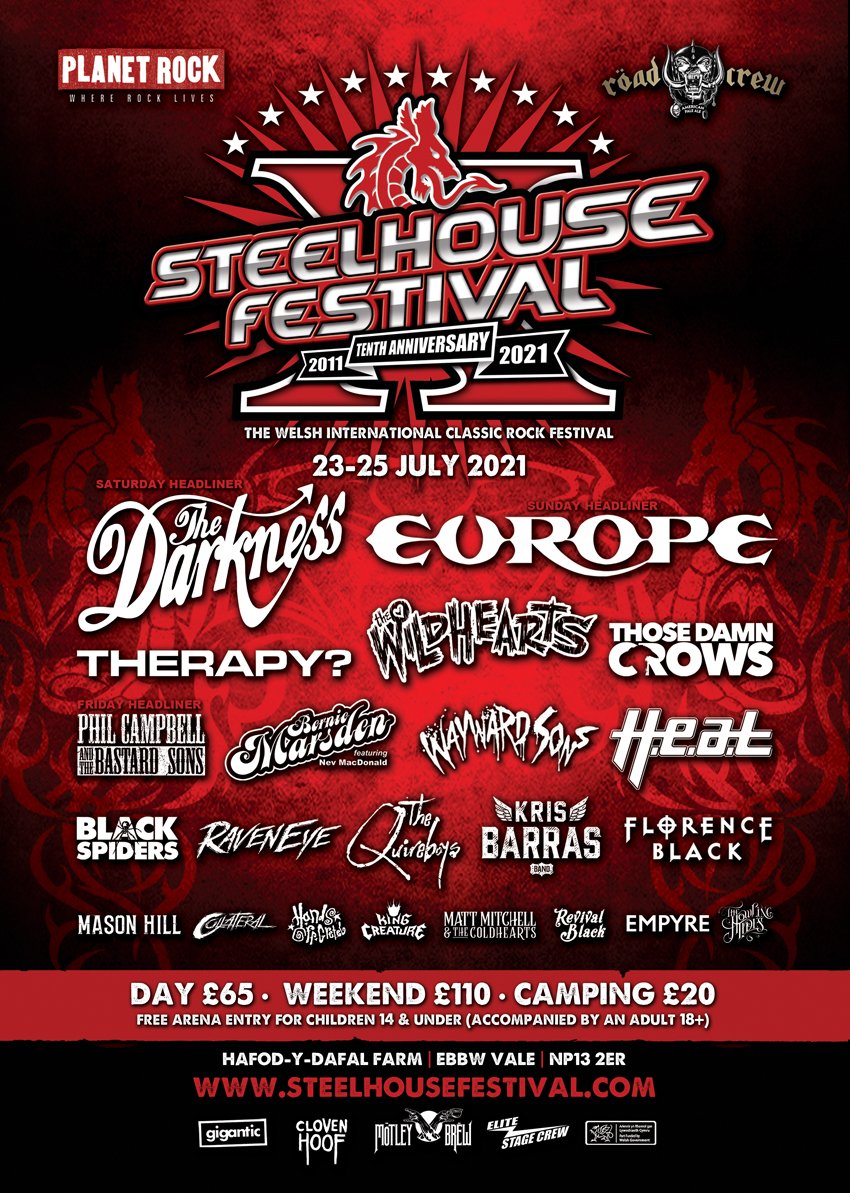 With previously announced headliners Anthrax unable to make it, Steelhouse Festival has moved quickly to draft in The Darkness as a more than worthy substitute.
They join the likes of Europe, Phil Campbell and the Bastard Sons, Therapy?, The Wildhearts and Those Damn Crows in Wales this July.
Tickets? You'll find them here.
Clapham Common set to host ALT+LDN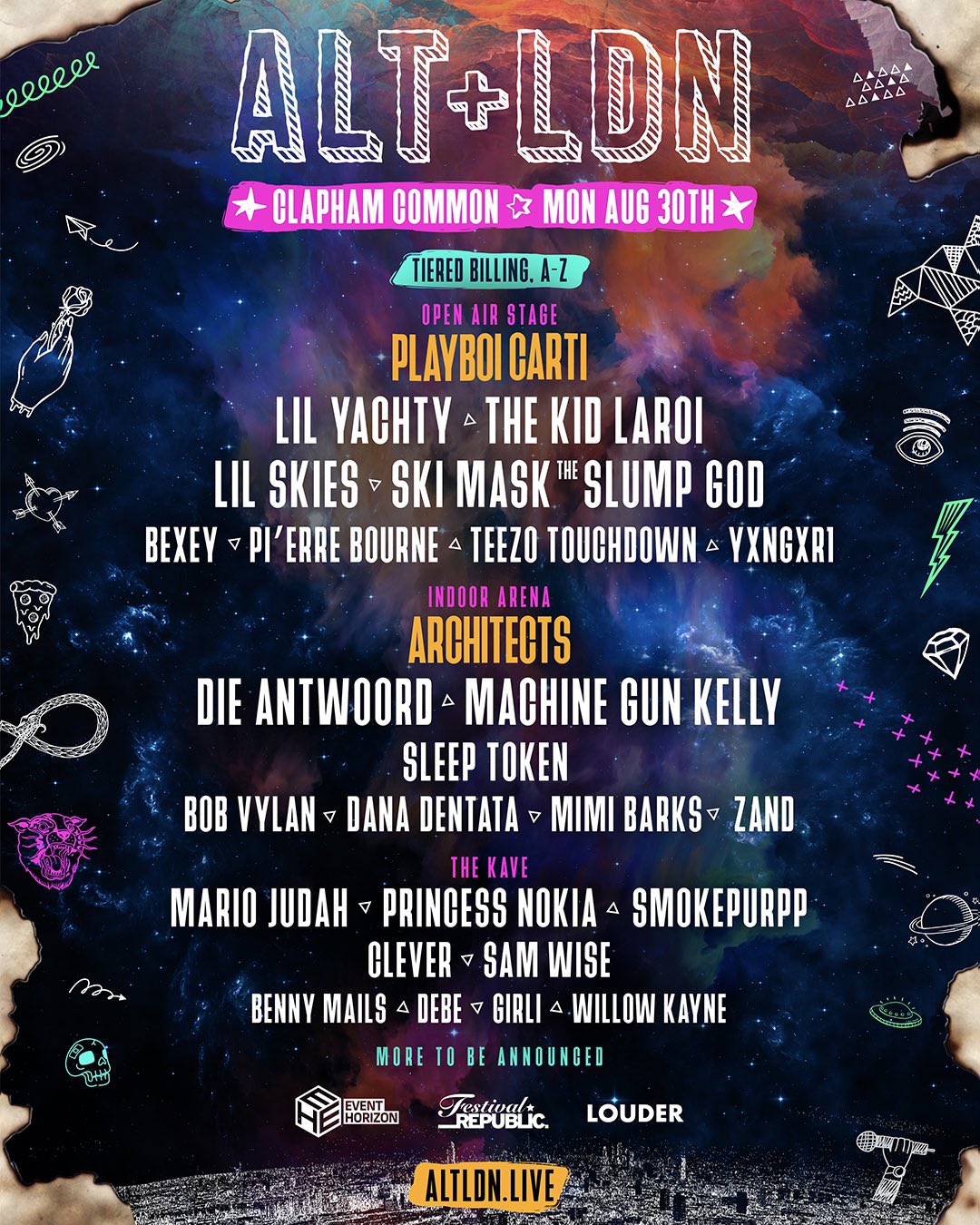 The final festival of our News Report is an interesting new event for Clapham Common. Taking place on Monday 30th August the rock and hip-hop crossover event features an eclectic bill.
On the heavy side of things at ALT+LDN are Architects, Machine Gun Kelly, Sleep Token and Bob Vylan. More info over here.
Read our review of 'For Those That Wish To Exist' from Architects
Frank Carter & The Rattlesnakes begin new era
On to the new music portion of our News Report. Frank Carter & The Rattlesnakes have kicked off their latest era with a brand new track featuring IDLES man Joe Talbot. You can listen to 'My Town' here.
Listen to 'My Town' on our Spotify Hot List!
The Subways release the powerful 'Fight'
The Subways returned this week with a new single with a powerful message. Check out 'Fight' here.
Listen to 'Fight' on our Spotify Hot List!
Garbage unveil title track to new album
The iconic Garbage continue to gear up for the release of their upcoming album 'No Gods No Masters' on June 11th. This week saw the group release the title track of said album.
Pre-orders are here.
Listen to 'The Men Who Rule The World' from Garbage on our Spotify Hot List!
Bruce Dickinson hits the road for a very special tour
Finally as we finish our News Report for another week. Legendary Iron Maiden singer Bruce Dickinson is scheduled to hit the road this August for a very special tour. The spoken word tour will feature an audience Q&A session and you can grab tickets here.
Share our News Report on Social Media