Every week we roundup the best music news from the past week!
Follow us on Social Media

Avenged Sevenfold debut 'Nobody'
Welcome everyone to another edition of our weekly music News Report!
This week we begin with the best new releases from the past week and up first are the returning metal icons Avenged Sevenfold.
In a big news week, the group revealed that their new studio album, 'Life Is But A Dream', will be released on June 2nd. That release is preceded by their lead single, 'Nobody', which you can check out above.
The band stated, "We're thrilled to announce our new album, Life Is But A Dream… available June 2, 2023. Written and recorded over the span of four years, the album was inspired by the writing and philosophy of Albert Camus. Our good friend and brilliant artist, Wes Lang, encapsulated our theme of existentialism through visual art for the album packaging."
Pre-order your copy here.
Listen on our 'Hard & Heavy' Playlist
Bury Tomorrow share 'Begin Again'
British metallers Bury Tomorrow have shared the latest taste of their upcoming album, 'The Seventh Sun'. You can listen to new single, 'Begin Again', above now ahead of the album release date of March 31st.
Speaking on 'Begin Again', guitarist Kristan Dawson says the track is "representative of the change we have all faced in the past few years. It represents an element of renewal and appreciation of where we have been as a band and where we are yet to go. Musically, it serves as a contrast to the heaviness we have presented in the first three singles, but packs a punch in a more positive way."
Pre-order your copy here.
Read our review of Bury Tomorrow live in Norwich
Trophy Eyes return with 'Blue Eyed Boy'
Australian punk rockers Trophy Eyes are back with new single, 'Blue Eyed Boy', a track particularly close to home.
Trophy Eyes' John Floreani says the song "was written about a trip I took back to my hometown. One friend in particular, maybe my best friend, had recently moved back and regressed into their old ways. I'd mourned the death of this friend long ago, as did the rest of us in our small social circle. To see him again brought me great childhood joy yet simultaneously an overwhelming sense of dread.
I was reminded of something my mother told me as a young boy when my grandmother died; "if you see her now, like this, it's the only way you'll remember her. Best hold on to the good times, you'll always have those."
More here.
Listen on our Spotify Hot List!
Far From Saints share 'Take It Through The Night'
Far From Saints, the new project featuring Stereophonics frontman Kelly Jones, have shared their latest single, 'Take It Through The Night', which you can listen to above.
The group also this week revealed the news that their self-titled debut album will be released on June 16th.
The members had the following to say:
"It took nine days to record and four years to get it to you! Your record collection will love it!" – Kelly
"It's a labor of love to make a record these days, because you never know what's going to happen with it frankly, and the outpouring of good vibes and comments, so far, has been really cool to watch." – Dwight
"This is kind of the first time I'm anticipating not feeling somewhat sad around an album release. I'm comfortable with who I am now as a person, as an artist, and I hang my hat not on the praise I receive, but on the work itself. I'm proud of this record, and its part in the greater cycle of creativity and inspiration. I'm grateful to be part of that." – Patty
Pre-order your copy here.
Read our review of Stereophonics live in Cambridge
From Ashes To New share 'Hate Me Too'
'Blackout', the new album from From Ashes To New, is out on July 28th. This week though saw the band share the latest single from the album, 'Hate Me Too', which you can check out above.
"So many of us fall victim to the classic toxic relationship," says vocalist Matt Brandyberry. "Feeling like you can't live without someone but knowing you'd be better off if you could. Oftentimes these feelings are mutual, but neither of you can see it. Sometimes we just need an anthem to remind us that being stuck isn't always the only option and violence never."
Pre-order your copy here.
Listen on our 'Hard & Heavy' Playlist
Ayron Jones debuts 'Blood In The Water'
Next in our News Report is 'Blood In The Water', the latest single from Ayron Jones, which you can check out above.
Jones announced this week that his second album, 'Chronicles of the Kid', will be released on June 23rd.
"As a child, I vividly remember sitting in church and hearing the preacher speak about generational curses," Jones explains. "For me, the concept of the weight of trauma traveling through time and space, affecting many generations until treated is an idea I take seriously. 'Blood in the Water' is my way of actively choosing to heal and transform this trauma by creating new stories and identities for not only myself, but also my family's future generations. I understand that energy can never be destroyed nor created anew; it can only be shifted. Therefore, while I cannot choose the life I have been given, I can strive forward and choose to take control of the future– to break these curses now and forevermore."
"It was the height of the pandemic and like everyone else, I was stuck inside watching the world pass by while having no idea what the future held," Jones remembers. "Then it happened, the phone rang and I got the call telling me my song went No. 1. Just like that, I'd become one of the biggest names in rock and roll, but I couldn't leave my couch. I had no idea how much my life had changed until August of '21, when I went on tour for the first time since signing my first major record deal. That's when it all hit me. 'Chronicles of The Kid' is the story of the truth – my truth. With my voice as my pen and my guitar as the page, the album is an audio journal of self-discovery told through tales of, temptations, triumphs, failures, sacrifice and the price of fame."
Pre-order your copy here.
Listen on our Spotify Hot List!

Bingley Weekender reveals line-up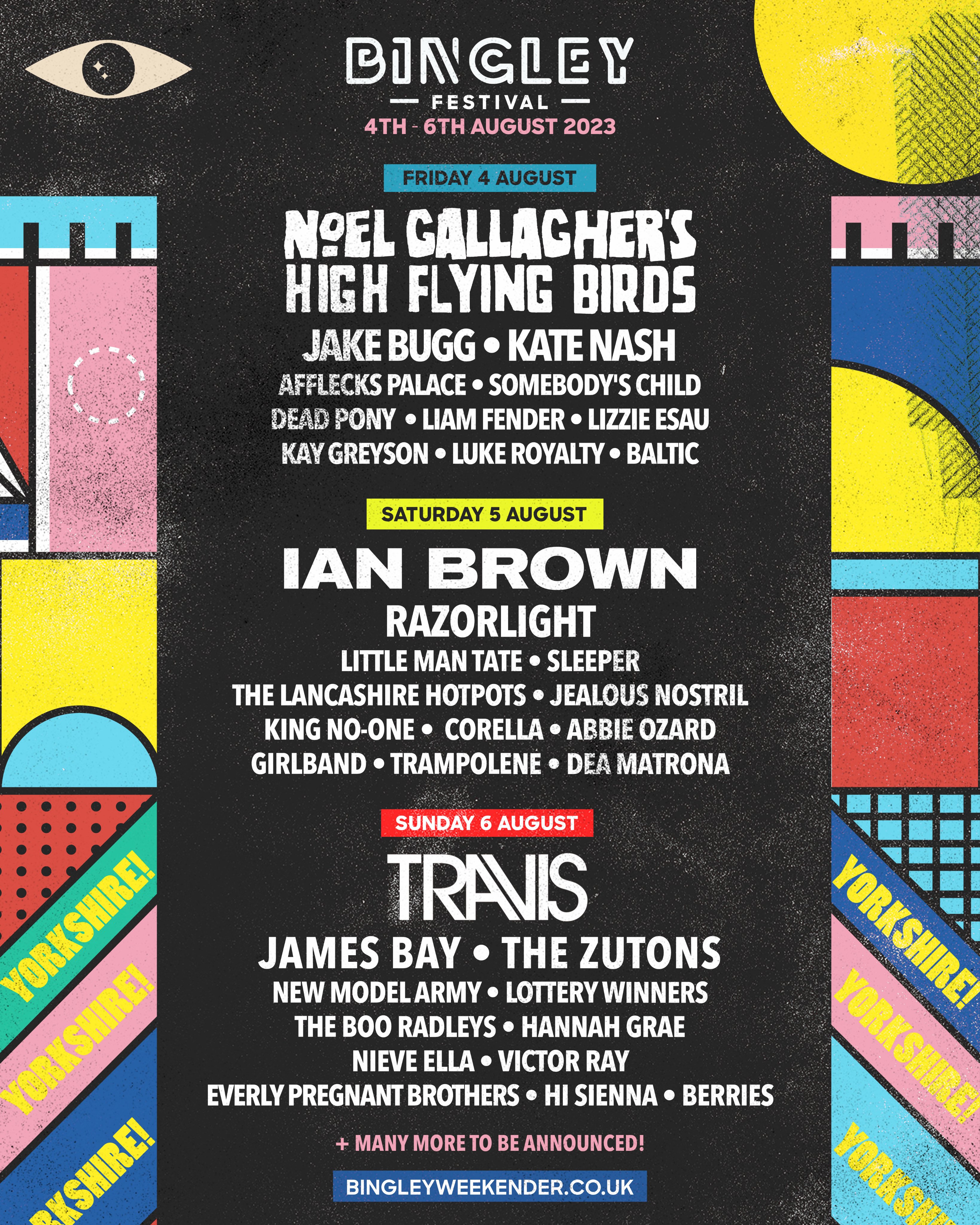 We move our News Report on now to the biggest and best festival announcements from the past week and we get started with Bingley Weekender!
The event revealed their first wave of acts this week including headliners Noel Gallagher's High Flying Birds, Ian Brown and Travis.
They'll be joined over the weekend by the likes of Jake Bugg, Razorlight, James Bay, The Zutons, Kate Nash, Little Man Tate, Jealous Nostril, King No-One, New Model Army, Lottery Winners and BERRIES.
Tickets are here.
Watch Episode 29 of our 'Discover' New Music Podcast with guests BERRIES
Find Full Pelt Music on Youtube
Maid of Stone reveal full line-up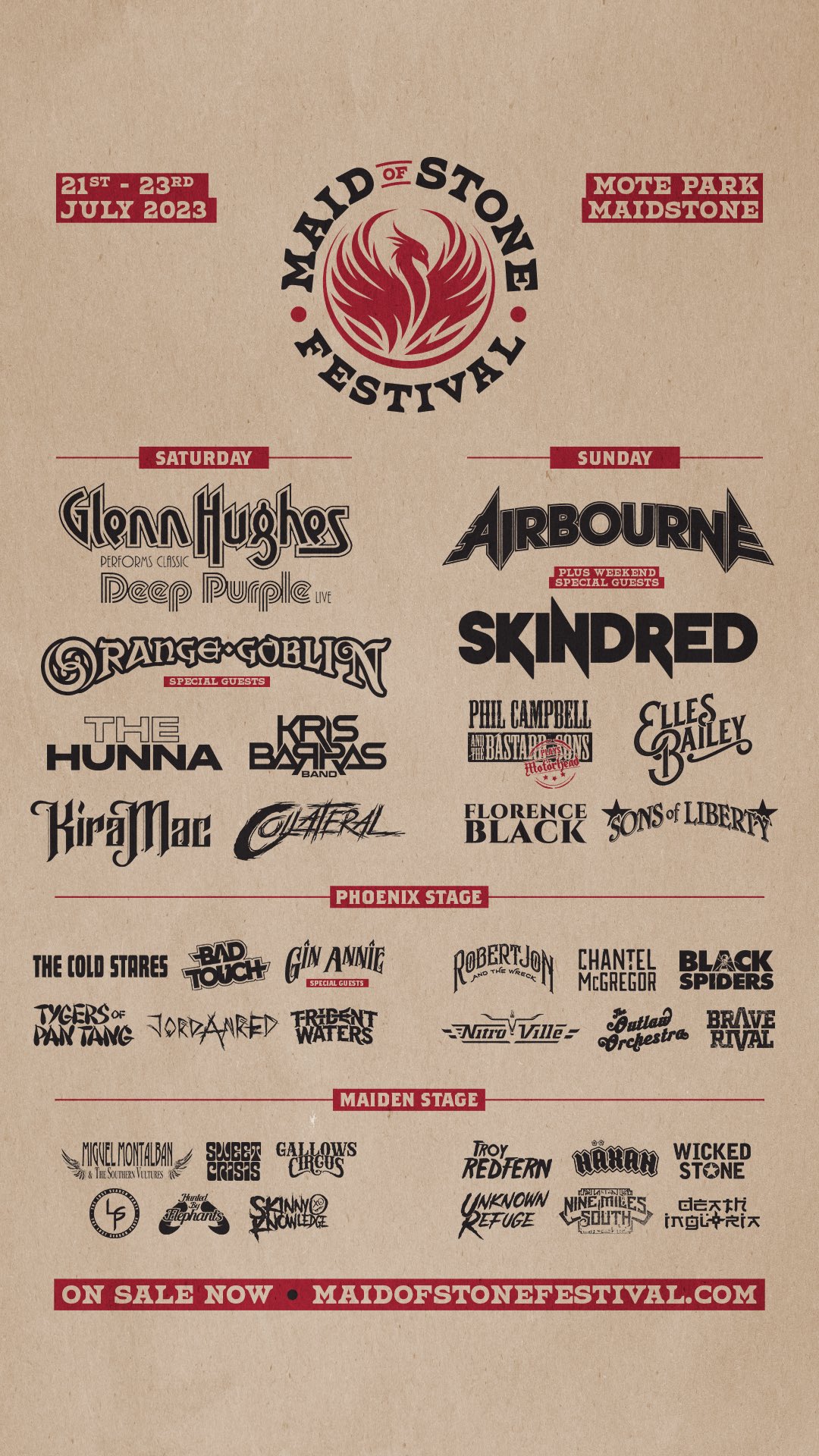 The inaugural Maid of Stone Festival takes place this July and this week the event confirmed Glenn Hughes as headlining the event alongside Airbourne.
Orange Goblin have also joined the likes of Skindred, The Hunna, Kris Barras Band, Phil Campbell and the Bastard Sons, Elles Bailey and Florence Black on the linup.
Plus The Treatment and The Hot Damn! will be playing a special opening party on the Friday of the event.
Tickets are here.
Watch Episode 5 of The Full Pelt Music Podcast with guests The Treatment
Read our review of Airbourne live in Norwich
No Play Festival line-up revealed
Liverpool get ready for No Play Festival this August!
The stunning line-up revealed this week includes Yonaka, VUKOVI, Higher Power, Conjurer, Graphic Nature, Lizzy Farrall, Gen & The Degenerates and more!
Tickets are here.
Read our review of 'NULA' from VUKOVI

Ocean Colour Scene set for UK Tour
Our News Report now turns its attention to the best tour announcements from the past week and up first is the above run of dates from Ocean Colour Scene.
Alongside their August dates, the group will now also be out on the road this December including a date at the Eventim Apollo in London.
Tickets are here.
Interpol announce new UK dates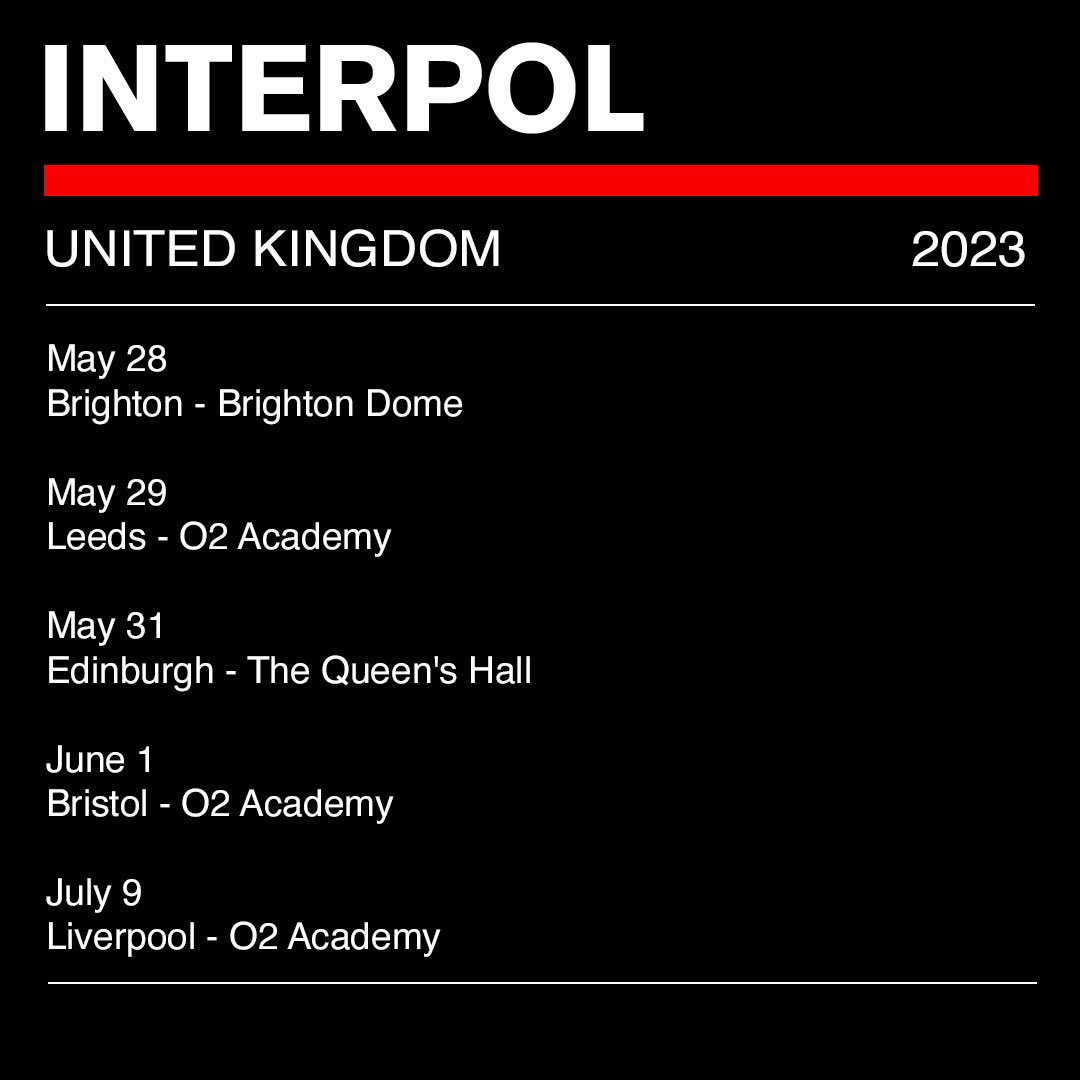 Also revealing a new set of UK tour dates this past week were Interpol. You can catch the band the summer in select venues.
Tickets are here.
Read our review of 'A Fistful of Peaches' from Black Honey
MAN WITH A MISSION announce UK return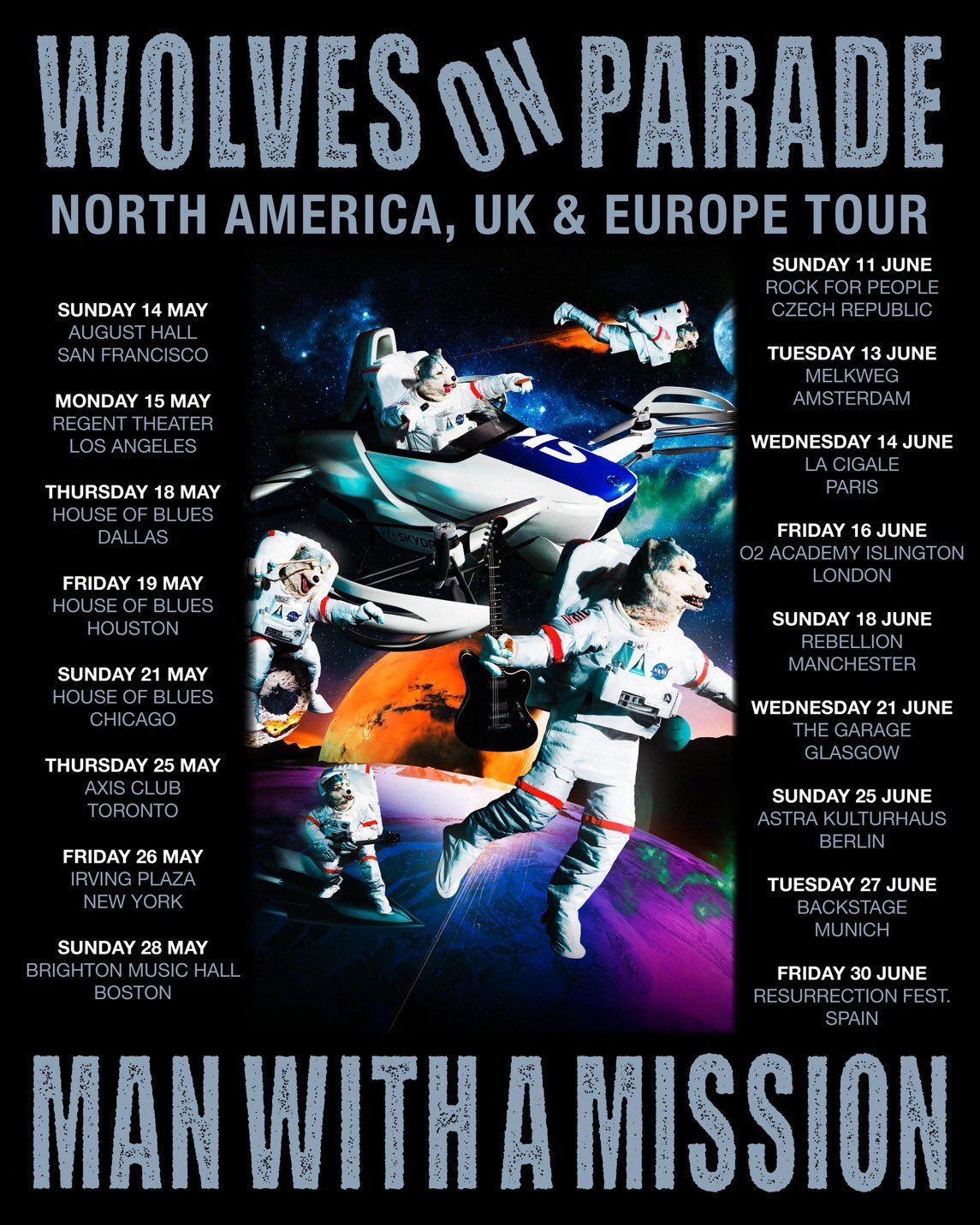 MAN WITH A MISSION are next up in our News Report as the group reveal a brand new tour including three stops in the UK this June.
Regarding the tour MAN WITH A MISSION's Jean-Ken Johnny (guitar / vocals / rap) says, "We are so excited to announce our WOLVES ON PARADE TOUR is coming to the UK, Europe and North America in May & June! It's been years since we last toured internationally and we've missed playing for you all so much! Can't wait to catch up with you all!"
Tickets are here.
Read our review of Fall Out Boy live in London
New Black Spiders Tour
The final tour announcement in our News Report comes from Black Spiders who will be hitting the road later this year.
Support will also come from The Hot Damn!
Tickets are here.
Read our review of Bullet For My Valentine live in Cambridge

As always we conclude our News Report with the latest additions to our 'Discover' New Music Playlist!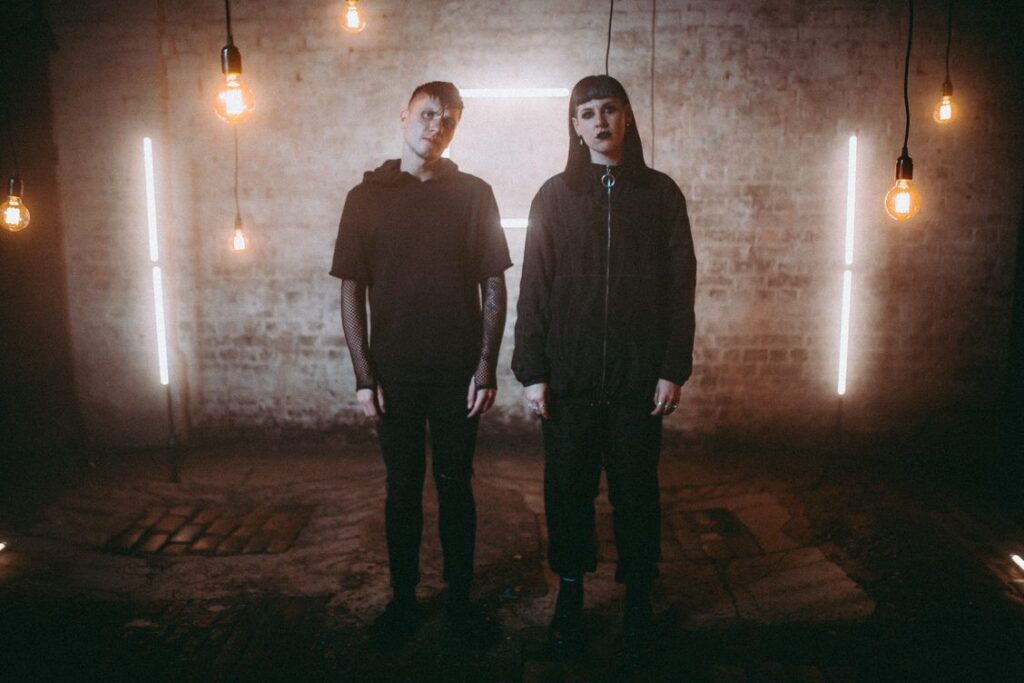 fakeyourdeath – 'consume'
Brighton based Electronic Post-Hardcore duo fakeyourdeath have dropped their sophomore single 'consume'.
"consume explores the idea of materialistic greed and how, as a society, we are fed this idea that without things we cannot be happy. but ultimately that's a lie. it's a narrative spun by the powers that be and consume was written to see the truth and challenge that way of thinking. consume depicts our disgust at a materialistic culture we all hate and yet want to be a part of." – Vocalist, Candi Underwood
Northern Captives – 'Anxiety Dreams'
UK Alternative Rock outfit Northern Captives release their brand-new single titled 'Anxiety Dreams'.
"It's written as an internal monologue battling anxiety by accepting its existence and not allowing it to direct your decisions or impact what you do day to day. We often speak to ourselves in ways we'd never dream of talking to anyone else. It's important to check in with yourself and make sure your internal dialogue is positive." – Vocalist, Sam Cook.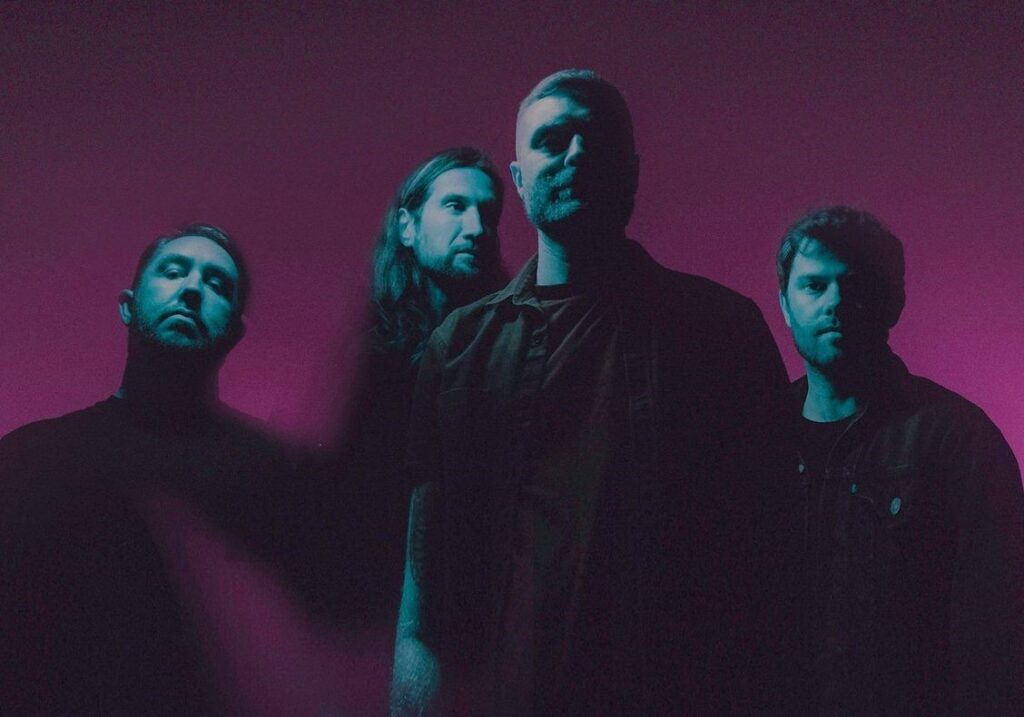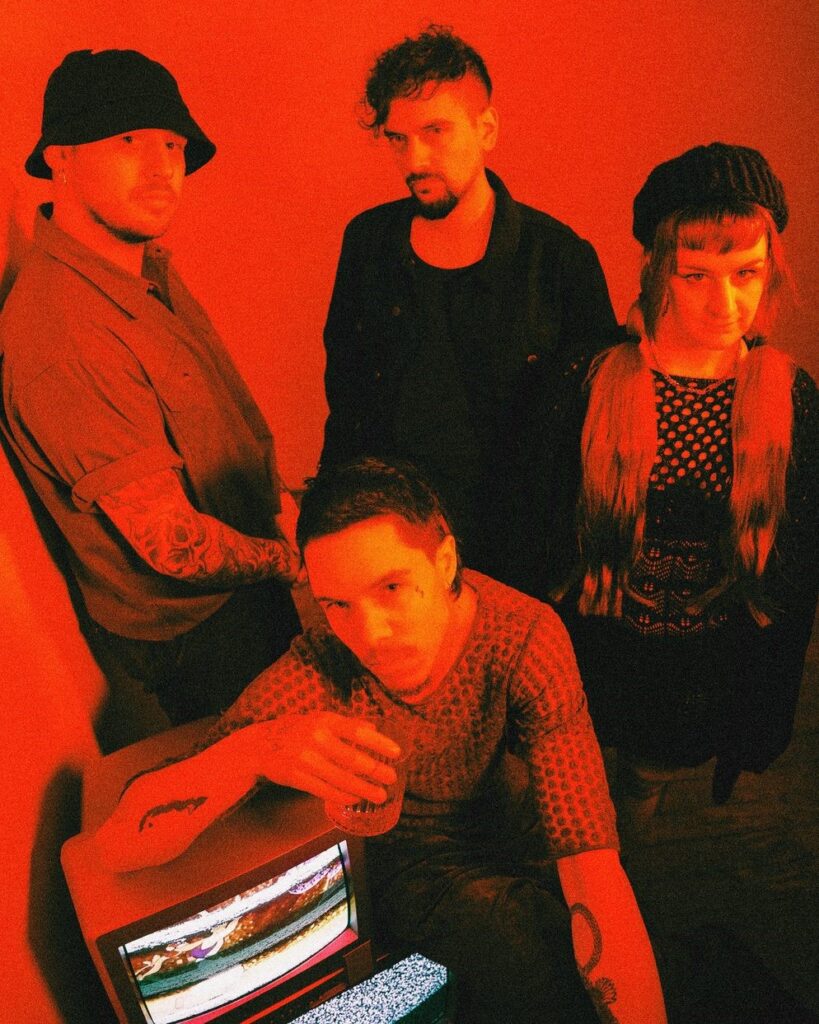 JACKALS – 'DIG IN'
Northern noise hounds JACKALS have unveiled their new single 'DIG IN'.
"Dig in is based on the idea of drug addiction but narrated by the drug itself, the song personifies the drug and its direct effects on a person. When you let drugs into your life they can sort of take on a whole persona unto themselves and we wanted to shine a light on that and show how destructive these can be. Like that one toxic friend you've had that keeps trying to worm their way back into your life." – JACKALS
Listen, Follow and Discover your new favourite act now with our 'Discover' New Music Playlist
Then find out the stories behind the songs on our 'Discover' New Music Podcast!
Share our News Report on Social Media