Every week we roundup the best music news from the past week!
Follow us on Social Media

The 1975 drafted in to headline Reading & Leeds Festivals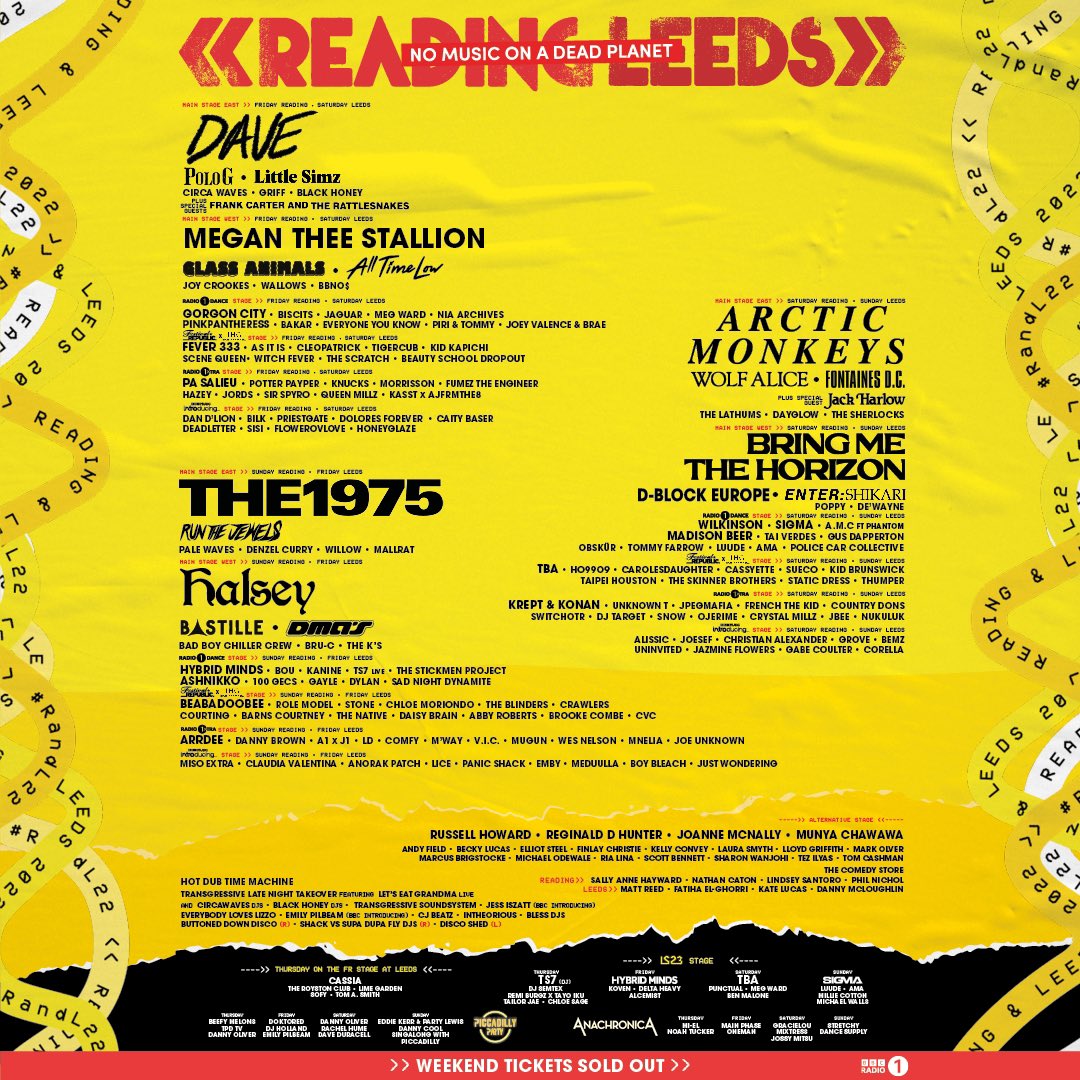 Welcome everyone to another edition of our weekly music News Report!
We start this week with the latest festival news and we start with a controversial change to the bill at Reading & Leeds Festivals. Sadly, Rage Against The Machine have withdrawn from the events at short notice, with organisers drafting in The 1975 as their replacement.
Check here for remaining tickets.
Find Full Pelt Music on Youtube!
Bloodstock reveals first 2023 acts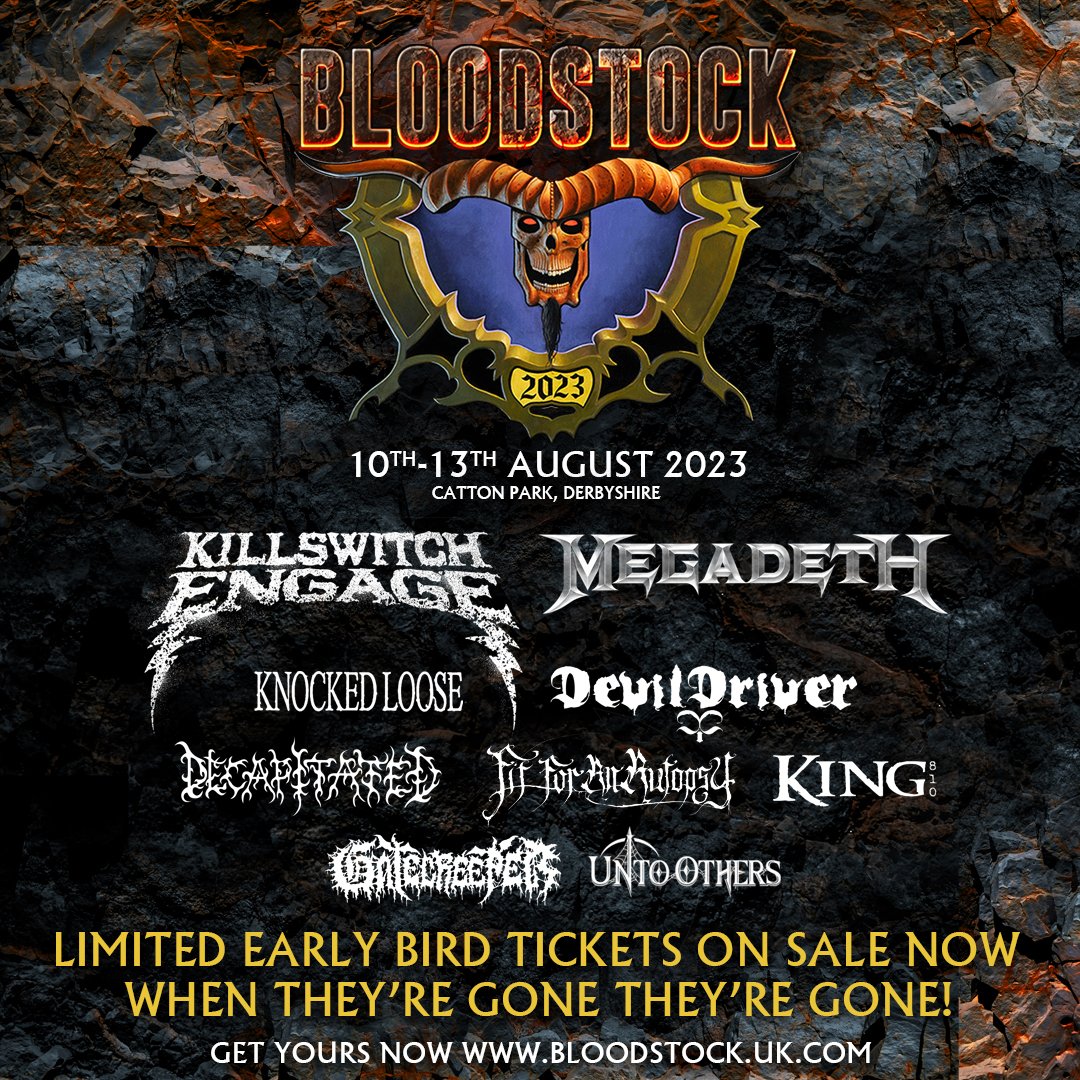 A scorching hot Bloodstock Festival including a secret set from Machine Head this weekend, also saw the first names revealed for the 2023 event.
Heading to Derbyshire will be the likes of Killswitch Engage, Megadeth, Knocked Loose and DevilDriver.
Tickets are here
Listen to our 'Hard & Heavy' Spotify Playlist
All Points East add Mogwai ahead of two week event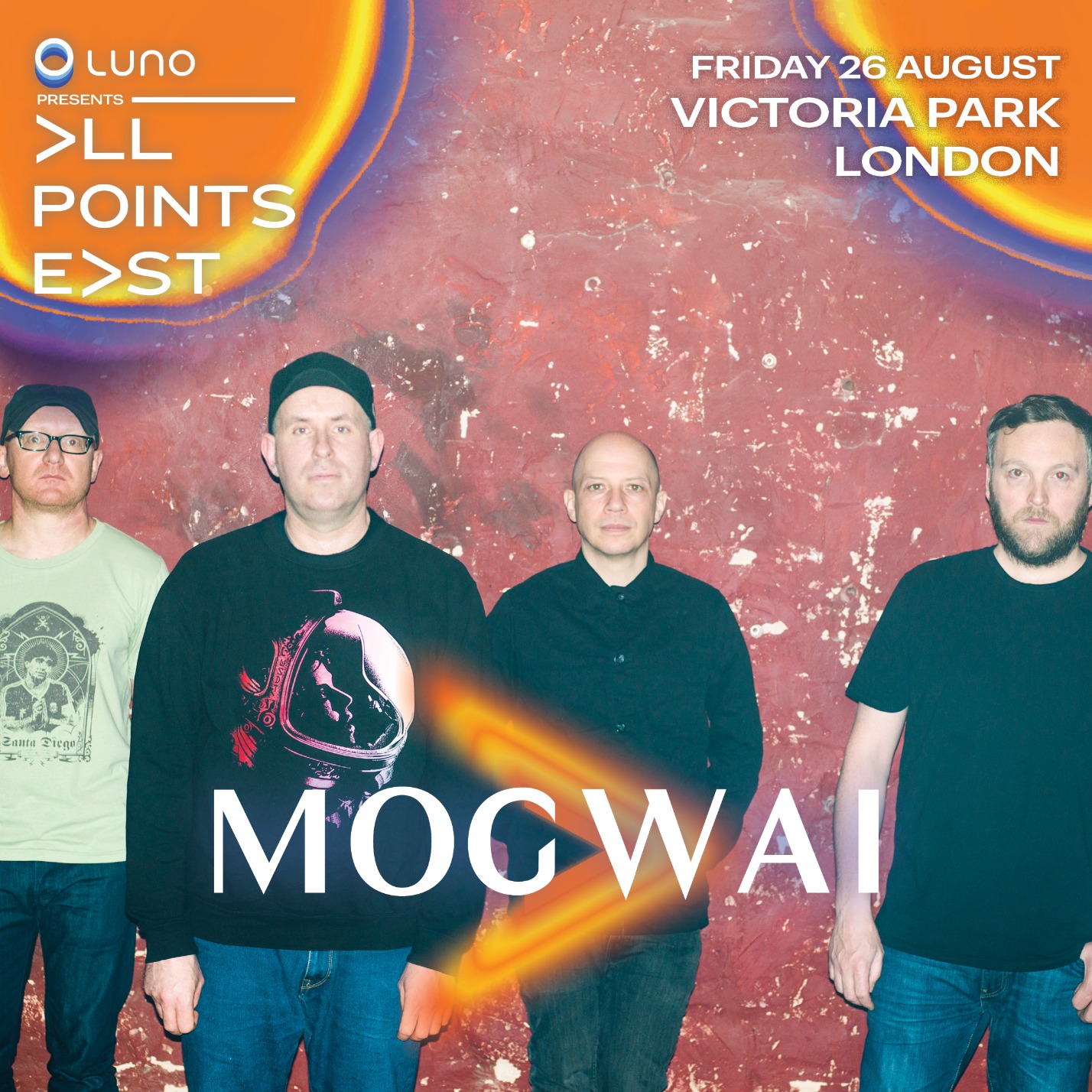 Another festival on the horizon is the two weekend extravaganza known as All Points East. The organisers have also had to make last minute alterations with Mogwai joining the bill in place of King Gizzard & The Lizard Wizard.
Final tickets are here.
Read our review of IDLEWILD live in London
Rival Schools set for 2000trees 2023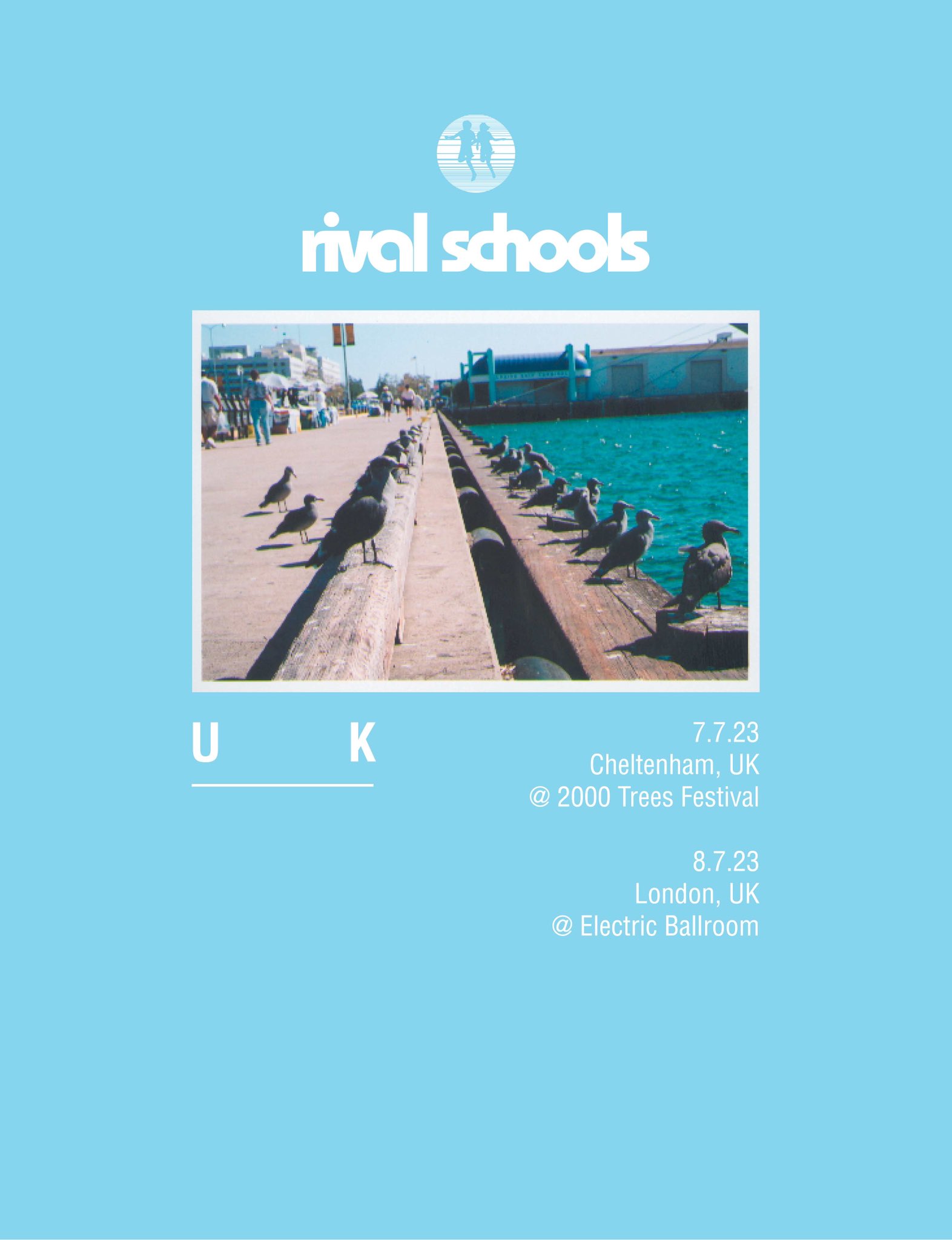 The final festival news in our News Report this week comes from 2000trees Festival.
Rival Schools have been revealed as the first act set for the 2023 edition. The group will also be playing a headline show in London next July.
Tickets are here.
Read our review of Y Not Festival

REEF set for Autumn Tour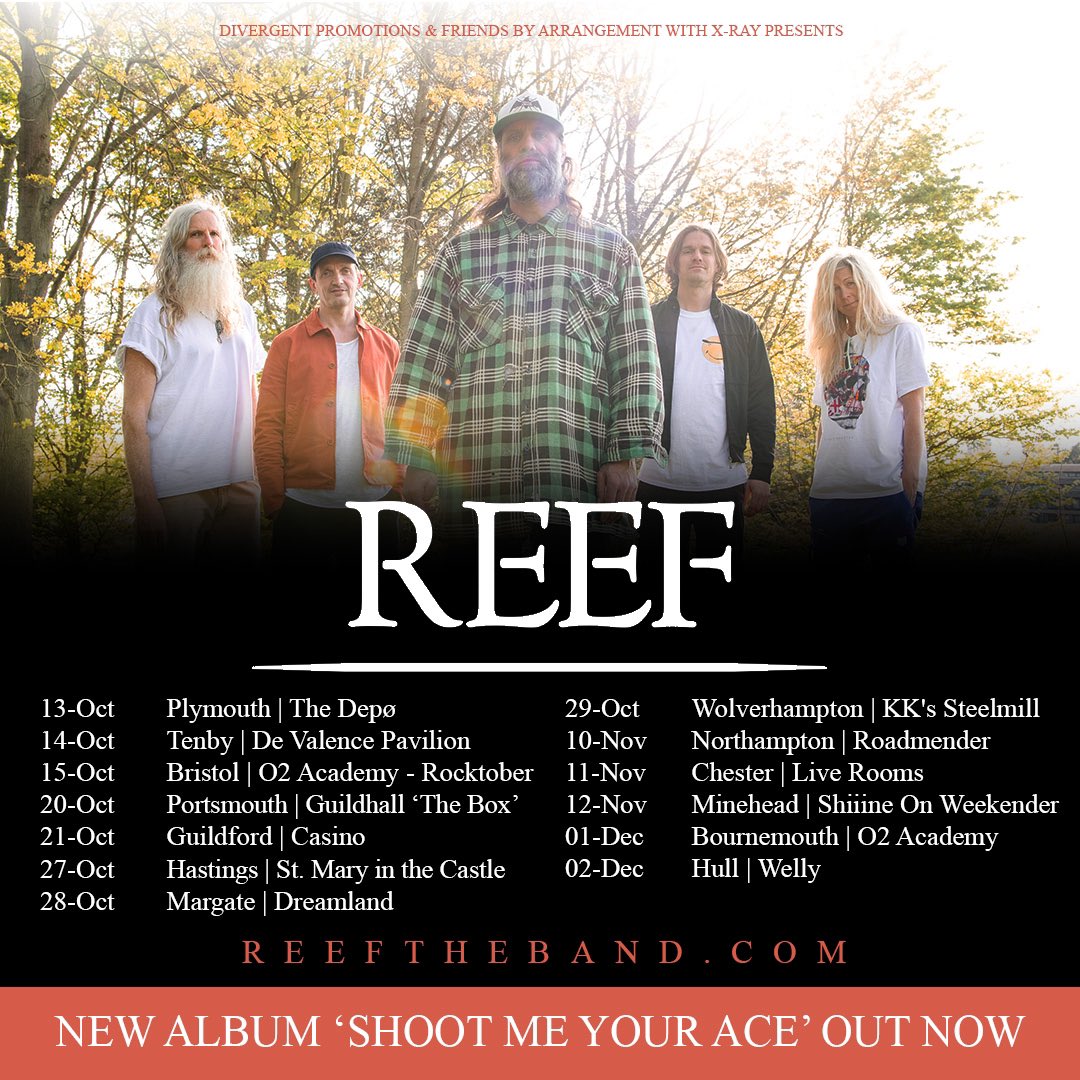 We move our News Report on now to the best tour announcements from the past week.
Following their recent shows with both the Rolling Stones and Bryan Adams, West Country rockers REEF have announced a brand new string of UK headline shows for later this year.
Lead singer Gary Stringer comments, "I'm super stoked to be playing more shows this autumn and into the winter with REEF. We've had our most successful year in a decade and don't want to stop rocking!"
Tickets are here.
Read our review of 'The Alchemist's Euphoria' from Kasabian
Young Guns return with new tour dates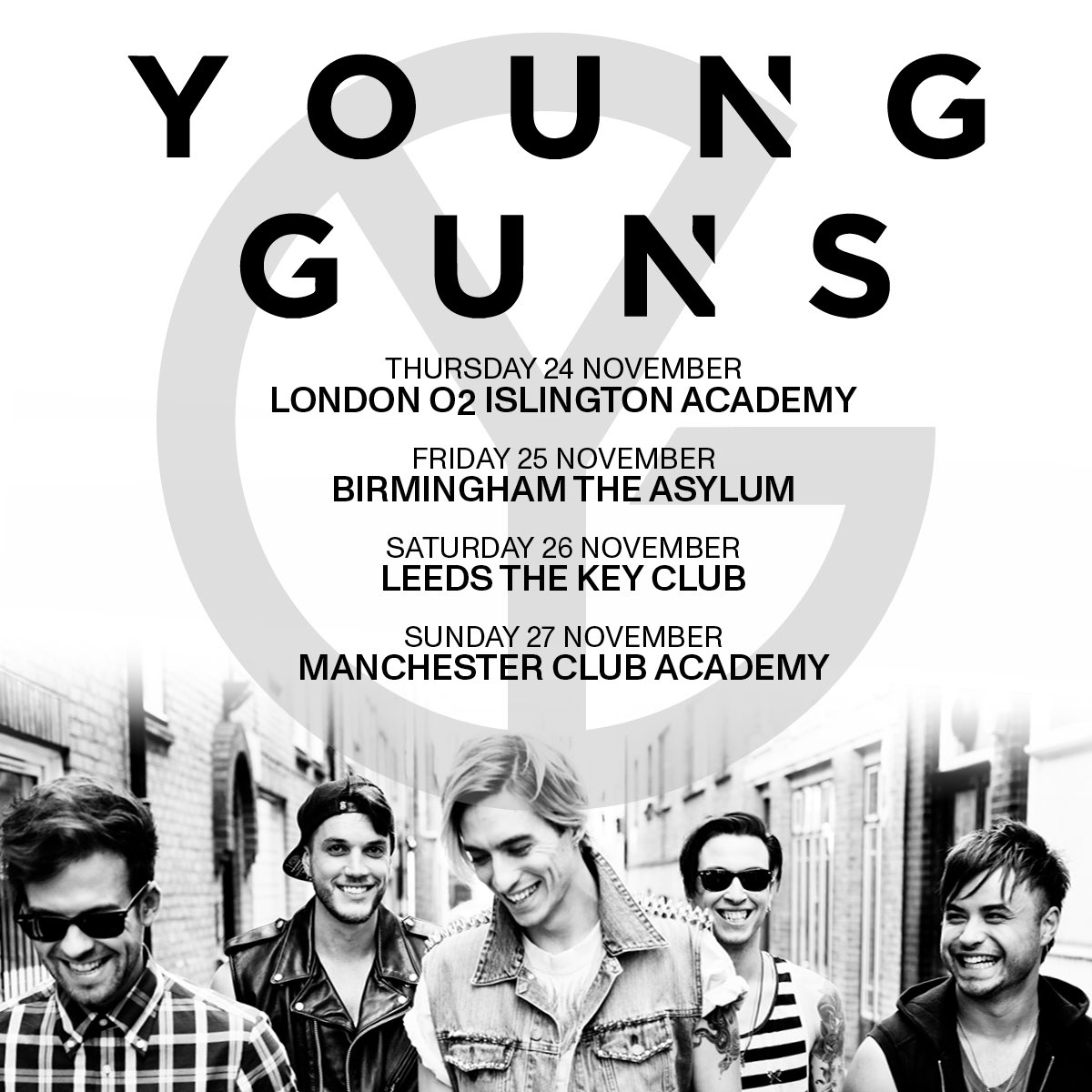 There was some great news for Young Guns fans this past week as the group revealed their return for a short tour this November.
Tickets are here.
Read our review of Jimmy Eat World live in London

Enter Shikari return with new single 'The Void Stares Back' ft. Wargasm
We turn now to the best new releases from the past week, and we start with a collaboration between Enter Shikari and Wargasm. 'The Void Stares Back' is the first new Enter Shikari single in almost three years, and you can listen above.
Lead vocalist and keyboardist Rou Reynolds comments: "It is with elation, and more than a little nervousness, that we release this; our first track after over two years of dormancy. It is a roisterous journey made all the more so with the addition of our friends Wargasm. Thematically, the piece is about the forward march of social progress, and how, often, those with a more conventional archaic outlook on sexuality, gender, social design, economics etc, see those with differing ideas like bewildering, depraved creatures from another dimension."

Wargasm add: "Shikari were a big part of our growing up, so it was an absolute honour to be asked to collaborate with such an incredible and well-spoken band. They stand for the right things – we're a little more pessimistic. It was fun playing the darker devil's advocate to Rou's light…where we're going, you won't need eyes to see…"
More here.
Read our review of Enter Shikari live in London
Nothing More share 'YOU DON'T KNOW WHAT LOVE MEANS'
Nothing More have this week shared the latest single from upcoming album, 'SPIRITS', which is out October 14th.
You can watch the video for 'YOU DON'T KNOW WHAT LOVE MEANS' above.
"We're glad this song is finally getting out there so we can dig into the emotional and intimate side of the album," says frontman Jonny Hawkins. "The lyrics and tone of this one feels like it hits in a similar way that 'Go To War' and 'Jenny' did. It's going to feel huge playing this next one on tour.".
Pre-order your copy here.
Listen to 'TIRED OF WINNING' from Nothing More on our 'Hard & Heavy' Playlist
Editors debut 'Kiss'
There was also new music on offer this week from Editors as they continue to build towards new album, 'EBM', which is out September 23rd.
You can listen to new single, 'Kiss', above.
Pre-order your copy here.
Read our review of '10 Tracks to Echo in the Dark' from The Kooks
The Subways debut new video for single 'Love Waiting On You'
The Subways are another band with a new album on the way; 'Uncertain Joys' will arrive on January 13th. This week they shared the video for latest single, 'Love Waiting On You', which you can watch above.
Commenting on the gender-role-reversing video directed by animator Neil Whitman, front man Billy Lunn says: "When Neil initially presented us with the concept of the video as an 8-bit platform-style video game, our drummer Camille cleverly proposed that, given how the song is so obviously about yearning, why not instead have the rescuer and rescued gender roles reversed to change things up."

"I saw myself as the Princess Peach character, with the love of my life (about whom the song is written) being my rescuer, fighting through the various obstacles and antagonists along the way. The sense of isolation, helplessness, and vulnerability within the song now made all the more sense to me."
"Whilst it's not always correct to assume that one person should come to the rescue of another in a relationship, my belief in the hopelessly romantic/pathetic notion that lifelong soul mates do in fact exist is woven into the very fabric of my being. And so, when at the end of the video my rescuer realises that it is only the will to love that is required to come to my aid, as opposed to having to fight through strife, battles, and failures, I knew that Neil understood the depth of my belief in this notion."
"Our protagonist is trapped in his virtual cell waiting for the female heroine (the princess) to come to his rescue," adds director/animator Neil Whitman. "I had great fun designing the band members as 8-bit characters as well as designing the princess and various levels for our heroes to venture through. Setting the game in mediaeval times helped me to subvert the usual tired traditions of the prince rescuing the princess and play around with audience expectations."
The band have also announced their re-arranged tour dates.
Pre-order your album, and grab your tickets here.
Read our review of The Subways live in Norwich
Pixies share new single 'Vault of Heaven'
The legendary Pixies shared their new single, 'Vault of Heaven', this week which you can check out above. The song comes from upcoming album, 'Doggerel', which is out September 30th.
Pre-order your copy here.
Read our review of Pearl Jam live at BST Hyde Park
Black Honey debut new track 'Charlie Bronson'
Black Honey kicked off their new era this week with new single, 'Charlie Bronson', which you can check out above.
More here.
Read our review of Black Honey live in Norwich
Jamie Lenman shares new video for 'Talk Hard'
Jamie Lenman has unveiled the video for his new single, 'Talk Hard', which you can watch above.
The first hint at a leaner and more mainstream leaning sound to come from his new material, commenting on the single Lenman says: "I've been trying for a long time to do something a bit more melodic, and Talk Hard is the first flowering of that. People tell me they can hear Weezer in there which is great as they've always been heroes of mine, particularly the first two albums."
"Lyrically it's about standing up for yourself, for making sure that your voice is heard by people you feel are ignoring you—be that your friends, your family, your boss or even your government. It's about encouraging and empowering people, standing behind them and lending them your support. Very positive, after all the negative feelings from King Of Clubs."
In a crossover into his alternate universe sideline stage-managing cabaret shows, the video for the track stars Lenman and hula-hoop performer Amazi Hoops. It was directed by Jen Hingley from Manchester alt-rock band False Advertising, who also plays guitar in Lenman's live band.
"I consciously tried to not cook up any ideas of my own for this track so that Jen could have free reign without my interference," explains Lenman of the concept for the video. "She came up with this tin can idea that I really liked. It seemed very similar to the kind of videos we used to make back in the band days, with a quirky concept and even a little mystery. We went and did it in one day, filmed in the same room where the band rehearse and the fields nearby, and it came out great!"
More here.
Read our review of Download Pilot Festival
THE HARA share new single 'Rockstar'
THE HARA have been busy making a name for themselves, including appearing on our 'Discover' New Music Playlist. Now, the group are taking the next steps in their career with the news that their debut album, 'SURVIVAL MODE', will be released March 3rd.
This week the band shared the first single to come from the record and you can listen to, 'Rockstar', above.
Pre-order your copy here.
Asylums debut 'Understand the Psychology'
Southend's Asylums this week shared their soaring power-pop single, 'Understand the Psychology', which you can check out above. The song features on upcoming album, 'Signs of Life', which is out October 14th.
On producing the current single from 'Signs of Life', Dave Eringa enthuses, "Understand The Psychology" is a great example of how Luke's songwriting has developed – it retains all the power that Asylums have always had but welds it to a pop melody with Cobain-esque panache!"
Pre-order your copy here.
Watch our 'Discover' New Music Podcast with guests BAIT

As always we conclude our News Report with the latest additions to our 'Discover' New Music Playlist!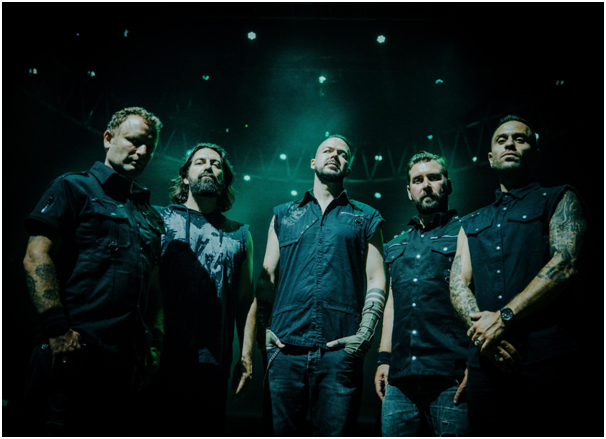 The Interbeing – 'Eternal Eclipse'
Danish industrial metalcore quintet The Interbeing, are back with their new single, 'Eternal Eclipse'.
"Eternal Eclipse is the final chapter on this album and we really wanted to symbolize the eclipse in the graphics in the video which starts and ends with an eclipse. The song is about the ultimate annihilation but also the need to revolt the eclipse and to overcome it. "I pray for no-one" is a repeating phrase which shows a rebellion against the religious perspective on life.
This song was fluent to write and record but the break-down piece in the middle was randomly written with our drummer who wanted a sub-level tone on the guitar. Finally we love the dystopian and melancholic vibes in the chorus and it is an epic resolution to close the album of Icon of the Hopeless." -Dara Corcoran, vocalist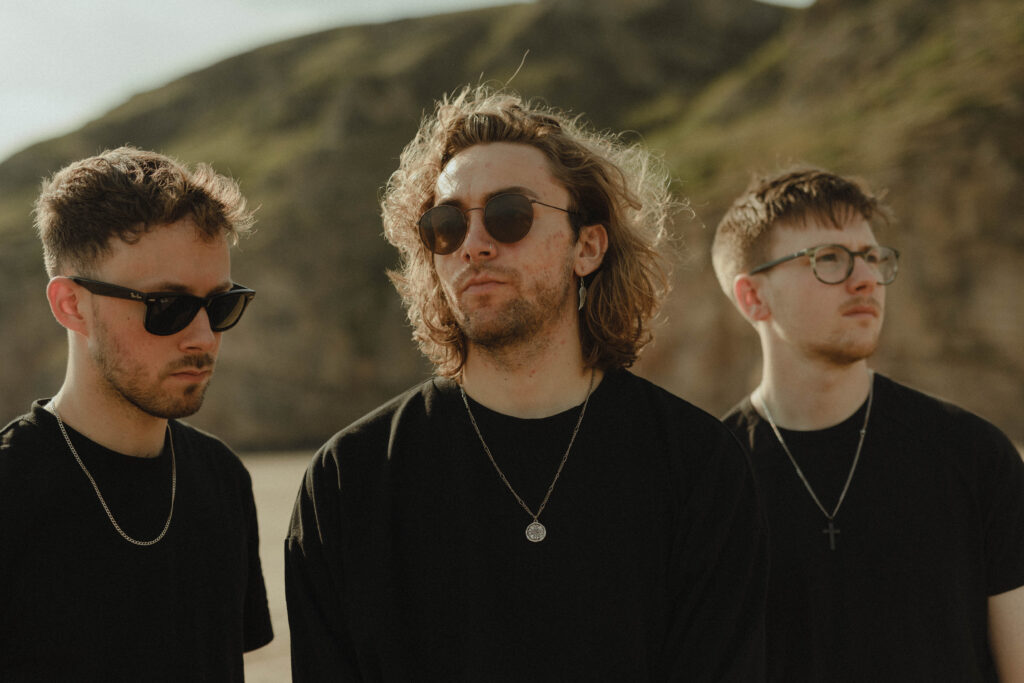 Krooked Tongue – 'When the Beaches Bleed'
Bristol-based rock trio Krooked Tongue release new single, 'When the Beaches Bleed'.
Speaking about the upcoming single, vocalist and lyricist Oli Rainsford says, "Beaches, to me, is the ultimate homage to something I've always been in awe of. Big wave surfing is next level crazy and it's an art that carries with it, high risk. This song is a tip of the hat but also, I think, doubles as a notion to not be scared to take risks and also not to fear failure. It's a cosmic 'fuck you, try it again' that we often need to be encouraged to carry out. Confidence is key."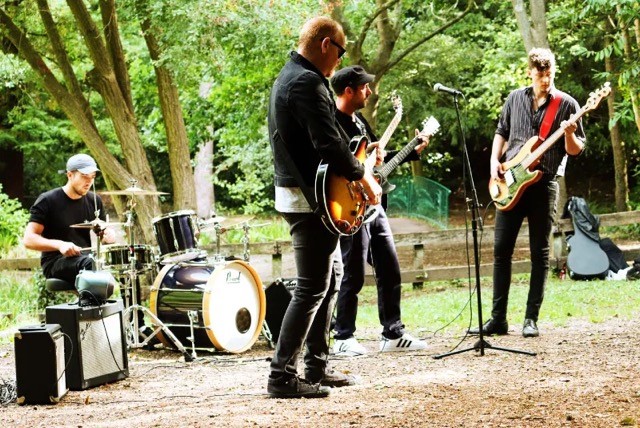 Regent – 'Just A Revolution'
Regent have just released their debut album including the single, 'Just A Revolution'.
Frontman Ben Rooke explains,"This is a track I wrote when I first decided to get back into music seriously, and it came at a time when I was at my worst, taking lots of drugs and going through a bad break up.
The song is about moving away to the other side of town and into the countryside. It also quotes the start of Regent as a band/idea/thing I wanted to create.. I formed the band and current line up three years later, after getting clean from Class A drugs."
Listen, Follow and Discover your new favourite act now with our 'Discover' New Music Playlist
Then find our the stories behind the songs on our 'Discover' New Music Podcast!
Share our News Report on Social Media