Every week we roundup the best music news from the past week!
Follow us on Social Media

The Darkness revisit 'Permission to Land'
Welcome everyone to another edition of our weekly music News Report!
This week we begin with the best live announcements from the past week and up first are The Darkness who will revisit their iconic debut album, 'Permission to Land' for its 20th Anniversary this December.
Regarding the shows frontman Justin Hawkins says, "We, The Darkness, are delighted to announce that we'll be hitting the road in the U.K. once again. To commemorate the 20th anniversary of Permission to Land, our set will include every song from our debut album faithfully reproduced (with additional clam notes and meanderings) in the order in which they appear on the record. We'll also play all of your favourite Darkness songs from the rest of our illustrious and tipsy turvy career. It will be the best show you'll see this year. I should know, I'm the singer and also a YouTube music expert."
In further celebration the band will re-issue the album with a new collection set for release on October 6th.
On the new release Hawkins says, "So much has happened since the original release of Permission To Land that I can hardly believe it's only been 20 years. Such turmoil, upheaval, the emotional rollercoaster ride of being nobody, becoming somebody, going back to being nobody and LOVING EVERY SECOND OF IT. The past two decades have only been this eventful BECAUSE of the impact that our debut album had. I'm grateful for every second of this experience and delighted to celebrate the 20th anniversary of the best debut album by The Darkness of all time. Join me in giving this seismic long player 20 heartfelt bumps. Happy birthday PTL!"
Tickets and pre-orders are here.
Read our review of The Darkness live in Birmingham
Sundara Karma announce new tour dates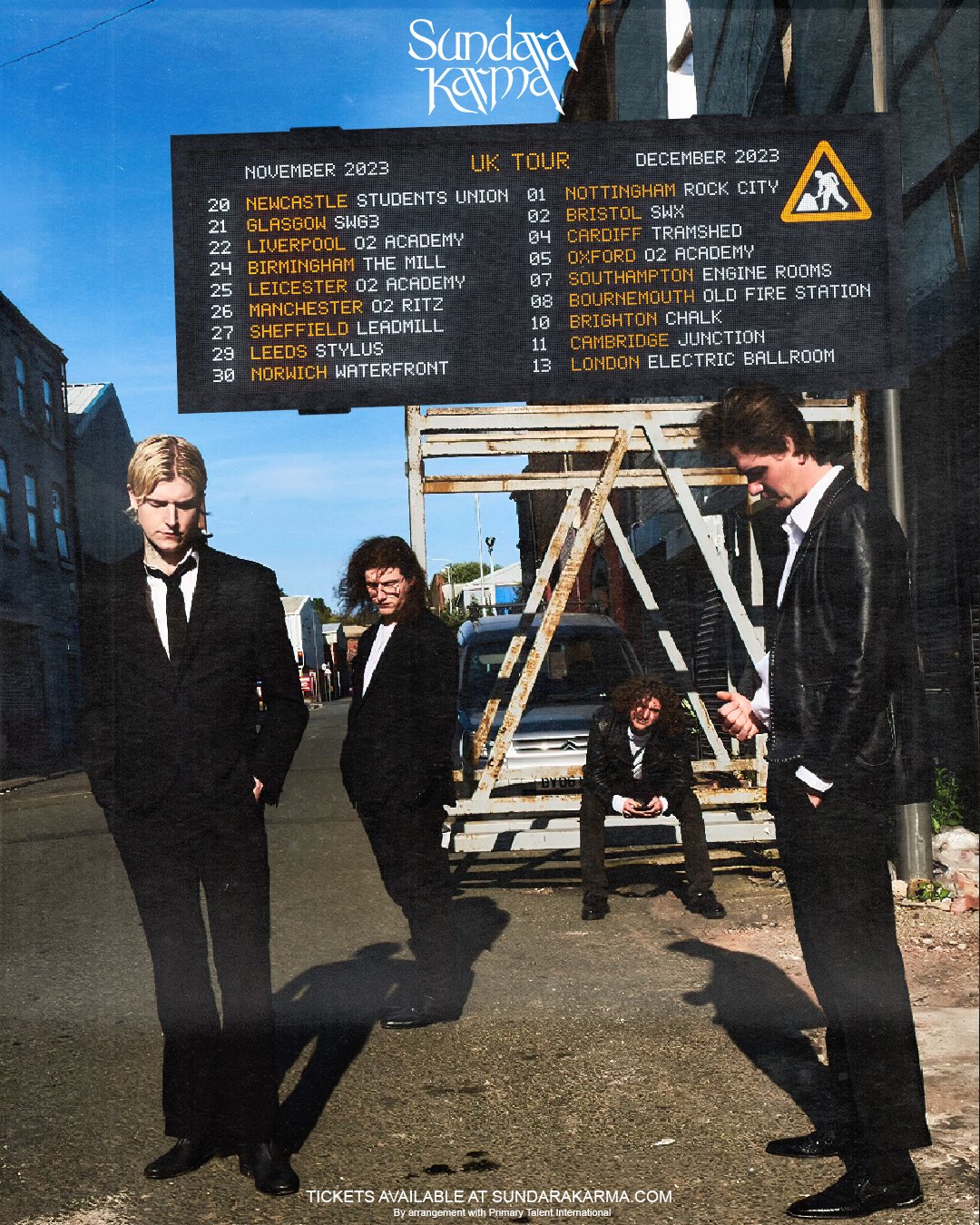 Sundara Karma have also announced new tour dates which will see them trek around the UK later this year.
The band will be releasing their third album, 'Better Luck Next Time' on October 27th.
Tickets and pre-orders are here.
Read our review of Arctic Monkeys live in Coventry
Beans On Toast will be on the road again!
Festival favourite Beans On Toast may currently be serenading fields across the country, but as if like clockwork the singer will soon be back out on the road once again.
You can catch Beans later this year playing many often forgotten towns and cities!
Tickets are here.
Watch Episode 3 of The Full Pelt Music Podcast with guest Beans On Toast!
Read our review of Beans On Toast live in Norwich
The Wild Things set for new UK Tour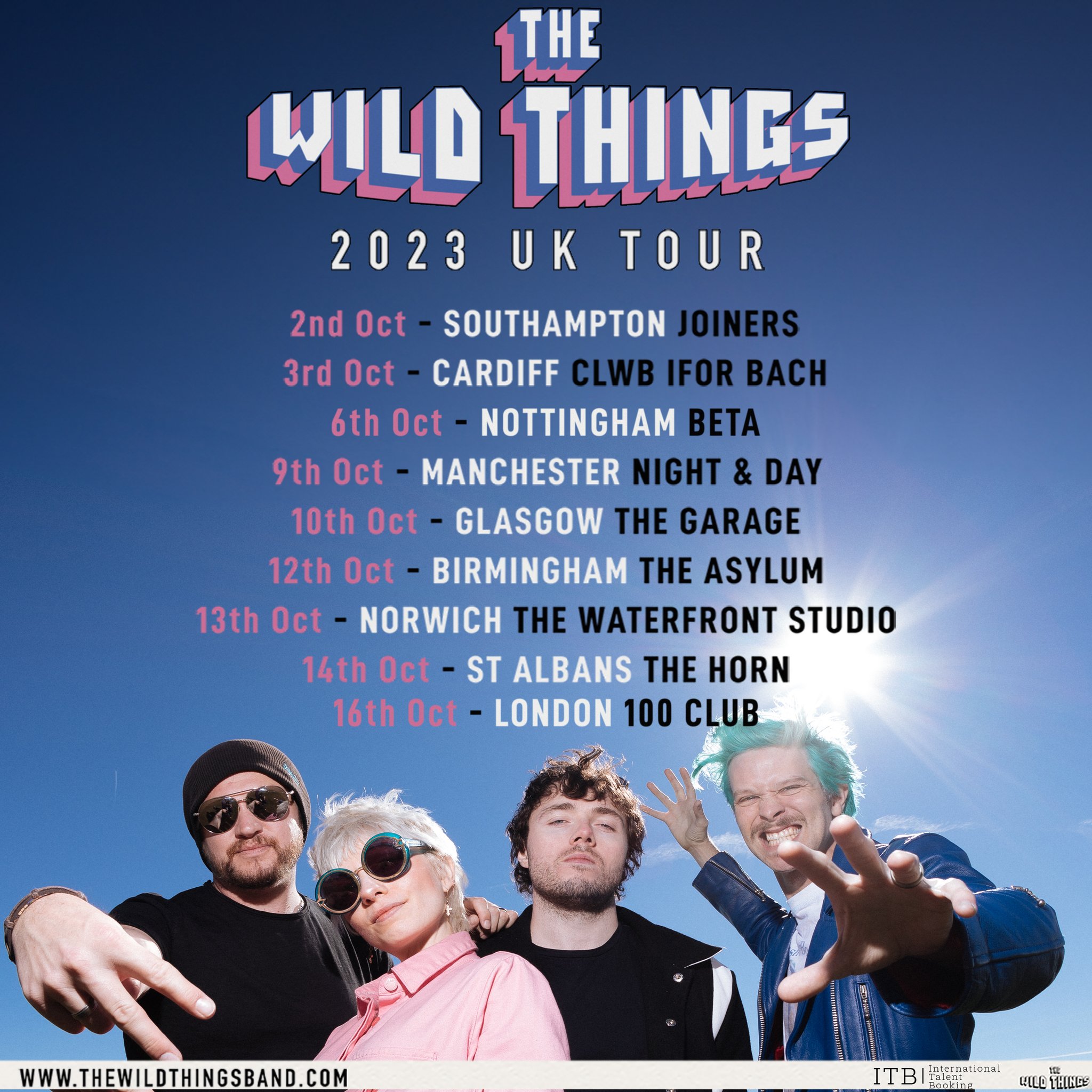 The final tour announcement in our News Report this week comes from The Wild Things who have lined up a headline UK Tour for this October.
Tickets are here.
Read our review of Pearl Jam live at BST Hyde Park

Lord of the Lost share video for 'Reset the Preset'
We move our News Report on now to the best new releases from the past week and up first are Lord of the Lost who are fresh from supporting Iron Maiden in arenas across the UK.
The group have now shared their latest video for the track, 'Reset the Preset', and you can check it out above.
Commenting, the band say "In line with the song title 'Reset The Preset', we did everything the way we NEVER do it for this video. We put every creative decision of the music video – whether it was clothing, lighting, colors, content, whatever… – into other hands. Namely, into the hands of our tour photographer and cameraman Lennard Schmitt, who has an incredible knack for visually absurd art. So, with Lennard as director, we set every LOTL preset to reset and let ourselves be surprised with this video from start to finish. The result is definitely the most shrill and weirdest piece of visual art we've ever released."
More here.
Listen to 'Reset the Present' on our 'Hard & Heavy' Playlist!
Dirty Honey debut 'Won't Take Me Alive'
We have plenty of new music to get through this week and up next are Dirty Honey who have debuted their latest single, 'Won't Take Me Alive', which you can check out above.
The track will feature on upcoming new album, 'Can't Find the Brakes'.
Singer Marc LaBelle describes the song as, "…the best riff I'd heard in the last decade.  The song is full of sex and swagger, but it's still the heaviness and the fun that Dirty Honey is all about."

"'Won't Take Me Alive' was an instrumental idea I demoed on bass, drums, and guitar at my home studio," says guitarist John Notto.  "I bought it to the band, and we wrote a new chorus, and it was basically finished that quickly.  Nick [DiDia] rented some vintage amps and really helped me get the raunchy sound and attitude I wanted for the riff."
More here.
Listen to 'Won't Take Me Alive' on our 'Hard & Heavy' Playlist!
Bad Touch share 'Nothing Wrong With That'
In a big week for Bad Touch, the group revealed that their new album, 'Bittersweet Satisfaction', will be released on November 10th.
Coinciding with the announcement the band shared their brand new single, 'Nothing Wrong With That', which you can check out above.
"We've never sat on anything that long because we're like kids in a candy shop, as soon as we write something, we want to get out there and play stuff," says frontman Stevie Westwood on the album. "So, it's very exciting. It's slightly more mature. I love every song. It's a different sound for Bad Touch. It's less balls-to-the-wall rock, and the songs seem a bit more thoughtful rather than just kind of exploded out of a tin can."
Speaking on their latest single the band adds, "We're delighted to present to the world our new single" exclaims Stevie. It's a song for everyone that encompasses the Bad Touch mantra 'as long as you carry a song in your heart, and a smile on your face, then nothing can get you down.' 

"This song came together during a time when there was a lot of unrest, fear of the unknown, and we all were just getting through day by day, in whatever way we could. A time when we felt the world could use a little lift to somewhere a little bit brighter. So whatever is getting you down, this song is here to say you're not alone, we are with you, and whatever way you need to get through the bad times… a good book, some good company… or some good wine!… we say…  there's nothing wrong with that."
Pre-order your copy here.
Listen to 'Nothing Wrong With That' on our 'Hard & Heavy' Playlist
Teenage Fanclub share new single 'Tired of Being Alone'
Our News Report continues with the latest single from Teenage Fanclub. You can check out 'Tired of Being Alone' above.
The track will feature on upcoming new album, 'Nothing Lasts Forever', which is out on September 22nd.
Commenting on the track Raymond McGinley says: "Towards the end of our session in Rockfield Studios making the album I woke up in the middle of the night. There was a guitar next to the bed. I picked it up and this song came out. The words for the chorus were there already. I recorded a rough version on my phone and then went back to sleep. We recorded the song later that day. As a band we like to trust our instincts and let things happen. As with Norman's song 'Foreign Land' this song only exists because we decided to go to the studio and make a record. If we'd waited for the stars to align first before recording we'd still be waiting now."
Pre-order your copy here.
Find Full Pelt Music on YouTube!
Courting share new track 'Flex'
Courting have shared their latest single, 'Flex', which you can check out above.
Speaking on the concept of the track, frontman Sean Murphy-O'Neill, says "'Flex' is designed to be a theatrical performance, a short play. Our protagonist is wealthy, successful, and famous… but at what cost? Our protagonist misses their ex (after seeing their glow-up), wears Ricks, chainsmokes, sends thought-out emails about their wellbeing to people they should've replied to sooner, and has increased their screen time by 25%

In the thrilling conclusion, our protagonist does donuts in a closed car-park, in a 1967 mustang, with all of their friends. The event is livestreamed on twitch to be rewatched until the end of time.

'Flex' is as sincere as we can be. Sometimes the lines between real life and fiction get blurred here, but we're nothing if not committed."
More here.
Listen to 'Flex' on our Spotify Hot List!
Lacey unveil new single 'Middle England'
Lacey have unveiled their latest single, 'Middle England', which you can check out above.
The track comes from upcoming new album, 'This Is All We Are', which is out July 17th.
Frontman Graham "Graz" Turner describes the single as "reflective of the typical English sentiment of looking on the bright side, things could be worse."
Turner describes the record as, "Basically, the soundtrack to what it's like to feel everything and nothing, all at the same time. Lyrically, no stone is left unturned, and I can guarantee if you've ever felt anything, it will be addressed here. This really is a soul bearing ride through every, conceivable human emotion. This is all we are".
Pre-order your copy here.
Listen to 'Middle England' on our Spotify Hot List!
Call To The Faithful debut 'Let Me Down'
The final new release in this section of our News Report comes from 'Discover' New Music Podcast alumni Call To The Faithful!
The band have unleashed their brand new single, 'Let Me Down', which you can check out above.
There is more new music on the way from the band as the single will feature on their debut EP, 'Strong / Stable / Suffer', which will be released on September 1st.
More here.
Watch Episode 23 of our 'Discover' New Music Podcast with guests Call To The Faithful
Listen to 'Let Me Down' on our Spotify Hot List!

As always we conclude our News Report with the latest additions to our 'Discover' New Music Playlist!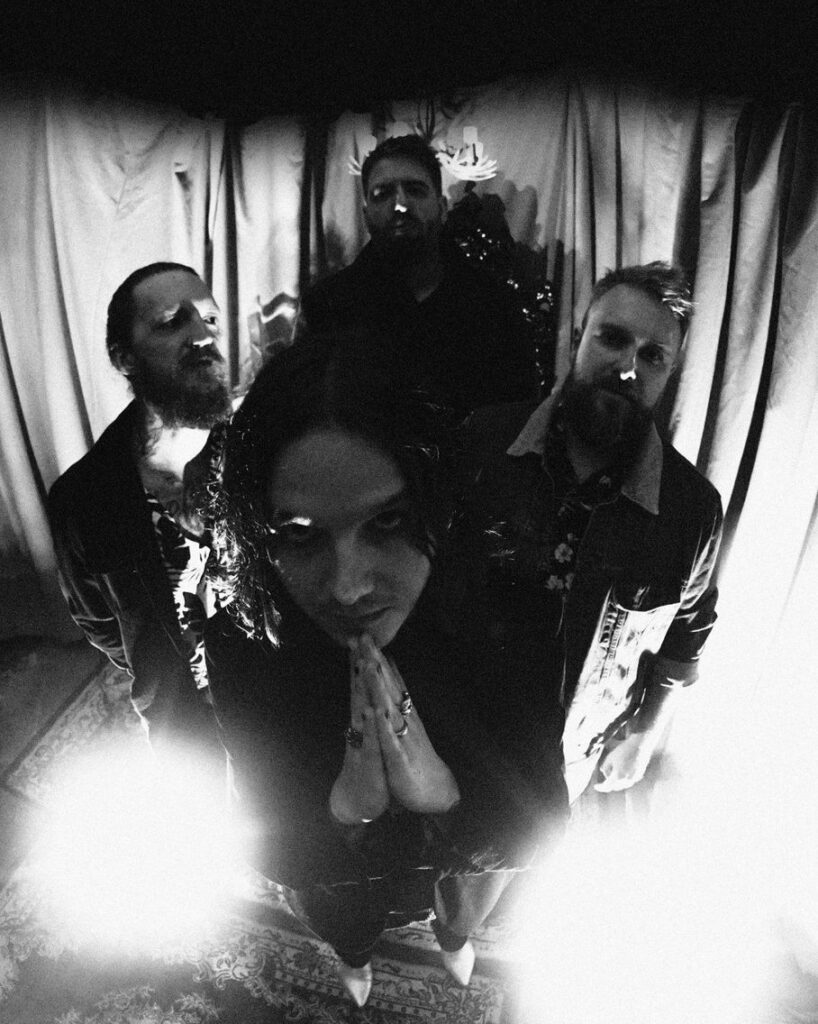 Death of Me – 'Halo'
Staffordshire UK quartet Death Of Me are back with their brand new single 'Halo'!
"This was one of the more difficult songs to write from the release as it deals with the themes of grief, loss and love. Exploring the guilt that comes from letting go and moving on with life when facing a loss, the realisation of how things could have been done differently, all that will never be and all that could have been." – Vocalist, Jim Carter.
As the band describe: "Death Of Me was always a project intended to transcend genre and trends. The premise instead was to explore the darkest corners of the human psyche both sonically and visually and just be ourselves in our purest form. Death of me became the vessel to put pen to paper, exercise demons and expose open wounds on the stage of the world"
FEATHER TRADE – 'BIG NOTHING'
Manchester via Athens, Georgia trio FEATHER TRADE have released their new single, 'BIG NOBODY'!
The band say, "Created or destroyed by crucial influence, each person's world is a lifetime searching for meaning and reconstruction. They push through the strata – anger, grief, fear, shame, loss – fueling the desire for absolution and certainty. Some find it in religion. Some find it in drugs. Some find it in sex. Feather Trade brought the flames to one another. We scream in the darkness, the echoes giving black shape in sound. A fight with cancer. Watching a loved one's descent into schizophrenia. Losing it all to fire. The unceasing longing to seal the fissure of three broken words."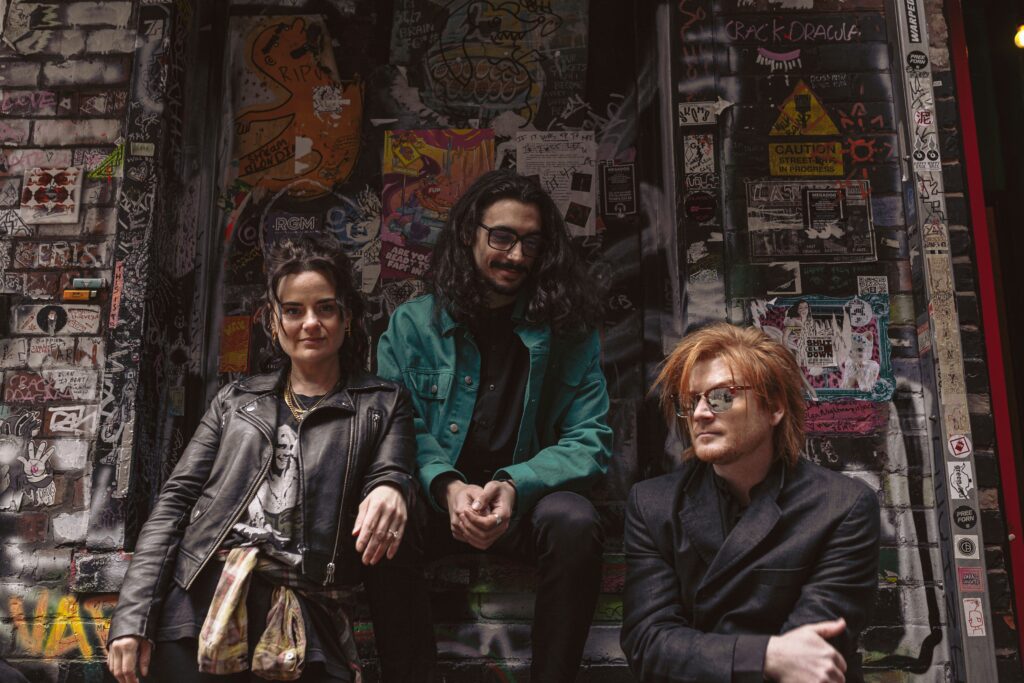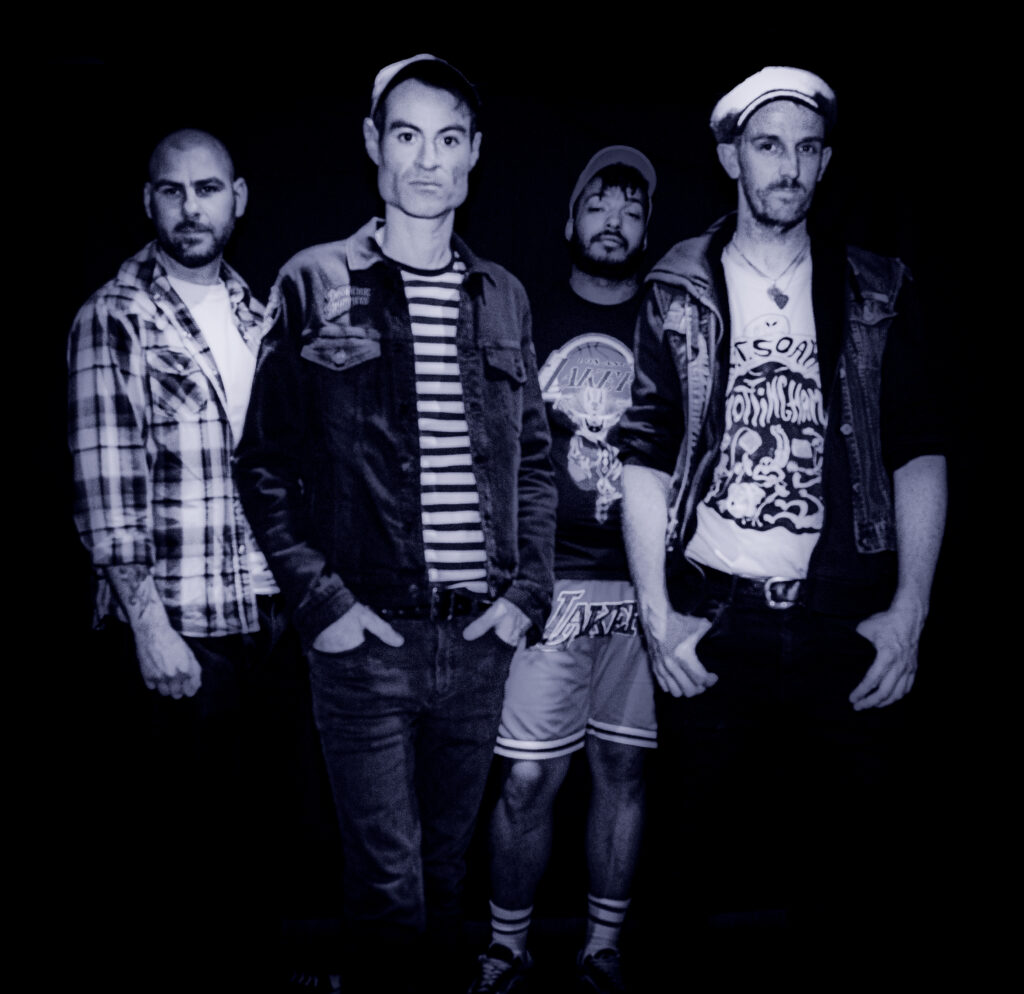 Hunch Power – 'Is This the End (Or Just the Beginning?)'
Nottingham band Hunch Power deliver new single 'Is This the End (Or Just the Beginning?)'!
Frontman Harvey Springfield says:
"I'd only just been through a break-up when Covid hit so I had plenty of reasons to give up but instead I decided to work twice as hard. People kept talking about the end of the World but you could also see it as the beginning of a new era. The sky over London never looked so clean. We could hear the birds over the traffic and working from home was finally accepted as normal.
Manic Street Preachers inspired me to write the chorus when I was 20 but didn't have a band back then. I forgot about it and only finished the song a couple of years ago, adding in an instrumental part which Deano took to another level with a ripping guitar solo".
Watch Episode 43 of our 'Discover' New Music Podcast with guests Hunch Power
Listen, Follow and Discover your new favourite act now with our 'Discover' New Music Playlist
Then find out the stories behind the songs on our 'Discover' New Music Podcast!
Share our News Report on Social Media