Every week we roundup the best music news from the past week!
Follow us on Social Media

Latitude announces 2023 headliners & more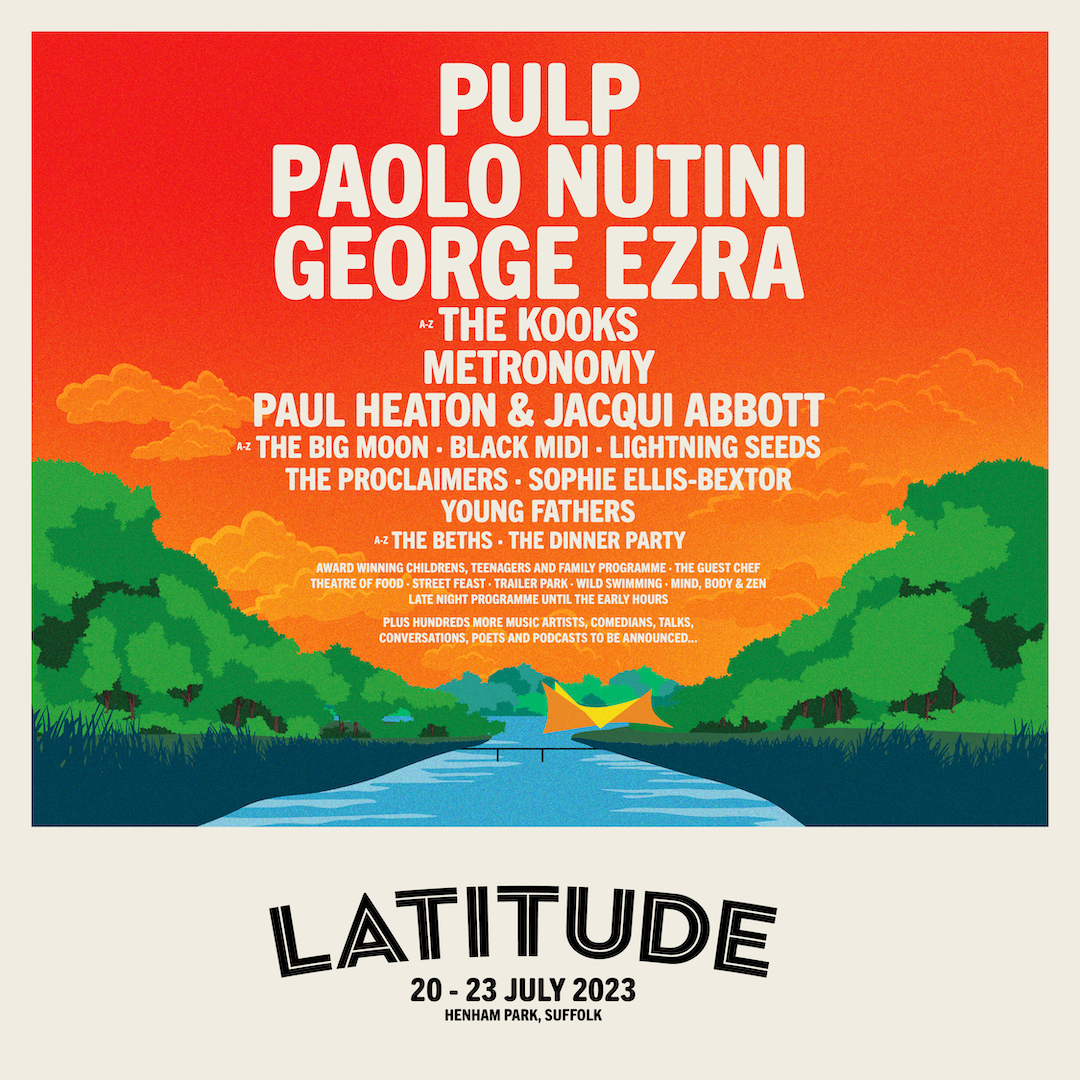 Welcome everyone to another edition of our weekly music News Report, and happy Halloween 🎃!
It's that time of the year where it's not just the ghosts and ghouls haunting our News Report but also festival announcements for next Summer!
We start with Suffolk staple Latitude Festival which returns to Henham Park next July. This week saw the organisers reveal Pulp, Paolo Nutini and George Ezra will be headlining in the new year.
They'll be joined on the bill by the likes of The Kooks, Paul Heaton & Jacqui Abbott, The Big Moon, Lightning Seeds, The Proclaimers and The Beths!
Tickets are here.
Read our review of Neck of the Woods Festival
Neighbourhood Weekender reveal line-up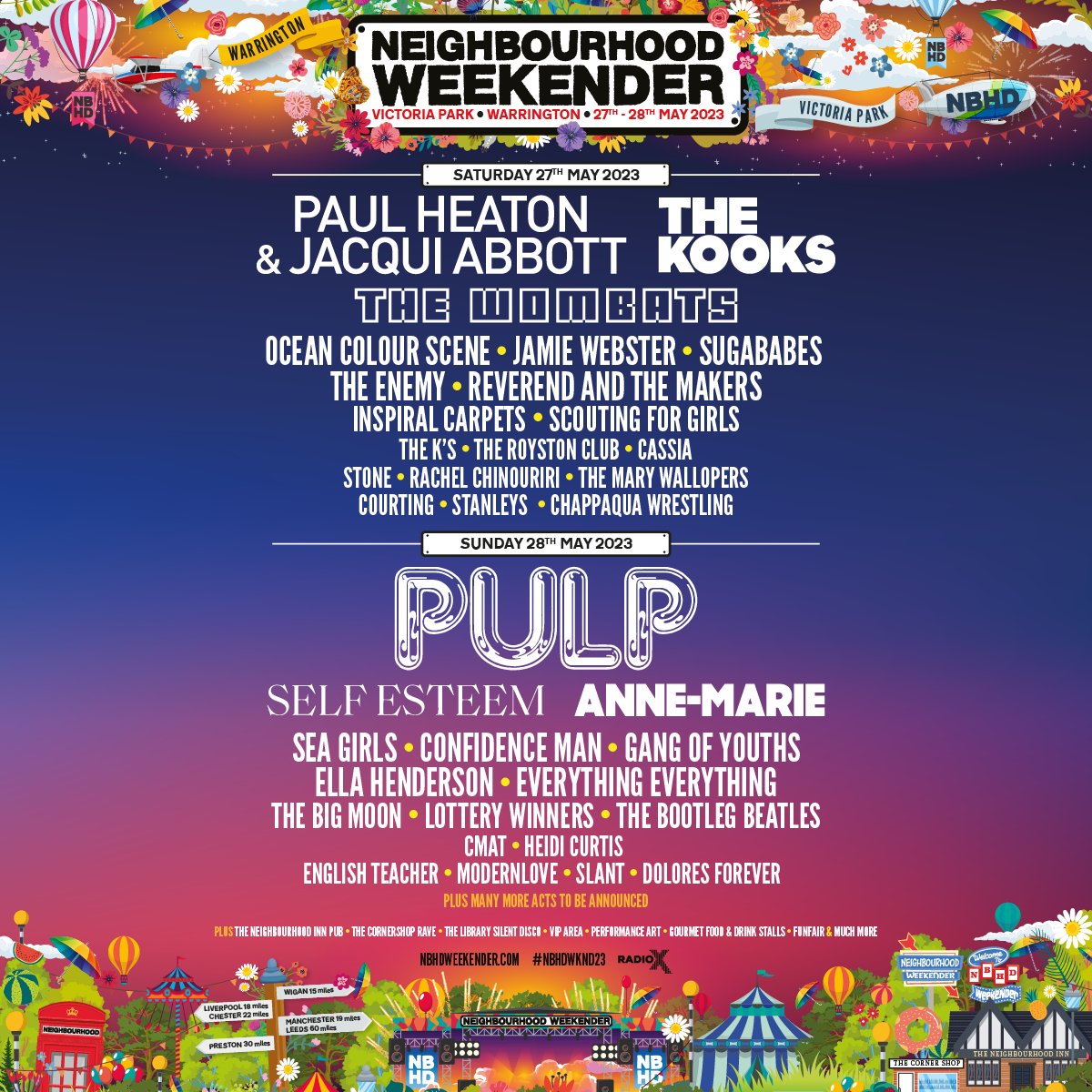 Yes, we have plenty of festival announcements in our News Report this week and next up is Neighbourhood Weekender!
Headlining the event will be Pulp, The Kooks and Paul Heaton & Jacqui Abbott. They'll be joined by the likes of The Wombats, Ocean Colour Scene, The Enemy, Self Esteem, Sea Girls and Lottery Winners.
Tickets are here.
Read our review of 'Fix Yourself, Not the World' from The Wombats
TRNSMT make first line-up announcement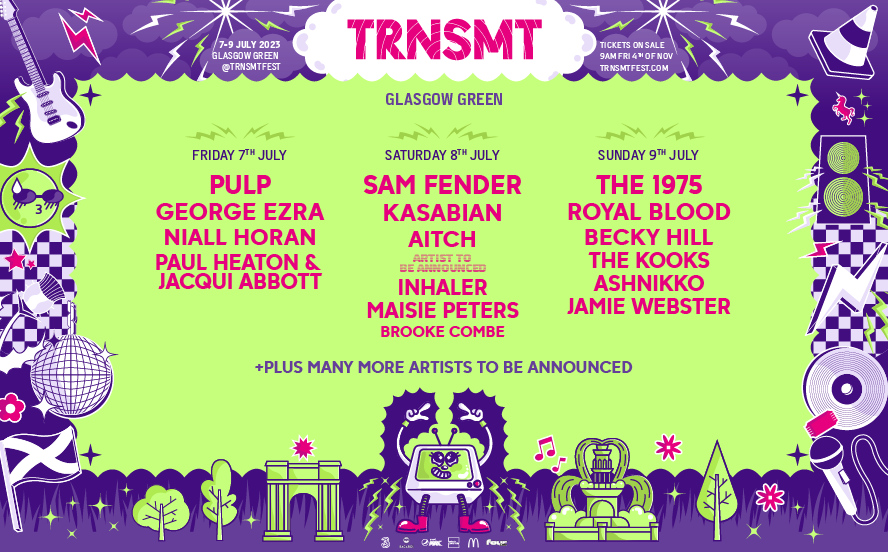 Scotland's TRNSMT will return to Glasgow Green in July with the reformed Pulp also topping their bill. Also at the top of the line-up will be Sam Fender, The 1975, George Ezra, Kasabian and Royal Blood.
Paul Heaton & Jacqui Abbott and The Kooks are on this one too, as are Inhaler and others, with many more to come.
Tickets are here.
Read our review of Royal Blood live in London
Live At Leeds: In The Park is back in 2023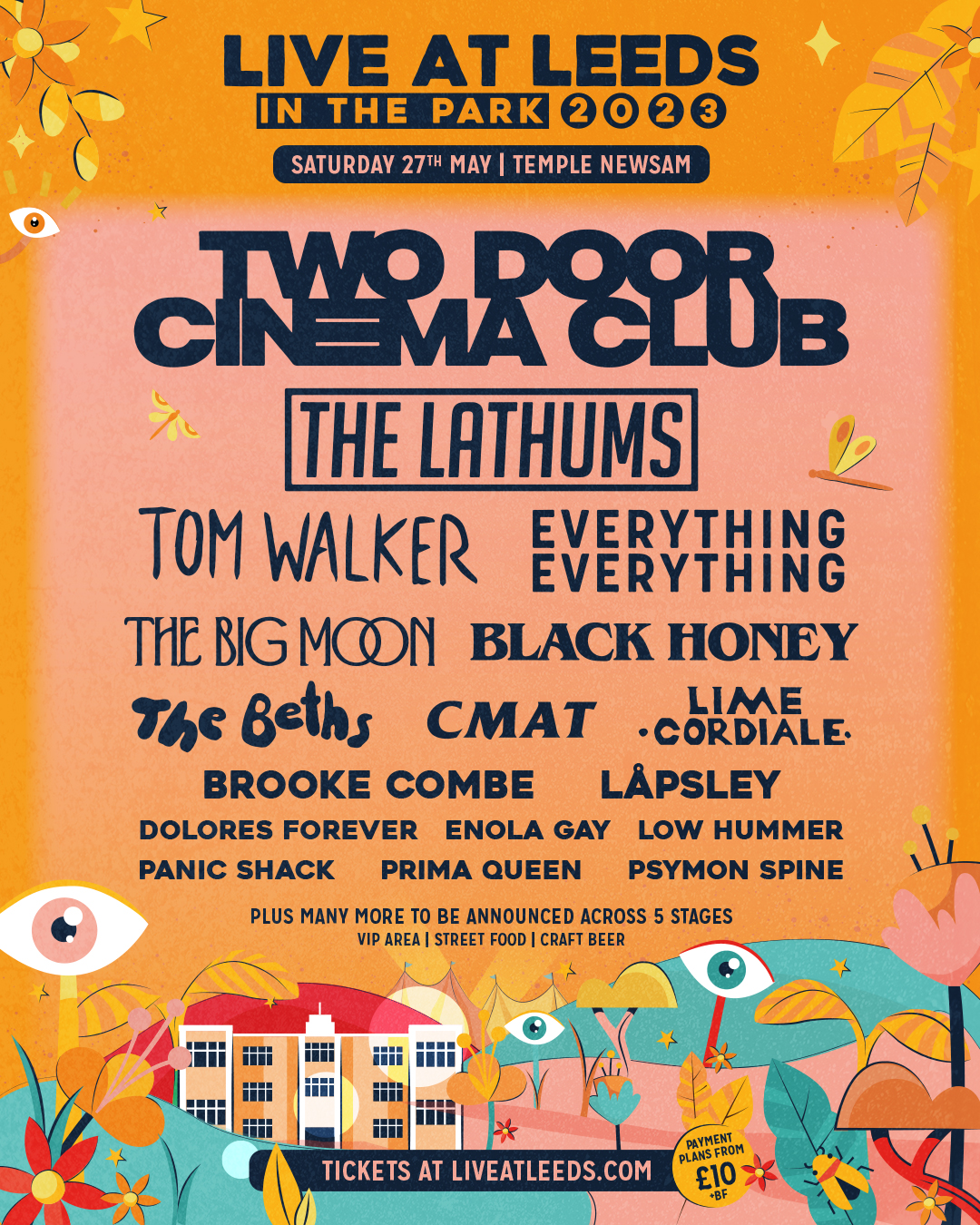 Following a successful debut this year, Live At Leeds will once again hold an 'In The Park' event at Temple Newsam Park in May.
The line-up includes headliners Two Door Cinema Club plus The Lathums, Everything Everything, The Big Moon, Black Honey, The Beths, Low Hummer and many more.
Speaking about their headline show at Live At Leeds: In The Park, Two Door Cinema Club said: "Excited to say we'll be coming to Live At Leeds in the park next year for the first time! Yoooooooooooorkshire!"
Everything Everything said: "Always a pleasure to play in Yorkshire, always special to play Leeds, and where better than at this stalwart event? Come and see us Live At Leeds: In The Park!"
Brooke Combe said: "Can't wait for next year to be a part of Live at Leeds. See you all there for a boogie and a sing song 🥰"
Panic Shack said: "We can't wait to play Live at Leeds in The Park!! Leeds has a special place in our hearts, we spent a few late nights here on our first ever tour with The Wytches. We're excited to bring back our new and improved dance routine and to just have a bit of a laugh with everyone really!"
Hannah Wilson from Dolores Forever said: "We can't wait to play Leeds. It's my home town, so it will be mega special. It will be our first time playing Leeds in 2023 and we want to bring big energy vibes!"
Dan Mawer from Low Hummer said: "We're chuffed to be a part of Live at Leeds: In The Park! The festival has a brilliant mix of well established names alongside exciting new artists, all taking place in a truly beautiful setting.
We loved attending last year's event so we're honoured to get the chance to play it in 2023. It'll be really rewarding to take part in an event that will emulate the lovely sense of community we witnessed at this year's festival."
Speaking about Live At Leeds: In The Park 2023, Festival Promoter Joe Hubbard said:
"After such an incredible first year in 2022, we're delighted to be returning to Temple Newsam for Live At Leeds: In The Park 2023! Bringing together bonafide festival headliners such as Two Door Cinema Club alongside some of the best in modern indie/alternative music – it's going to be an unforgettable day and the perfect summer party not only full of singalongs left, right and centre but also loads of opportunities to discover your next favourite artist.
It's what we do best at Live At Leeds and we can't wait to welcome everyone back for an even bigger and even better Live At Leeds: In The Park in May. Catch ya down the front!"
Tickets are here.
Read our review of Black Honey live in Norwich
Lytham Festival reveals 2023 line-up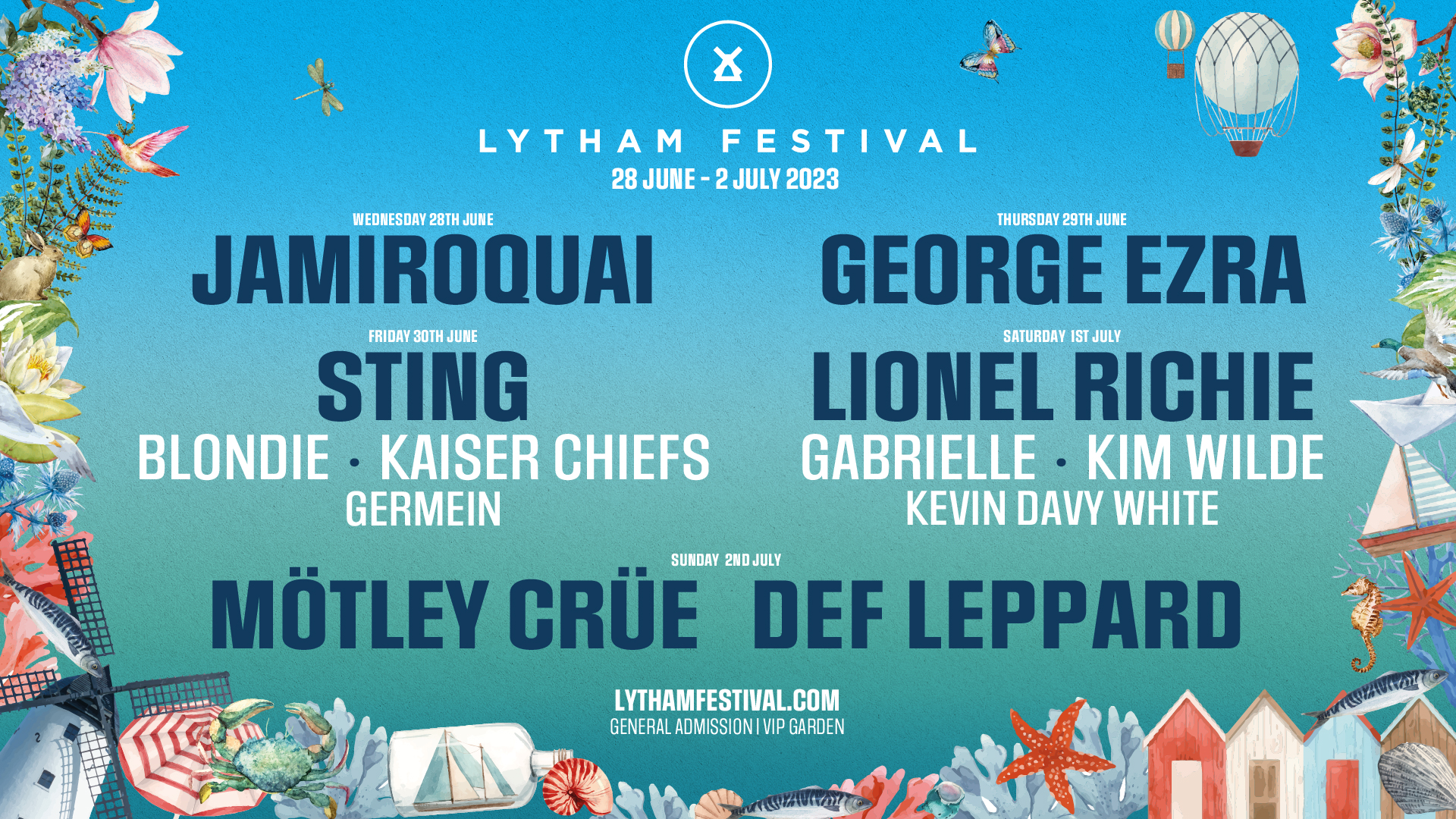 Lytham Festival also returns in 2023 and this week organisers shared the line-up including headliners Jamiroquai, George Ezra, Sting, Lionel Ritchie, Motley Crue and Def Leppard.
Also on the bill are the likes of Blondie and Kaiser Chiefs.
Tickets are here.
Read our review of 'Diamond Star Halos' from Def Leppard
Slam Dunk Festival grows bigger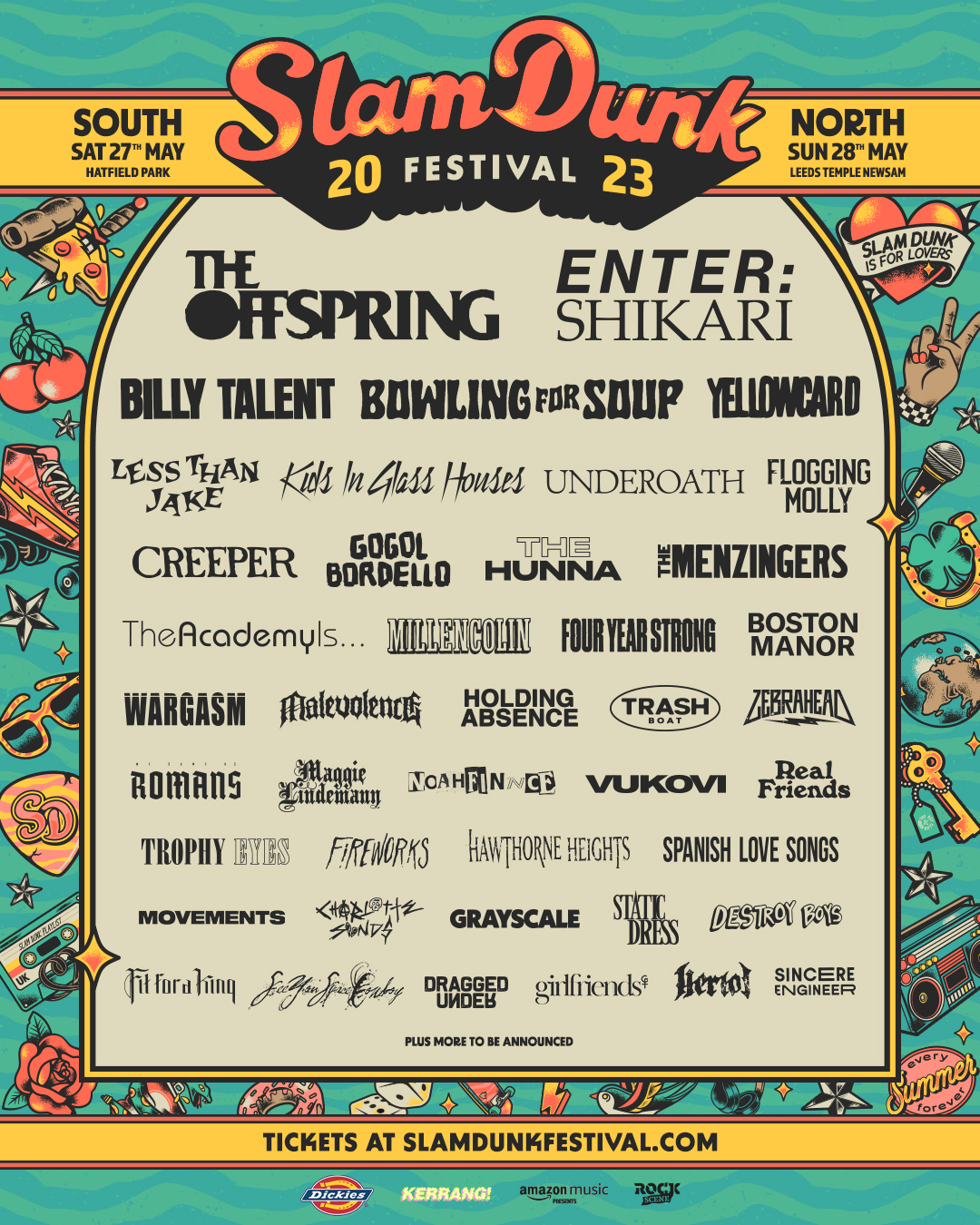 The already superb looking Slam Dunk Festival 2023 line-up grew even bigger and better this week.
New additions include Flogging Molly, Gogol Bordello, The Hunna, Spanish Love Songs, The Menzingers, Boston Manor, Wargasm, VUKOVI and Static Dress!
Tickets are here.
Read our review of The Hunna's self-titled new album
Stonedead Festival reveals line-up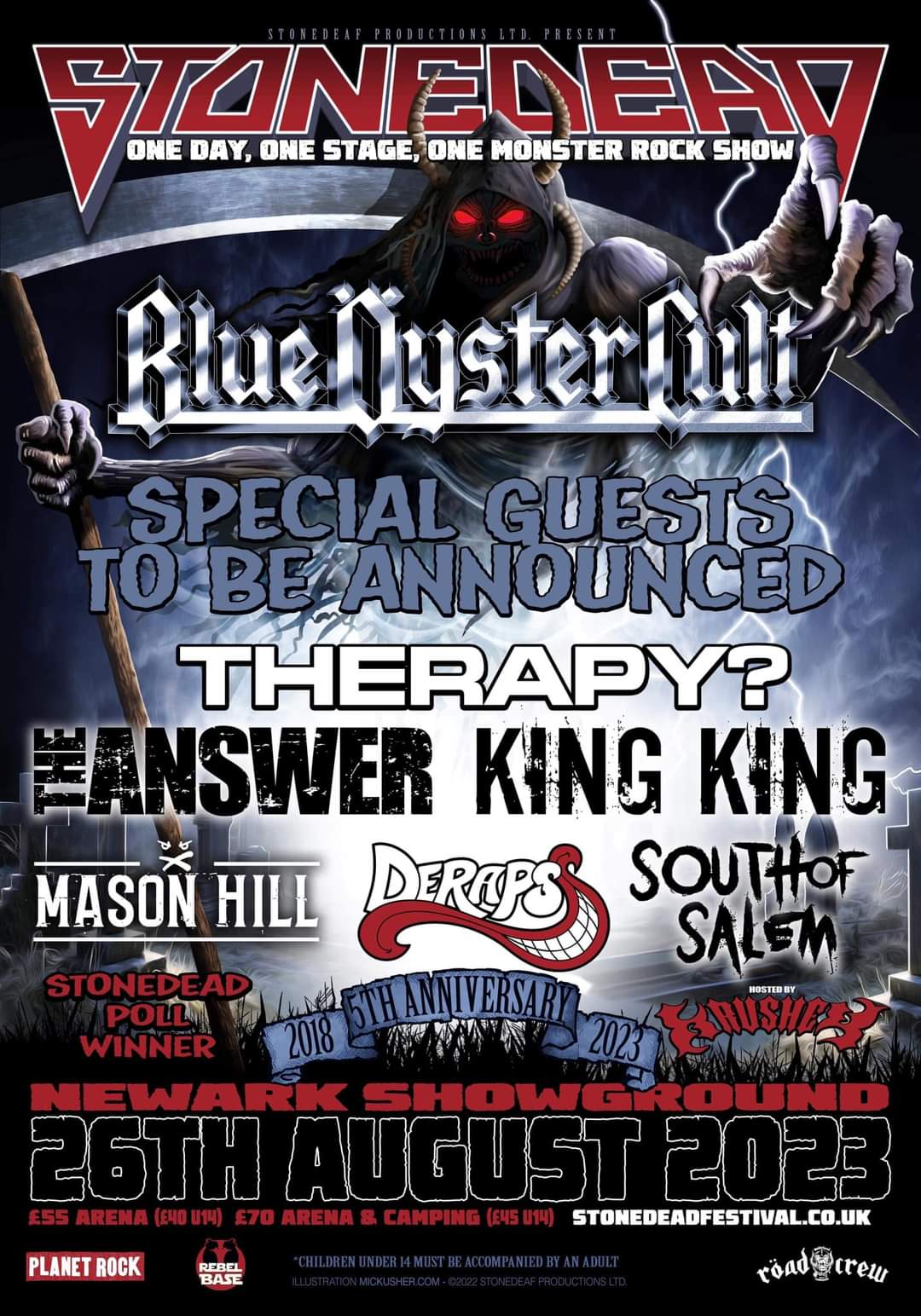 The run of festival announcements in our News Report gets a little heavier now with the 5th Anniversary of Stonedead Festival set to host headliners Blue Oyster Cult.
Also playing will be Therapy?, The Answer, King King, Mason Hill and more.
Tickets are here.
Read our review of Therapy? live in Norwich
Firestorm Festival makes 2nd announcement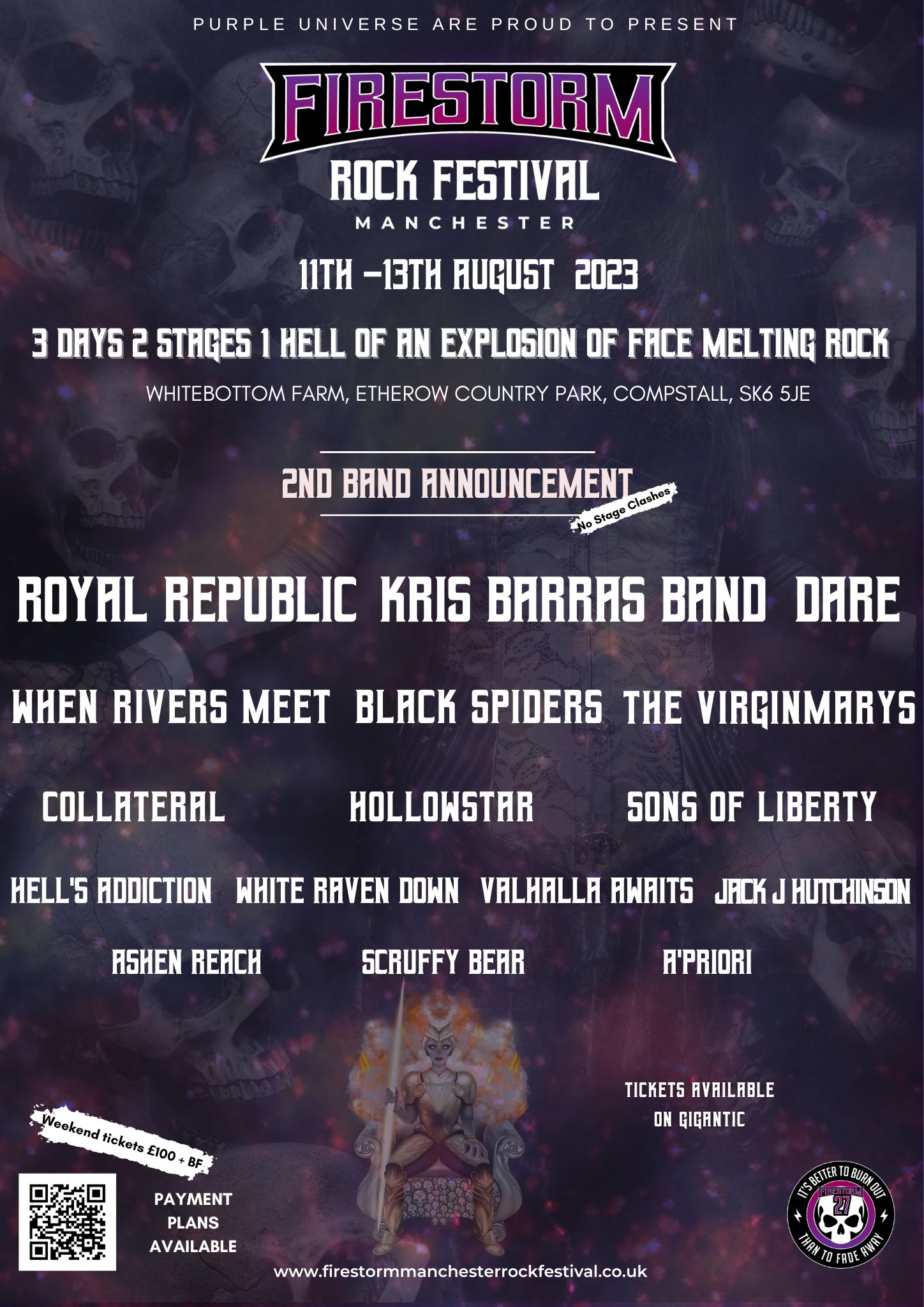 Following a successful inaugural event this year, Firestorm Festival is back in Manchester next year with a line-up including Royal Republic, Kris Barras Band, Black Spiders, The Virginmarys, Hollowstar, Scruffy Bear and many more!
Tickets are here.
Watch Episode 13 of our 'Discover' New Music Playlist with guests Scruffy Bear

Hollywood Vampires announce UK Tour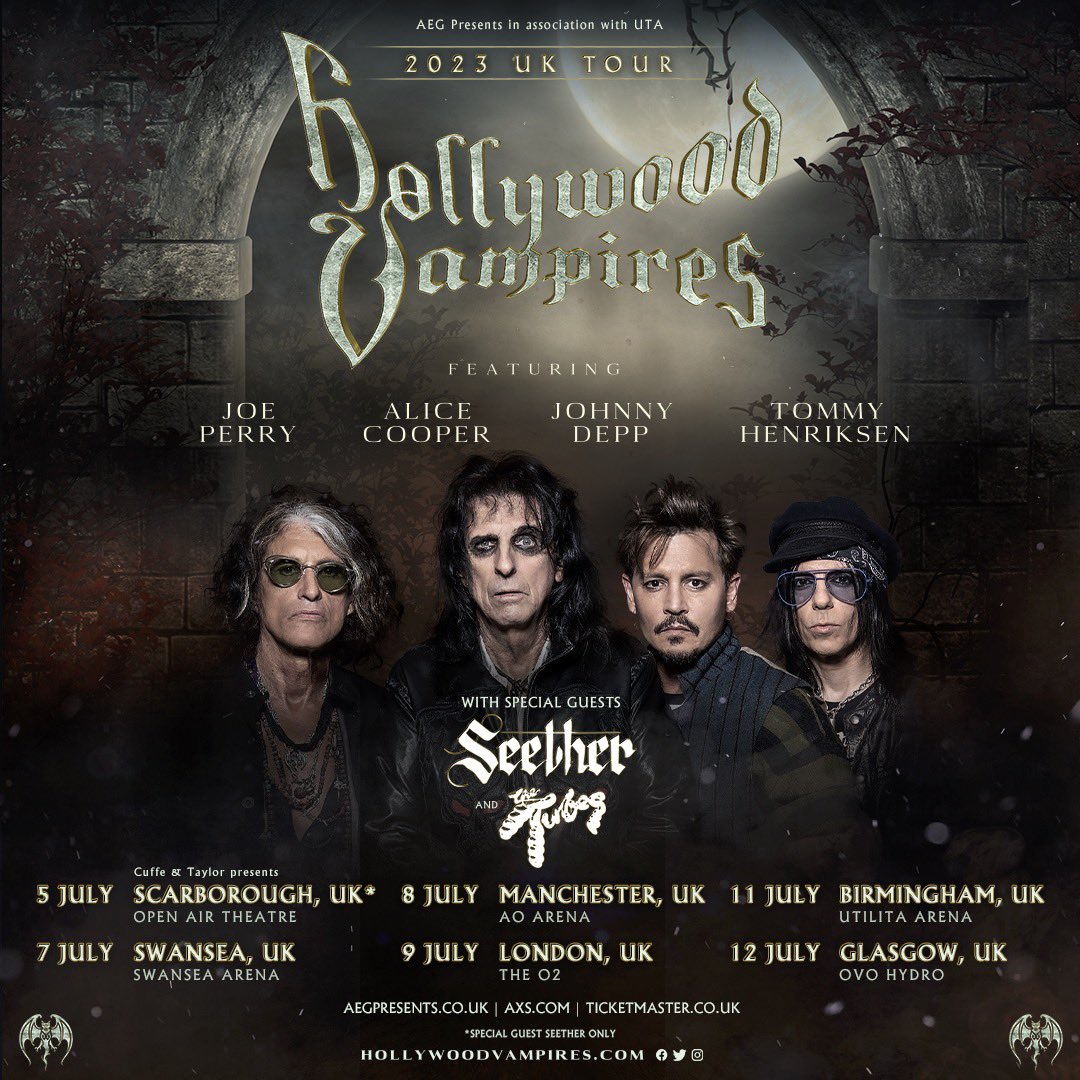 We move our News Report onwards now to the best tour announcements from the past week. Up first, is a July UK Tour for Hollywood Vampires.
Messrs Perry, Cooper, Depp and Henriksen will be joined by guests Seether and The Tubes.
Tickets are here.
Find Full Pelt Music on Youtube
Black Veil Brides reveal UK Tour dates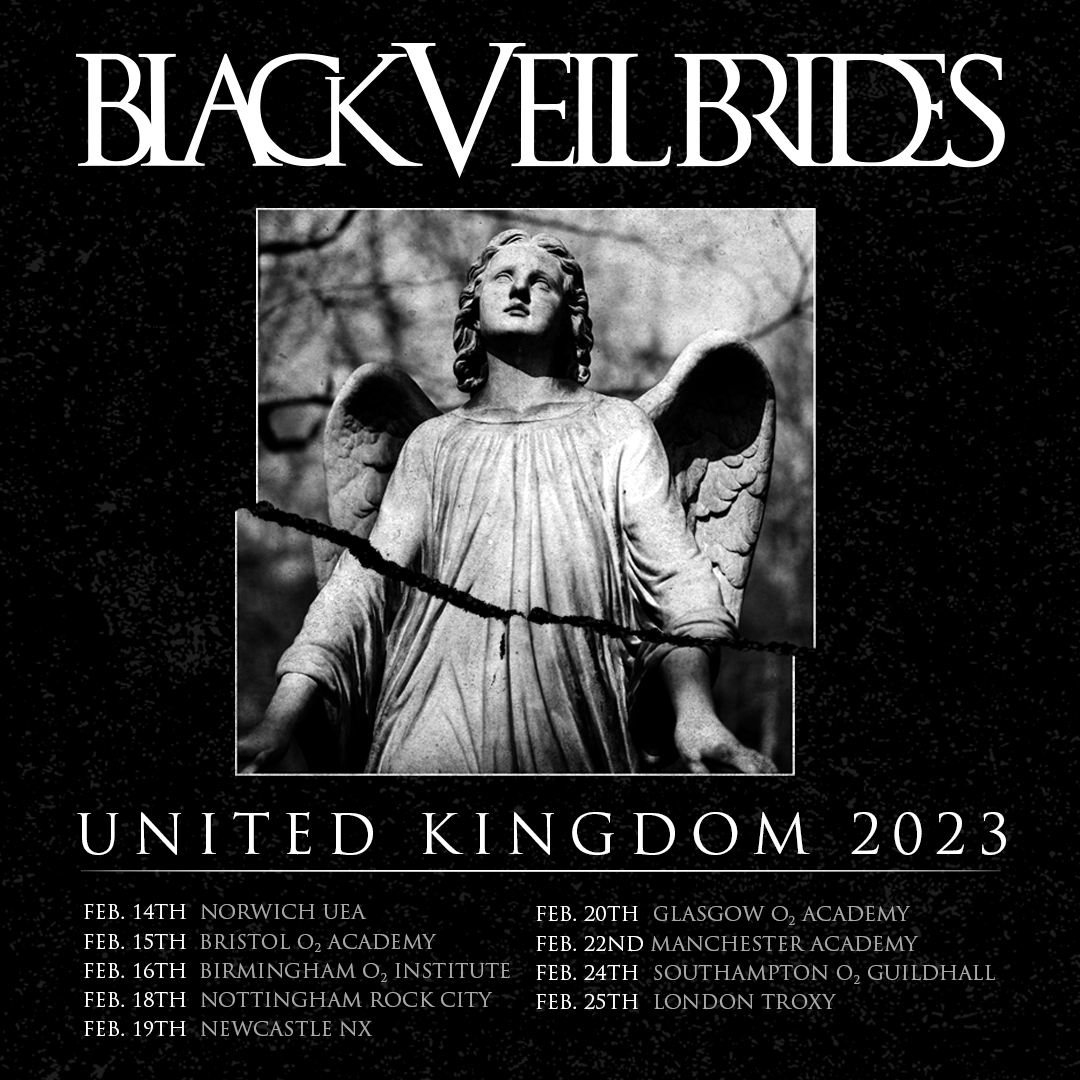 Another act on their way to the UK are Black Veil Brides, who have revealed a run of dates for February, culminating at Troxy in London.
Tickets are here.
Listen to our 'Hard & Heavy' Playlist
Boston Manor reveal intimate UK Tour
Boston Manor have revealed details of an intimate UK Tour in which they will perform new album, 'Datura' in full.
Support comes from Heriot and Calva Louise.
Tickets are here.
Jaret (Ray) Reddick announces UK dates
Bowling For Soup frontman Jaret Reddick will bring his new country project to the UK in December with shows announced this week in London and Birmingham.
Support comes from Gasoline and Matches.
Tickets are here.
Read our review of 'Pop Drunk Snot Bread' from Bowling For Soup
THE HARA unveil new Tour dates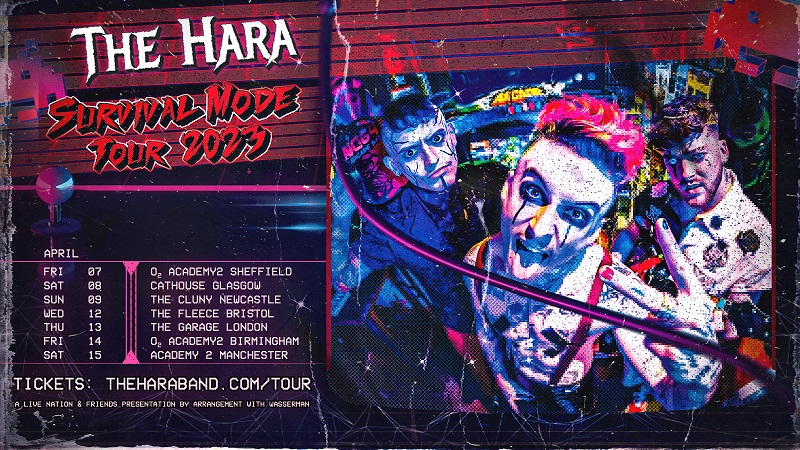 THE HARA have announce the 'Survival Mode' Tour which will take them around the UK next April.
Tickets are here.
Listen to our 'Discover' New Music Playlist
The Lathums set for UK Tour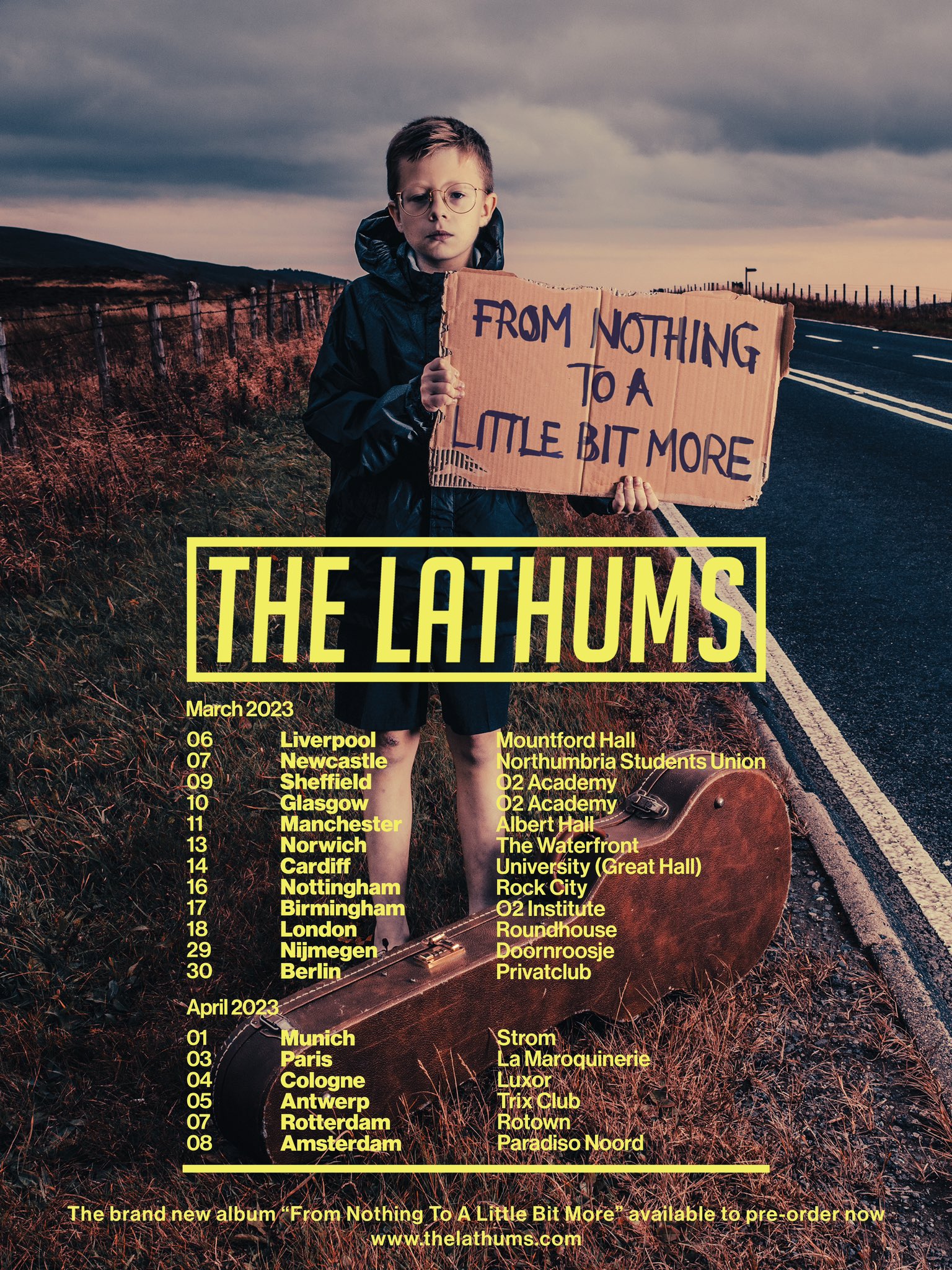 The final tour announcement for our News Report this week comes from The Lathums who will be on the road early next year.
Their new album, 'From Nothing To A Little Bit More' is available for pre-order now.
Tickets and albums are here.
Read our review of Reading Festival

Hundred Reasons return with new single 'Glorious Sunset'
We move our News Report on now to the best new releases from the past week and we start off with the spectacular return of Hundred Reasons.
The band this week announced their first new album in 15 years! 'Glorious Sunset' will be released on February 24th, and you can check out the title track above.
Lead singer Colin Doran says of the first writing session; "I came away from that session not just feeling closer to the other guys, having not seen them for some time, but thinking the music was f****** awesome. We all looked at each other and knew it was a go."
He continues about the single: "When we started writing again it was really important that we did not go back to any material that had been cut previously. It all had to be completely new. We started writing just before Covid and got together sporadically as and when we could to write and demo which was not our usual way. We would normally be in a room together for the most part but this time it was not always possible. Larry and I would write, The Andy and Larry would write and then I would join the session later in the day (I have a day job) but we were all super happy with what was coming out. This was a deal breaker for all as if we were putting out new material it had to be amazing.

Glorious Sunset came about from an instrumental idea from The Andy which was nearly complete minus any vocal ideas. The lyrics for the song completely changed from the demo version to the recorded version as within that space of time my mother passed away after a 4-year battle with cancer. She had gone into remission twice previously and it come back again but this time it would be terminal. The title of the song took on a new meaning as the song talks about being relieved that someone you love is no longer suffering. The sunset refers to the light that many people say they see when they die.

During recording, Larry started playing around with synths and effects that added more to the song but by the time all of the music was recorded, no one in the band knew that the lyrics had changed so it ended up being an emotionally draining session in the studio that day. In all lots of lyrics changed during that time period as it brought on a new perspective which shaped the narrative of the material."

"This album isn't something we felt we had to do. We simply arrived at a position where the music was so good that it was something we needed to do."
Pre-order your copy here.
Read our review of Pulled Apart By Horses live in Norwich
Bob Vylan debut 'The Delicate Nature'
This week saw Bob Vylan unleash their new, Laurie Vincent featuring single, 'The Delicate Nature', which you can check out above!
More here.
Read our review of 'The Price of Life' from Bob Vylan
The Pearl Harts share 'MORE'
The Pearl Harts returned this week to share the first single from their forthcoming new album. You can listen to 'MORE' above.
'MORE' here!
Listen to 'MORE' on our 'Hard & Heavy' Playlist
Miss Vincent return with 'In the Still of the Night'
This week also saw Miss Vincent return with their new single, 'In the Still of the Night', which you can check out above.
More here.
Watch Episode 7 of our 'Discover' New Music Podcast with guests Miss Vincent
Read our review of 'A Funeral for Youth' from Miss Vincent
October Drift share 'Lost Without You' video
Following the release of their latest album, 'I Don't Belong Anywhere', October Drift this week shared the video for 'Lost Without You', which you can of course check out above.
Regarding 'Lost Without You' frontman Kiran Roy says, "It's a song about heartbreak and helplessness. Inspired by a long-distance relationship, with my girlfriend living over 400 miles away in Scotland. It's about missing loved ones and the struggle of being apart."
More here.
Watch Episode 10 of The Full Pelt Music Podcast with guests October Drift
Read our review of 'I Don't Belong Anywhere' from October Drift
Idlewild announce 'Passing Places' Journal
Book news closes out our News Report this week as Idlewild have announced details of a new limited edition publication entitled 'Passing Places'.
Roddy Woomble says:
"Initially, we had an idea of putting something together to commemorate The Remote Part tour dates – a programme or a journal, something fans of the band would love to read and have. It would be made in a similar style to Tom's beautifully designed journal Gold Flake Paint, somewhere between a magazine, a journal, a novella and a photo book. Something different and personal.
The journal acts almost like a souvenir programme for the 20th Anniversary Remote Part shows, particularly for those who travelled up to Ullapool in September, as primarily that is where the journal is set. 
This idea appealed to me enormously, so Tom accompanied the band up to the Highlands for our The Remote Part show in Ullapool, close to where the album was written. As we got chatting on the journey, at the gig and the following day driving around the Highlands, it became clear to both of us that this writing collaboration could be explored in many different ways, not necessarily just about one album.
This is a great writing project for me, working with an experienced writer like Tom, making something special for Idlewild fans all about an album that means a great deal to me, but also to Tom – a journey from two different perspectives."
Pre-order your copy here.
Read our review of Idlewild live in London

As always we conclude our News Report with the latest additions to our 'Discover' New Music Playlist!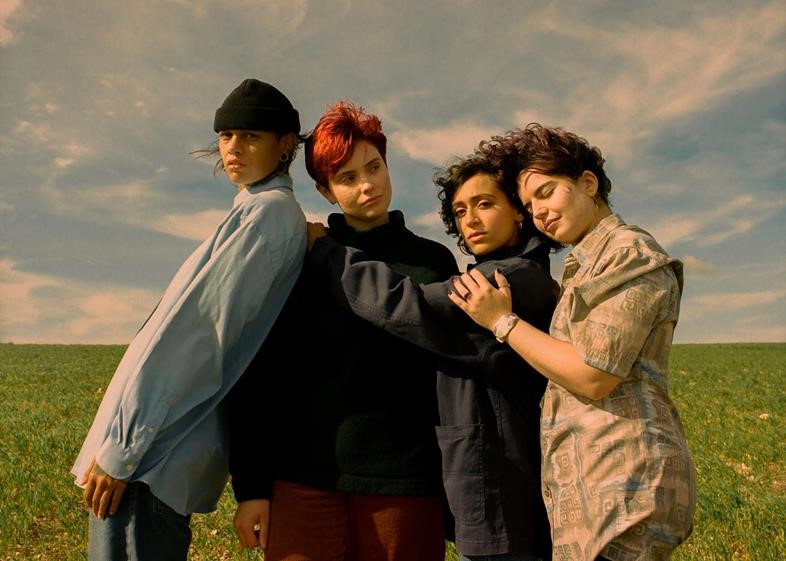 ĠENN – 'Rohmeresse'
Ahead of their tour supporting Pussy Riot, Brighton's ĠENN have shared their new single, 'Rohmeresse'.
On the song, vocalist Leona Farrugia said, "I've often felt a pressure running through everyday life: a pressure to be productive whilst being true to oneself. Modern life can be very dissociative and small tasks become a real burden to uphold. I wanted to capture these thoughts through the track, whereby these emotions gradually build to a point of ecstasy."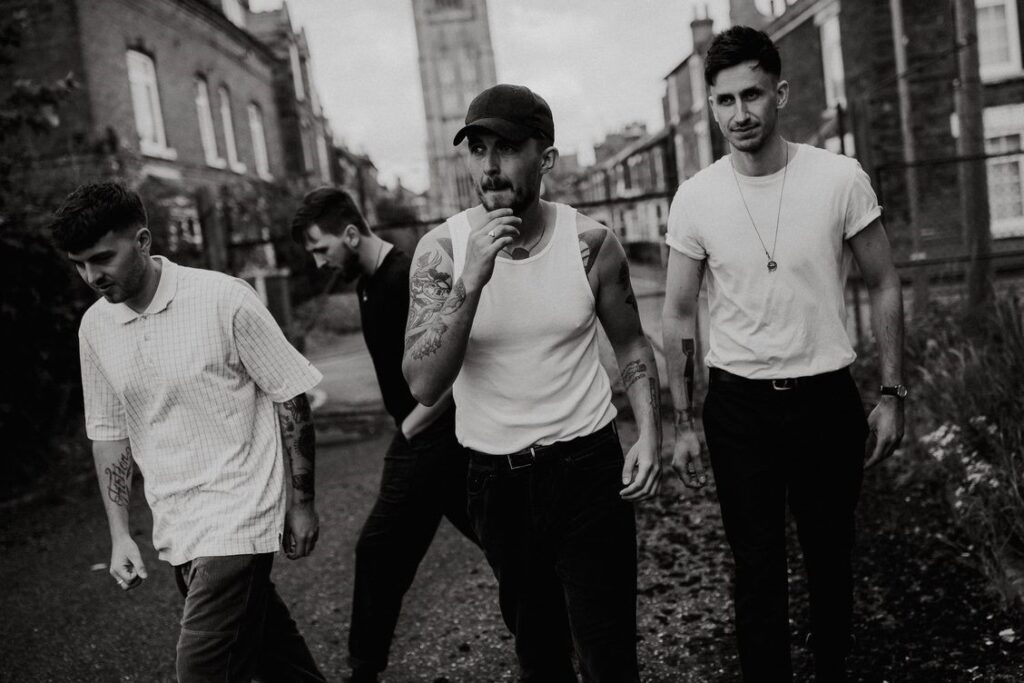 MOSKITO – 'Sweet Fruit'
Following the breath-taking launch of MOSKITO towards the end of 2021, they now return with their brand-new single 'Sweet Fruit'.
"Sweet Fruits lyrics portray how easy it is to play away in a relationship, with all the distractions in today's society. It's unwieldy temptation at the push of a button. Is it too sweet? What a waste it is." – Front man Jake Rudd.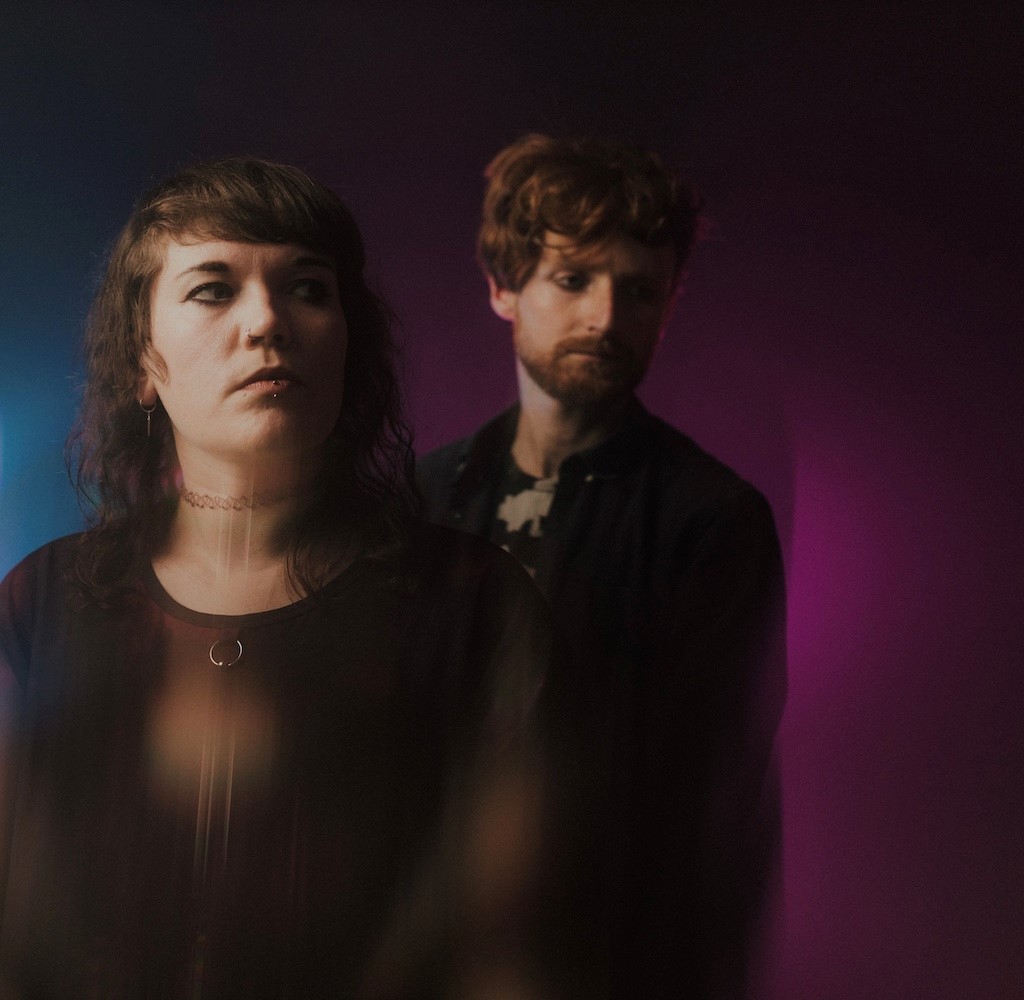 Pollyanna Blue – 'Haunted'
Bristol-based alt-rock two-piece Pollyanna Blue reveal their latest single 'Haunted'.
Speaking of the inspiration for the song, lyricist and vocalist Zoe Collins says, "In this song trauma is depicted as an unforgiving evil spirit that will come at you at night and relentlessly try to tear you down.  The impactful delivery of the lyrics harnesses the real range of emotions of someone experiencing immense feelings of emptiness, sadness and anger.
The lyric 'like a headache' depicts the side effects of dealing with large and repetitive amounts of trauma and stress to the brain, painting an unpleasant experience for the person being Haunted by their own predicament."
Listen, Follow and Discover your new favourite act now with our 'Discover' New Music Playlist
Then find out the stories behind the songs on our 'Discover' New Music Podcast!
Watch Episode 10 of our 'Discover' New Music Podcast with guests MOSKITO
Share our News Report on Social Media