Every week we roundup the best music news from the past week!
Follow us on Social Media

Skindred announce massive new shows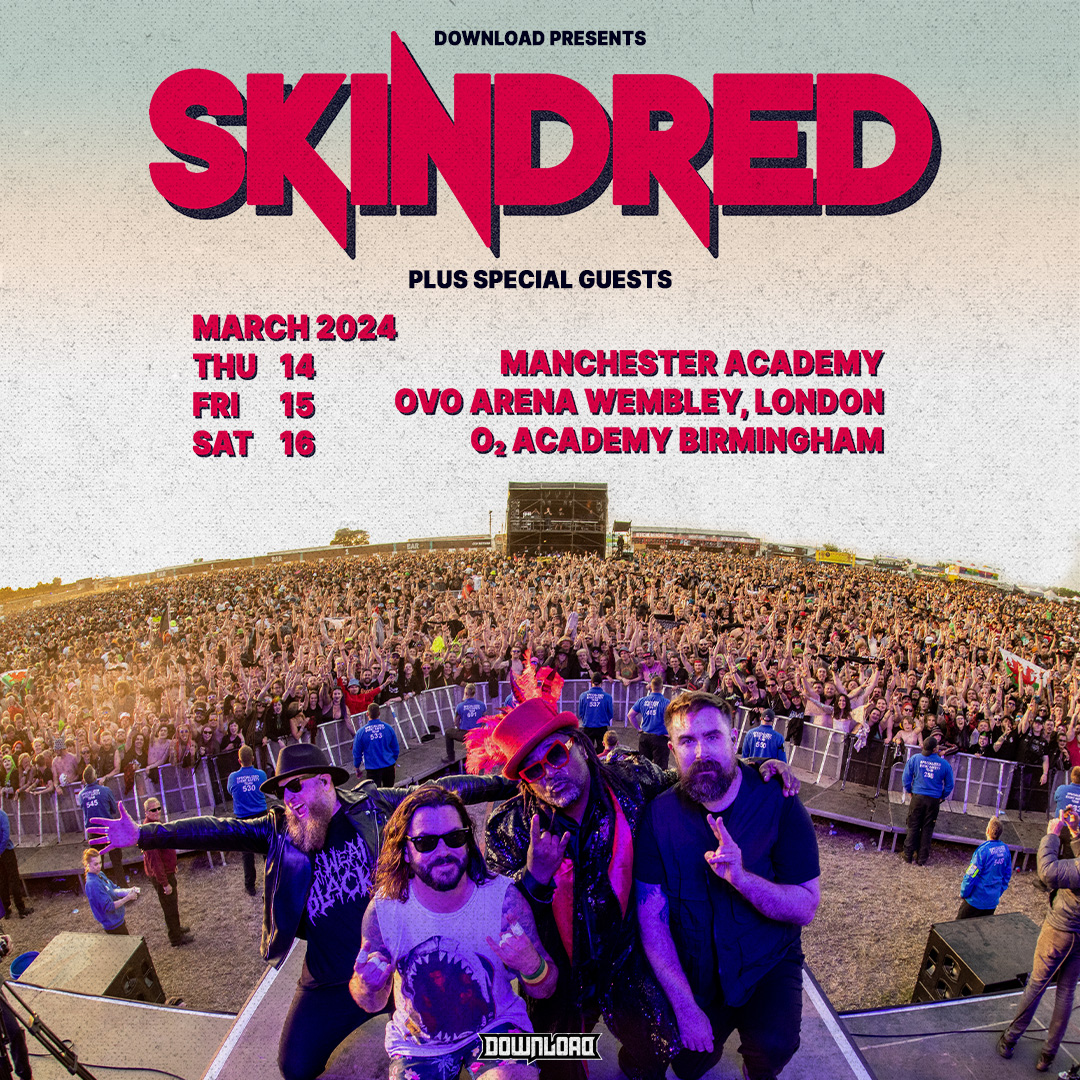 Welcome everyone to another edition of our weekly music News Report!
This week we begin with the best live announcements from the past week and up first are Skindred!
Coinciding with the release of their new album, 'Smile', the group revealed details of three new live dates set for next March. These dates are punctuated by a headline show at the historic Wembley Arena.
Regarding headlining Wembley Arena for the first time, singer Benji Webbe says: "Standing on that stage is a mark of sheer hard work. We have stood upon that stage supporting many truly great acts. Now it's Skindred's time to take the headline slot. You may think you've seen us, however this is our opportunity to rise, and to step up like never before! My Sound we come to take over and truly come to rock Wembley with a heart full of gratitude and a set full of the most rockin' tunes that we have ever played live. Unity, love and togetherness. Let's 'ave it. Quadruple XL."
Tickets and albums are here.
Read our review of 'Smile' from Skindred
Simple Plan announce new UK Tour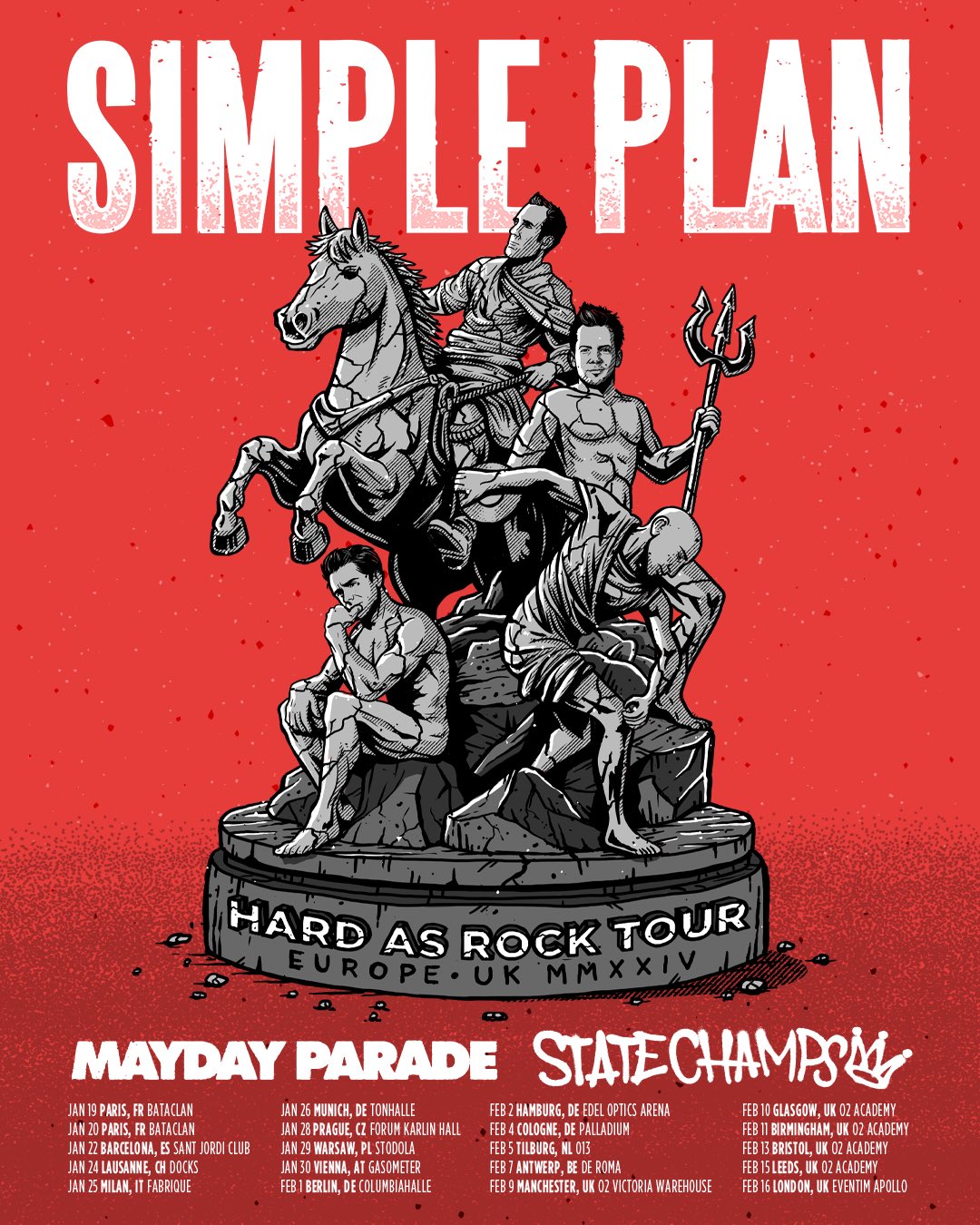 This week also saw Simple Plan announce details of a new EU/UK Tour which will begin in January next year!
Support on all dates comes from Mayday Parade and State Champs.
Drummer Chuck Comeau shares, "We're super excited to be coming back to Europe and the UK early next year! After an amazing arena tour with our good friends Sum 41 last fall and some incredible festival shows this spring, we're thrilled to come back on our own headlining tour, playing full shows for our UK and Euro fans all over the continent."
"It's gonna be great to play a bunch of new songs from our latest album 'Harder Than it Looks' as well as all the fans' favourites from our early records. We might even throw in a few jams we rarely play live to celebrate, as 2024 marks the 25th anniversary of the band and the 20th anniversary of our second album,'Still Not Getting Any'!.
We're stoked to bring our friends State Champs and Mayday Parade with us, two fantastic bands that we and our fans love! This is probably one of the strongest UK / European tour line-up we've ever put together and we can't wait for it to kick off next year!"
Tickets are here.
Read our review of Simple Plan live in London
The Feeling announce Greatest Hits Tour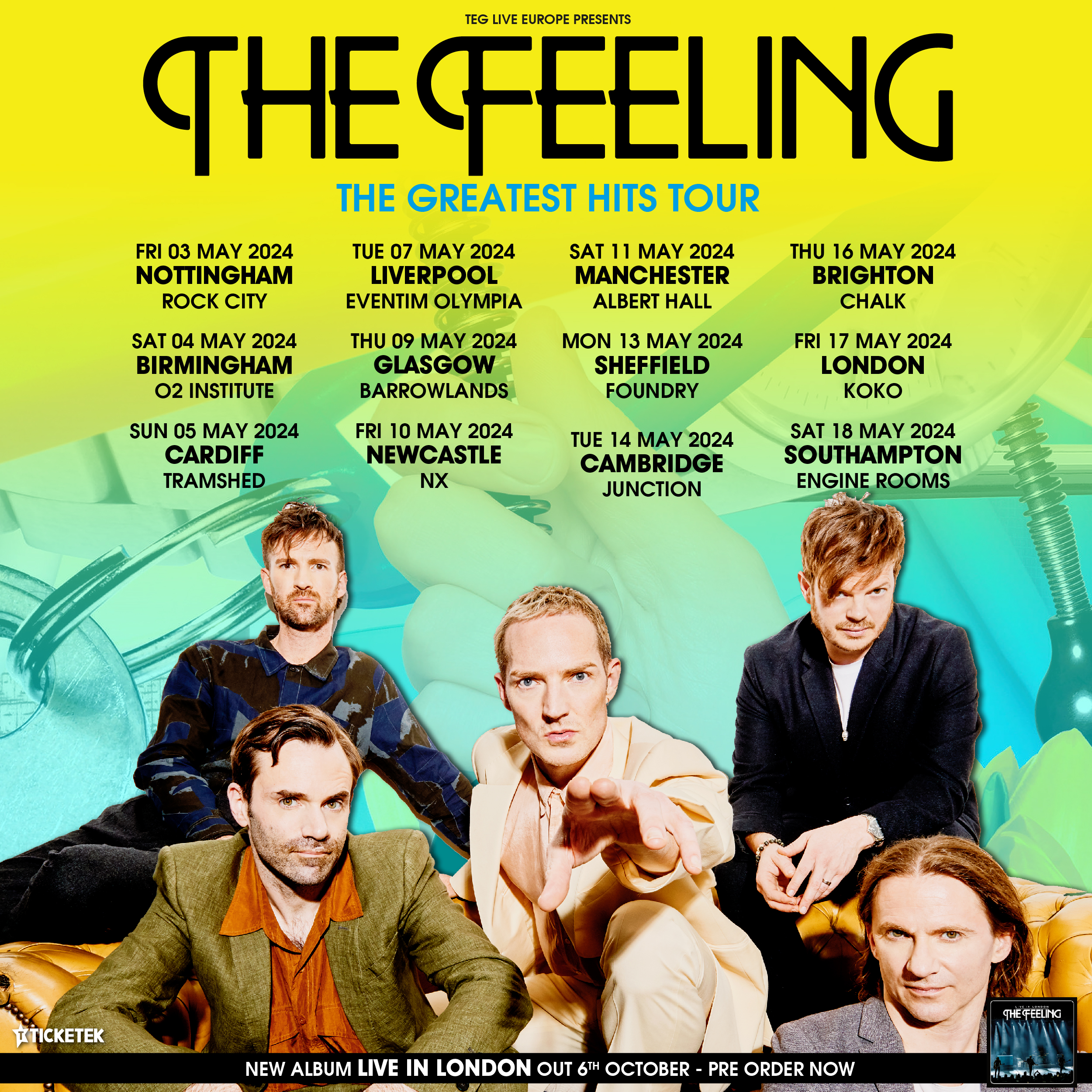 Next up in our News Report are The Feeling, who will be hitting the road next May for a greatest hits tour.
The group will be also be releasing a new album, 'Live In London' on October 6th.
Tickets and albums are here.
Find Full Pelt Music on YouTube
Buckcherry set to return to the UK in January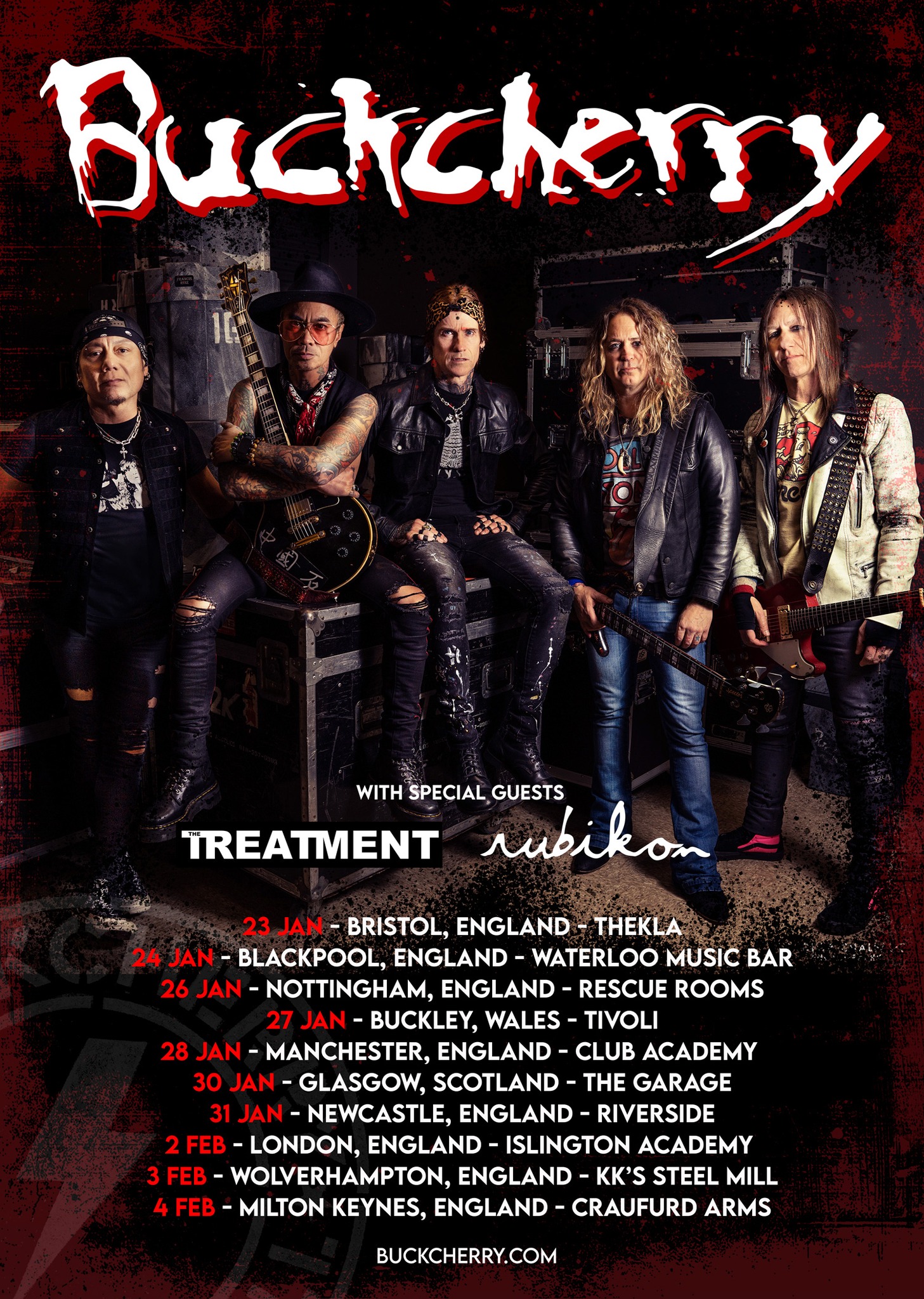 Rockers Buckcherry have revealed a new UK tour set to take place early next year.
Support will come from The Treatment and Rubikon.
Tickets are here.
Watch Episode 5 of The Full Pelt Music Podcast with guests The Treatment
Read our review of The Treatment live in Cambridge
Militarie Gun set UK Tour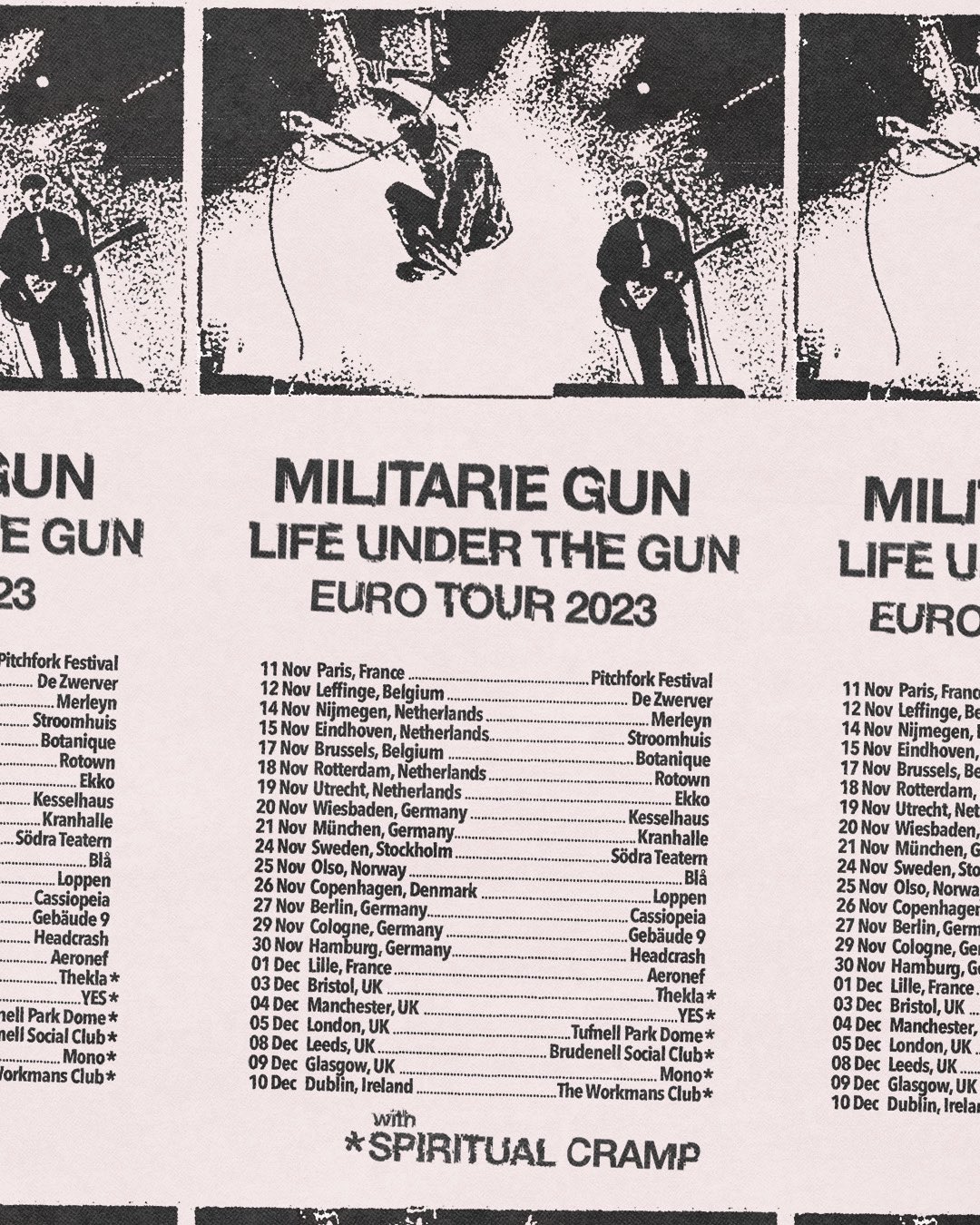 Militarie Gun are up next in our News Report with a headline EU/UK Tour now set for this autumn.
Support in the UK comes from Spiritual Cramp.
Tickets are here.
Muncie Girls announce Farewell Tour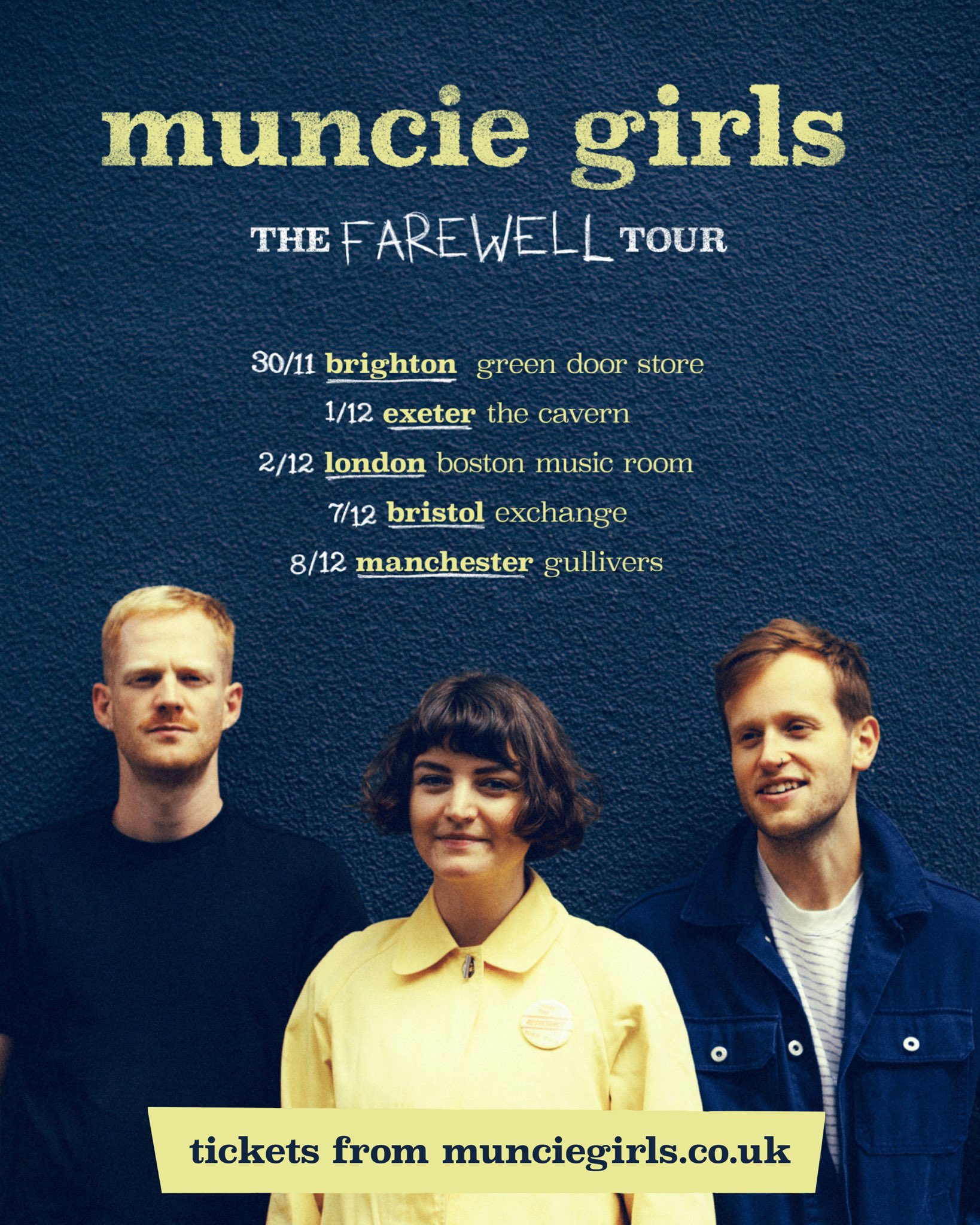 This week saw Muncie Girls share news of their split. Thankfully the group will treat fans to one final Farewell Tour later this year!
The band shared, "After nearly 13 years, a demo CD, a demo tape, three 12" EPs, three 7" singles, a 12" split record and two albums, we're saying goodbye to our band Muncie Girls. We started this band when we were 17 and the biggest goal we could muster up was to release a 7" single. We ended up doing more things and going to more places than we could ever have imagined. We were lucky to be from a town with such a brilliant music scene and venue, the Cavern, and I remember how it felt to travel to so many cities and discover other scenes just like ours.
The community we found ourselves a part of was so special and really became our lives. If it weren't for the kindness of total strangers putting on shows for us, feeding us and letting us stay at their houses, we would never have been able to do any of the things that we've done. We were even once temporarily adopted by a family in Texas when we went to play SXSW and they baked us cherry pie and drove us to our gigs. We were taken on a tour around Australia by complete strangers who became some of our best friends. We went to Japan after some strangers offered to book us a tour and we travelled around on trains and borrowed local bands' gear, guitars, everything. We spent most of our time touring in mainland Europe where we made friends for life, playing in squats, venues, gardens, bunkers, wherever.
I often heard stories of bands having to sleep in their vans or in parks or service stations. We always had somewhere to stay, no one ever let us sleep rough. I know we were incredibly lucky and we have our scene and our friends and fans to thank for that. We've relied so much on people's kindness; I hope that we were always grateful enough.
We've decided to do a farewell tour and we hope that you'll join us at a show. Muncie Girls will always be a massive part of our lives and we will each always play music, just in different projects now. Thank you everyone!"
Tickets are here.
Read our review of the self-titled debut album from James and the Cold Gun
The Pale White announce headline tour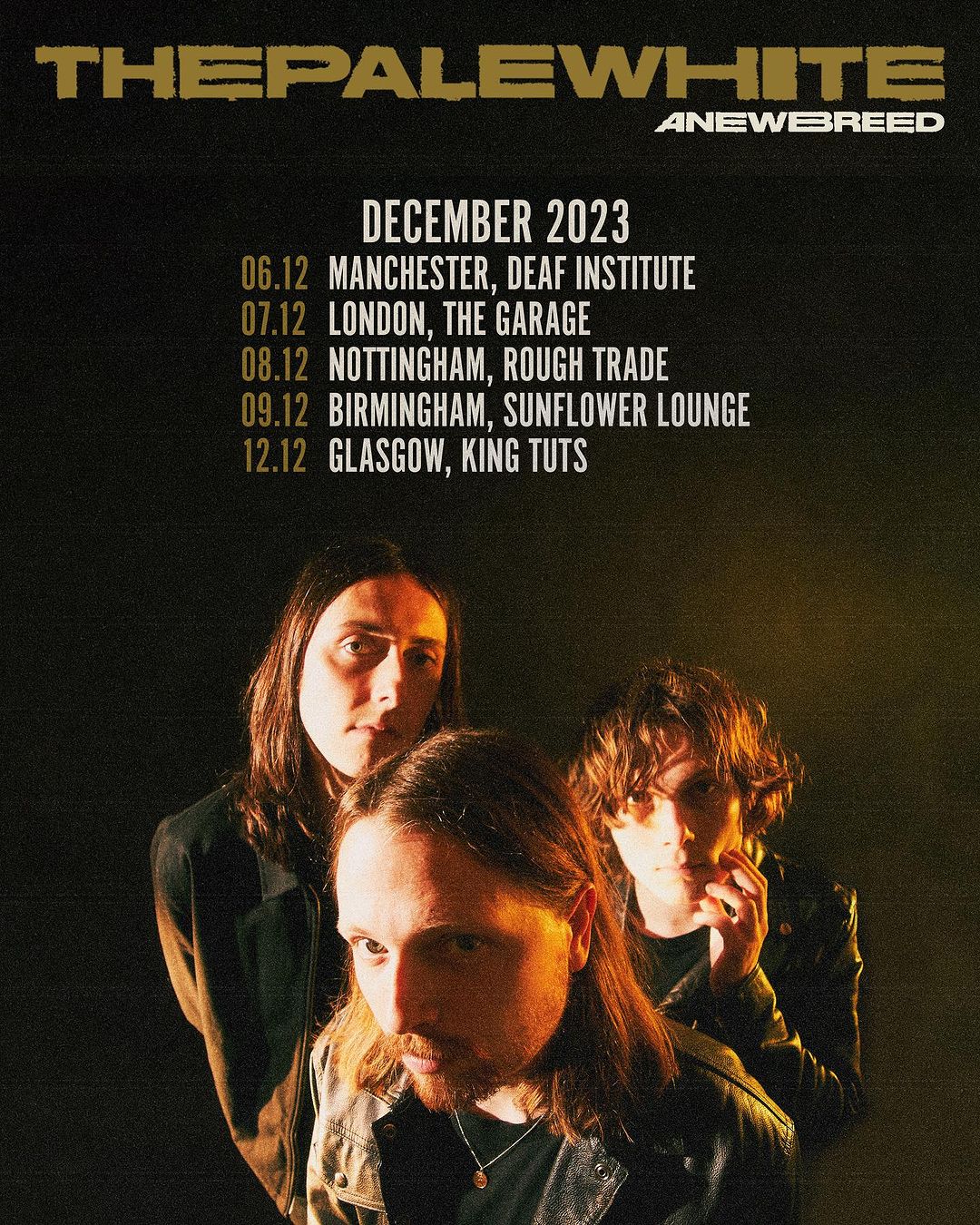 The live announcements continue in our News Report with a new headline tour from The Pale White, with the band out this December.
Tickets are here.
Read our review of Y Not Festival 2022
The Hot Damn! reveal new live dates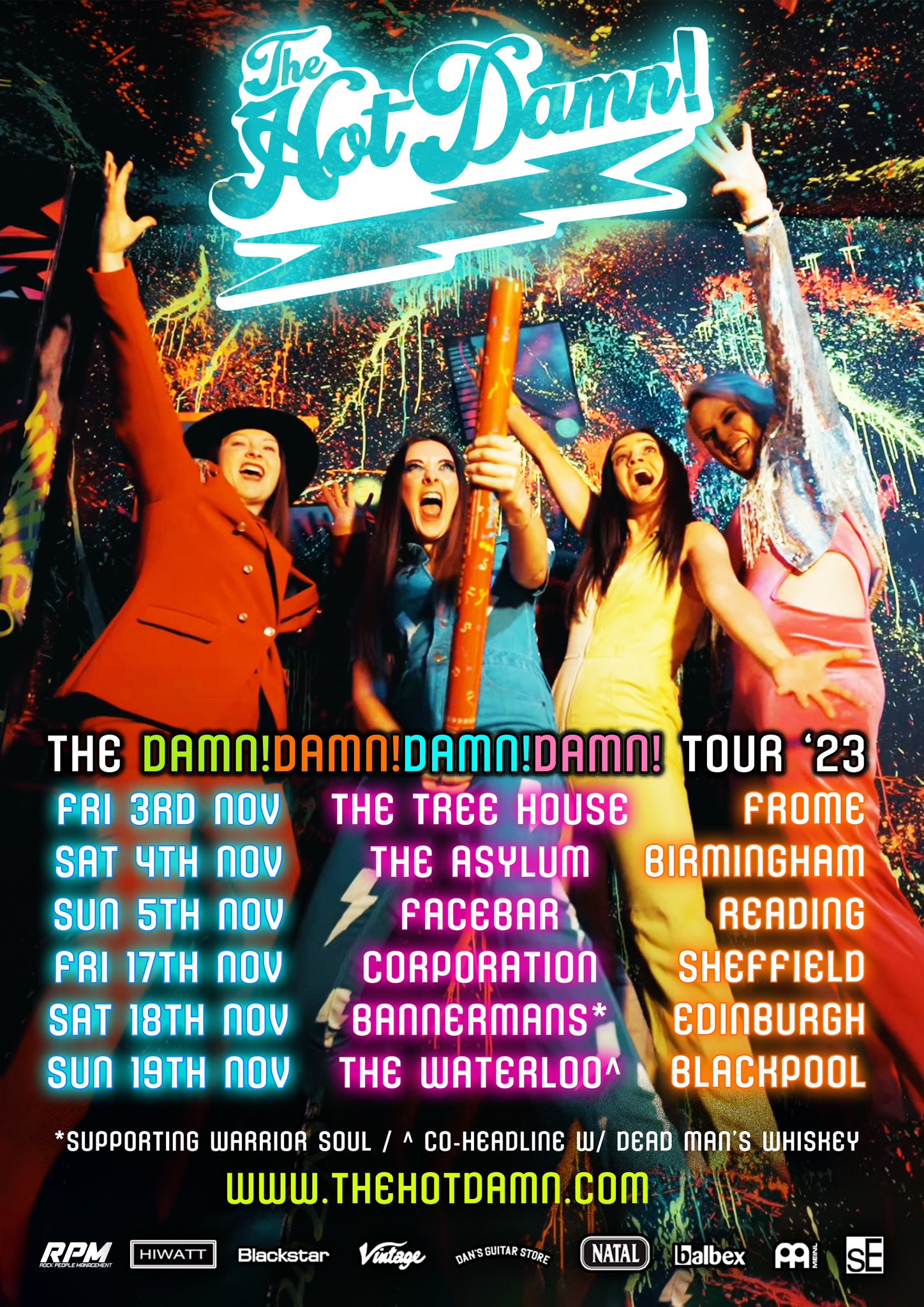 The Hot Damn! have this week revealed a new run of live dates set for this November.
Tickets are here.
Read our review of 'Smile' from Skindred
Dead Man's Whiskey unveil new tour dates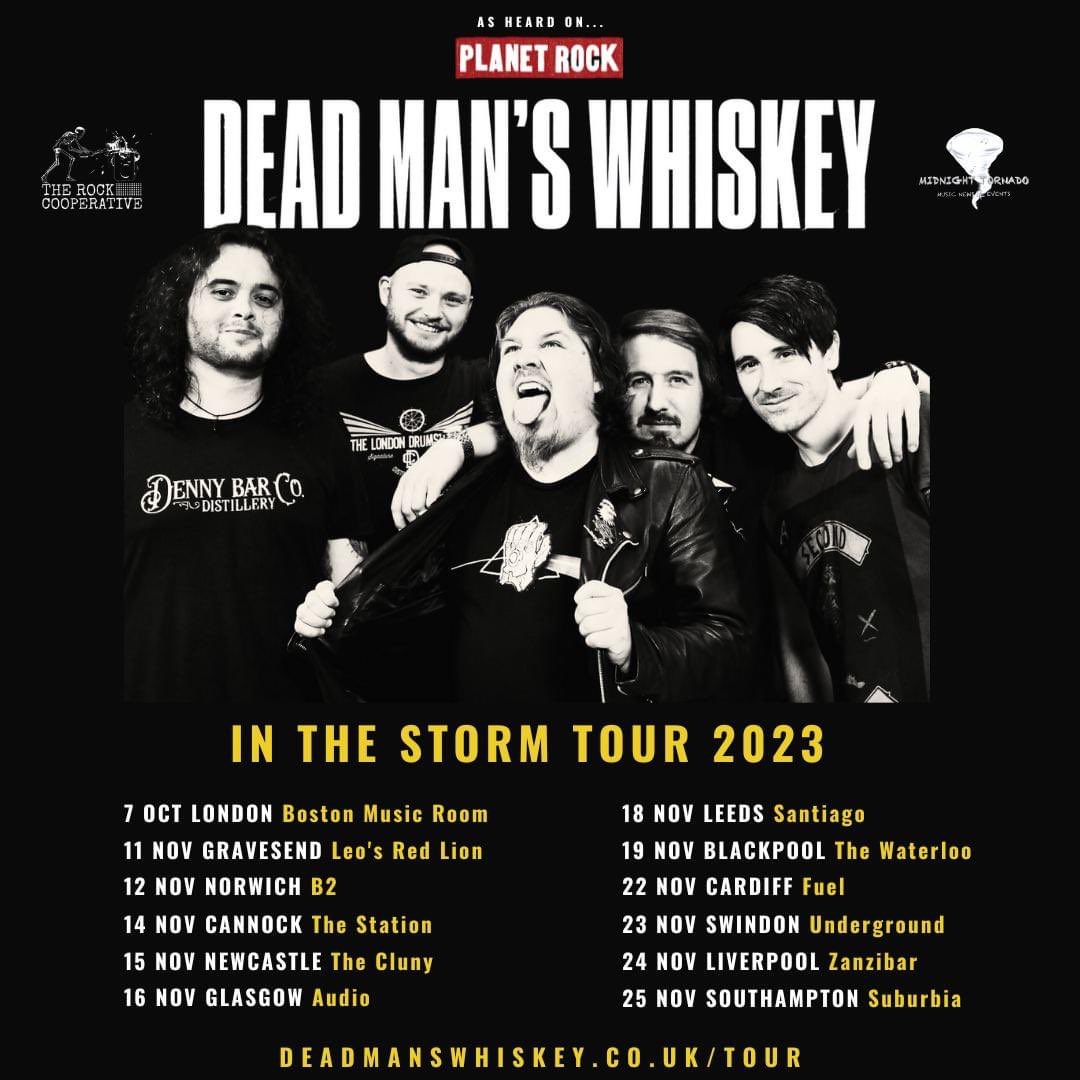 The final live announcement in our News Report this week comes from Dead Man's Whiskey who will be out on the road again this autumn.
The band will release their new album, 'In The Storm', on September 29th!
Tickets and pre-orders are here.
Read our review of Dead Man's Whiskey live in Norwich

The Hives share two new singles!
The countdown is on for the release of 'The Death of Randy Fitzsimmons', the new album from The Hives, on August 11th.
This week saw the band share not one but two new singles and you can listen to both 'The Bomb' and 'Trapdoor Solution' above.
Pre-order your copy here.
Listen to 'The Bomb' on our Spotify Hot List!
Normandie share new single 'Blood in the Water'
Stockholm trio, Normandie, have today returned with, 'Blood In The Water', their first new music since 2021's 'Dark & Beautiful Secrets' album.
Speaking of the track, frontman Philip Strand says, "Blood In The Water is about how "hurt people, hurt people", how negativity is contagious and how it can lead people into negative spirals, where they unknowingly hurt the ones around them."
'Dark & Beautiful Secrets' subject matter drew heavily from Philip's religious childhood, as the band moves into a new era, 'Blood In The Water' touches on that a little and acts as the perfect bridge.
"Even though i left the church at a very young age, I was raised with the belief that every person is born with a clean slate, and then our experiences and traumas form us as people. I've always seen hurtful people as damaged, sad and maybe even wrongfully judged by their behaviour, rather their past. Nobody was born evil, it's something we pick up along the way and usually comes from pain and suffering in some way.
With this song, i wanted to get into the mind of the hurtful/hurt person and try to understand their behaviours and patterns. "Love me til my heart stops, hit me like a freight truck" is one of my favourite lines. I'm positioning love as a drug, with the person's tolerance building, leading them to seek being really blown away by their feelings, to cover the pain inside."
More here.
Read our review of 'Dark & Beautiful Secrets' from Normandie
VUKOVI share 'CREEP HEAT'
VUKOVI had new music on offer this week as the group shared new single, 'CREEP HEAT', which you can check out above.
More here.
Read our review of VUKOVI live in Norwich
Haunt The Woods share 'Now Is Our Time'
Haunt The Woods have shared their new single, 'Now Is Our Time', which you can check out above.
The track comes from upcoming new album, 'Ubiquity', which is released on September 29th.
The band comment: "Written during the global lockdown, 'Now Is Our Time' is an angered proclamation of the struggle to sustain oneself in this modern world. Forced to sell our lives by the hour in order to survive, without security or peace of mind and without a feasible alternative.

"Now is the time for change, and the only way for change is to come together against the oppressive, archaic system we find ourselves living in."
Pre-order your copy here.
Delaire The Liar share 'angel number.'
This week saw Delaire The Liar share new single, 'angel number.', which you can check out above!
The track will feature on upcoming new EP, 'Self Defence', which is set for release on September 1st.
Speaking on 'Self Defence', the band said: "In the throes of desperation, there's no telling the lengths a person will go to preserve themselves or their loved ones. This EP presents a series of fictional scenarios to challenge the typical understanding of self defence. The usual themes surrounding the topic are present; antagonism, violence, action and reaction, but with a focus on the more drastic instances that require a less reflexive and more considered approach. Instances that require a deeper understanding of the self, emotional capacity for pain, physical capacity for punishment, moral detachment and sacrifice for the benefit of yourself or someone else. This EP explores whether there is any defence too drastic or too difficult to justify when love, pride and responsibility is involved."
More here.
Listen to 'angel number.' on our 'Hard & Heavy Playlist!
Grove Street debut 'Ulterior Motives'
Grove Street are next up in our News Report with their latest single, 'Ulterior Motives', which you can of course check out above!
The single is the latest taste of their upcoming debut album, 'The Path To Righteousness', which is out on September 29th.
"Ulterior Motives is a song that goes through the motions of someone who is stuck in a toxic and abusive relationship with someone or something – be it a partner, friend or substance, or even a vice like gambling – and cannot find a way out. They keep getting pulled back into the situation at hand; they're in love, addicted, and can't see the impact of damage that's being done to them, because they've got rose tinted glasses on.
The second verse changes focus from the relationship/addiction itself to how people around that person turn a blind eye to what's going on, because it's easier for many to just play ignorant to issues than to call it out or address it, which in turn just enables the problem to manifest further.
The outro finds the person coming to the realisation that they're better off out of the relationship/addiction, and in order to live a better life they gotta move on.
Musically this is one of our favourite tracks on the record, I feel like it captures our sound as a whole perfectly; from the bouncy hip-hop inspired grooves in the intro that lead into the thrash feel. The outro is personally my proudest part of the record, I remember writing that and being so surprised with myself – like, where the fuck did that come from!!" – Sandy (guitars)
"The Ulterior Motives video started life as a 'Tour Survival Guide' skit imagined by Sully (vocals). We were spitballing ideas in the van about all the trials and tribulations we've faced being in a touring band, reminiscing about all the previous funny ventures we've experienced together. Most of these skits are based on true stories, like the time our van got clamped in Slovenia and Joe (bass), using nothing but brute force, managed to rip it off. We hope that other bands can relate to our experiences, and it'll also give people an insight into the touring lifestyle." – Josh (drums)
Pre-order your copy here.
Listen to 'Ulterior Motives' on our 'Hard & Heavy' Playlist
Sydney Sprague shares 'Nobody Knows Anything'
Sydney Sprague has shared new single, 'Nobody Knows Anything', which you can check out above.
The tracks features on new album, 'Somebody In Hell Loves You', which is out September 15th.
"When I started writing songs for this record during covid lockdown it felt like the movie had ended and the credits had rolled on life but we were all still here for some reason," explains Sydney going into the process of recording the new album.
"Everything was just floating in this void and because of that I felt like I had all the time in the world to just do whatever I wanted. It was weirdly the freest I've ever felt. Writing became a way to entertain myself and make myself laugh instead of a way to wallow. I spent a lot of time reflecting on the past and the people around me and processing things I'd never been able to. I was able to be more honest than I'd ever been in my songs. The fact that I'm able to share them now feels a little scary because when I was writing them they were really just for me, but I hope they can bring people the same sense of escape that they brought me."
Pre-order your copy here.
Read our review of 'Join The Club' from As December Falls
Brand New Friend debut 'Stars Bleed'
Closing out this section of our News Report this week are Brand New Friend as they share new single, 'Stars Bleed', which you can check out above.
The track comes from newly announced upcoming album, 'Grandstand', which arrives on September 15th.
The band have also revealed a new tour to take place soon after the album release.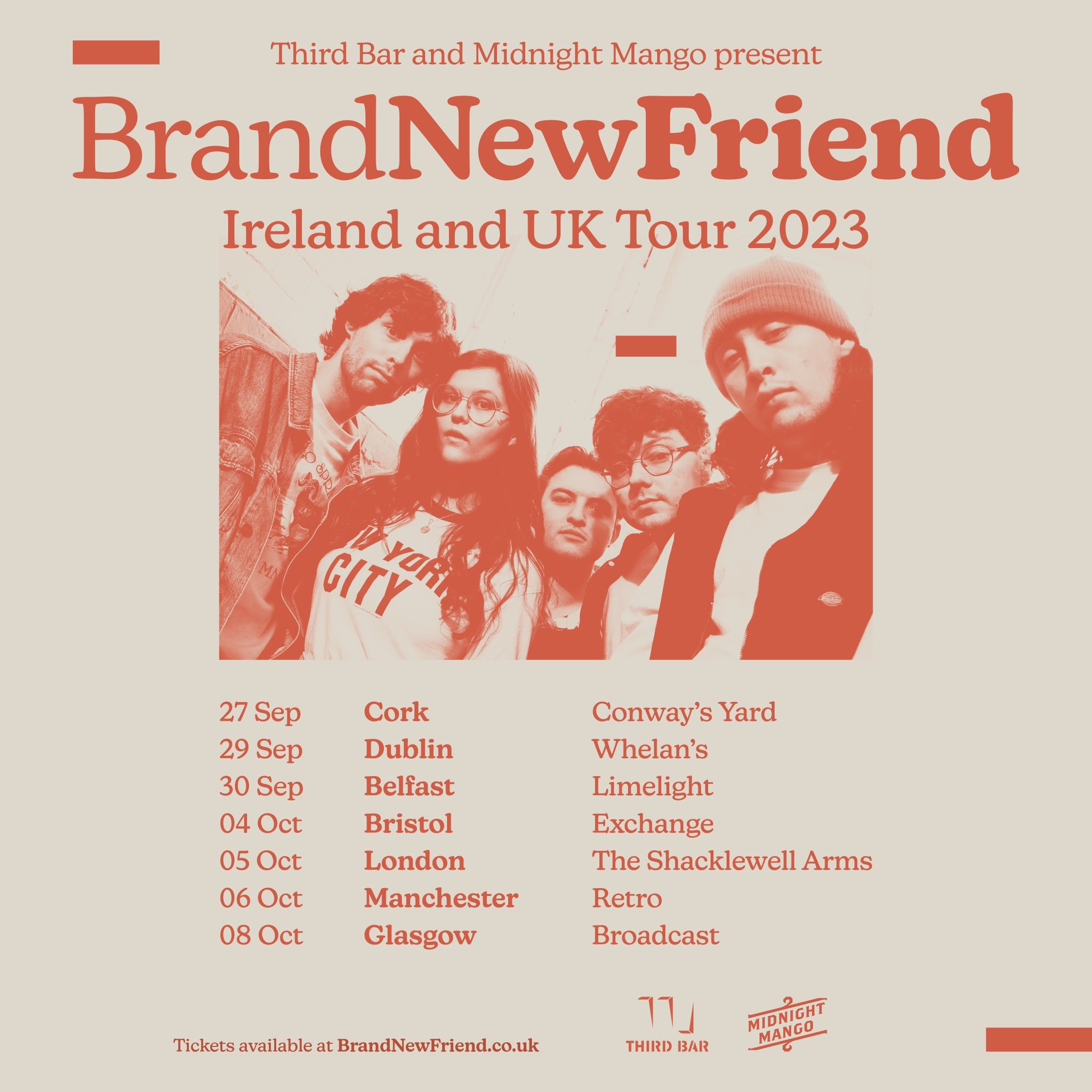 Pre-order your copy here.
Listen to 'Stars Bleed' on our Spotify Hot List!

As always we conclude our News Report with the latest additions of our 'Discover' New Music Playlist!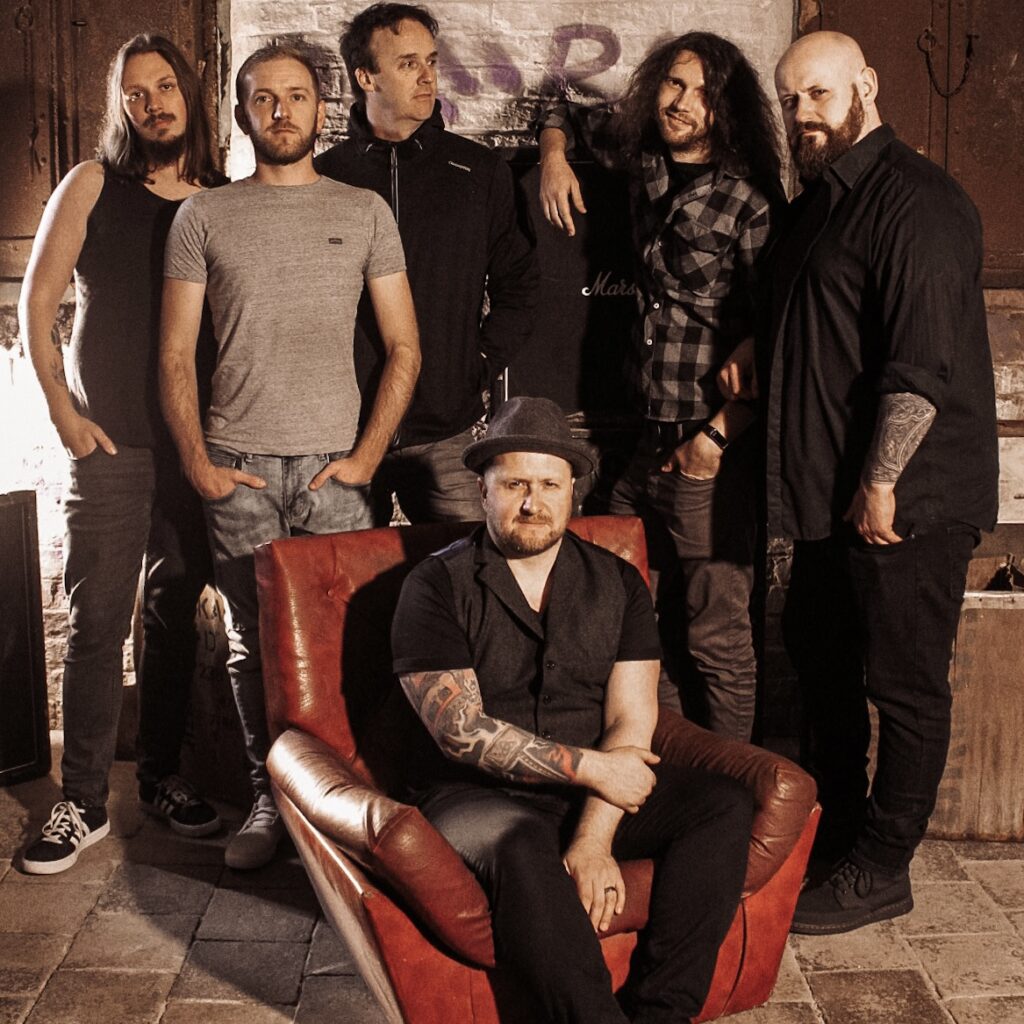 Attic Theory – 'Papier-Mâché'
Attic Theory premiere 'Papier-Mâché' featuring Kevin Martin of Candlebox ahead of highly anticipated debut album 'What We Fear The Most'.
Vocalist Lewis Wright says, "The 'Papier-Mâché' lyrics are about hiding your true self underneath a thin layered metaphorical mask because you have been convinced, by someone you used to be close to, that you are not behaving how they believe you should and the only remedy is for you to be strongly medicated and to suppress the feelings they don't agree with. The message I wanted to convey is about being able to gain the strength to remove the mask and not let the past or anyone else define you."
Lewis continues, "The animated music video (by Studface Productions) was influenced by 'one flew over the cuckoo's nest' and is set in an old rundown insane asylum. This is the archaic perception of mental health and we wanted the video to symbolise that society has thankfully escaped those outdated ways of thinking and the band are rescued by an unlikely hero; Atticus T. Mouse."
"It's been such a creative period for the band and we are so proud of what we've achieved so far, but this has been a phenomenal opportunity which we are especially grateful for. What a huge honour to have our friend Kevin Martin of Candlebox singing on 'Papier-Mâché'. I've admired his musicianship for years and I am a massive fan of Candlebox so this is definitely a fanboy moment for me that has been ticked off my bucket list", concludes Wright.
Cold Culture – 'Downfall'
Danish newcomers Cold Culture present you with their infectious new single 'Downfall'
"Downfall is about when the person you need the most is being distant, in a difficult time in your life. A lot of feelings and thoughts go through people, when they're unsure of what they want, which can lead to mistakes, and misunderstanding." – Mads Zelasny (Vocalist)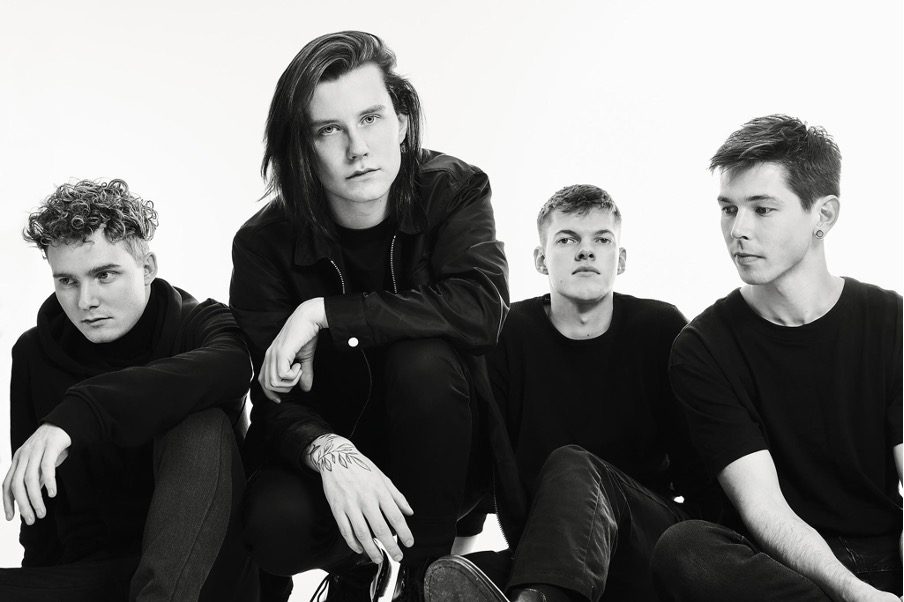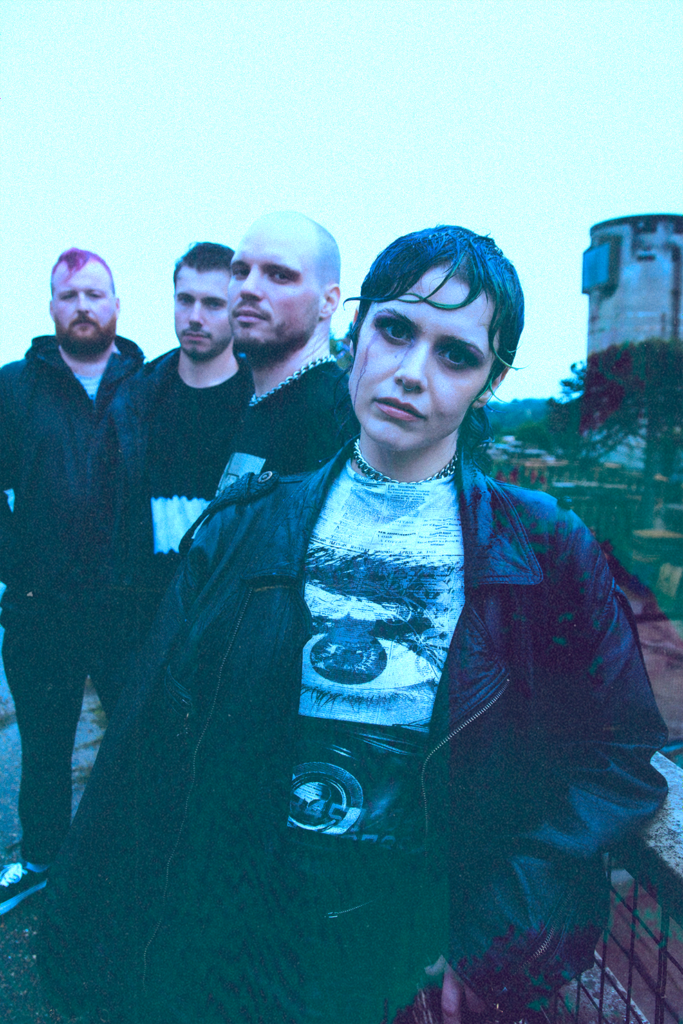 Tribe of Ghosts – 'HIVE'
Brighton's Industrial / Post Metal band Tribe Of Ghosts have today shared a brand new single titled 'HIVE'.
"When we were writing Hive, we felt that we were at a point where we understood our sound and what we wanted to create. With this in mind, we wanted to craft a song that sets the scene of the world that we build with our music, that explores the electronic and the organic, and declares our intent of giving into the chaos that oozes out of us on stage and in the writing process." – Guitarist Adam Sedgwick.
Listen, Follow and Discover your new favourite act now with our 'Discover' New Music Playlist
Then find out the stories behind the songs on our 'Discover' New Music Podcast!
Share our News Report on Social Media