Every week we roundup the best music news from the past week!
Follow us on Social Media

You Me At Six announce 2023 UK Tour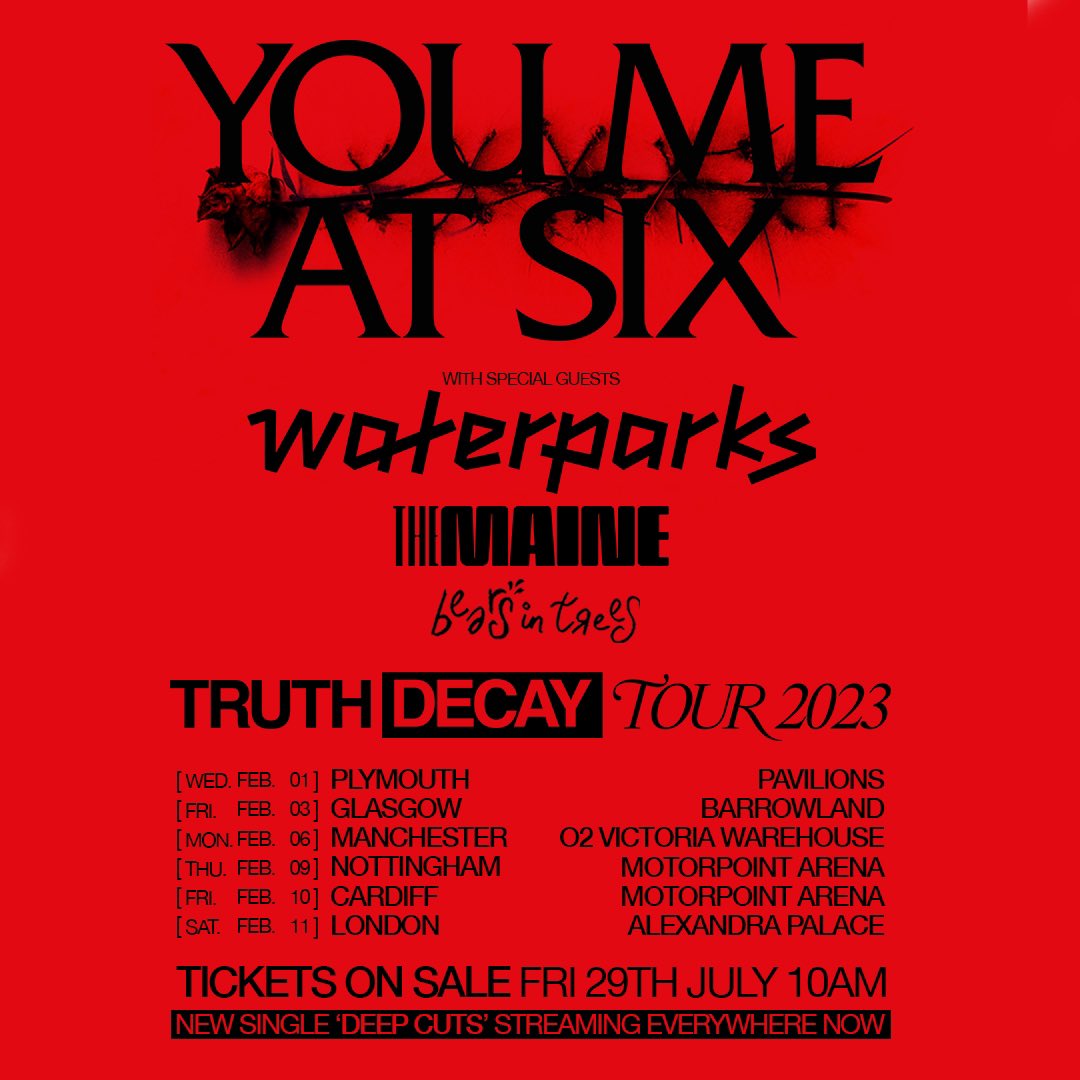 Welcome everyone to another edition of our weekly music News Report, where we roundup the best news from the past week. This week we start off with tour announcements and the above run of dates from You Me At Six.
The band will be joined by Waterparks, The Maine and Bears In Trees for the tour that finishes up at Alexandra Palace in London.
Tickets are here.
Read our review of 'SUCKAPUNCH' from You Me At Six
Beans On Toast sets up 2023 Tour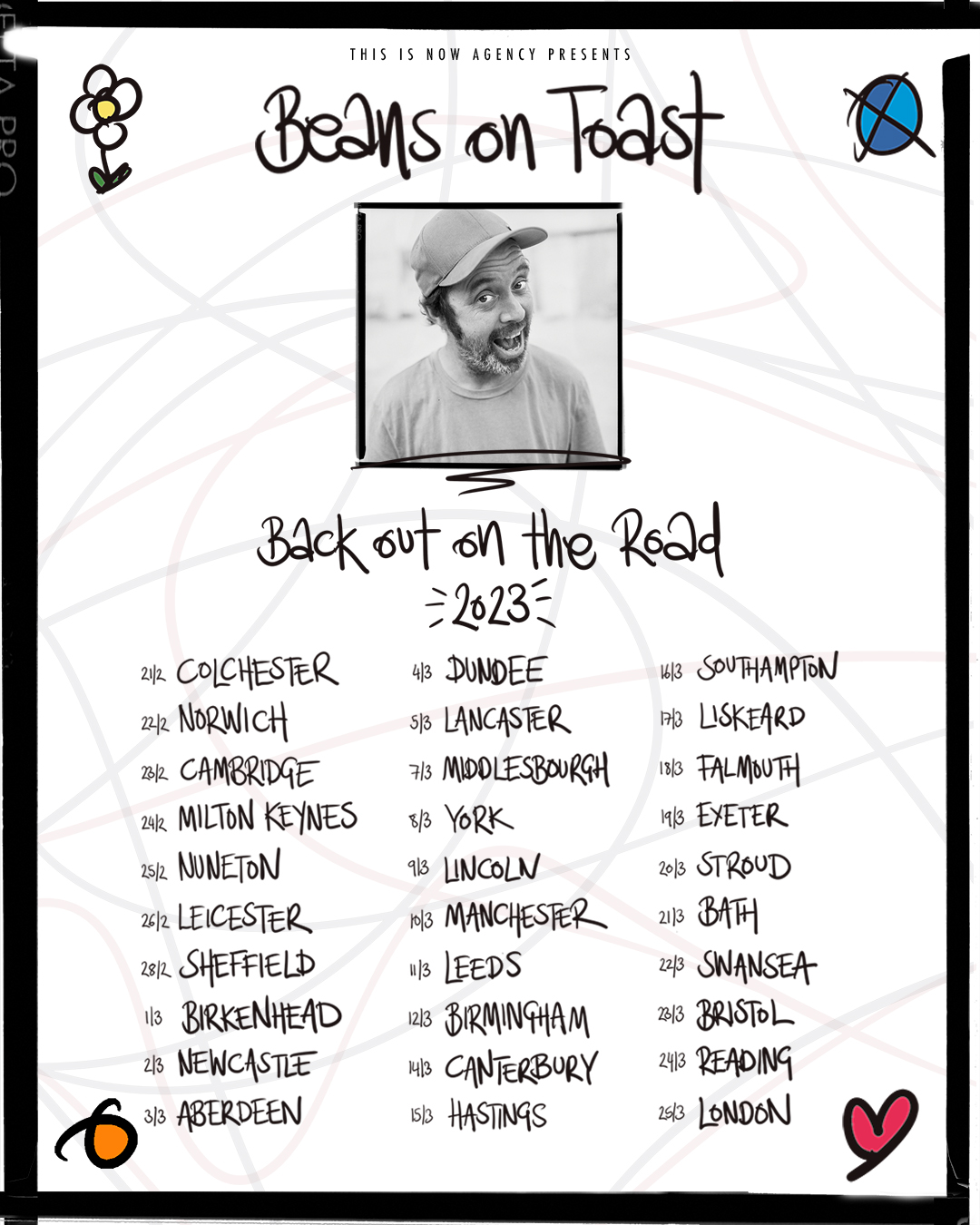 The fantastic Beans On Toast this week revealed another lengthy trek around the UK for early next year.
Speaking about the upcoming tour Beans says:
"Folk music is an age-old art form, and it's more relevant than ever in these wild and crazy modern times. You can expect an inspiring and entertaining gig, a relaxed and fun affair that leaves you feeling like you've met up with an old friend, and you're all the better for it."
Tickets are here.
Watch The Full Pelt Music Podcast with guest Beans On Toast
Read our review of Beans On Toast live in Colchester
Bowling For Soup reveal December dates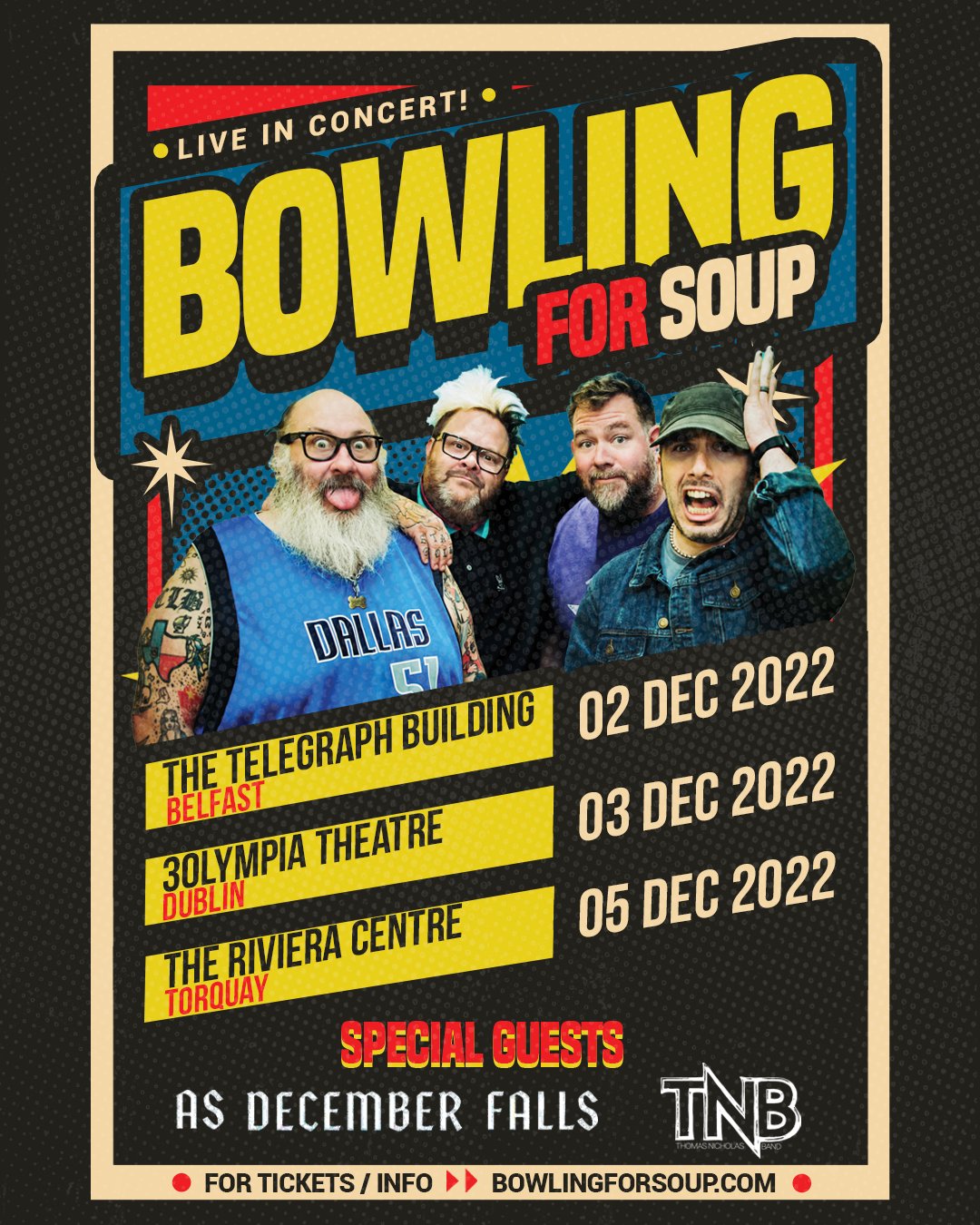 Bowling For Soup have revealed that they will be returning to the UK and Ireland this December for three shows.
Special Guests will be As December Falls and Thomas Nicholas Band.
Tickets are here.
Read our review of 'Pop Drunk Snot Bread' from Bowling For Soup
Kodaline reveal intimate UK Tour
Kodaline have announced a special intimate run of UK shows in support of their forthcoming stripped-back live album 'Our Roots Run Deep', out October 14th.
Speaking about the tour the band say, "We can't wait to be back in the UK to bring you some super intimate shows to celebrate the release of Our Roots Run Deep with some of our favourite Independent Music stores around the country. These will be some of the smallest shows we've done in a long time and we cannot wait to see you there."
Marking the announcement they have also released the new single 'Wherever You Are' taken from the album. You can check it our below.
Regarding 'Wherever You Are' vocalist and multi-instrumentalist Steve Garrigan says, "'Wherever You Are' is a song I originally wrote as a present for my girlfriend. It's a newer song from our fourth album One Day At A Time. It's connected with a lot of people around the world and has been fun to play live at festivals and full band shows. It was great to hear the crowd singing along to this acoustic version in such an intimate setting. It's a moment we won't forget."

Continuing about the album the band say, "This album is something we've wanted to do for a very long time, it's also something entirely new to us. It's a stripped-down acoustic show with no click, which basically means, it's very raw and unfiltered. We wanted to try and capture the energy and atmosphere of the night as best we could. It was an intimate show recorded in one of our favourite venues in the world, in Dublin City at home in Ireland. We hope you enjoy it as much as we enjoyed playing it."
Tickets and pre-orders are here.
Read our review of Neck of the Woods Festival

Burn It Down Festival adds Wargasm as special guests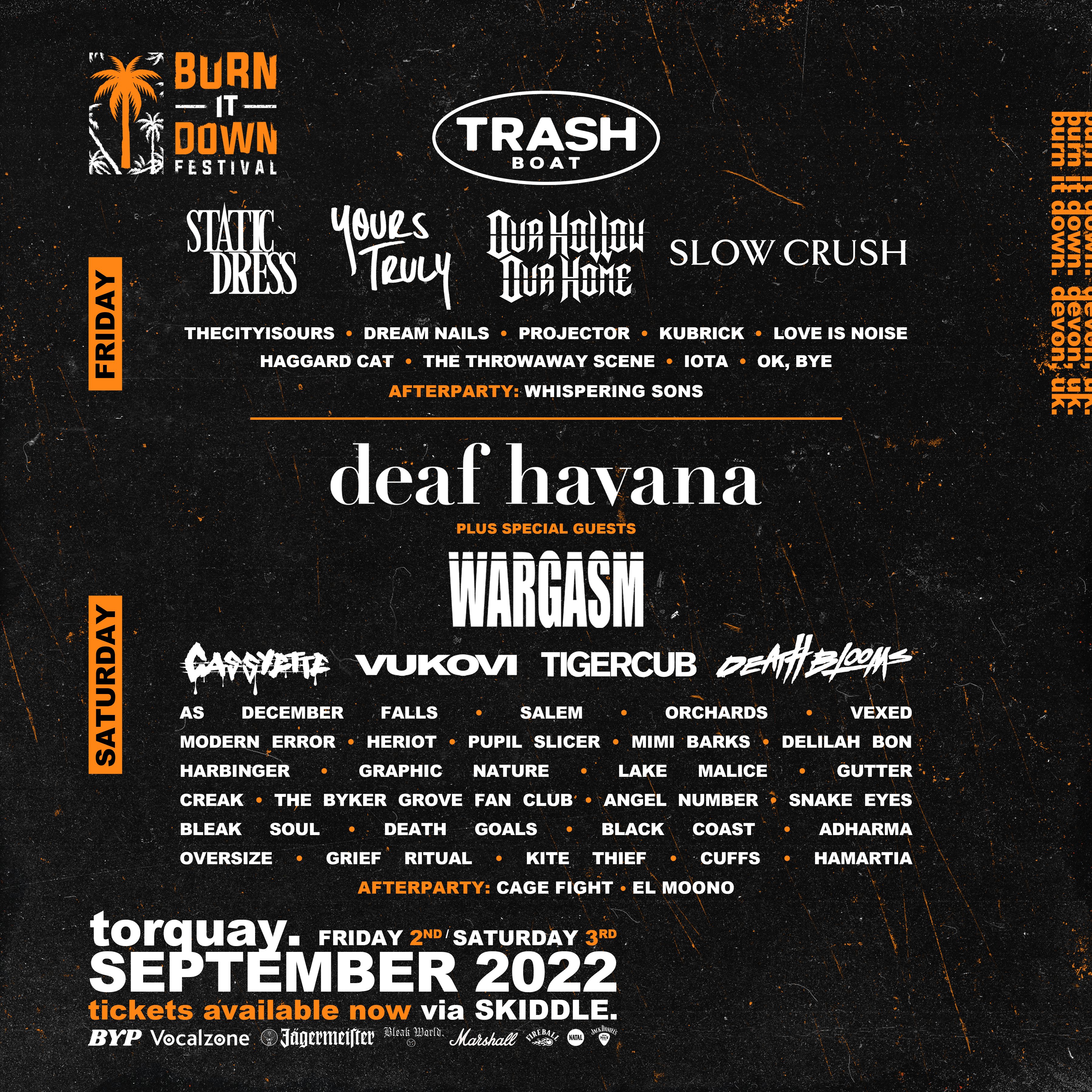 Our News Report turns now to festivals and Torquay event Burn It Down, who this week added Wargasm as special guests.
They join a stunning line-up featuring Trash Boat, Deaf Havana, Static Dress, Our Hollow Our Home, Cassyette, VUKOVI, Tigercub, Death Blooms, As December Falls, Salem, Haggard Cat, IOTA and many more!
Tickets are here.
Watch IOTA on our 'Discover' New Music Podcast
Read our review of 'The Present Is A Foreign Land' from Deaf Havana

Smith/Kotzen announce new release 'Better Days… And Nights'
New music releases now as our News Report continues. We start with the Smith/Kotzen collaboration and their news this week that they will be releasing 'Better Days… And Nights' on September 16th!
The release will comprise five previously unreleased live tracks, plus for the first time ever on CD, the four studio tracks featured on their sold out, limited edition 12" vinyl EP, 'Better Days', released in conjunction with Record Store Day in November 2021.
Adrian Smith comments, "I think everyone in the band was extremely happy with how our very first tour turned out. We were all naturally a little anxious as we'd never played live together before but once we got out there, everything fell into place really easily and we all had a tremendous amount of fun. I can't wait until we can do it again and get to play in many more places next time round."

Richie Kotzen adds, "We spent a lot of time discussing which of the songs from the live show to include on this CD. We wanted to capture an accurate snapshot of the special vibe we all felt on the tour and I think we've achieved this in the songs we've selected, and hope our fans will agree. We're looking forward to seeing everybody again on future tours."
Pre-order your copy here.
Read our review of the debut album from Smith/Kotzen
The Hunna debut 'Trash'
The Hunna have announced their brand new self-titled album to be released on October 28th. The album is preceded by new single, 'Trash', which you can listen to above.
"We had so much fun writing the lyrics," recalls vocalist and guitarist Ryan Potter. "All of us were together, joking around and letting loads out. Even though it has got an angst to it, we don't take life too seriously, we're just having fun.

"We're not calling anyone specific out, it's just overall industry suckiness. It highlights things we've experienced in the industry over the years and things we see going on and hear about now. There's a lot of bad shit that still goes on in the industry and a lot of it gets swept under the rug. But we're in the position where we're on our fourth album, we feel refreshed and confident and this is what we're going to say. You either like it or you don't, it's cool either way. We are who we are."
Pre-order your copy here.
Listen to 'Trash' on our Spotify Hot List!
Charlotte Wessels shares new single 'Human To Ruin'
Charlotte Wessels will release her new album, 'Tales From Six Feet Under Vol II' on October 7th. This week saw Wessels share the second single from the album, 'Human To Ruin', which you can check out above.
On the song, Charlotte comments,
"With 'Human To Ruin' I wanted to make a song that has an old school symphonic feel to it, but at the same time doesn't get too polished or "pretty" to reflect the theme of the track. The vocal processing on the choruses is inspired by 90's grunge and the instrumental middle part gives off something psychedelic, all in all it's quite eclectic.

Thematically, the words in 'Human To Ruin' are the things you say to yourself when you feel undeserving of love, or when you feel like you want love just for selfish reasons. I felt compelled to indulge in this feeling without nuancing it, because when you exaggerate a feeling like that, or make it larger than life in a song, it allows you to shout out the frustration on the one hand but it also reminds you that it is probably not all THAT bad in reality."
Pre-order your album here.
Read our review of 'Planet Zero' from Shinedown
The Wonder Years share 'Low Tide'
Next in our News Report, we head to The Wonder Years, who continue to build towards their new album, 'The Hum Goes On Forever', which is released on September 23rd.
This week the band shared their latest single, 'Low Tide', which you can listen to above.
"This is my pandemic depression song. I feel like everyone gets one.". The Wonder Years vocalist Dan Campbell describes the band's new song out today with unflinching honesty.
"It's searching for some semblance of normalcy through small, newly formed rituals. It's being unsure if I'll ever get to do the thing I love again, if live music will ever come back. It's deciding to just give up and then deciding not to give up and then deciding to give up again in alternating intervals. It's watching old movies and unconsciously thinking "Oh my god, where are your masks?" when people are in public places because a deep anxiety now exists within me that may never fully leave. You know, all the normal stuff."
Pre-order your copy here.
Find Full Pelt Music on Youtube
Gun release brand new version of 'Word Up'
Glaswegian rockers Gun have this week released a brand new version of their seminal single, 'Word Up', which you can listen to above.
It's the latest track to be cut from their upcoming album, 'The Calton Songs', out 14th October.
Jools Gizzi says of the album:

"When the pandemic hit we realised that it was the perfect time to try and counteract the bleakness that was all around. It felt like we couldn't write anything, or of course tour. Out of that darkness came a desire to completely rework these songs that we know the fans love, and bring a different, stripped down vibe".

Whilst Dante Gizzi adds:

"It's ironic that those feelings of negativity led to something so positive, a celebration of our career up to now".
Pre-order your copy here.
Listen to Full Pelt Music Playlists on Spotify
Bullet for My Valentine debut 'No More Tears To Cry'
Bullet For My Valentine this week shared their new single, 'No More Tears To Cry', which you can listen to above.
More here.
Read our review of 'Bullet For My Valentine' from Bullet For My Valentine
Chris Shiflett shares 'Long, Long Year'
Foo Fighter Chris Shiflett this week debuted new solo track, 'Long, Long Year', which you can listen to above.
More here.
Read our review of 'Medicine At Midnight' from Foo Fighters
Kasabian share 'THE WALL'
Finally in our News Report this week, Kasabian, who will release their new album, 'THE ALCHEMIST'S EUPHORIA', on August 12th.
This week they debuted the latest single, 'THE WALL', which you can listen to above.
Pre-order your copy here.
Read our review of Kasabian live in Norwich

As always we finish our News Report with the latest additions to our 'Discover' New Music Playlist!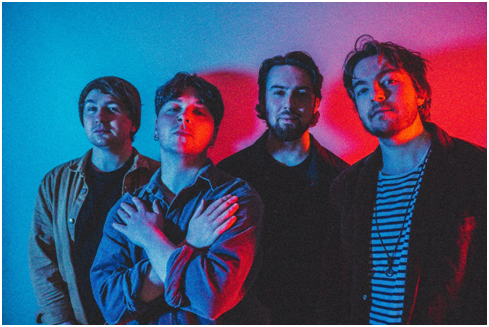 noyou – 'The Way You See Me'
noyou have shared the first single, 'The Way You See Me', from their upcoming debut EP, 'This Game We Started'!
"'The Way You See Me' tells a story of long lost relationships and their eventual reunion, from the perspective of a not so perfect person. Friends, Family & lovers, will things be the same after time has had its way with us? Or has the distance changed us too much?"- NOYOU front man Connor Jobes.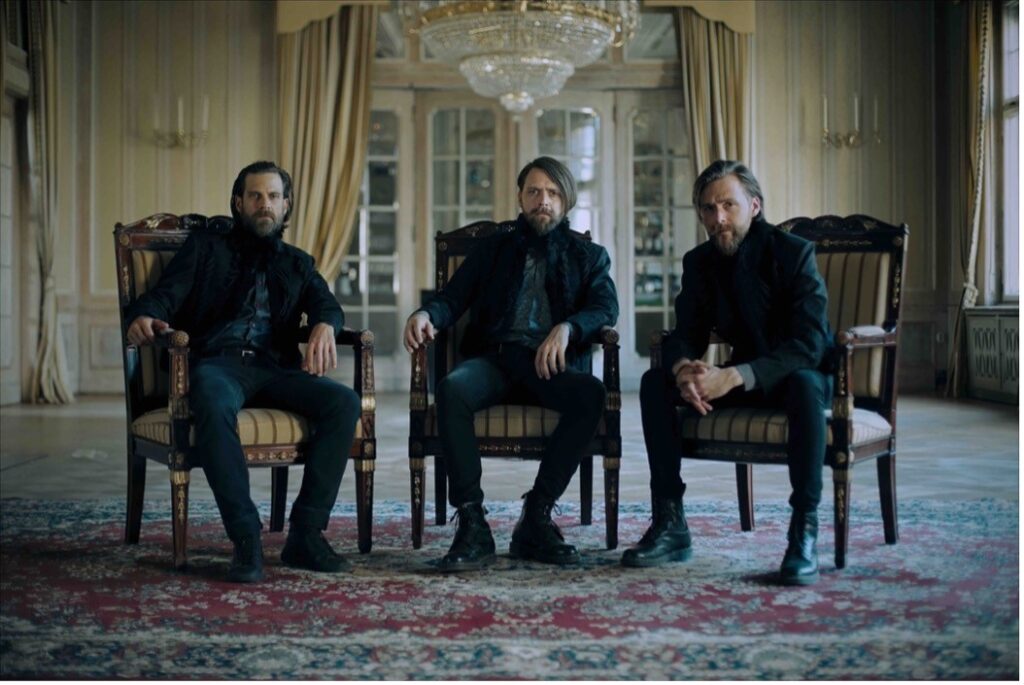 Final Stair – 'Headgames'
Final Stair release their very intimate single, 'Headgames'.
The band comments: "Istvan, the band's singer, fell into a severe life crisis a few years ago and suffered from extreme panic attacks and an intense anxiety disorder that took complete control of his body, soul and everyday life. He was guided only by the fear of fear. This vicious circle ended in alcohol and depression and in mind games that made him a helpless person. He developed into a small, helpless boy who could no longer cope with his life.

This song tells the story of this disease on the one hand, but also contains the strength to overcome it and to learn to live with it. With this song, the band wants to draw attention to the fact that there are many people among us who suffer from depression and similar illnesses. With "Headgames" they want to say: you are not alone!"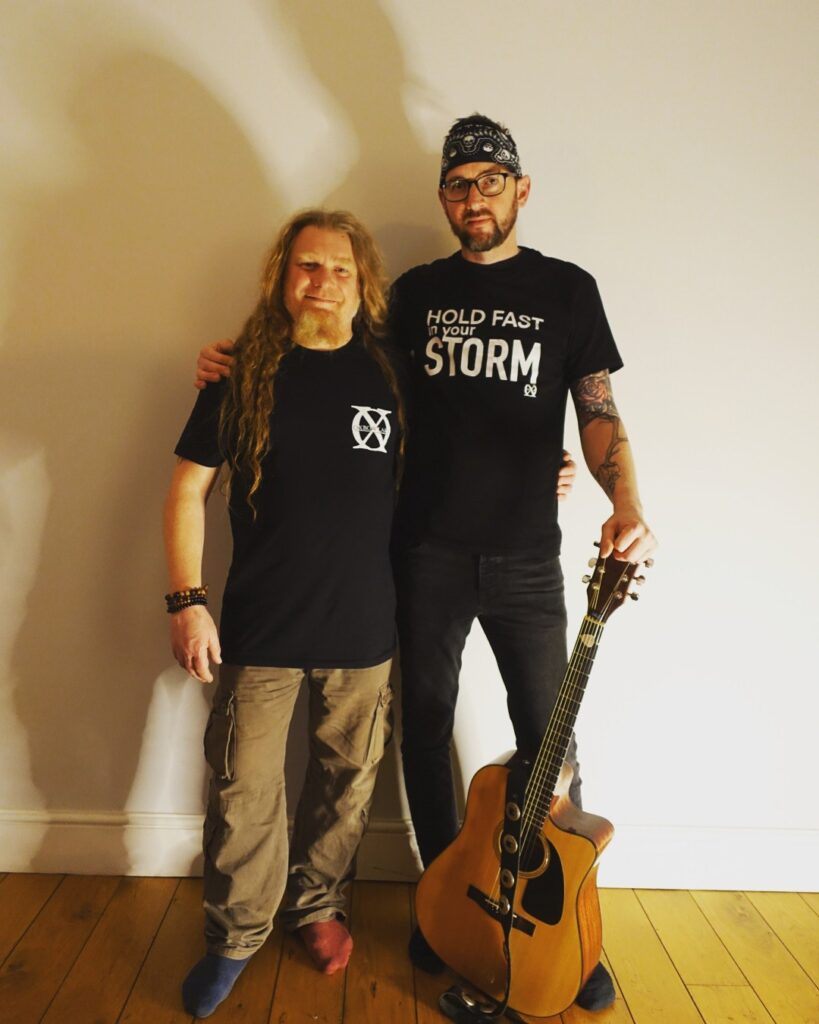 Oxbowlake – 'Louis Theroux'
Oxbowlake unleash their latest track, 'Louis Theroux', on the world.
"Our latest single 'Louis Theroux' was released Friday 22nd July.
We wrote it in lockdown 2020 and it was inspired by the thought of partners not coping spending too much time together and arguing over watching too much TV! When some of their most magical moments were probably snuggled up watching TV together!
Recorded and produced by George Marriot of Pet Needs and includes group chants of 'Theroux Theroux' by Johnny Marriot, their partners and ourselves."
Listen, Follow and Discover your new favourite act now with our 'Discover' New Music Playlist
Then find our the stories behind the songs on our 'Discover' New Music Podcast!
Share our News Report on Social Media
Read our review of '10 Tracks to Echo in the Dark' from The Kooks