Norwich Arts Centre
Wednesday 21st July 2021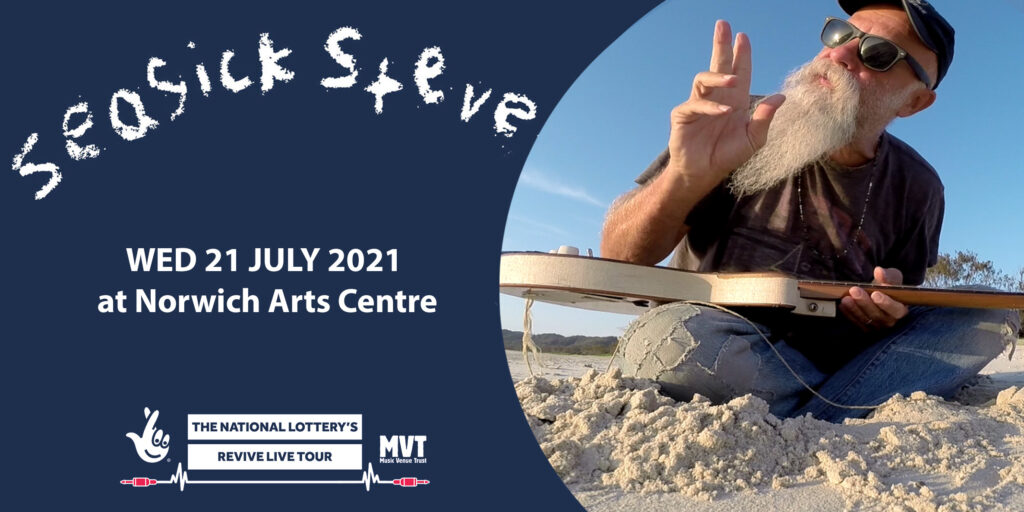 Follow us on Social Media
SEASICK STEVE – NORWICH ARTS CENTRE – LIVE REVIEW
It has been a devastating 16 months for humanity. Every country, every community and every industry has suffered profound and unprecedented loss. The fact remains that we are far from free, the p word is still ongoing and we must be careful.
There is however hope, just a glimmer that some form of normality or dare we say a "new normal" could be possible. The music industry has been decimated over the past year or so, but it is the music industry now that is offering us hope.
We recently attended the Download Pilot Festival and saw a preview of how live music can return. There was testing involved, masks in certain situations, extra sanitisation and a sense of community that only live music brings.
Now it is time to head indoors again. The Music Venue Trust has always done an incredible job, but that has been amplified by the events of the last year or so. The organisation has now teamed up with The National Lottery to help to #ReviveLive.
They aim to help the return of music fans to music venues across the country and ticket holders can bring a Lottery playing friend in for free. Tonight feels special for so many reasons. The first gig back would always be special but by putting an act the size of Seasick Steve into the intimate surrounds of the beautiful Norwich Arts Centre only ramps the feeling right up!
Entry is smooth, fans have been encouraged to take Lateral Flow tests, there is hand sanitizer aplenty and masks are encouraged in certain areas. Attendees are respectful of each other and of the significance of the evening.
The atmosphere truly is special, and it is a special talent here to entertain us. With no support, Seasick Steve and his trusted companion on drums enter the stage at half past eight just after an emotional welcome from the venue director.
Seasick Steve is a captivating artist at the best of times, but tonight he truly has the audience in the palm of his hand. Despite lingering fears of being part of a gathering and despite the intense heat inside the venue, there is nowhere else you'd want to be.
Fans are regaled with tales of Steve's life and serenaded with his signature blues numbers. The likes of 'Roy's Gang', 'Walkin' Man', 'Barracuda '68' and 'Dark' are highlights before Seasick Steve sends fans home with 'Thunderbird' after nearly two beautiful hours.
It's an incredible feeling to be able to head out into the night, sweaty and reminiscing on a stunning evening of music once again. It's an experience that has been missing for too long, but it is back.
There are a plethora of dates and artists performing this series of MVT shows. Do yourself and your local venue a favour, grab a ticket, take a test and enjoy the return of live music!
Share this review on Social Media