Corn Exchange, Cambridge
Wednesday 24th November 2021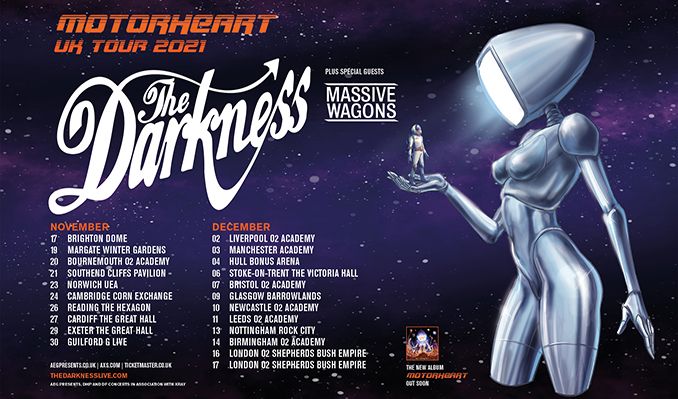 Follow us on Social Media
THE DARKNESS – CAMBRIDGE CORN EXCHANGE – LIVE REVIEW
Would it be November without a tour from The Darkness? I mean can you even celebrate Christmas until you've heard the band play that song? In my opinion, no!
Said tour is in full gear, and tonight it finds its way into the Corn Exchange in Cambridge. The tour is in support of brand new album, 'Motorheart'; and along for the ride are Massive Wagons.
After original support British Lion withdrew, some might say that the arrival of Massive Wagons late in the day wasn't just a worthy replacement but actually an upgrade! The band have steadily built themselves a solid reputation as a band and as a live act and slots like this will only grow that reputation. Win, win then.
Tonight they are greeted warmly by the Cambridge crowd as they preview their own latest release, 'House of Noise'. The likes of 'In It Together', 'Pressure' and 'Bangin in Your Stereo' mix perfectly with fan favourites 'China Plates' and 'Back to the Stack' to make for a fantastic opening set.
Crowd suitably warmed, it's then time for that band of folklore The Darkness to shine bright on the big stage once again. To be completely honest, it's almost a pointless job in reviewing this band as they are so prolific on stage. When you buy a ticket to The Darkness, you know that you will have a good time.
The set list for this tour is as you would expect for a new album tour – a mix of said new album and cult debut 'Permission To Land', with a handful of other offerings thrown in for good measure.
WATCH 'IT'S LOVE, JIM' ON YOUTUBE
'Motorheart' is another solid album of typical Darkness material and it therefore fits right in. From set opener 'Welcome Tae Glasgae', to the title track, to the fun 'It's Love, Jim', the new material presents well live, again as you would expect really.
Naturally the biggest reactions of the evening come from the likes of early tracks 'One Way Ticket', 'Growing On Me', 'Friday Night' and 'I Believe In A Thing Called Love'. It must be said though that the likes of 'Open Fire', 'Heart Explodes', 'Solid Gold' and 'Barbarian' from more recent albums are also now received as set staples.
Singer Justin Hawkins' on stage banter tonight is to critique the somewhat quiet audience. Having just the night before reviewed a gig whereby I felt the need to comment on the rudeness of the crowd in talking louder than the music, it leaves me wondering just where the sweet spot is for crowd attention.
All that is left to complete the night is that old Christmas classic 'Christmas Time (Don't Let The Bells End)' with the band attired in suitably festive gear. Then the crowd can go off into the night happy and ready to celebrate the time of year, all thanks to The Darkness!
Share this review on Social Media