Three Wise Monkeys, Colchester
Friday 3rd December 2021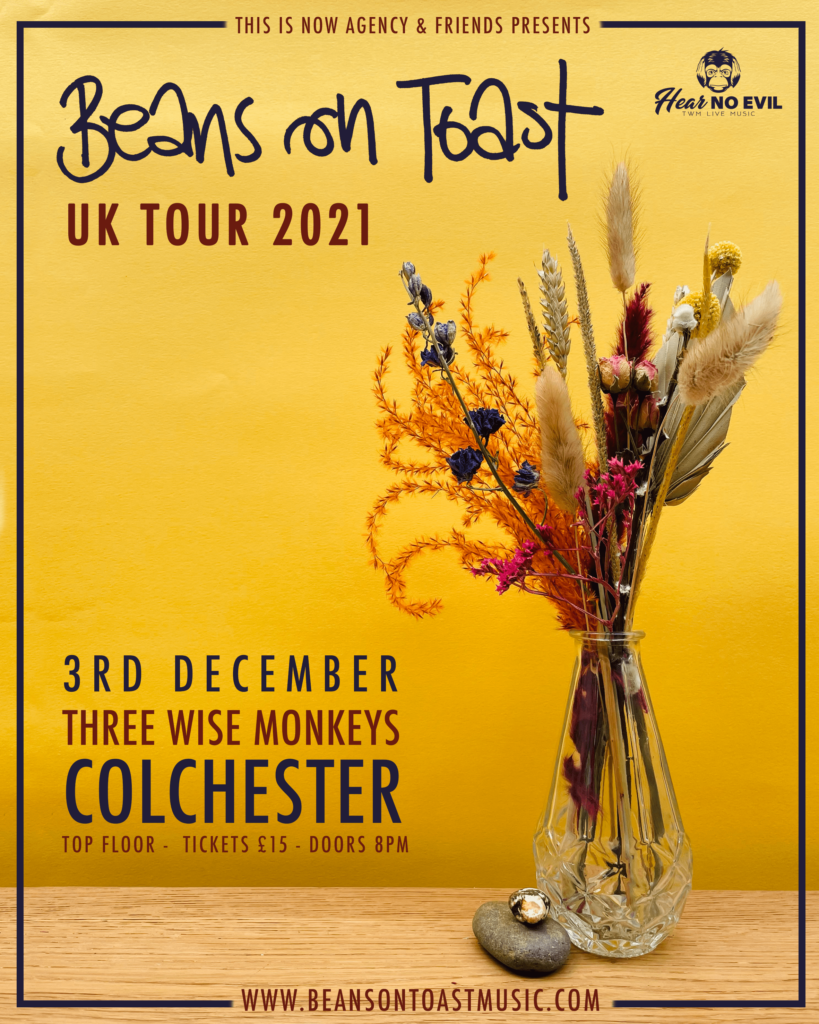 Follow us on Social Media
BEANS ON TOAST – COLCHESTER – LIVE REVIEW
This is our first visit to Three Wise Monkeys in Colchester and we discover a fantastic little venue above the pub on a vibrant and Christmassy Friday night in the town centre. Our reason for visiting is cult folk singer Beans On Toast, as he hits the road to support new album, 'Survival of the Friendliest'.
The support slots tonight from local singer Benjamin Brown and main tour support Kitty Liv sail by, which is a complement to both for their delightful performances.
Soon enough it's time for the man himself to grace the intimate stage and for this tour he is joined by Liv, and Mystery Jets bassist Jack Flanagan to fill out his sound during portions of the set.
The first portion of the show sees the three-piece serenade the audience with a mixture of old and new tracks. New songs 'A Beautiful Place', 'Blow Volcano Blow' and 'Not Everyone Thinks We're Doomed' take centre stage and showcase his wonderful new album 'Survival of the Friendliest'.
As with all Beans On Toast shows, there are sing-a-longs galore with 'Watching the World Go By', 'I'm Home When You Hold Me' and 'The War On War' all coming early on. Soon its left for Beans alone to break out a number of favourites and rarities such as 'A Whole Lot of Loving' and 'Peter Pan's Playground'.
Towards the end of the night Liv and Flanagan return for another superb collaboration on songs such as 'Humans' and 'Let's Get Married Again' from that new album.
At the end of his encore, Beans On Toast is joined on stage by long time friend and collaborator Frank Turner for 'The Album of the Day'. A great treat for fans, and evidence that you should expect the unexpected at a Beans show.
A fantastic evening of songs, stories and laughs is closed out with 'On & On' which sees the main man backed by Flanagan, Liv and Turner for a truly spectacular finale. Tonight was just further evidence that Bean On Toast is an underground national treasure!
Share this review on Social Media
Check out Episode 3 of The Full Pelt Music Podcast with our guest Beans On Toast!