O2 Brixton Academy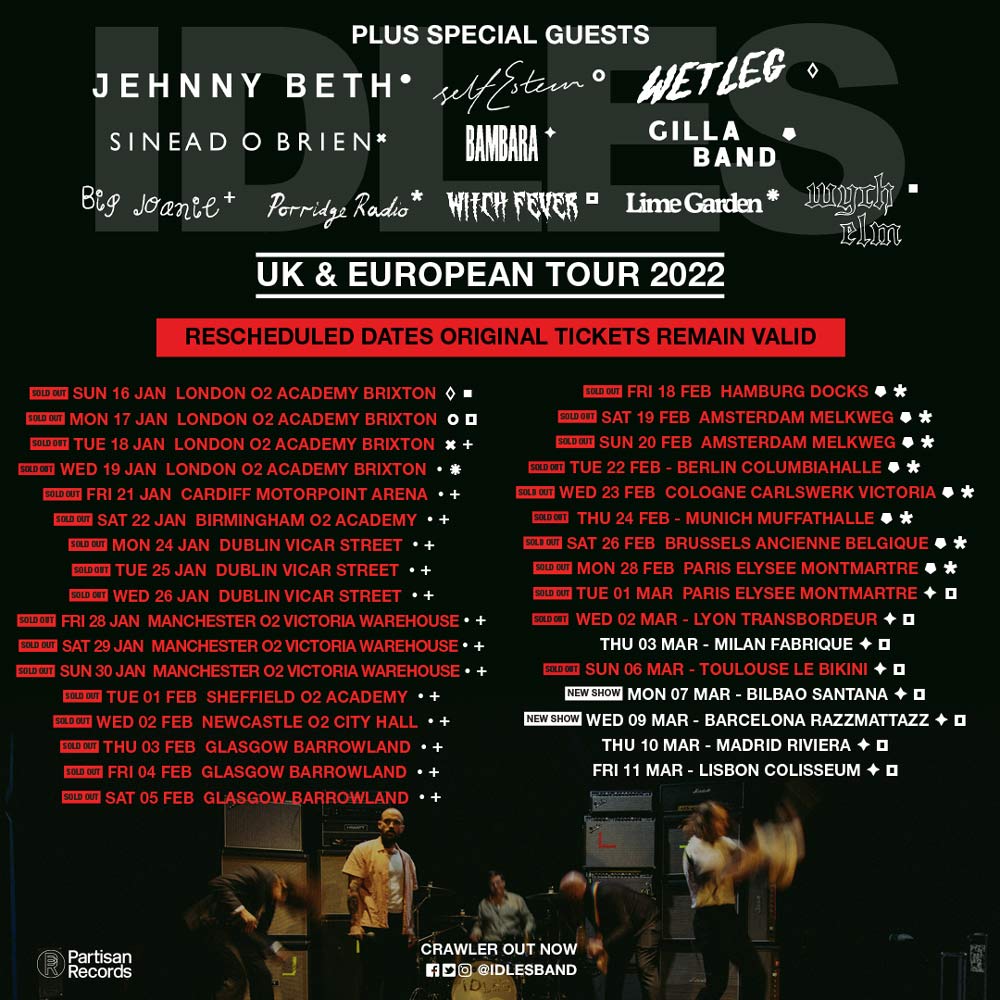 Follow us on Social Media
IDLES – 02 BRIXTON ACADEMY – LIVE REVIEW
The IDLES phenomenon continues at full pace, and the band commence their latest sold out run of UK dates with not one but four nights at the legendary Brixton Academy. We headed along to nights one and three to witness the brutal majesty of a band hitting their stride.
Each night of their London residency has seen different hand-picked support acts as IDLES curate what isn't so much a tour but a travelling celebration of community spirit soundtracked by incredible musicians.
Over our two nights we witness wych elm, Wet Leg, Big Joanie and Sinead O Brien all deliver delightful sets to an appreciative and attentive audience. The supports each night help to build the excitement and anticipation for the 90 minutes of musical catharsis to follow.
These shows were originally in support of 2020's 'Ultra Mono', however the prolonged pandemic delays to these shows have unexpectedly resulted in them now supporting a newer fourth album from the band. Yes, 'CRAWLER' arrived last year to much adulation and now gets to spread its wings live.
After all, IDLES songs do tend to breathe new air live and morph into different beasts when being delivered with the level of ferocity that IDLES somehow manage to conjure onstage. Over the two nights we attend, the likes of 'Car Crash', 'The Beachland Ballroom', 'The Wheel' and 'When the Lights Come On' all shine bright.
WATCH 'CAR CRASH' ON YOUTUBE
There are also tracks from 'Ultra Mono' which has seen some unfair criticism. 'Mr. Motivator', 'Grounds', and 'Reigns' again all sound massive and fit well with the setlists.
The band change up the setlists each night but fan favourite staples such as 'Mother', 'Divide and Conquer', 'Never Fight A Man With A Perm' and 'Danny Nedelko' feature both nights.
IDLES are a next level live band, and with two more albums in their arsenal since their sell out Alexandra Palace date back in 2019, their back catalogue is also now reaching enviable proportions. These factors combined with the passion and energy of their dedicated fanbase ensure that IDLES remain one of the most vital and enjoyable bands gracing stages right now.
Share this review on Social Media
Watch The Full Pelt Music Podcast with guests Blood Red Shoes