Colchester Arts Centre
Tuesday 23rd November 2021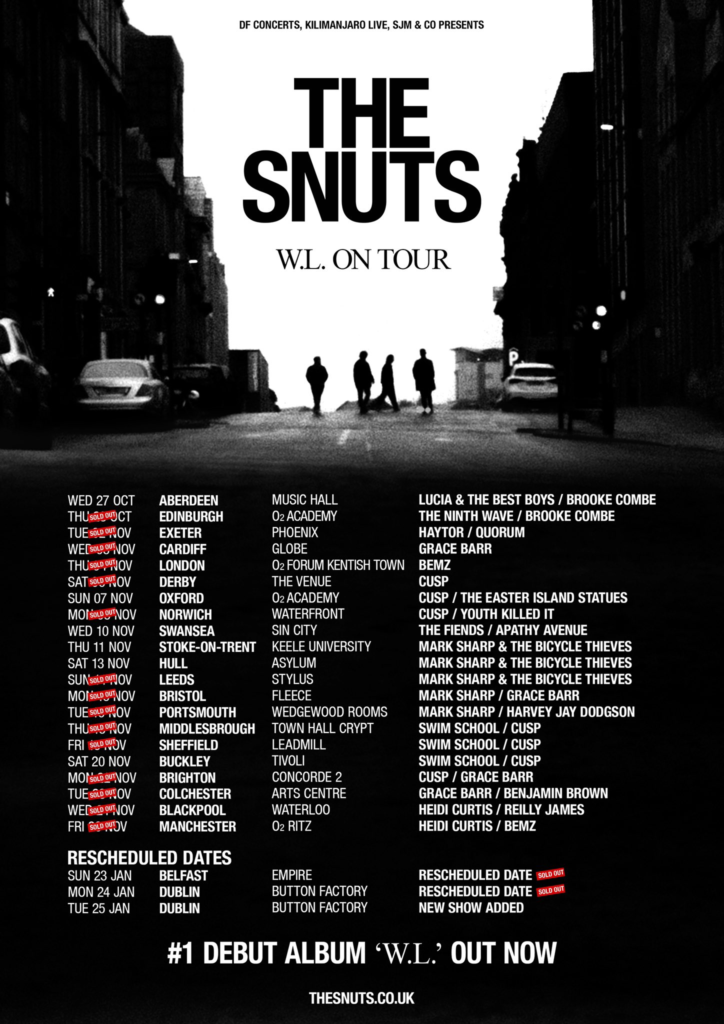 Follow us on Social Media
THE SNUTS – COLCHESTER ARTS CENTRE – LIVE REVIEW
Winter is most definitely coming! It's rather cold as we join the queue to enter the beautiful Colchester Arts Centre. Surprisingly for a sold out gig, despite arriving just five minutes before doors opening, the queue is somewhat sparse.
Once inside, the venue does slowly begin to fill during the opening set from local music scene regular Benjamin Brown (Dingus Khan/SuperGlu). Whilst those familiar with his work enjoy his set, there is a general ambivalence amongst the rest of the crowd.
By the time our next support act, Grace Barr, takes to the stage the venue is packed. Sadly most of those in the venue are more interested in talking to each other than listening to Barr, which makes it quite hard to hear her performance. What is audible does sound very good, so it's a shame the crowd don't seem to care.
The mood changes the instant our headliners The Snuts grace the stage. The compact venue is then transformed from noisy Wetherspoons to Reading Festival main stage. Instantly there are people up on shoulders and pints, bottles and cups flying across the crowd. It would appear that The Snuts have certainly captured the hearts of what is often coined the lad rock crowd.
WATCH 'GLASGOW' ON YOUTUBE
There is no doubt that this band are going to be huge, and they are already creeping up next years' festival posters. A number one album, sold out shows and the audience reaction tonight all hint to that destiny. But, if they are to achieve it they will need great music to back them up.
Thankfully for them on the evidence of tonight, they have that in abundance. That number one album, 'W.L.' is naturally the focus of the evening and 'Glasgow', 'All Your Friends', 'Always' and 'Juan Belmonte' provide a stunning opening to their performance.
'Maybe California', 'Burn the Empire', 'Elephants' and 'Top Deck' are all highlights too as the band blast through their set to the delight of the crazed audience. The crowd are sent off into the night with an encore of 'Sing for Your Supper'.
Another successful gig in the bank for The Snuts, who are unlikely to be back in venues this small anytime soon! Expect to see their name everywhere over the next few years.
Share this review on Social Media
Check out Full Pelt Music on Youtube