Norwich Waterfront
Wednesday 18th August 2021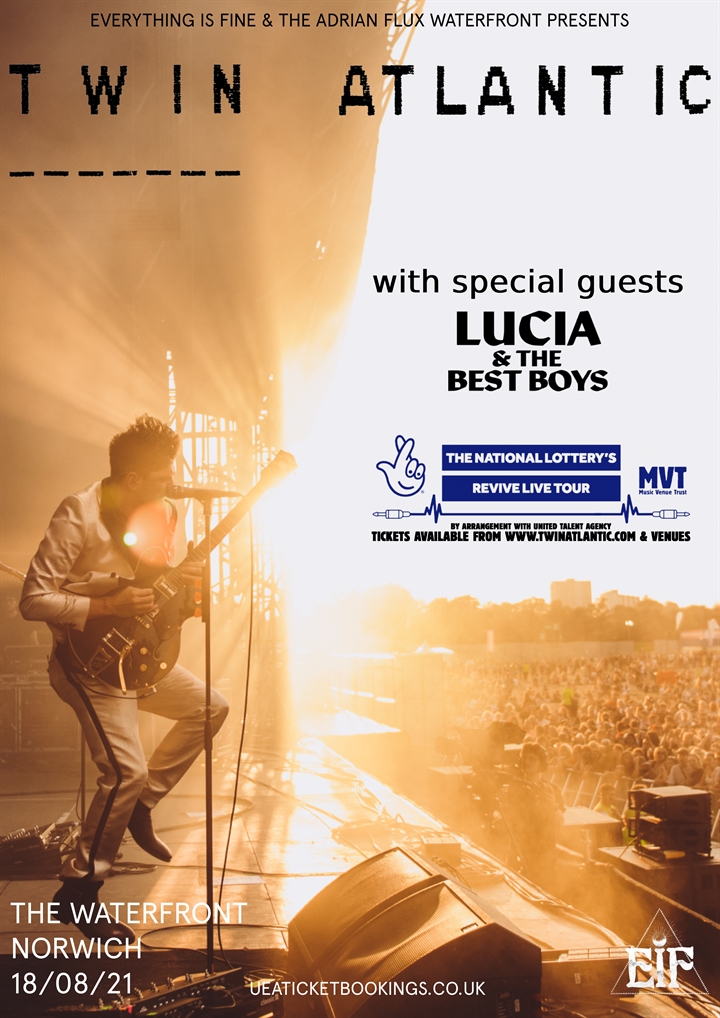 Follow us on Social Media
TWIN ATLANTIC – NORWICH WATERFRONT – LIVE REVIEW
It may be an overcast summers evening, but for tonight all is right with the world. That's because there is a queue waiting outside The Waterfront, Norwich for the first time in around 18 months.
On offer this evening for the venues first main room show since the beginning of the pandemic is a special Music Venue Trust & National Lottery #ReviveLive show featuring Twin Atlantic!
There is a late change of support act for the evening with Lucia & The Best Boys unable to attend. Step up local band The Islas who recently featured on our 'Discover' New Music Playlist!
This is quite the result as The Islas deliver a great set to a receptive audience. With the likes of recent single 'The Absence of You' joining older tracks 'Back of Your Neck', 'Aileen' and 'Close' the band are building an impressive live set. And with performances such as tonight's they will also be building an impressive fan base, with many in the venue won over.
Tonight, though is all about our headliners Twin Atlantic who just released a new single, 'Bang On The Gong', and what better way to kick off their set. If the band think their new track is well received, those in attendance continue to build their appreciation throughout the night.
We recently caught the band at the Download Pilot Festival so know that they are an incredible live act. But, put the band in a sweaty little venue with a full set and they are up there with the best.
Read our review of Download Pilot Festival
The rest of the setlist is a carefully crafted selection from across their albums with fan favourite 'Free' getting the lions share. The title track, 'Make a Beast of Myself', 'Edit Me', 'Yes, I Was Drunk' and an emotive 'Crash Land' sing-a-long showcase the albums quality.
There is quality across their catalogue however and 'No Sleep', 'Hold On', 'Brothers & Sisters' and 'The Chaser' all naturally receive big reactions from the crowd.
Perhaps somewhat surprisingly though, some of the best tracks of the evening and most warmly welcomed come from their 2020 release 'Power'. Coming weeks before the first lockdown, now represents the first real chance for the band to embed the tracks into their show.
The likes of 'Volcano', 'Oh! Euphoria!', 'Novocaine' and 'Barcelona' all slot in seamlessly as Twin Atlantic blow off the cobwebs and begin their latest era.
With their anthem 'Heart and Soul' seeing the night out, the fans are left to wander out into the now slightly chilly Norwich night. As they do so they will be reflecting on the return of live music, and also on just how great a live band Twin Atlantic have become!
Share this review on Social Media