Cambridge Corn Exchange
Tuesday 30th November 2021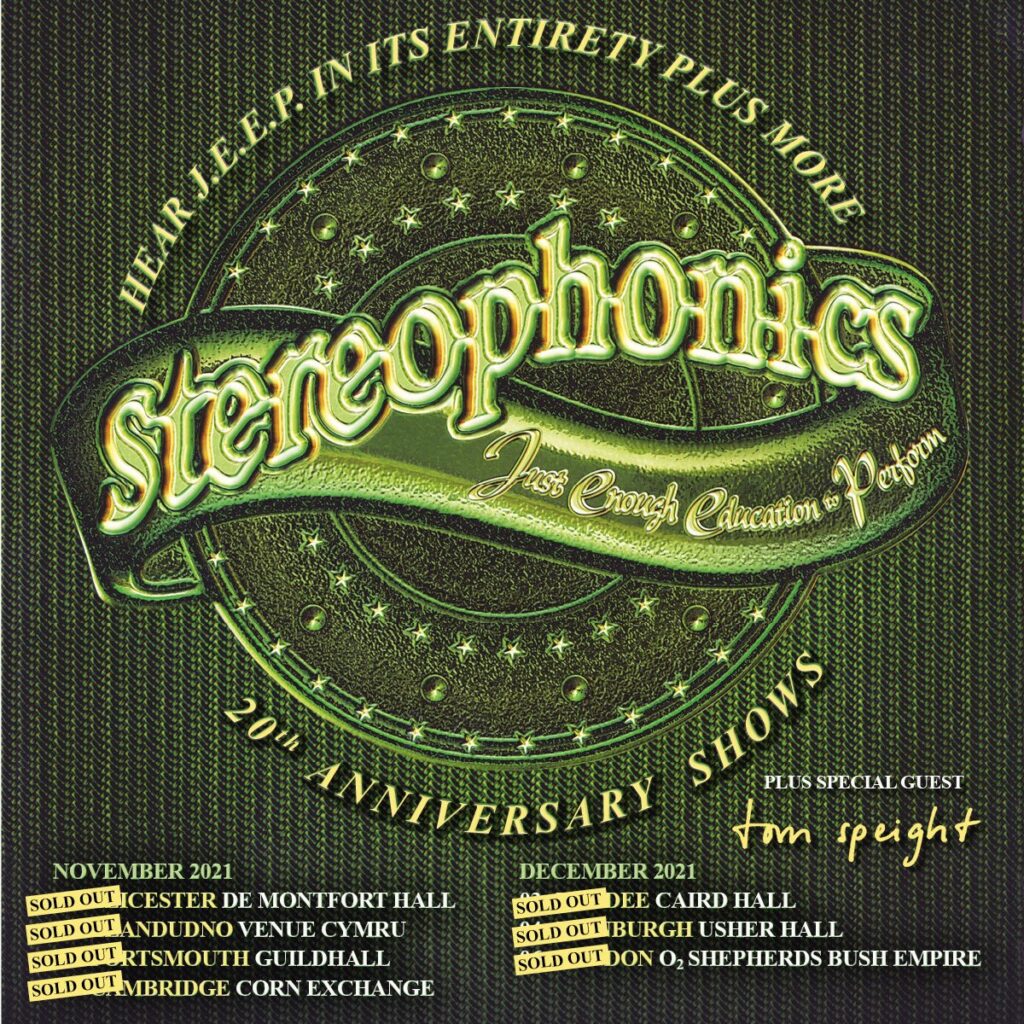 Follow us on Social Media
Nostalgia is a wonderful thing, especially when related to music. Take tonight's show from Stereophonics which is part of the 20th Anniversary Tour for classic album, 'Just Enough Education to Perform' as an example. Just the name of the album instantly takes me back to high school, instantly takes me back to sitting in my room and pressing play on said album in my bulky old CD player (remember those?).
Yes, musical nostalgia is a truly wonderful thing and is what ensures venues like the Corn Exchange in Cambridge are sold out for this tour.
There is no nostalgia for our young support act, Tom Speight, but after his delightful set, there will surely be many new fans. Speight's short time on stage allows him to serenade the packed crowd with his marvellously crafted ballads. His gleaming demeanour is reciprocated by his legion of converted followers, as he ensures a superb start to the evening.
Check out our 'Discover' New Music Podcast
Up next is the nostalgia we speak of, as Stereophonics get straight down to business. Spending the first hour of the night performing the album affectionately known as 'JEEP' in its entirety, the band take the audience in a time machine back to 2001; a much simpler time, and a time where the band were dominating the musical landscape.
Monster hits such as 'Mr. Writer' and 'Have a Nice Day' punctuate an album blessed with quality throughout. Huge crowd reactions naturally also greet the likes of 'Vegas Two Times', 'Step on My Old Size Nines' and 'Handbags and Gladrags'.
WATCH 'HAVE A NICE DAY' ON YOUTUBE
A short break then sees the band return to the stage to fast forward to the present for a run of tracks include new songs 'Hanging On Your Hinges' and 'Do Ya Feel My Love' from upcoming album 'Oochya!'.
Stereophonics have done an incredible job in staying relevant some twenty years post 'JEEP'. The fact that these dates are intimate shows despite still being large venues says a lot. The band, of course, will return to play arenas and stadiums imminently.
It's a pleasure therefore to be able to catch the likes of 'Maybe Tomorrow', 'Just Looking' and 'Dakota' as the band return to the stage for a third and final time.
This band has proven themselves to be incredibly consistent both on record and on stage and nights like this are to be cherished. Ultimately tonight is a celebration of the past that also shows that the future remains bright for Stereophonics.
Share this review on Social Media