The Waterfront, Norwich
Thursday 23rd September 2021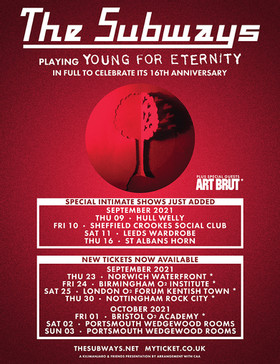 Follow us on Social Media
THE SUBWAYS – THE WATERFRONT, NORWICH – LIVE REVIEW
The Subways were mid-way through a 15 year anniversary celebration of their debut album 'Young for Eternity' when the pandemic hit. An album that catapulted them into the mainstream, garnered much success and gathered a dedicated fan base.
With the second half of the tour postponed, we now find ourselves at The Waterfront in Norwich to celebrate the 16th anniversary of the record!
Before The Subways grace the stage however we have the support act Art Brut. Another band to release their debut album in 2005, Art Brut are a great way to start the show. There are two types of audience member for the band; those familiar with the band and those that take a little while to jump aboard. By the end of their near hour long set however, everyone is on the hype train!
WATCH 'ROCK & ROLL QUEEN' 2020 VERSION ON YOUTUBE
Then it's time for the main event and the spectacle of The Subways playing their seminal debut album in full. The band go the traditional route for this type of performance and play the album from front to back beginning with a sing-a-long of 'I Want to Hear What You have Got to Say'.
The quality of the album is there for all to see as the likes of 'Rock & Roll Queen', 'Mary', 'Oh Yeah', 'No Goodbyes' and 'With You' delight the crowd. This is a band that seems criminally undervalued these days. From their songwriting to their ability to deliver those tracks live with such energy and passion, The Subways are a top tier act.
With new drummer Camille Phillips joining Billy Lunn and Charlotte Cooper the band seem to have a new lease of life. This is shown with the penultimate song of the evening, 'Fight'. The fact that on an evening where we celebrate a 16 year old album, a new song gets one of the best reactions can only be a good thing.
Listen to 'Fight' on our Spotify Hot List!
After the album run through, fans are treated to 'Turnaround', 'We Don't Need Money to Have a Good Time' and 'Girls & Boys' among others before the band finish with another blast of 'Rock & Roll Queen'.
With new music on the way and the band firing on all cylinders, the future looks bright for The Subways.
Share this review on Social Media