Cambridge Corn Exchange
Monday 11th October 2021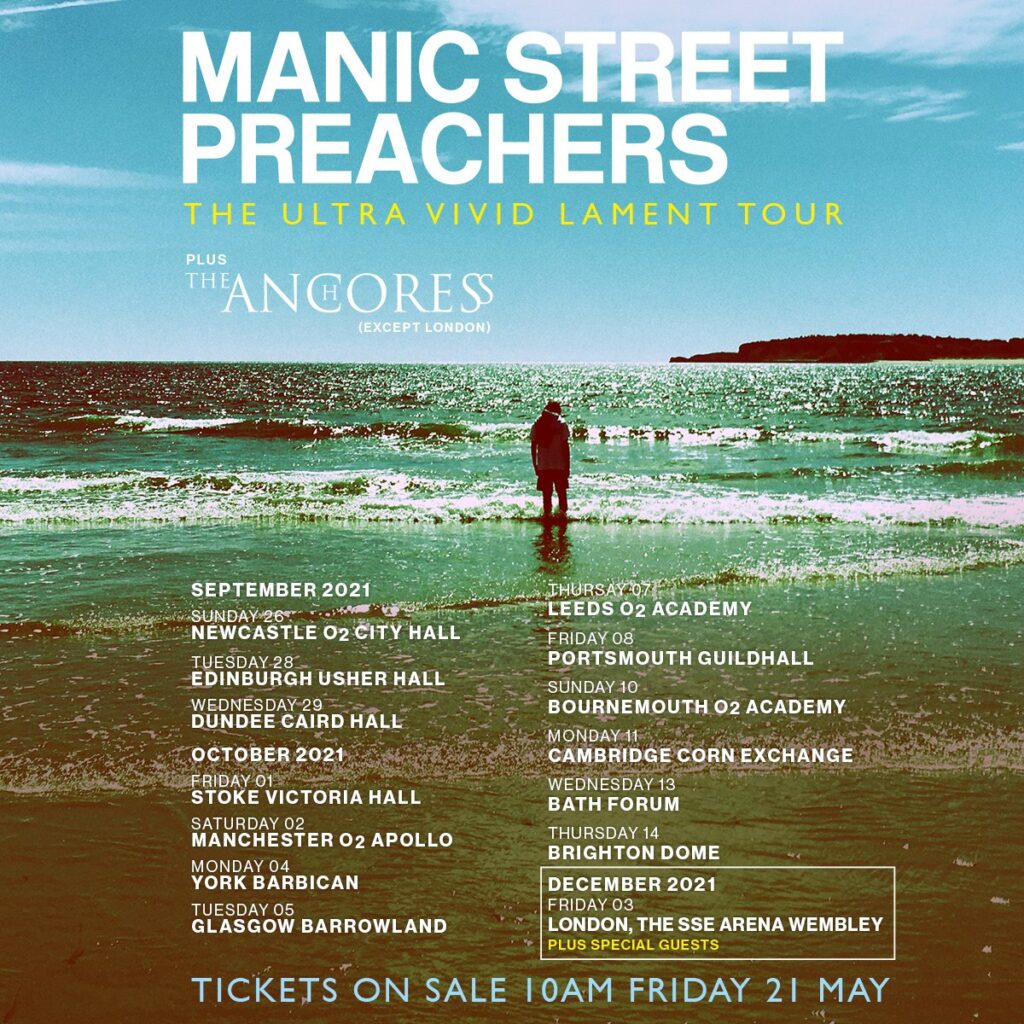 Follow us on Social Media
MANIC STREET PREACHERS – CAMBRIDGE CORN EXCHANGE – LIVE REVIEW
Manic Street Preachers are a legendary act at this point so it's no surprise that their show at the Corn Exchange in Cambridge is sold out well in advance. A well-received new album doesn't hurt either and that's exactly what the band has in the shape of 'The Ultra Vivid Lament'!
Before the band grace the stage however we get the support act, Low Hummer. Seasoned gig goers have all experienced unknown support acts that surpass expectations, and sadly also those that sound like they've never picked up an instrument before that night. Thankfully tonight it's the former as Low Hummer deliver an fantastic opening performance.
Confident and assured the band are given a generous 40 minute opening set and they make the very most of it with a performance that will have won over many new fans from the packed audience. Low Hummer, remember the name, definitely ones to watch.
There really isn't any surprise however in what comes next, as Manic Street Preachers have grown their reputation on the back of live shows. Starting tonight with 'Motorcycle Emptiness', 'Orwellian' and 'Your Love Alone Is Not Enough' they instantly bring the crowd into play.
There are plenty of sing-a-long anthems to get through tonight with 'You Stole the Sun From My Heart', 'Everything Must Go' and 'If You Tolerate This Your Children Will Be Next' all coming in the first half of the show.
Tonight is also an opportunity to witness the glory of some of the best from 'The Ultra Vivid Lament'. 'The Secret He Had Missed', 'Still Snowing in Sapporo' and 'Complicated Illusions' all shining in amongst the established fan favourites.
WATCH 'THE SECRET HE HAD MISSED' ON YOUTUBE
As the evening gets deep the band then break out a cover of Guns N Roses hit 'Sweet Child o' Mine'. Why you might ask, but this is the Manic Street Preachers and as we touched on in our album review of 'The Ultra Vivid Lament' they have earned the right to do whatever they want.
There is still the likes of 'Tsunami', 'You Love Us' and 'A Design For Life' left to bring the evening to a close and as always send the crowd home happy. Long live the Manic Street Preachers!
Share this review on Social Media