UEA LCR, Norwich
Saturday 13th November 2021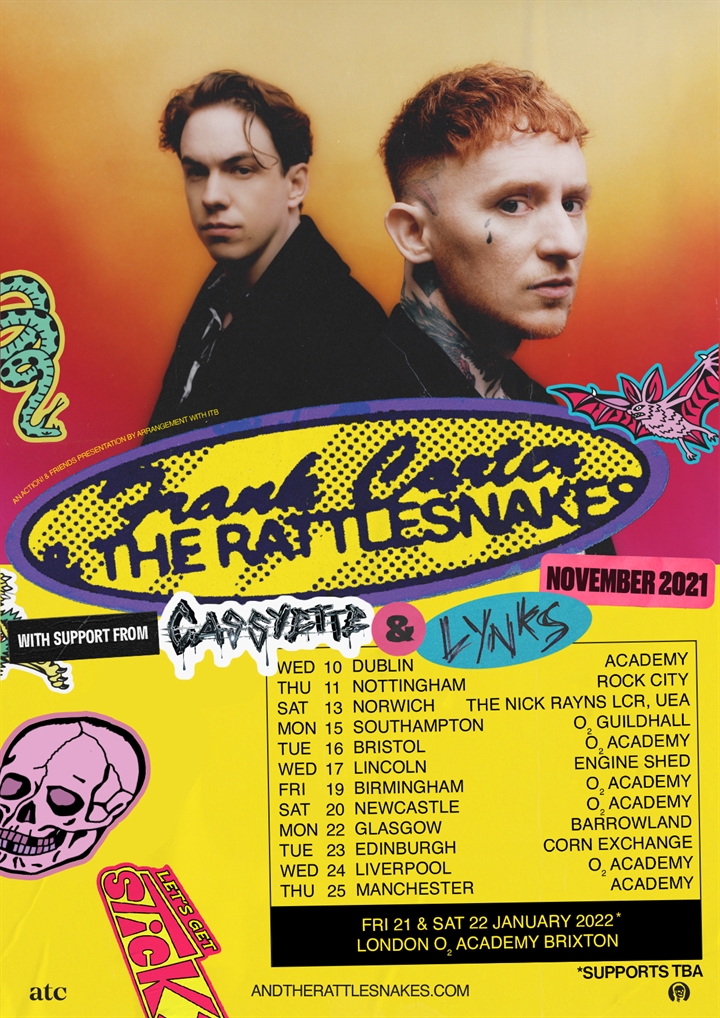 Follow us on Social Media
FRANK CARTER & THE RATTLESNAKES – NORWICH – LIVE REVIEW
With the release of 'Sticky', Frank Carter & The Rattlesnakes have continued their evolution as an act. As we said when we reviewed the album, all four of the bands records have their own unique identity whilst remaining clearly Frank Carter & The Rattlesnakes albums.
How does this era of the group translate live? Well, we headed to the UEA LCR in Norwich to see.
Up first are two support acts who warrant that term unique. Both Cassyette and Lynks feature on 'Sticky' and have been championed by Carter himself as ones to watch.
Tonight both acts are able to display their art to the packed audience and both make the most of their platform. Lynks in particular is far removed from what the general fan would expect from a Frank Carter support act, something acknowledged by Lynks during the set. The crowd however are receptive and buy into the occasion which means by the time the set is complete, Lynks has won some more fans.
There is an interesting cross-section of fans for our headline act. Some are fully onboard with their experimental directions on each album. Others demand Carter sticks to the sound of debut album 'Blossom' with no deviation. Those fans will be disappointed this evening with only 'Devil Inside Me' on offer from that record, which is actually sung by a lucky audience member.
Carter himself has shown throughout his career that he has plenty to offer beyond his traditional sound. Regardless of band or album, Carter has always been at his pinnacle when on stage.
WATCH 'STICKY' ON YOUTUBE
Equally that's where the songs come to life. 'Sticky' is performed in its entirety throughout the setlist tonight and every song grows extra legs live. 'My Town', 'Sticky' and 'Original Sin' all sound massive and fit in perfectly alongside classics 'Wild Flowers', 'Lullaby', 'Tyrant Lizard King' and 'Crowbar'.
The re-emergence of Cassyette on 'Off With His Head' and Lynks on both 'Bang Bang' and 'Go Get a Tattoo' both help add to the occasion, as Carter continues his upwards trajectory.
We've spoken in recent reviews for numerous artists of the poisoned chalice that artists face when progressing their sound. Fans will have different opinions on 'Sticky' but tonight those songs and the band as a whole are a force to be reckoned with!
Share this review on Social Media