PRYZM, Kingston
Thursday 26th August 2021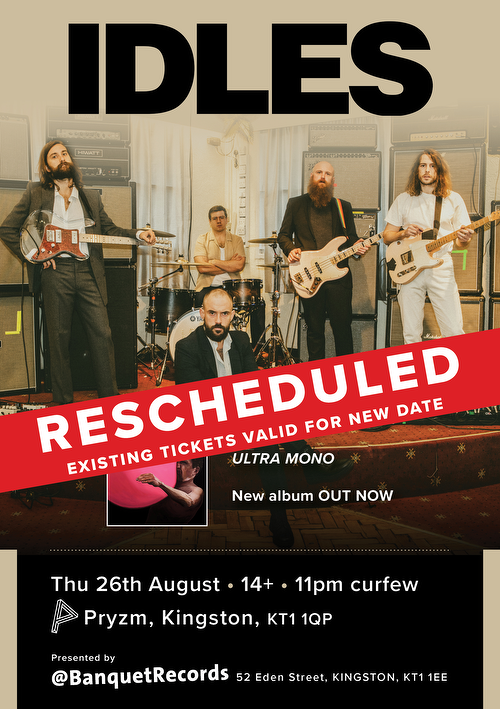 Follow us on Social Media
IDLES – PRYZM, KINGSTON – LIVE REVIEW
Album release shows would normally happen around the time that a new album is released. We all know why this isn't the case for any artist releasing new music over the past 18 months but finally for IDLES the time has arrived to play these special intimate shows. With two hometown Bristol shows and an Oxford gig in the bank, the band arrive in Kingston for their opportunity to grace the PRYZM stage.
'Ultra Mono' was released in September 2020, so these release shows happen almost a year on from the album's arrival. For some acts this could cause issues, but not for IDLES. If the euphoria for fans seeing the band after the last year or so isn't enough, they have also waited patiently to hear these new songs live.
It actually feels wrong to call them new songs, as they've helped many a fan through a difficult period in all our lives. These songs are now part of our lives, but IDLES songs always seem to grow wings in the live setting. So as the clock strikes half past nine, it's time to let these track soar.
Straight out the bat fans are treated to 'War', 'Grounds', 'Mr. Motivator' and 'Anxiety' as 'Ultra Mono' comes to life for a sold out Kingston crowd. With so much pent up frustration there is immediately a cathartic release of energy with the audience and the band clearly up for it tonight.
As the evening continues and the setlist weaves between the bands three albums, it becomes clear that the new(er) tracks more than hold their own live. 'The Lover', 'Kill Them With Kindness' and in particular 'Reigns' all sound monstrous tonight.
When you add these tracks to a set that includes 'Mother', '1049 Gotho', 'Samaritans' and 'Divide and Conquer' you come to realise how formidable a back catalogue IDLES have amassed over a relatively short period of time.
The band has always been ferocious yet incredibly tight live and they have lost none of this innate ability during their enforced time away from the stage. Finishing with 'Never Fight a Man With a Perm' and 'Danke' you know that opportunities to catch this band in venues this size are going to be few and far between.
Share this review on Social Media