We countdown our Top 10 WWE Entrance Theme Songs!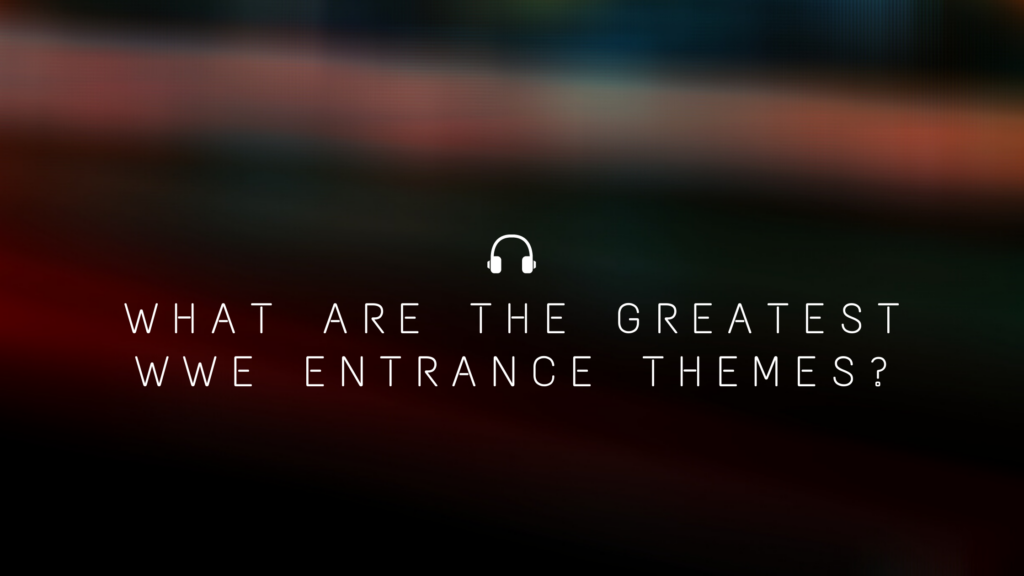 WWE Entrance Themes aren't all we write about! For Music News, Reviews, Blogs and more follow us on our Social Media Channels!
10, 9, 8, 7, 6, 5, 4, 3, 2, 1… and then the music hits and the fans go mad!
It's almost time for that famous countdown as WWE's Royal Rumble is this month. In honour of that countdown to wrestlers entering the ring, we are going to countdown our Top 10 WWE Entrance Theme Songs.
Find out more about the Royal Rumble at WWE.Com
WWE's Royal Rumble officially kicks off the road to Wrestlemania, so what better time than now to celebrate our favourite WWE Entrance Theme Songs? But, what are the rules?
For this countdown we will be heavily focusing on themes supplied by artists other than Jim Johnston and CFO$, as that's another list altogether! Therefore you won't find the likes of The Rock, D-Generation X or John Cena in this list; although I'm sure Johnston's influence will be present.
As we are celebrating WWE's Royal Rumble this will only feature WWE entrance themes so no 'Judas' by Fozzy!
So let's get ready to rumble…
10
Boy Hits Car – 'LoveFuryPassionEnergy'
Lita
Starting off our list at number 10 is Lita whose entrance theme was provided by Boy Hits Car. 'LoveFuryPassionEnergy' is a kickass theme which fitted perfectly with the legendary Lita's rebellious attitude.
9
Story Of The Year – 'Just Close Your Eyes'
Christian
When Christian returned to WWE he took on 'Just Close Your Eyes' as his theme song. Originally by Waterproof Blonde, we have gone for the later Story Of The Year cover as the definitive version.
Interesting Fact! When in TNA, Christian used an adapted – or ripped off – version of 'My Last Breath' by Evanescence!
8
Killswitch Engage – 'This Fire Burns'
CM Punk
This awesome track from Killswitch Engage was kicked around for a while, with Randy Orton using it for a short time. 'This Fire Burns' found it's home however as the entrance theme for the brash young CM Punk.
7
Rev Theory – 'Voices'
Randy Orton
Speaking of Randy Orton, he eventually settled on 'Voices' by Rev Theory and the Viper never looked back.
6
Saliva – 'Booyaka 619'
Rey Mysterio
Another wrestler to never look back having settled on an iconic theme song is Rey Mysterio who we can't imagine hitting the ring and not being accompanied by 'Booyaka 619' from Saliva.
5
Disturbed – 'Glass Shatters'
'Stone Cold' Steve Austin
Whilst 'Stone Cold' Steve Austin is probably most remembered for his classic entrance theme, he for a while was introduced by an awesome version created by Disturbed. 'Glass Shatters' gave a great new twist to his classic song and we actually prefer it!
4
Limp Bizkit – 'Rollin"
Undertaker
The Undertaker's well known demonic entrance number is truly iconic, and it's easy to forget that during his American Badass phase he actually had a few epic entrance tracks.
You could argue for 'American Bad Ass' by Kid Rock here, but personally we loved his spell with the classic 'Rollin'' by Limp Bizkit.
Interesting Fact! Fred Durst and co even played Undertaker to ring at Wrestlemania 19.
3
Living Colour – 'Cult of Personality'
CM Punk
Whilst we have tried hard to select just one track from certain wrestlers who have been graced by multiple awesome theme songs, CM Punk is the only wrestler that had to feature twice.
After returning from a short hiatus, Punk took the incredible 'Cult of Personality' by Living Colour as his new entrance theme. This combination became so iconic that Punk even used the theme when he transitioned to the UFC.
2
Motorhead – 'The Game'
Triple H
If we had broken down Triple H's theme songs and also included original WWE compositions then we could well have had a Top 10 of Triple H's theme songs.
For the bulk of his career Triple H has been serenaded to the ring by the legendary Motorhead. Both 'King of Kings' and 'Line In The Sand' are epic but we had to pick his classic 'The Game'.
1
Alter Bridge – 'Metalingus'
Edge
If Triple H is the king of theme songs, Edge is very close. 'Never Gonna Stop' by Rob Zombie was epic and it was a surprise when he ditched the song.
Who knew at the time that he would pick the greatest wrestling theme song ever as its successor? 'Metalingus' by Alter Bridge accompanied Edge through the greatest years of his career.
Whilst we of course were excited by Edge's return at the Royal Rumble in 2020, we were even more excited by the return of this epic theme song!
What is your favourite WWE Entrance Themes? Let us know on social media!
Be sure to check out our Features section for more Top 10's