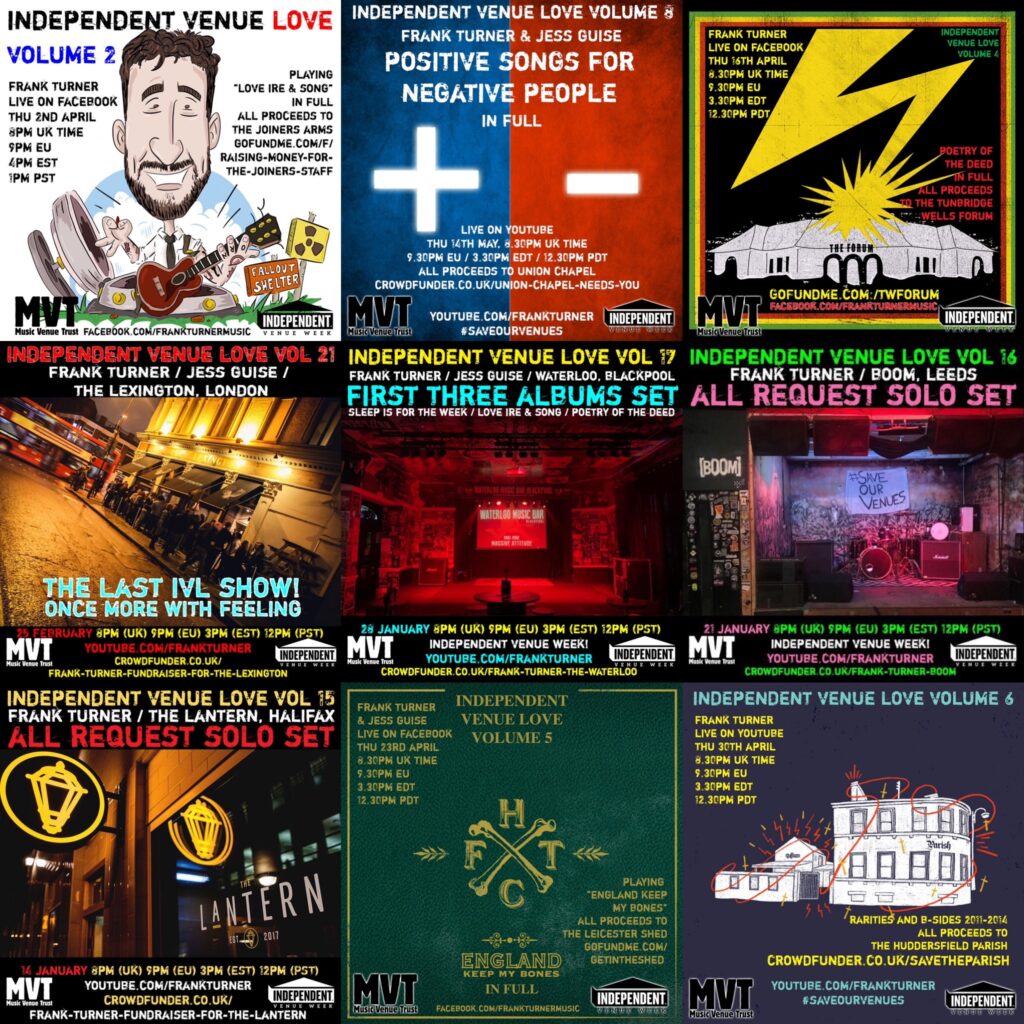 We take a look back at the incredible Independent Venue Love livestream series by Frank Turner
Follow us on Social Media to keep up with the latest from Full Pelt Music!
A necessary but shocking side-effect of the first lockdown and beyond is the impact on the live music industry. An industry that revolves around bringing people together in confined spaces to celebrate life and art. Music and particularly live music is vital to the mental health and wellbeing of millions of people, and the loss of that medication has added to the already scary situation we have all found ourselves in.
When the world ground to a screeching halt in March 2020, the primary concern for all of civilisation was rightly to fight the devastating coronavirus and to protect against loss of life. Alternatively as the government put it – "Stay Home, Protect the NHS, Save Lives".
Read our Blog – 'Mental Health, Music and Me'
The music industry and the incredibly talented people that make up the sector is by its very nature creative and innovative. As we all searched for new ways to connect with our loved ones and our passions, musicians had the answer. Welcome to the world the music livestream!
Read our Blog 'Livestreams: Good or Bad for the Music Industry'
One man seemingly ahead of the curve on this front was Frank Turner. Turner is known to be "always on tour" as it were, and was in fact mid-tour as the pandemic hit. Turner was quick to hastily ready a special livestream event from his own home raising money for his touring family.
At the same time, the reality was dawning on the live music ecosystem of the potentially fatal impact caused by the pandemic countermeasures. In particular the Music Venue Trust, who do amazing work year round even in non-pandemic times, were busy mobilising. The MVT were well positioned to see the threat to the grassroots music venues of the country.
We have gone into depth on the subject in our blog – 'Why We Need To #SaveOurVenues', but ultimately the venues that foster and cultivate the entire music industry were in trouble. Sadly many face the threat of closure due to non-pandemic related issues. The events of March 2020 onwards however threatened these venues, the lifeblood of live music, to the point of extinction.
The perfect storm called for urgent action and one man taking notice and standing tall was that man Frank Turner. Soon we were all introduced to a new concept from Turner, Independent Venue Love. A series of livestream concerts taking place every Thursday during lockdown to raise desperately needed funds for at risk music venues.
A different venue would be supported each week and each week would see a unique set list. In creating this series Turner raised much needed awareness and financial support for venues. By doing so he helped to safeguard the future of live music; perhaps most importantly though, Turner also provided an escape from the terrifying realities of pandemic life. The Independent Venue Love series will have played a powerfully positive role in raising spirits and safeguarding mental health for music fans desperate for a distraction.
In our first ever End of Year Awards, we picked Turner as our 'Artist of the Year'. You can read what we wrote about this decision in our '2020 Year in Review'. Basically we feel Turner deserves a medal for his efforts in arranging and performing these fantastic events. Turner has raised a phenomenal amount of money and has helped countless people through horrifying times either directly or indirectly.
That is why we thought it would be fitting to celebrate and remember the Independent Venue Love series here. You can peruse the posters for each event in the gallery below.
Now let's get started in documenting the series.
Early Facebook Days
As we all adapted to pandemic life, we strived for the best communications technology. Many discovered the wonders of Zoom meetings for example. When debuting the IVL series, Turner took to Facebook Live. A learning experience for all, some early streams were impacted by connectively issues and eventually led to a change of internet provider for Turner and a move to Youtube.
The first five events featured on Facebook Live (and a dabble on Instagram!) saw Turner begin a career retrospective; with each week featuring another release in chronological order.
Vol.1 – 'Sleep is for the Week' for Nambucca, London
Vol. 2 – 'Love Ire & Song' for The Joiners Arms, Southampton
Vol. 3 – 'The First Three Years' for The Railway Inn, Winchester (Support from Jess Guise)
Vol. 4 – 'Poetry of the Deed' for The Forum, Tunbridge Wells
Vol. 5 – 'England Keep My Bones' for The Shed, Leicester (Support from Jess Guise)
Move to Youtube
From Volume 6 onwards Turner would move the weekly series across to Youtube with better connectivity results. Turner would continue to progress through his career retrospective to the delight of his fans. A drinking game would also emerge for fans at home based initially on apologies to either his wife Jess or his mother.
As Turner's gameplan to play his back catalogue continued, fans were treated to rare song outings. These outings occasionally would see the odd forgotten lyric, and the terming of the phrase to Varley in ode to fellow musician Will Varley. Eventually each Varley would be incorporated into the drinking game!
Vol. 6 – 'Rarities and B-Sides 2011-2014' for The Parish, Huddersfield
Vol. 7 – 'Tape Deck Heart' for Molotow, Hamburg
Vol.8 – 'Positive Songs for Negative People' for Union Chapel, London (Support from Jess Guise)
Vol. 9 – 'Rarities 2013-2019' for The Booking Hall, Dover
Vol. 10 – 'No Man's Land' for The Portland Arms, Cambridge
Beyond the Albums
With his released back catalogue now exhausted and lockdown one (known back then, simply as lockdown!) still persisting, Turner needed to explore different avenues for set list material. A demand for a 'Disney Set' initially failed to materialise until a special shortened bonus set one night.
Turner however would push on with additional themes to continue his herculean effort (Joe Wicks eat your heart out!). Volume 13 would also take place from inside the venue Turner was raising funds for as signs of normality began to appear. Volume 14 would be titled 'The Final Stream'… little did we know what the future had in store.
Vol. 11 – 'Covers' for Phase One, Liverpool
Vol. 12 – 'Covers by Friends' for The Cavern, Exeter
Vol. 13 – 'Grand Aid' for The Clapham Grand, London (Support from Ciara Haidar, Gerry Del-Guercio & Beans on Toast)
Vol. 14 – 'Greatest Hits' for The Cobblestones, Bridgwater (Support from Jess Guise)
Here We Go Again!
No we are not doing Whitesnake Karaoke! A brief return to real life saw some socially distanced music possible. Turner in fact was able to play numerous shows including our 'Gig of the Year' as awarded in our '2020 Year in Review'.
Sadly the pandemic took a horrific turn for the worst. With venues still at risk and people desperate for escape, Turner and IVL would make their triumphant return in January (otherwise known as Lockdown three!). This time around Turner's wife, Guise, would move to an important mediator role as fans got to pick the setlist!
Vol. 15 – 'All Requests' for The Lantern, Halifax
Vol. 16 – 'All Requests' for Boom, Leeds
We reviewed Vol. 15, check it out here
Catalogue Rewind
Next, Turner would return his setlists to periods of his career. Each performance featuring songs from an assigned period.
Vol. 17 – 'First Three Albums' for Waterloo, Blackpool (Support from Jess Guise)
Vol. 18 – 'Second Three Albums' for The Venue, Derby (Support from Pet Needs)
Vol. 19 – 'Third Three Albums' for The Black Heart, Camden
Vol. 20 – 'Rarities and B-sides' for Dirty Rockers, Dudley
Vol. 21 – 'Jess Guise Requests' for The Lexington, London
The End!
We all hope and pray that a return to normality is on the horizon. That the incredible work of scientists and our key workers will save lives and allow life to resume. Volume 21 closes the IVL series with a request set from Jess Guise herself.
Turner has achieved amazing results from the IVL series. The fact is that he didn't have to do this, and for that he deserves recognition.
The Music Venue Trust, Independent Venue Week and all organisations and groups working to protect our culture deserve special praise also.
Sadly the end of the pandemic and the return to relative normality won't remove the threat posed to our grassroots music venues. Please when safe to do so, support these venues, support your favourite bands, support new bands, support music!
Music Venue Trust
Independent Venue Week
Share this article on Social Media
Read our Blog – 'Why We Need To Fix Our #BrokenRecord Industry'