O2 Kentish Town Forum, London
Tuesday 2nd November 2021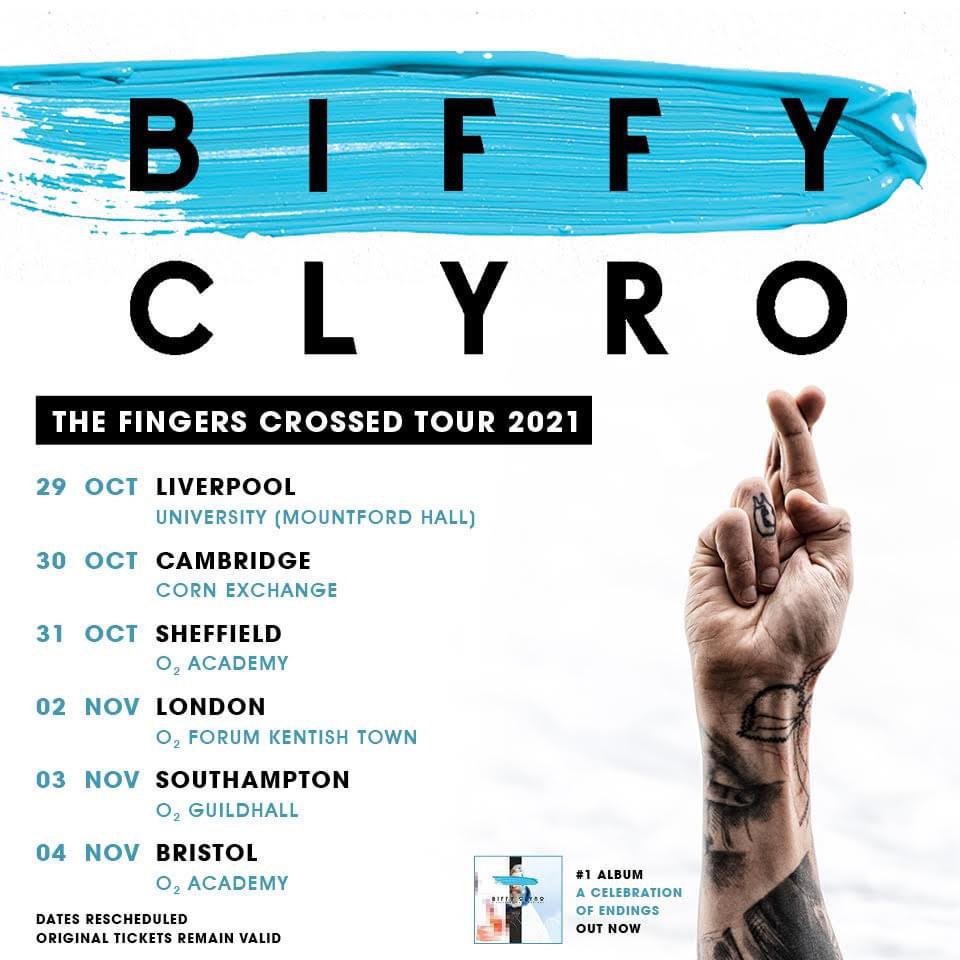 Follow us on Social Media
It's been a long road for Biffy Clyro to arrive at the O2 Kentish Town Forum in London, and I'm not talking about the M1 from their last show in Sheffield!
The band released their album, 'A Celebration of Endings' in August 2020 (which itself was delayed from May), having announced an arena tour to promote it, only to cancel said tour in the wake of the pandemic.
Subsequently the 'Fingers Crossed' tour of intimate venues was announced in the hope that live music would return in time. Sadly, this was also postponed from April until now. In the meantime the band even managed to record and release another album with 'The Myth of the Happily Ever After' arriving last month.
Well after two albums, a cancelled tour and a postponement we are finally here, but up first is our support act. That act is the incredible Bob Vylan, a band who have created a lot of talk over the opening dates. Their politically-charged punk rock anthems have proven somewhat divisive thus far amongst the Biffy Clyro fanbase.
Tonight the duo are in their hometown and the crowd are overwhelmingly onside. They are treated to an energy-filled and impassioned performance from one of the hottest new acts around. The likes of 'Northern Line', 'Pretty Songs' and 'We Live Here' showcase their talents and get the bodies moving tonight. A great set from a band I'm sure you'll be hearing a lot more from for one reason or another!
Finally, it's then time for Biffy Clyro to grace what is now a very intimate stage for the mammoth rockers.  After performing their latest album in full on the first night of the tour, the band has settled into a more traditional setlist for the subsequent dates. It is however two songs from that album that commence proceedings as 'DumDum' and 'A Hunger in Your Haunt' kick things off.
WATCH 'A HUNGER IN YOUR HAUNT' & 'UNKNOWN MALE 01' ON YOUTUBE
You'd not know that live music had vanished for nigh-on two years. Tonight Biffy Clyro are on top form and the well-oiled machine runs as if it has been on track the whole time. The audience respond in kind and are also on top form, which helps to create a magical atmosphere.
Biffy Clyro are a relentless artist both live and on record. Tonight the newer tracks such as 'North of No South', 'Instant History', 'Unknown Male 01', 'End Of' and 'Space' fit perfectly with fan favourites like 'Biblical', 'Mountains', 'Machines' and 'Wolves of Winter'.
The way that the band is able to control an audience, building slowly before exploding is unteachable. The band are in their natural state as they finish off the set with 'Living Is a Problem Because Everything Dies', 'Bubbles' and 'Many of Horror' to the delight of those in attendance.
An obligatory encore of 'Black Chandelier' and 'Cop Syrup' is enough to send the crowd home happy, remind us of what we've been missing and lay claim to the fact that Biffy Clyro are one of the best live acts on the planet. Most definitely worth the wait!
Share this review on Social Media
Listen to the Full Pelt Music and 'Discover' New Music Podcasts