Motorheart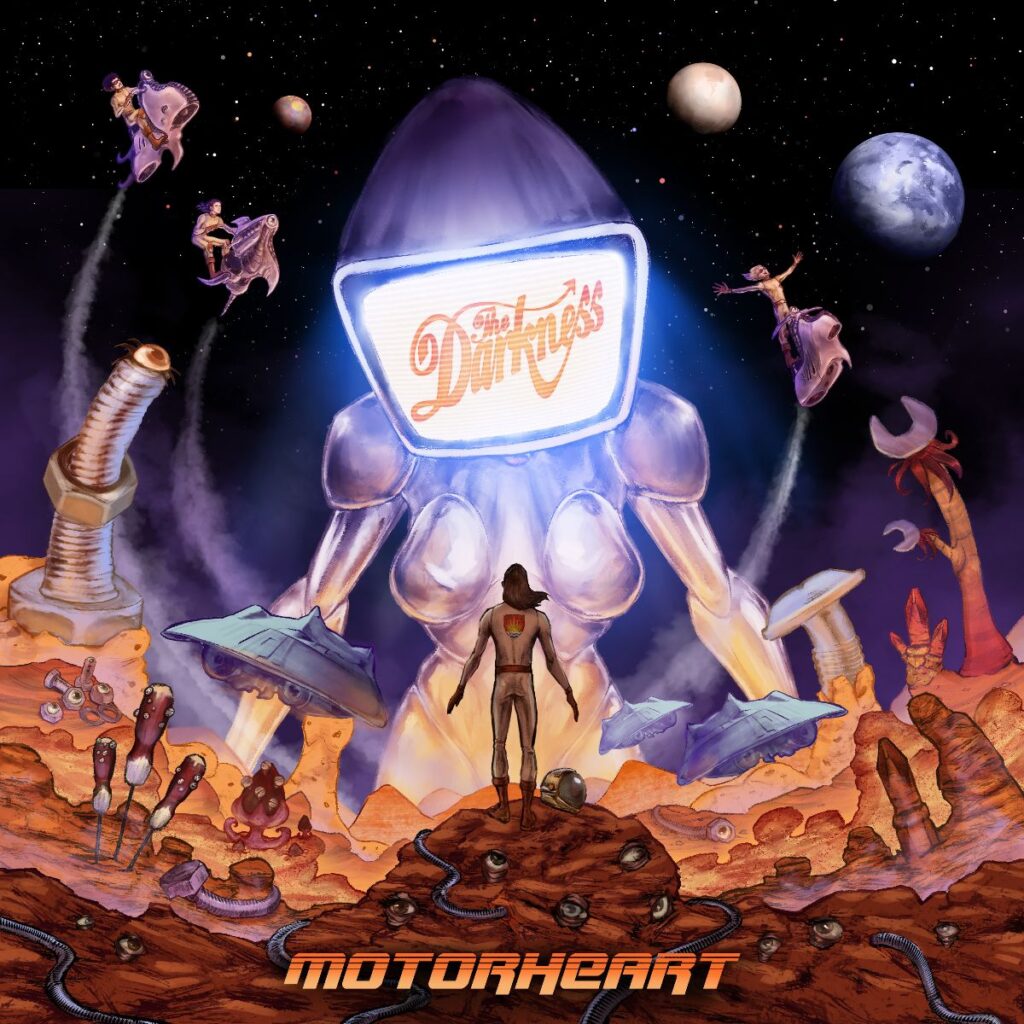 Follow us on Social Media
THE DARKNESS – MOTORHEART – ALBUM REVIEW
What do you want from a new album by The Darkness? Justin's falsetto singing? Dan's riffs? The ferocious, driving rhythm of Frankie and Rufus? Well, the band are back with their new album, 'Motorheart' and it's all in there!
Yes, 'Motorheart' delivers on every level of the Darkness-o-meter. There is the oddball witticism, the crazy stories, the inside jokes. The extravagance of the band is what makes them great and thankfully their 7th studio album has it in abundance.
The story of the band is as unique and colourful as their music, and it's somewhat astonishing that they've reached a point in their career whereby they can say they've released seven albums!
A decade ago, nobody would've believed a third album possible. Their meteoric rise and subsequent fall from grace seemed to have them confined to the storybooks of rock n' roll folklore.
Luckily for fans their one way ticket to hell did have that "and back" caveat and they made their heralded return in 2012. Five more albums now in the time since have solidified the bands credibility, if not restored their fame.
'Motorheart' continues a hot streak of acclaimed releases and will rightfully take centre stage for their upcoming live shows. 'Welcome Tae Glasgae', 'Motorheart', 'It's Love, Jim' and 'Eastbound' will no doubt go down a treat for those in attendance.
WATCH 'IT'S LOVE, JIM' ON YOUTUBE
Whilst their arena filling days may be gone, The Darkness still sell out large venues across the country and the reputation of their live shows combined with the nostalgia of debut album 'Permission To Land' could carry the band into retirement.
Luckily, the band don't seem content to rest on their laurels and that work rate has now seen them release another quality album. 'Motorheart' is well worth your time, so, whether your a die hard or a nostalgia seeker, check it out!
Share this review on Social Media