Survival of the Friendliest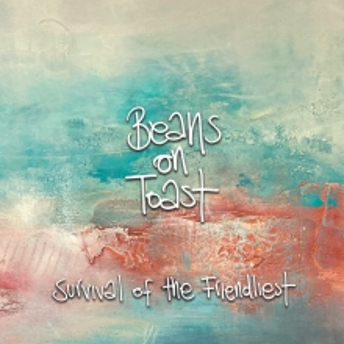 Follow us on Social Media
BEANS ON TOAST – SURVIVAL OF THE FRIENDLIEST – ALBUM REVIEW
As per tradition, Beans On Toast is back with a new album for his birthday in which he provides social commentary on the events of the past year. This year sees him in a positive mood with the release of 'Survival of the Friendliest'.
That positivity is a breath of fresh air in a world that, as the man himself sang, has gone crazy. This is an album exploring the possibility that things can and will get better, after all as the song says 'Not Everybody Thinks We're Doomed'!
Working with the main man on this record are Blaine Harrison and Jack Flanagan of Mystery Jets. The collaboration works perfectly and helps the music match the positivity of the lyrics, creating an infectiously upbeat tone to the album.
'Survival of the Friendliest' certainly continues the evolution of this talented artist musically, following the path of its recent predecessors. The accompanying arrangements beautifully showcase those trademark vocals. These songs are distinctively more radio-friendly then his early material.
WATCH 'HUMANS' ON YOUTUBE
Highlights from the album include 'Humans' and 'Let's Get Married Again' but the record deserves to be listened to and appreciated in its entirety. We say that because, the collection of songs that comprise this album are up there with the best that Beans On Toast has released.
In a world shrouded in negativity, 'Survival of the Friendliest' provides a light in the darkness, a feeling of positivity that instils a sense of hope. Let's face it, it's going to take more than an album to change the world, but for forty minutes let Beans On Toast put a smile on your face!
Share this review on Social Media
Beans On Toast recently joined us on The Full Pelt Music Podcast to discuss all things 'Survival of the Friendlest'.
Audio options are here, or watch on Youtube below!