We roundup the best music news from the past week!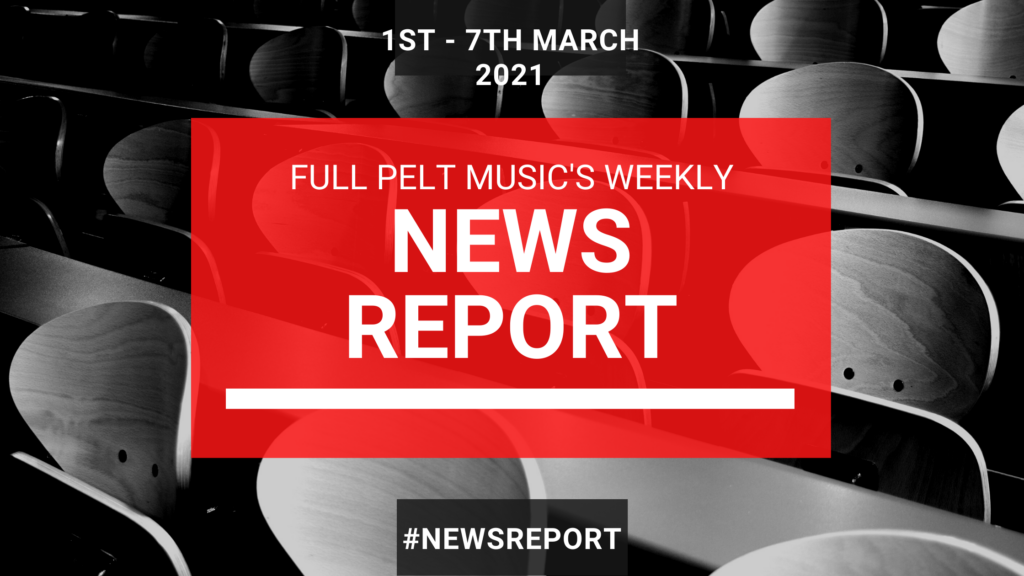 Every week we roundup the best music news from the past week in our News Report. To stay up to date with the biggest news be sure to follow us on our social channels:
Download Festival postpones again and unveils 2022 line-up
Last Week the government announced their roadmap out of lockdown and into some form of normality. That roadmap paved the way, hopefully, for the return of music festivals after June 21st.
As such this week has seen many festivals selling out as fans rush to book up their first festival since 2019. Many festivals have announced their plans for 2021 and we will cover some of those in this News Report. Sadly for some, the date of June 21st has meant the need to postpone for a second year.
One such festival is the rock/metal giant Download Festival. Unable to go ahead this year, the Donington event has announced that it will return in 2022. The three day event takes place from Friday 10th to Sunday 12th June, and will see headline sets from Kiss, Iron Maiden and Biffy Clyro.
This is truly one not to be missed, and you can pick up your tickets here.
Read our review of 'For Those That Wish To Exist' from Architects
Isle of Wight makes move to September
Another legendary festival whose dates were incompatible with the governments roadmap was Isle of Wight Festival. Thankfully for the islanders, there was scope for the event to move to later in the year.
The island will now get its music fix from 16-19 September. There is no confirmed line-up yet, however organisers have stated they will be trying to keep as much of the existing line-up as possible.
Pick up your tickets for the festival here.
Read our review of 'When You See Yourself' from Kings of Leon
Neighbourhood Weekender also makes move to September
September has featured a handful of late festivals in recent years, but September 2021 looks set to be festival central. Another festival making the move to the ninth month is Neighbourhood Weekender.
The event has already provided fans with its revised line-up that features a fantastic mix of old favourites and new artists. Headlining the event will be Gerry Cinnamon, James and Catfish And The Bottlemen. They are joined by the likes of The Coral, The Wombats, The Pigeon Detectives, Miles Kane, Shed Seven and Lightning Seeds.
There is also a plethora of young artists including some of our favourites such as Pale Waves, The Murder Capital, The Mysterines, Zuzu, Lauran Hibberd and Sports Team.
You can pick up any remaining tickets here.
Read our review of 'Nature Always Wins' from Maximo Park
Standon Calling unveils huge line-up
Standon Calling will celebrate its 15th Birthday in style as the festival returns over the weekend of 22nd-25th July. With huge sets from Bastille, Hot Chip, Primal Scream and Craig David's TS5 the event is set to be a party to remember.
Also appearing across the weekend will be the likes of De La Soul, Mystery Jets and Bob Vylan. Grab your tickets here.
Splendour is on in Nottingham
Finally from the festival announcement portfolio this week is Nottingham event Splendour. The day event returns to Wollaton Park on Saturday 24th July. The event will feature performances from Richard Ashcroft, Supergrass and Rick Astley.
For tickets head here.
Black Honey announce UK Tour
Great news this week from the Black Honey camp as the band unveiled a new UK Tour for later this year. The band will release their new album 'Written & Directed' on March 19th. If you pre-order that album before March 9th you will get priority access to tickets.
Pick up your copy here.
Listen to 'Believer' from Black Honey on our Spotify Hot List!
Danko Jones announce 25th anniversary livestream shows
Canadian rockers Danko Jones have announced details of two very special livestream events to celebrate their 25th anniversary. The European stream will take place on Saturday 13th March and you can grab your tickets here.
Read our review of 'You're Welcome' from A Day To Remember
James announce 16th studio album!
The iconic James are back with their 16th studio album. 'All The Colours Of You' is out 4th June, and is preceded by the title track as its lead single.
You can pre-order your copy here.
Share this News Report on Social Media
Read our look at Frank Turner's Independent Venue Love series