UEA LCR, Norwich
Friday 27th August 2021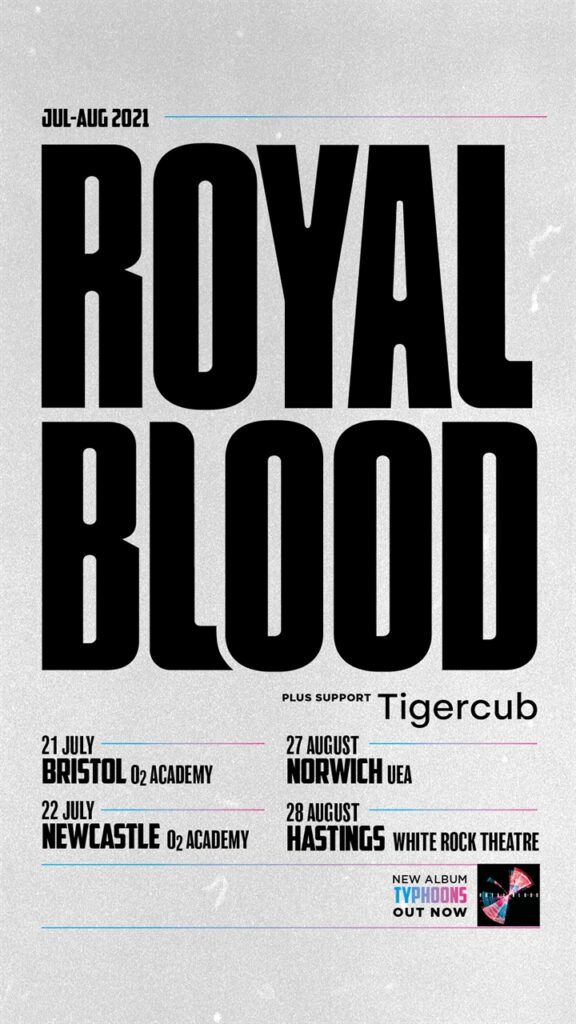 Follow us on Social Media
ROYAL BLOOD – UEA LCR, NORWICH – LIVE REVIEW
With Royal Blood set to headline some of the first festivals to take place as live music returns, the duo announced a run of intimate warm-up shows. As expected all these shows sold out instantly including tonight at the UEA LCR in Norwich.
With an enormous sense of anticipation surrounding the venue, fans were first treated to a short and intense support slot from Tigercub. The band preview their latest album, 'As Blue as Indigo' with 'Stop Beating on My Heart (Like A Bass Drum)' and 'In the Autumn of My Years' going down particularly well with the already packed audience.
Sometimes with such a high level of expectation for the headline act, support bands can fall short, but tonight Tigercub prove their own credibility and win over some new fans in the process.
Soon enough it's time for Royal Blood to take to the elevated stage. Kicking off with 'Typhoons' and 'Boilermaker' the band are backed by a subtle yet highly effective light show that helps to bring this new material to life.
Yes, Royal Blood are another band to release a new album during the absence of live music. Absence clearly making the heart grow fonder for both band and audience, as the UEA dancefloor descends into chaos from the opening note to the very last.
Material from 'Typhoons' garners great reactions from an eager audience who are ready and willing to lap up whatever the band can offer. Well, with three albums behind them now, the band can offer an endless stream of fan favourites.
Tonight sees a mix from across their catalogue with 'Lights Out', 'Come On Over', 'Little Monster' and 'How Did We Get So Dark?' filling the first half of the show with memorable moments.
Mike Kerr and Ben Thatcher always have had a knack for creating magic both on record and on stage but tonight has that extra special feel. Perhaps it's the atmosphere flamed by the return of live music or perhaps the duo have spent their downtime perfecting their craft. Whatever it is it's very clear that Royal Blood are simply on another level.
'Trouble's Coming', 'Oblivion' and 'Loose Change' sound absolutely huge before 'Ten Tonne Skeleton' and 'Limbo' cause pandemonium in Norwich. The encore of 'Out of the Black' and 'Figure It Out' bring it all home, remind us of what we've all been missing and demonstrate just why Royal Blood are now festival headliners.
Share this review on Social Media