Full Pelt Music looks back on 2022 for our Year In Review
Follow us on Social Media
It's been another big revival year for the music industry following the pandemic years, and it's been another year of growth for us at Full Pelt Music! We've reviewed 67 albums, 7 EP's, 6 festivals and 38 gigs in 2022 as some level of normality or even stability has returned to our industry.
That said, there are still many issues facing the industry with livelihoods, venues and organisations at risk for a plethora of reasons. Whilst government action is required in many places, what we as fans can do is support the industry with our money. Times are tough for us all, but purchasing an album, buying a t-shirt, nabbing a ticket and grabbing a drink whilst at a gig does so much to support the industry that we love.
Our two great Podcasts have continued to grow and highlights this year came from guests such as Blood Red Shoes, The Treatment, Skinny Lister, Daytime TV, Pet Needs, The Ninth Wave, Sunflower Bean, James and the Cold Gun, Guise, October Drift, BERRIES, Asylums, As Sirens Fall and Jamie Lenman! We've already got some fantastic guests lined up for 2023, so ensure you subscribe and follow us across Social Media!
In our now annual end of year awards we'll be giving out seven hotly contested awards looking at both the recorded and live sides of the industry. Adding to our well established Album of the Year award this year will be the new EP of the Year award. We'll also once again be revealing our Single of the Year. All awards have seen fierce competition, as once again it's been a high quality year for new releases.
On the live side of things, we'll announce both our Gig and Festival of the Year awards. This year of course provided our first full calendar of music since 2019! We were able to witness many great performances this year and we can't wait to share with you are favourites.
Lastly we'll look at the artists who've had special years as we award our Artist and 'Discover' New Artist of the Year awards. So without further ado, let's work through those award catagories!
ALBUM OF THE YEAR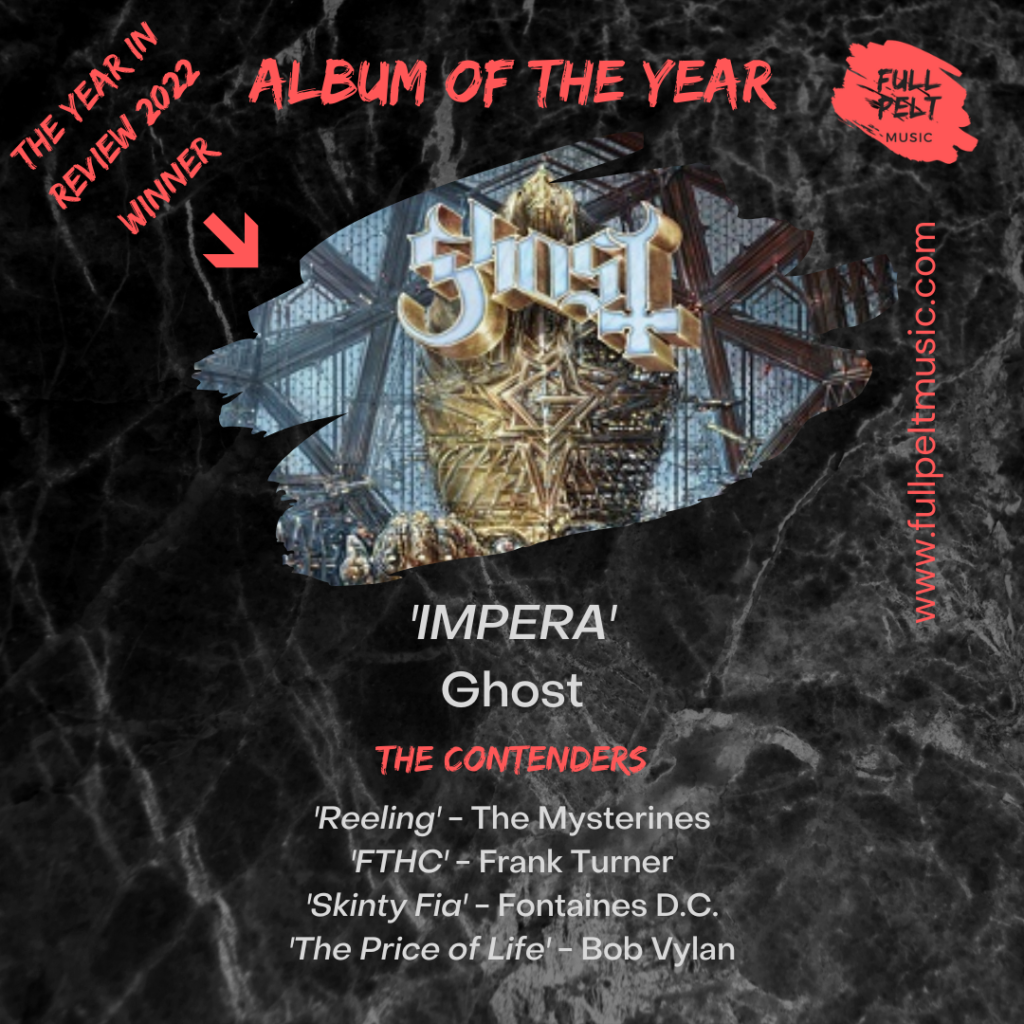 It has been a truly magnificent year for album releases and getting a spot anywhere in our Top 50 was hard enough but in particular the Top 10 was incredibly tightly fought. You can read the full list here.
'IMPERA' from Ghost was able to take the crown this year but any of the top 10 could've taken that spot. 'Reeling' from The Mysterines in particular would likely have won in any other year, but the majesty and magnificence of 'IMPERA' proved unbeatable.
Winner:
'Impera' by Ghost
The contenders:
'Reeling' by The Mysterines, 'FTHC' by Frank Turner, 'Skinty Fia' by Fontaines D.C. & 'The Price of Life' by Bob Vylan
Previous Winners:
2021 – 'Blue Weekend' by Wolf Alice
2020 – 'Ultra Mono' by IDLES
EP OF THE YEAR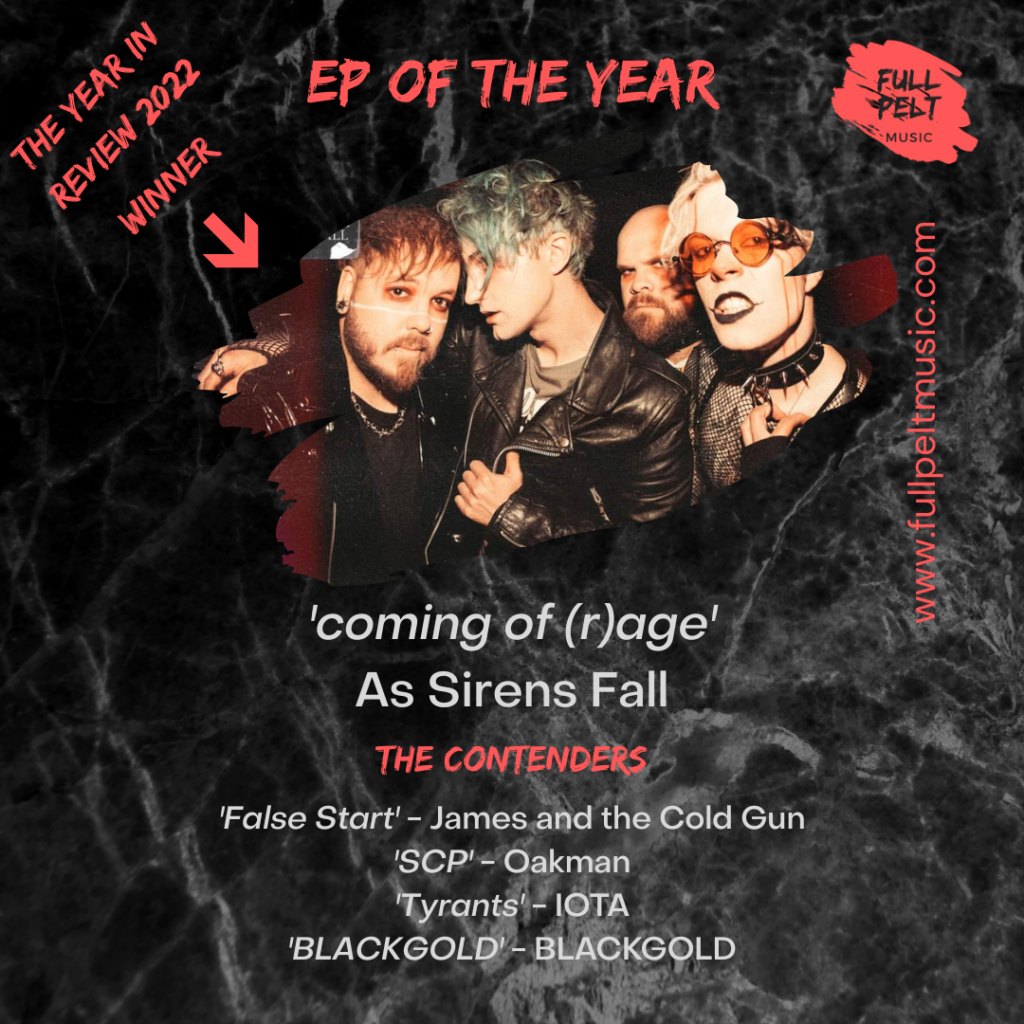 For the first time this year, we are separating EP's out of our main award and giving them their own pedestal. That alone is the truest compliment to the quality of EP's on offer this year.
Again, all EP's in our top 5 are worthy of the number one spot, but it's 'coming of (r)age' from As Sirens Fall that pips it. Catchy as hell single, 'heaven (spat us back out)', helps elevate the release to be crowed our first ever EP of the Year.
Winner:
'coming of (r)age' by As Sirens Fall
The contenders:
'False Start' by James and the Cold Gun, 'SCP' by Oakman, 'Tyrants' by IOTA and 'BLACKGOLD' by BLACKGOLD
SINGLE OF THE YEAR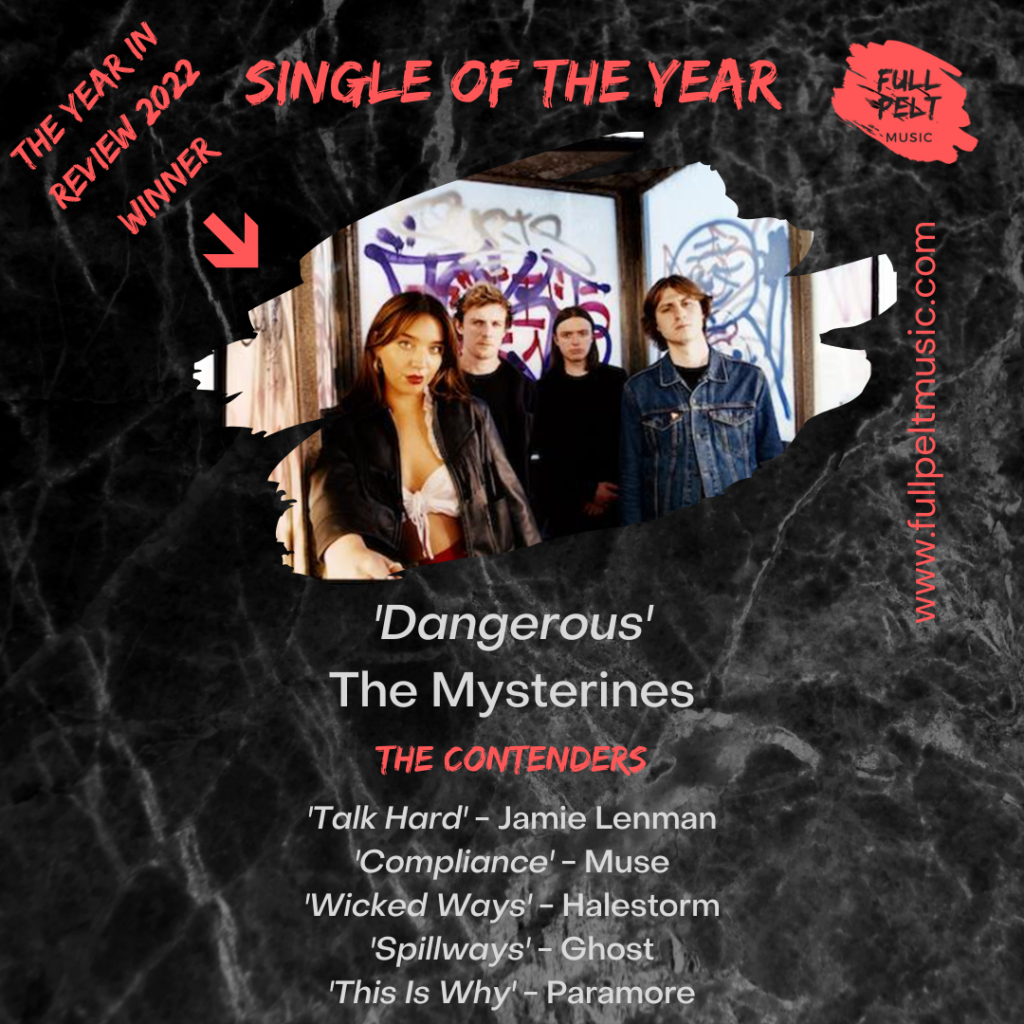 We look now at our Single or Song of the Year. In considering the award this year we've considered the ear worms that have stayed with us after live performances. We've also pondered which songs instantly struck a chord and created a buzz of excitement for the albums and live shows that would follow.
Songs which fell into both of these considerations competed for the award and it was again a tight decision, but ultimately for us this year 'Dangerous' from The Mysterines has not just ticked both boxes but also remained on heavy rotation throughout the year despite being an early arrival in 2022. That's why that track is our 2022 Single of the Year!
Check out the winning single below:
Winner:
'Dangerous' by The Mysterines
The contenders:
'Talk Hard' by Jamie Lenman, 'Compliance' by Muse, 'Wicked Ways' by Halestorm, 'Spillways' by Ghost
Previous Winners:
2021 – 'Test of our Resolve' from Press To MECO
2020 – 'Obey' by Bring Me The Horizon feat. Yungblud
FESTIVAL OF THE YEAR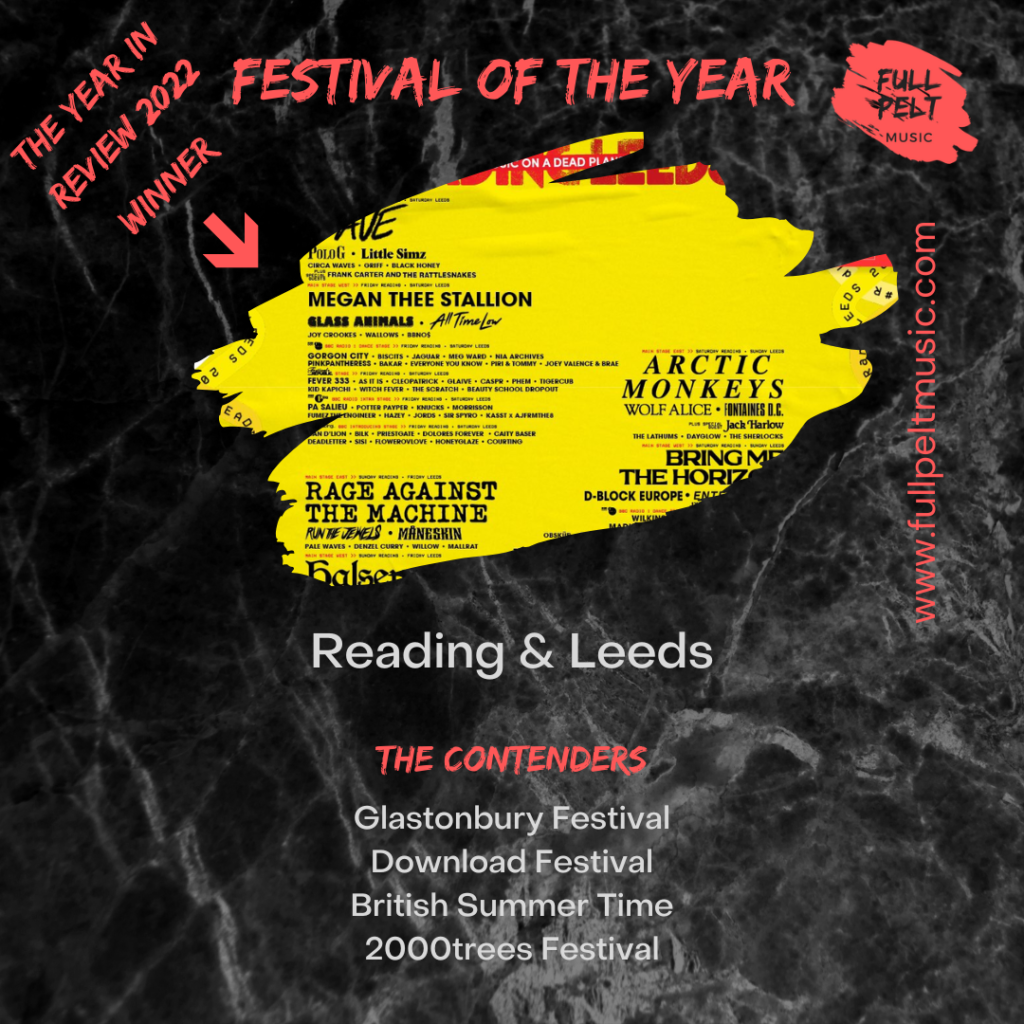 2022 was the first full festival season since 2019 and what a return it was. All eyes were on Glastonbury once again, British Summer Time curated a stunning line-up, Download Festival breathed fire and 2000trees was able to remind everyone what's so great about smaller festivals.
Our winner this year though is Reading & Leeds who went big, sold out and delivered an action packed weekend even with the huge loss of Rage Against The Machine amongst others. Always a perennial contender for this award, 2022 felt like the year the event reclaimed its identity.
Read our review of Reading Festival Saturday
Winner:
Reading & Leeds
The contenders:
Glastonbury Festival, British Summer Time, Download Festival, 2000trees Festival
Previous Winners:
2021 – Download Pilot Festival
2020 – Wild Fields Festival
GIG OF THE YEAR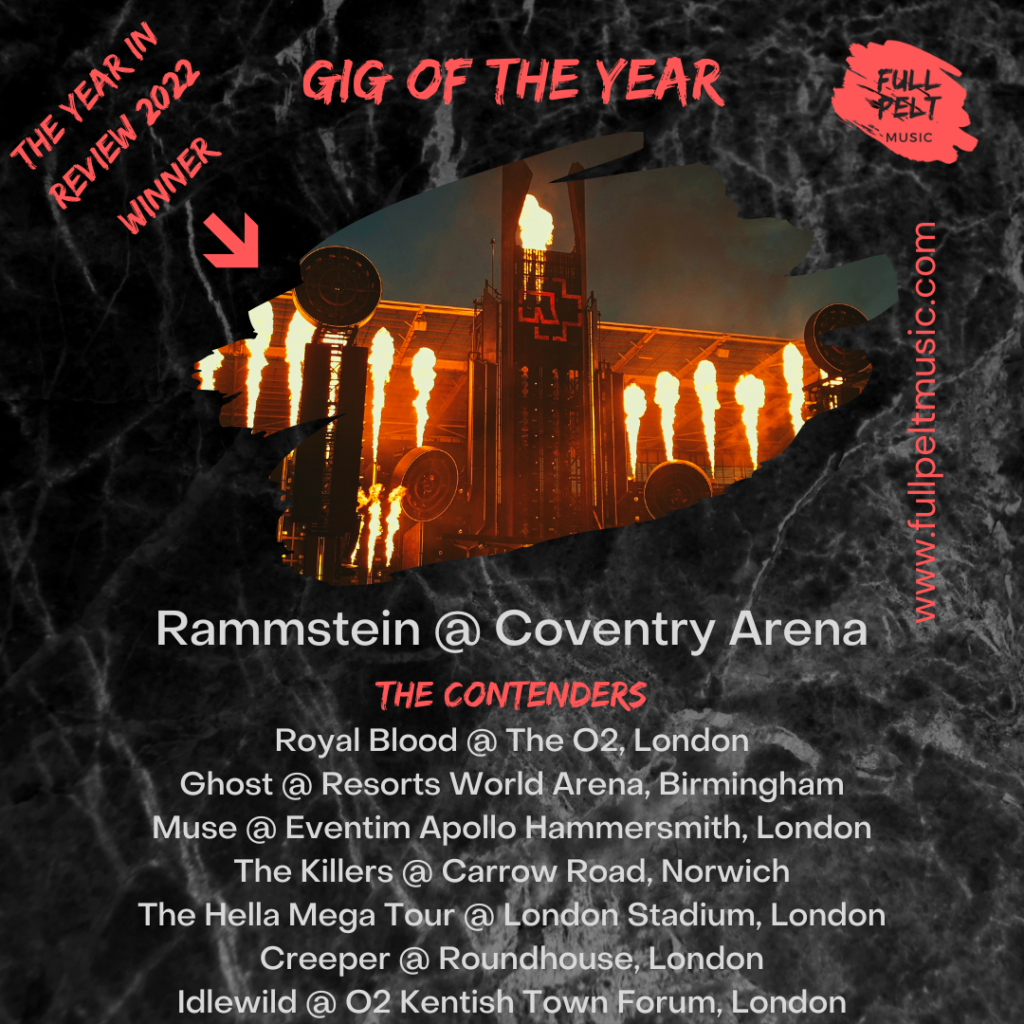 We've reviewed many gigs this year but in reality there could only ever be one winner. Rammstein's tour is less of a concert and more of an experience; one that everyone, fan of the band or not, should experience at least once.
Beyond that there was still some incredible, top tier gigs in 2022 and our contenders are all worthy of glory, but Rammstein are currently on a whole different level.
Read our review of Rammstein live in Coventry
Winner:
Rammstein @ Coventry Arena
The contenders:
Royal Blood @ O2 Arena, London, Ghost @ Resorts World Arena, Birmingham, Muse @ Eventim Apollo Hammersmith, London, The Killers @ Carrow Road, Norwich, The Hella Mega Tour @ London Stadium, London, Creeper @ Roundhouse, London, Idlewild @ O2 Kentish Town Forum, London
Previous Winners:
2021 – Bring Me The Horizon @ O2 Arena, London
2020 – Frank Turner @ Arboretum, Nottingham
ARTIST OF THE YEAR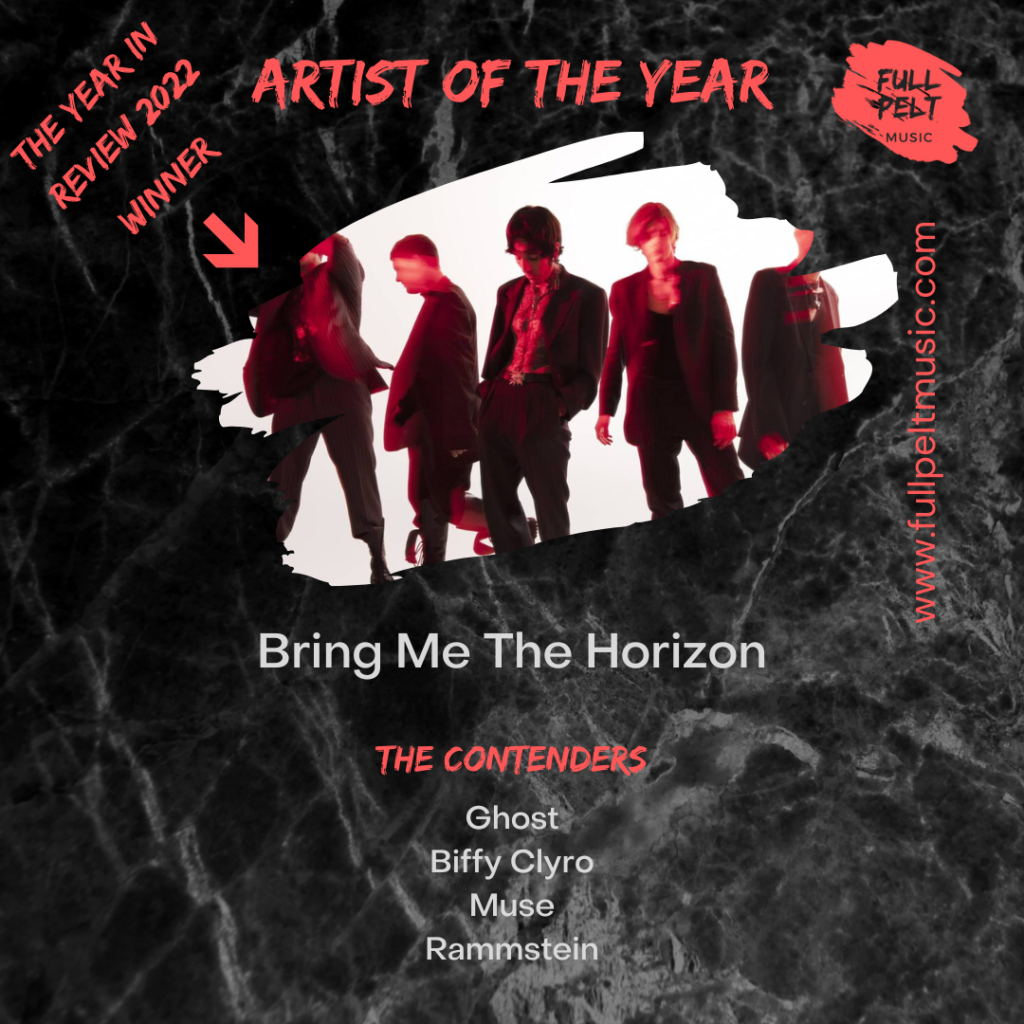 Artist of the Year now and for this award we look for somebody who has had a huge, perhaps even career-defining year. Previous winners Frank Turner and Biffy Clyro have done so by delivering incredible feats, far above the norm.
This year was a big year for many acts, but we've gone for Bring Me The Horizon as a band that have had a career-defining twelve months. Long tipped as festival headliners at a major event, many felt that the time would never come for one of the best live bands on the planet. Big releases, sold-out tours, no matter what the group did they never seemed to be given that torch, that is until this year!
Watching Bring Me The Horizon step up and headline at Reading & Leeds this summer felt like a real moment, not just for the band but for the whole scene. For any metal band, let alone one once considered so unfashionable to headline the biggest festivals in the UK is massive.
Already announced to finally headline Download Festival in 2023, 2022 will forever be linked for Bring Me The Horizon to taking that final career-defining set. Throw in their genre-defying collaboration with Ed Sheeran, 2022's Artist of the Year had to be Bring Me The Horizon.
Winner:
Bring Me The Horizon
The contenders:
Ghost, Rammstein, Biffy Clyro, Muse
Previous Winners:
2021 – Biffy Clyro
2020 – Frank Turner
'DISCOVER' NEW ARTIST OF THE YEAR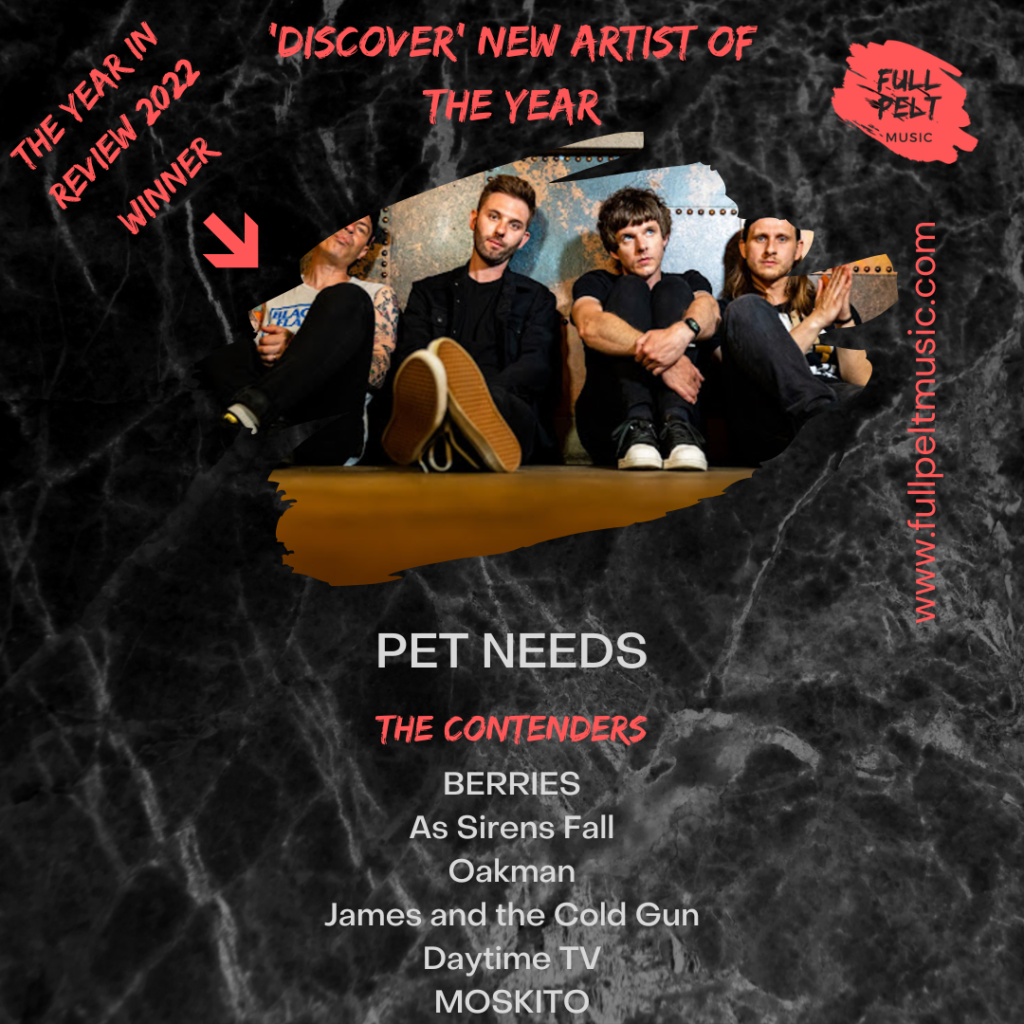 As a publication we always want to put new music at the heart of what we do, and that's why our final award is perhaps our most important! Our 'Discover' New Artist of the Year is awarded to the act we've chosen to highlight on our 'Discover' New Music Playlist and Podcast who we feel has made the biggest impact this year.
At the beginning of 2022 we put the spotlight on new Colchester act PET NEEDS as they continued to promote their debut album, 'Fractured Party Music'. From that point on the band never looked back with a world tour, a second album ('Primtime Entertainment') and a sold out hometown show all under their belts.
They even found the time to become the first (and only at the time of writing) band to progress from our 'Discover' New Music Podcast and appear on The Full Pelt Music Podcast! Yes, fighting off some stiff competition for the 'Discover' New Artist of the Year award in 2022 is PET NEEDS!
Winners:
PET NEEDS
The Contenders:
BERRIES, As Sirens Fall, Oakman, James and the Cold Gun, Daytime TV, MOSKITO
Previous Winners:
2020 – Miss Vincent
So, that's it! Another year in the record books, it's been another difficult year and it has again been particularly tough on the music industry. That said, we've had a full year of live music for the first time since 2019 and the creative juices remain flowing with some absolutely stunning new releases over the past twelve months.
Below you can enjoy some of our favourite gig photos of the year courtesy of our wonderful photographer Denis!
All 📸 (c) Denis Gorbatov / Full Pelt Music
We hope you've enjoyed our The Year in Review 2022 and we wish you a very Happy New Year. Here's hoping 2023 is a good one!
Share our The Year In Review 2022 on Social Media