Voodoo Daddy's Showroom, Norwich
Friday 29th October 2021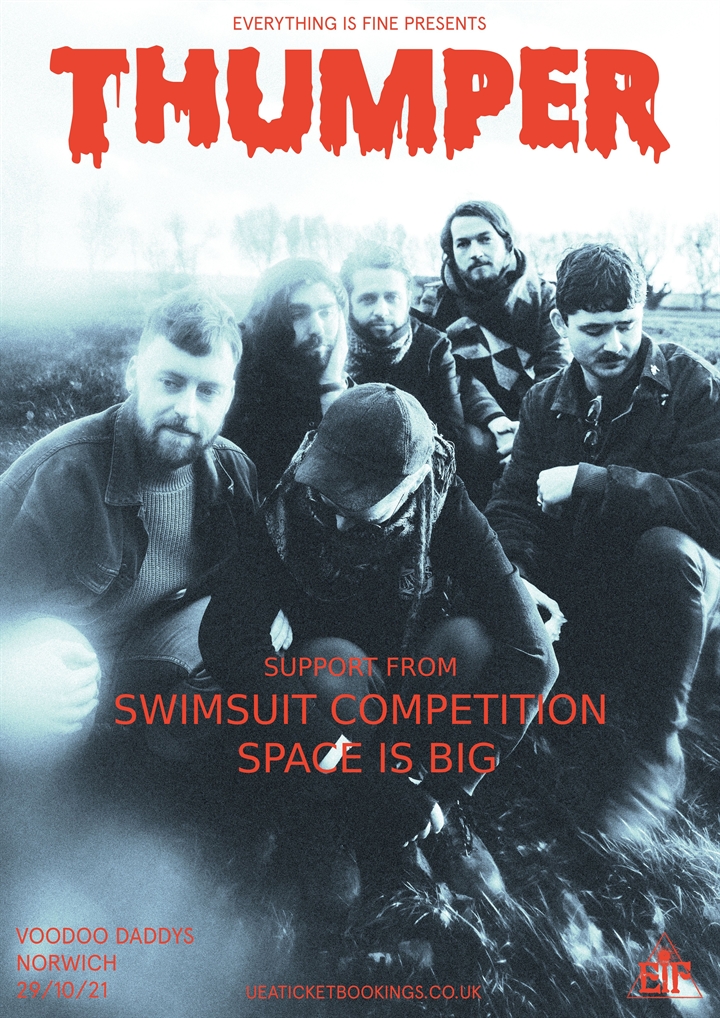 Follow us on Social Media
THUMPER – VOODOO DADDY'S SHOWROOM, NORWICH – LIVE REVIEW
Think back to those dark lockdown months and the desire to once again witness the grandeur of live music; you know those huge shows by massive bands in gargantuan venues! Well yes, it's been great to get back those festival, arena and academy shows since the reopening of live music, but those are just the tip of the iceberg.
The bread and butter of live music is happening across the county in our small and independent venues. The stadium fillers of tomorrow are honing their craft and building their reputations. This is truly where live music comes alive.
Take tonight as exhibit A. The venue is Voodoo Daddy's Showroom, an intimate room above a pizza bar in Norwich on a vibrant Friday night ahead of Halloween. The headline act will be rising Dubliners Thumper, but up first are the supports – an important part of the grassroots music scene.
This is where young bands just starting out can earn their stripes. Up first this evening are Norwich's own Space is Big. The young band provide a great start to the night with their politically charged, high-energy punk sound.
Our next support act come from down the road in Essex. Swimsuit Competition proceed to deliver an assured yet pulsating performance that builds towards the fantastic climax of 'Call Me Up' and 'Wasted'. By the end of their set they have the crowd in the palm of their hands making us two for two so far tonight.
As we await this evenings headliners Thumper, you feel at this point that they will need to be very special to live up to the standards set so far. Luckily for Thumper and even more so for those in attendance, the sextet are more than up for the challenge!
WATCH 'TOPHER GRACE' ON YOUTUBE
Flexing their musical muscles, the band are straight out of the traps with the fantastic 'Topher Grace'. Their controlled ferocity is evident throughout their time on stage as they control the room with their unique brand of indie rock meets post-punk goodness.
Singles 'Ad Nauseam' and 'The Loser' are somehow majestic and fierce at the same time and leave you thankful to bear witness to them in a small setting while you can. Yes, no doubt about it, Thumper are destined for bigger rooms in the not too distant future.
Listen to 'The Loser' on our 'Discover' New Music Playlist!
As set closer 'Down' sends the crowd off out into night, fans can reflect on a stunning evening provided by three great young bands. Of course those arena shows are great, but it's nights like tonight where friends are made, scenes are built and careers are begun.
Grassroots music creates the superstars of the future whilst independent venues provide a living for bar staff, security staff, sound and lighting engineers, photographers etc. The point being, do yourself a favour and get down to your local venues. Support live music and you might just discover the next big thing!
Share this review on Social Media