Corn Exchange, Cambridge
Tuesday 28th September 2021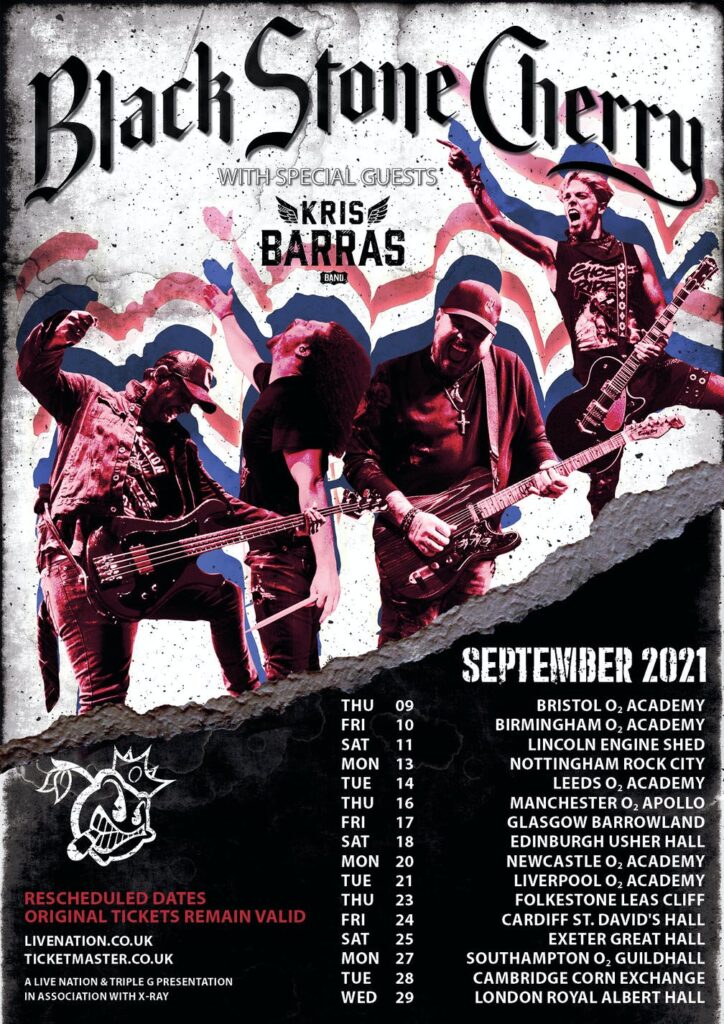 Follow us on Social Media
International travel restrictions and pandemic related concerns has seen most touring in the UK come from domestic acts. One US based band however that has moved heaven and earth to undertake their scheduled shows is Black Stone Cherry. Not too surprising really as the band were adopted by the UK many years ago.
Black Stone Cherry made their name and grew their brand on UK soil and it's also no surprise that the show tonight is sold out. There is a mutual love and respect between band and fans and all of that helps to build a great atmosphere at the Corn Exchange in Cambridge.
Before the headliners however normally comes the support. Tonight is no different as Kris Barras Band take to an already packed venue. The band is given a decent length slot to win over those in attendance, and the receptive audience is quickly onboard.
From opening track 'Dead Horses' to closer 'Hail Mary', Kris Barras and co are able to create a connection with the audience through the medium of rock. Whilst that may sound a tad cheesy, the fact is Barras is the ideal support for this show, with his set being very well received.
Check out our 'Discover' New Music Podcast
Soon enough it's time for Black Stone Cherry to grace the stage and they receive a hero's welcome. The band quickly burst out 'Me and Mary Jane', 'Burnin' and 'Again' for a blistering start to their set.
WATCH 'AGAIN' ON YOUTUBE
The band now has seven studio albums to draw from and tonight is literally a career-spanning setlist with a least one representative from each album. Sophomore release 'Folklore and Superstition' gets the greatest attention tonight with six tracks aired including rarer outings for 'Yeah Man' and 'Devil's Queen'.
The band had managed to maintain a steady line-up since their formation around 20 years ago, but this year saw the departure of bassist Jon Lawhon. It's down to Steve Jewell to fill those shoes and tonight he fits in effortlessly as the band remind fans why this country embraced them so early.
Last year saw the release of their latest album, 'The Human Condition' and two more tracks are on offer tonight with both 'Ringin' in My Head' and 'In Love With the Pain' going over well with the audience. They fit in well with the set staples such as 'Blind Man', 'Blame It On The Boom Boom', 'White Trash Millionaire' and 'Lonely Train'.
All live music still feels special at the moment, but tonight felt extra special. An emotional 'Things My Father Said' and stunning 'Peace Is Free' perhaps best capturing the moment. It's great to have international touring acts return to the UK, and it's fitting for one of the first to be Black Stone Cherry.
Share this review on Social Media