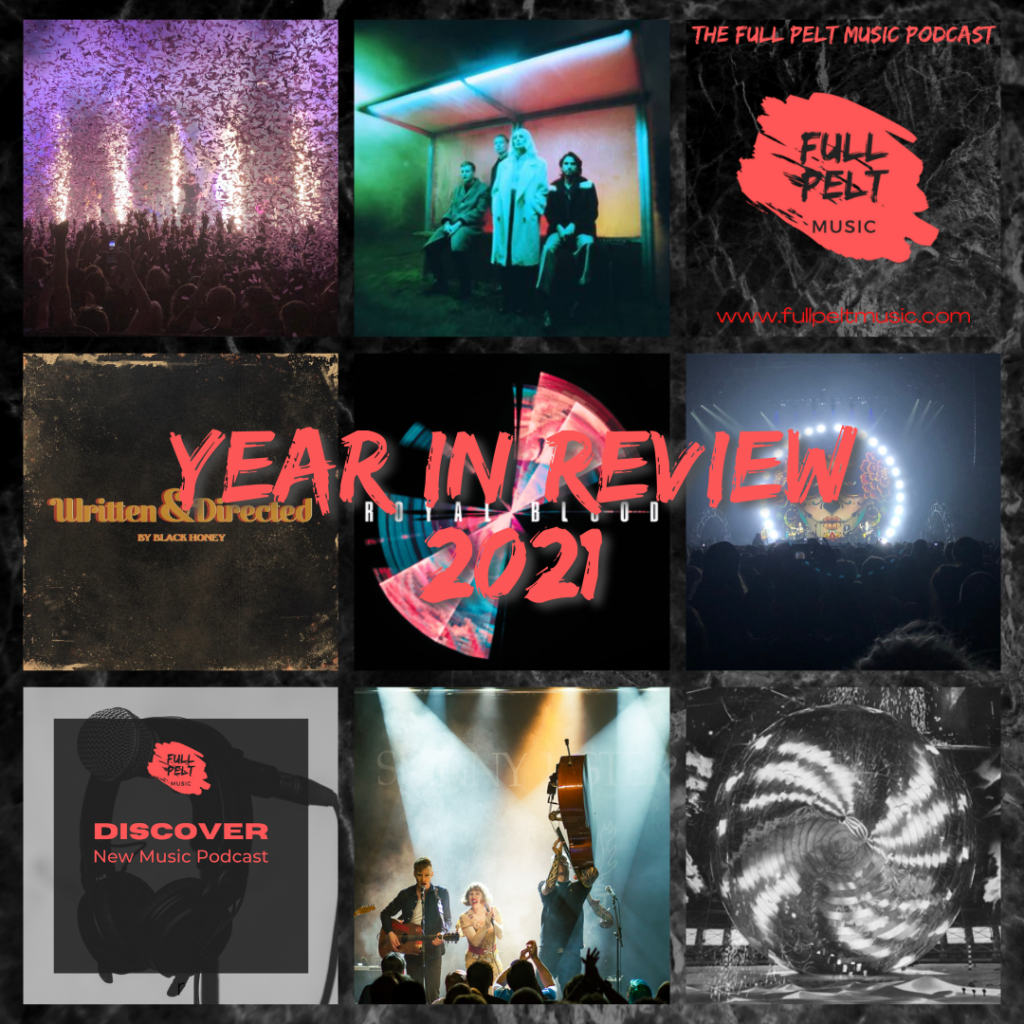 Full Pelt Music looks back on 2021 for our Year In Review
Follow us on Social Media
2020 was a year that we all wish we could forget. Could 2021 be any better? Well, it started off just as the previous year ended; with the live music industry on its knees. Lockdown restrictions still ruled out any live in person shows, with even socially distanced shows initially outlawed.
Come late spring, things began to look up and a number of "test" events were planned. We were lucky enough to attend the Pilot Download Festival and the euphoria of being amongst fellow music fans in a field can't truly be put into words. Things were looking up!
Live music would eventually make a full return but sadly as we write this The Year In Review 2021 feature, the sector is once again holding its breath waiting for the Government to take action. Alas, true normality may still be a long way off, but for a few months this year we got to feel alive again.
That alone elevates 2021 above 2020, but there is plenty more to unpack. We recently undertook our now annual countdown of our top albums of the year over on our social media. 2021 was a truly exceptional year in terms of album quality. Those musicians kept in lockdown last year certainly found their creativity and compiling a list of the top 50 albums of the year was highly competitive.
In our The Year In Review 2021 article, we will be revealing our end of year award winners. As with last year we will announce our Album of the Year, Single of the Year, Artist of the Year, Gig of the Year and Festival of the Year.
This year however we have an additional award to hand out. 2021 was a big year for Full Pelt Music, our first full year in existence. We've grown and we've enhanced our focus on new music. We launched initially our 'Discover' New Music Playlist on Spotify through which we highlight the best up and coming artists.
We also launched not one but two Podcasts this year, including the accompanying 'Discover' New Music Podcast where we truly shine the spotlight on your new favourite acts. As such, this year we will also be awarding the 'Discover' New Artist of the Year award!
Before we get to those awards though, let's run you through a few of our highlights this year. First of all, as mentioned we also launched The Full Pelt Music Podcast this year. Fittingly our inaugural guest was Frank Turner, the winner of both our Gig of the Year and Artist of the Year awards in our 2020 Year In Review.
Across the Podcasts this year we've had the pleasure to talk with Press To Meco, Beans On Toast, Miss Vincent, Planet Fatale, Mercutio, Light By The Sea, Freddie and the Fabs, The Damned Few, Project Renegade, Icarus and Smoke! Be sure to check out these conversations, and also to Subscribe on Youtube or wherever you listen to your Podcasts. After all, we will have plenty more for you to enjoy in 2022.
The Music Industry has seized on the opportunity to entertain this year both live and on record. We've reviewed 66 albums, 2 festivals and 27 gigs in 2021 as fans have been treated to incredible releases and some truly stunning live shows. Again, perhaps the enforced break has allowed creativity to breed innovation.
So with that in mind, let's work through those award catagories!
Album of the Year
As we've already referenced, the pure quality of releases this year made compiling our Top 50 Album of the Year List very tricky. It was hard work but we did it, and you can read the full list here.
The quality is demonstrated best by last year's winners IDLES only reaching a still respectable number 7. The winner however had to be 'Blue Weekend' from the incredible Wolf Alice who continue to go from strength to strength. After three stunning albums, there is no ceiling for this band and we can't wait to catch songs from the album live in 2022.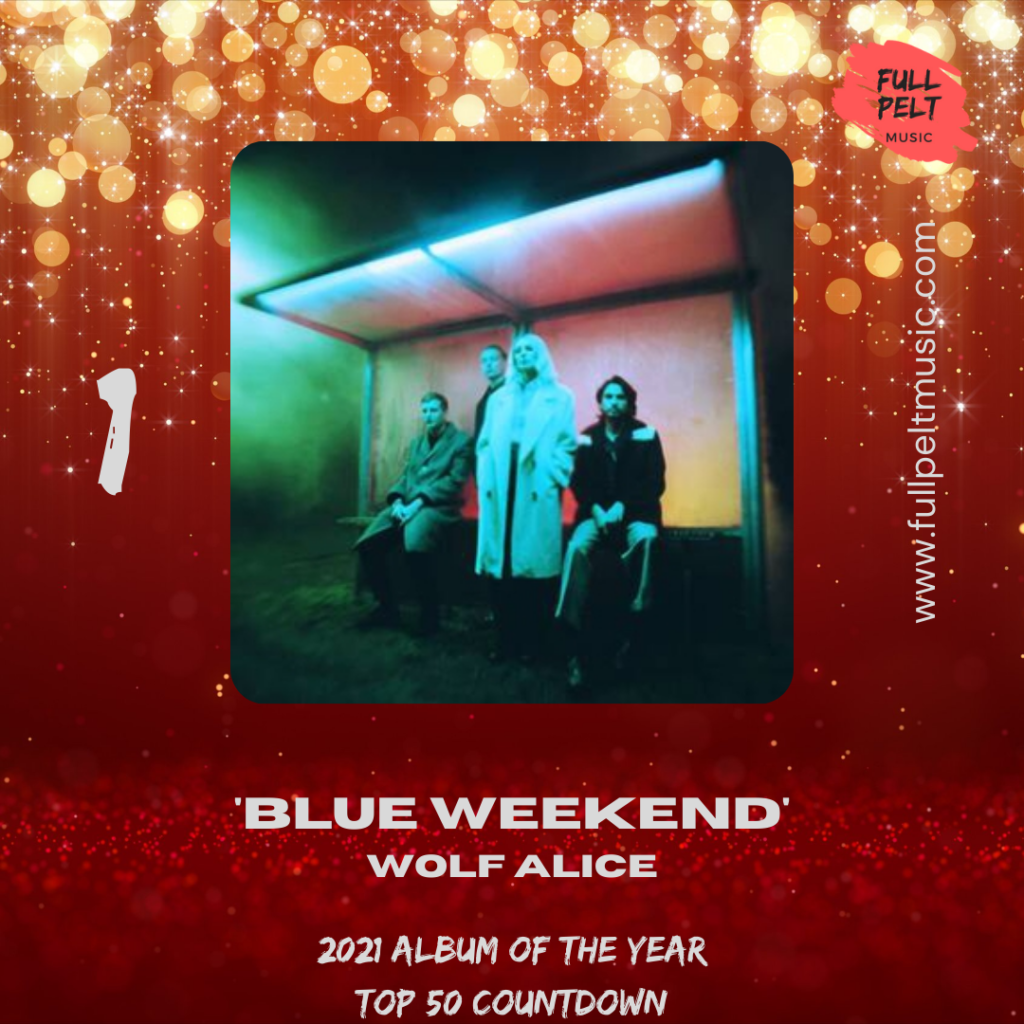 Winner:
'Blue Weekend' by Wolf Alice
The Contenders:
'Written & Directed' by Black Honey, 'Typhoons' by Royal Blood, 'Seize the Power' by Yonaka and 'Transmute' by Press To MECO
Previous Winners:
2020 – 'Ultra Mono' by IDLES
Single of the Year
We move on now to our award for the Single or Song of the Year. This year has again seen us locked down for considerable amounts of time and many will have sought solace in Playlists such as our Spotify Hot List.
In selecting our track of the year we considered which songs we've come back to time and time again, which songs remain as fresh now as they did on first listen and what songs simply just resonate on a different level.
Our winner is an incredible track from the fantastic album 'Transmute' from Press To MECO. 'A Test Of Our Resolve' ticks all of the criteria and also sounds absolutely massive live.
Winner:
'A Test Of Our Resolve' by Press To MECO
The Contenders:
'My Town' by Frank Carter & The Rattlesnakes, 'Afterlife' by Holding Absence, 'Midnight' by Creeper and 'Haven't Been Doing So Well' by Frank Turner
Previous Winners:
2020 – 'Obey' by Bring Me The Horizon feat. Yungblud
Artist of the Year
Artist of the Year now and for this award we look for somebody who has had a huge, perhaps even career-defining year. Last year we gave the award to Frank Turner for his incredible work for the #SaveOurVenues campaign through his Independent Venue Love series.
This year our winners are a band that also dabbled with livestreams during that first lockdown. This year however has been a hugely important year for Biffy Clyro. A new album, 'A Myth of the Happily Ever After' came hot on the heels of last year's 'A Celebration of Endings'. It's another quality album from a band that continue to deliver consistently great music.
The band also had a huge impact on the live music scene this year. Firstly, the band rode to the rescue by stepping in as late replacements for Queens of the Stone Age to once again headline Reading and Leeds Festivals.
Secondly, the band played huge outdoor shows in Cardiff, Glasgow and Margate to help signal the return of live music after around 16 months of lockdown. Highlights of both their Reading and Glasgow performances aired on the BBC.
Lastly, the band played a completely sold out and very intimate 'Fingers Crossed' Tour across the UK. Their shows this year giving fans an opportunity to witness songs from not one but two albums live for the first time.
Winner:
Biffy Clyro
The Contenders:
Enter Shikari, Bring Me The Horizon, Creeper and Wolf Alice
Previous Winners:
2020 – Frank Turner
Festival of the Year
Festivals made a belated return from lockdown restrictions in late summer, although the majority of the usual seasons events were still cancelled. For our Festival of the Year however we can't look anywhere other than the special event that laid the groundwork for all events to return, the Download Pilot Festival!
Back in June the Government test event was the first opportunity for music fans to camp in a field and rock out for three days. The camaraderie and atmosphere this situation created, combined with the uniquely intimate Download layout and line-up made for a once in a lifetime experience.
British bands took centre stage and delivered an incredible weekend of music; with bands and fans both desperate to experience live music again. Thanks to all involved we can hopefully experience a full fat Download Festival again this summer.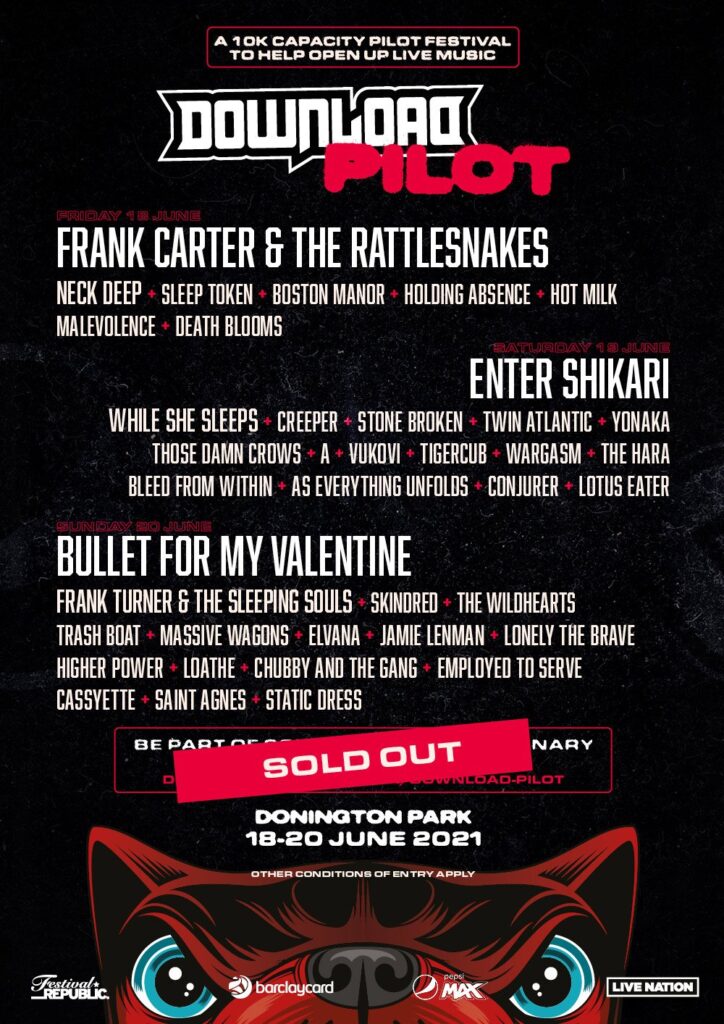 Read our review of the Download Pilot Festival!
Winner:
Download Pilot Festival
The Contenders:
Reading Festival and Lost Evenings
Previous Winners:
2020 – Wild Fields Festival
Gig of the Year
Last year's winner of Gig of the Year was a socially distancing outdoor affair, this year however true live music returned! Picking a winner this year is difficult because the pent up frustration of lockdown on both musicians and fans vented fully across some amazing gigs.
We reviewed 27 of those shows this year and there were some very special moments amongst them. The winner however must go to Bring Me The Horizon who stormed the O2 Arena with You Me At Six and Nova Twins in tow.
The night was a massive middle finger to any remaining doubters and the band solidified themselves not just as arena fillers but as festival headline ready. Fitting therefore that they have recently been revealed as headliners for Reading & Leeds Festivals next year.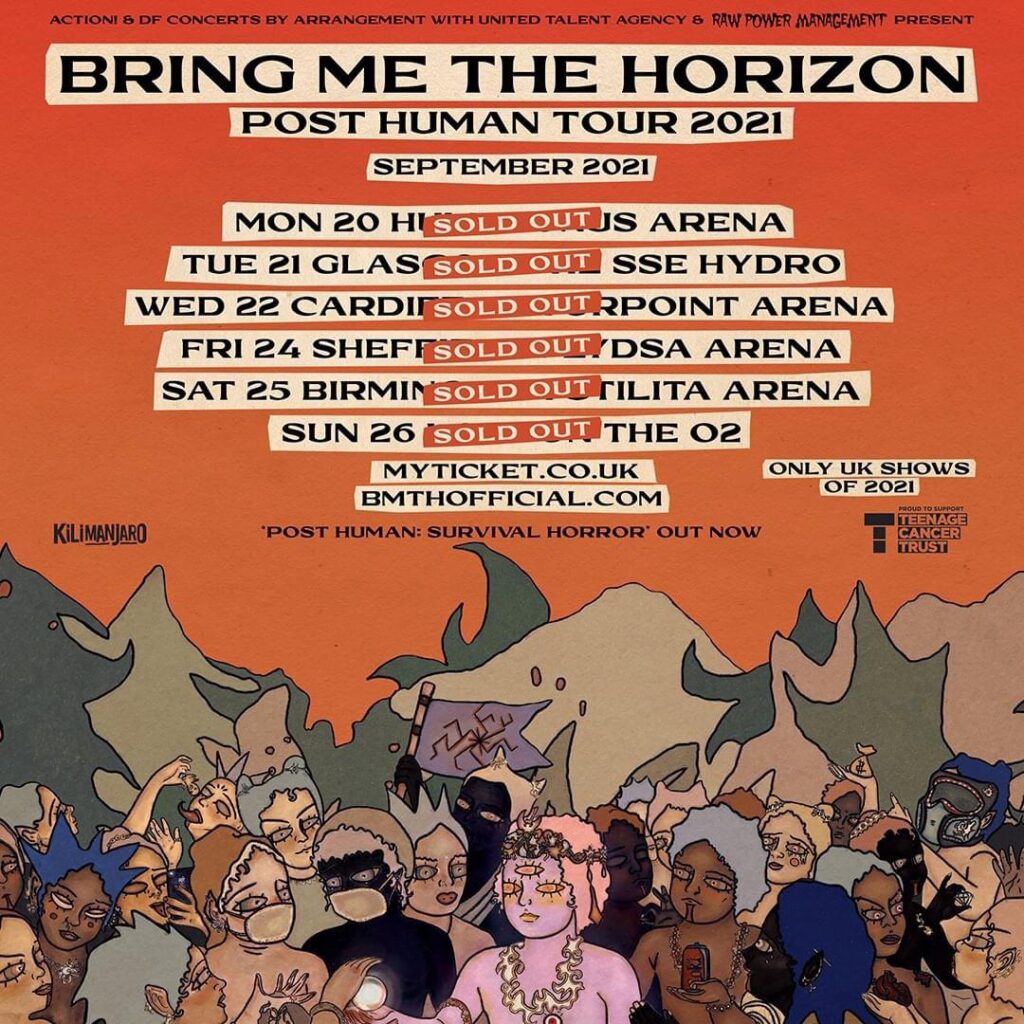 Read our review of Bring Me The Horizon live in London
Winner:
Bring Me The Horizon @ O2 Arena
The Contenders:
Creeper @ O2 Kentish Town Forum, Idlewild @ Electric Brixton, The Offspring @ Wembley Arena, Biffy Clyro @ O2 Kentish Town Forum, Vukovi @ Norwich Waterfront Studio and Royal Blood @ Norwich UEA
Previous Winners:
2020 – Frank Turner @ Nottingham Arboretum
'Discover' New Artist of the Year
Our final award is a new award for this year where we shift focus on to the future. Having launched our 'Discover' New Music Playlist and Podcast this year we wanted to honour an act that we have featured and for whom the future is bright.
With their debut album 'A Funeral For Youth' cracking our top 20 for the year, Miss Vincent take the inaugural 'Discover' New Artist of the Year award!
Winner:
Miss Vincent
The Contenders:
Planet Fatale, Dead Nature and Thumper
So, it hasn't been a usual year again, in fact at times it has been just as hard as 2020. 2021 has however reminded us of what we were missing. Stunning new music, incredible live shows and a return to some normality (nobody say 'new' normal!), make 2021 a year that will live long in the memory for many reasons.
We hope you've enjoyed our The Year in Review 2021 feature and we wish you a very Happy New Year. Here's hoping 2022 is a good one!
Remember to Follow us on Social Media