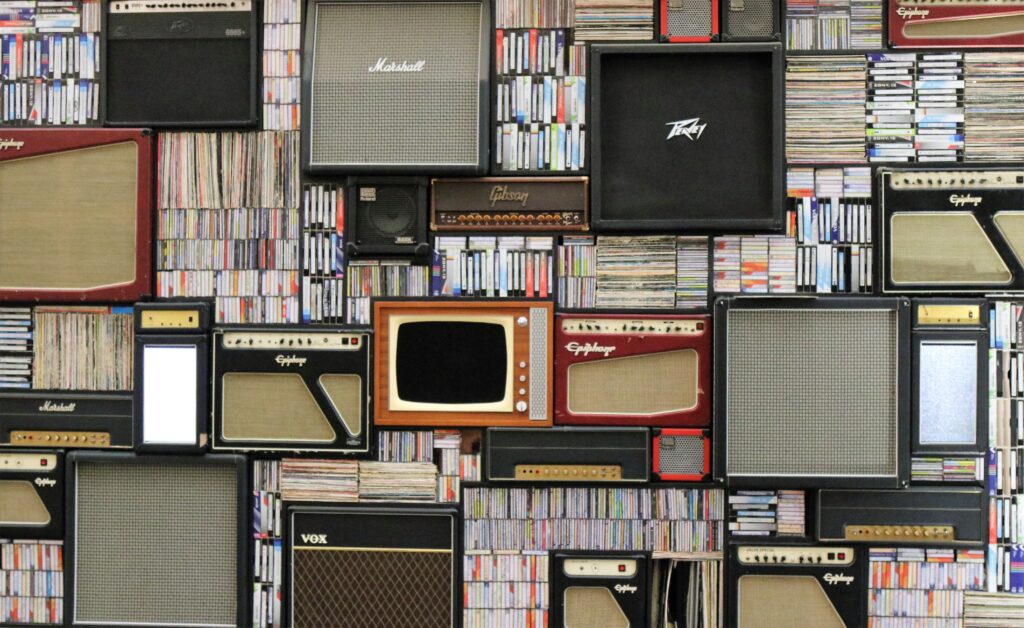 Full Pelt Music looks back on 2020 for our Year in Review
What a year to pick to review. It's been a year like no other and not for good reasons.
On a personal level as detailed within my first blog, 'The Reluctant Blogger', I was made redundant from a job I loved, just before Christmas and during a global pandemic! Not nice, but realistically I wouldn't be writing this blog on this website if that hadn't happened! The decision to return to writing about music also allowed me to take a look at the relationship between music and my mental health in 'Mental Health, Music and Me'.
For the world it has been a year of pain, struggle and despair. From the fires of Australia to the flooding of the UK early in the year and now again just before Christmas; there has been no restpite in the year of the coronavirus. Unprecedented is the word of the year, but with Brexit and the ongoing pandemic looming large, the word for next year is probably uncertain.
Everybody has struggled this year, personally and professionally. This struggle is not limited to the music industry but our industry has struggled greatly. The live side of the industry is built on bringing people together and of course that has not been possible since March. The recorded side of the industry has also struggled with delays in recording, producing and distributing.
Recovery for the grassroots of the industry is far from guaranteed. The stark and sad reality is that many musicians and hard working crew members will have needed to have sought alternative employment and the actuality here is that many will never return to the music industry. The fact is many government schemes setup to alleviate the financial pressures on individuals and businesses simply bypassed these people.
Unfortunately the pandemic has also hastened the plight of many grassroots, independent music venues.  We have sadly already lost many venues and there are still many more at imminent risk of permanent closure. We have written extensively about the issues surrounding our industry in our blog 'Why We Need To #SaveOurVenues', and we encourage you to get involved in the initiatives highlighted.
This is of course a creative and innovative industry and through struggle we evolve. Much like the loss of my own job bred this website, the loss of touring and live shows has seen the evolution of the livestream. Many musicians have embraced technology and sought new ways to engage with their audiences. We have looked at the rise of this phenomenon in our blog 'Livestreams: Good or Bad for the Music Industry'.
When looking back on 2020 in the future, the memories will fill everybody with dread. There has however been some fantastic musical highlights despite everything else. We recently revealed our Album of the Year in our '2020 Album of the Year' blog; and the Top 20 list was highly competitive.
2020 has produced some incredible music and that's where we are going to focus this end of year review. In order to celebrate the successes of a very difficult year we going to look at the following awards – Album of the Year, Single of the Year, Gig of the Year, Festival of the Year and Artist of the Year!
Album of the Year
As mentioned we recently listed our Top 20 Albums of the Year here. This was a highly competitive list as 2020 saw some truly phenomenal releases.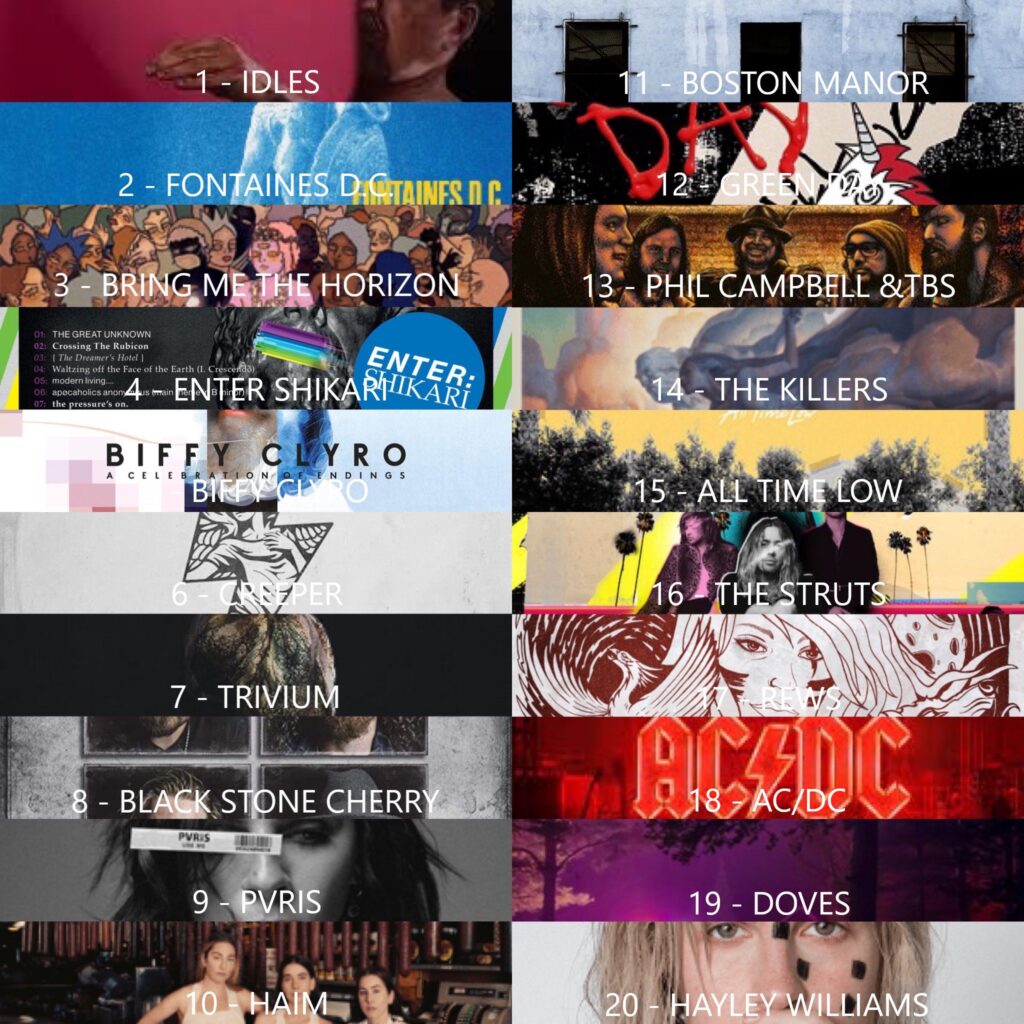 We said "It has been a crazy year, and this list has been heavily influenced by that. As mentioned the top of this list is massively impacted by new music I heard during the height of the initial lockdown. 'Ultra Mono' was an album that I was already extremely excited to hear; and the stream of songs released during Lockdown only served to raise that excitement to a fever pitch.
Thankfully IDLES didn't disappoint and when the album arrived it was a pure masterpiece. It shows a natural progression on the bands first two records and grows the bands sound. It still captures what made us all fall in love with the band but by incorporating new elements into the bands sound the album shows that IDLES are no one trick pony.
Above all other releases this year and those that feature in this list, this was the album that we needed this year. In a year where we have all been knocked down one way or another, IDLES and 'Ultra Mono' has been a call to arms, to pick ourselves up, dust ourselves down and keep going."
WINNER: 'Ultra Mono' by IDLES
The Contenders: 'A Hero's Death' by Fontaines D.C., 'Post Human: Survival Horror' by Bring Me The Horizon, 'Nothing Is True & Everything Is Possible' by Enter Shikari, 'A Celebration of Endings' by Biffy Clyro, and 'Sex, Death & the Infinite Void' by Creeper
Single of the Year
It's been a good year for both Bring Me The Horizon and Yungblud, with both releasing stunning new records. Yungblud recently hit the number one spot with 'weird!' which we reviewed here, and Bring Me The Horizon silenced their doubters with 'Post Human: Survival Horror' which we reviewed here.
It shouldn't therefore be so much of a surprise that their collaboration together is our standout single of the year. Accompanied by an over the top video, 'Obey' is a rip roaring tale of corruption and brainwashing, so perfectly fitting for 2020!
WINNER: 'Obey' by Bring Me The Horizon feat. Yungblud
The Contenders: 'Model Village' by IDLES, 'Space' by Biffy Clyro, 'Trouble's Coming' by Royal Blood, and 'Protect The Land' by System Of A Down
Gig of the Year
I was lucky enough to catch some fantastic shows early in the year, you know BC (before Covid!), and Stereophonics, Frank Carter & The Rattlesnakes, Kaiser Chiefs and Fontaines D.C. all deserve special mention.
For my Gig of the Year however I'm again looking to the Covid era.
When life has drastically changed and you've been deprived of the opportunity to do something you love, you learn to savour those moments more. For me, as somebody that in 2019 attended some 93 gigs, the loss of live music was devastating. Of course, many people have endured much worse in 2020, particularly at the height of the initial national lockdown; for me however, I was just desperate for live music.
The opportunity to watch real, live music again thankfully emerged (if only for a short time) at the end of summer. Frank Turner lives by the moto "Always on Tour", and he wasn't going to let a global pandemic get in the way. An innovative location for a socially distanced gig was Nottingham Arboretum, basically a bandstand in a park. The result was a stunning if unusual setting for a gig which came to life when night fell and Turner serenaded the sold out crowd with his biggest hits.
A great supporting cast including Tash Bird, Holly Carter and Beans On Toast helped to make this show one to remember. The musicianship on show was fantastic, as was the togetherness and gratefulness of an audience desperate to once again forget life's stresses and enjoy an evening of music. It was a powerful evening that brought tears to many an eye, and that's why it wins our Gig of the Year award.
WINNER: Frank Turner @ Nottingham Arboretum (20/09)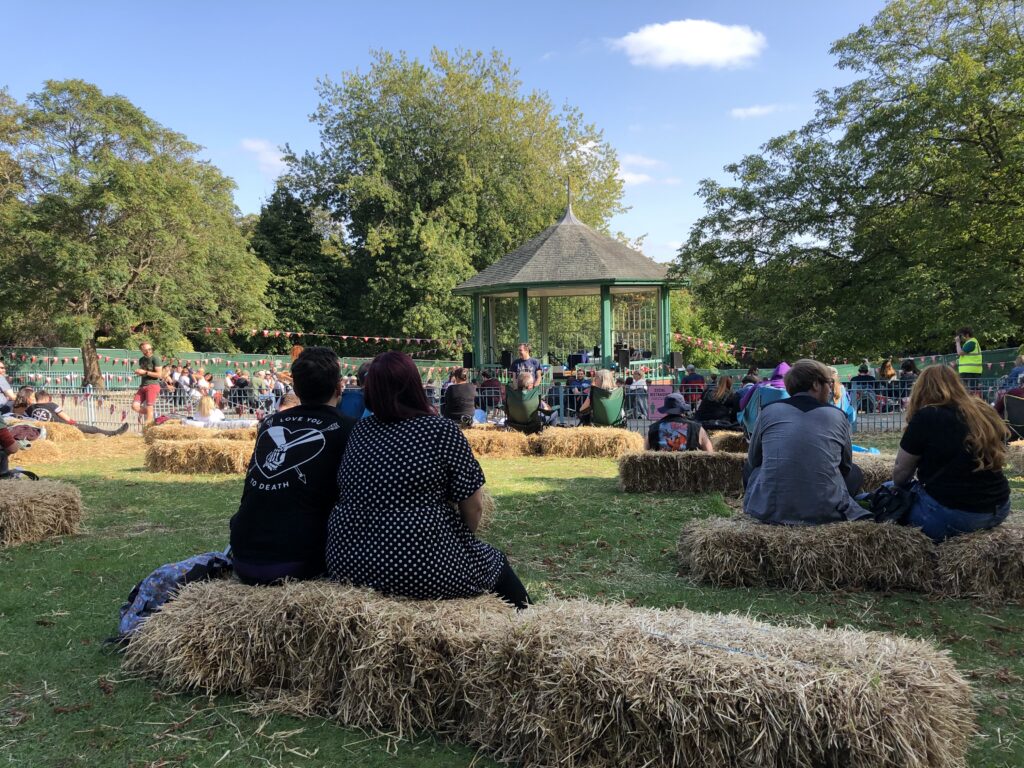 The Contenders: Stereophonics @ Kentish Town Forum (21/01), Kaiser Chiefs @ Brighton Centre (30/01), Frank Carter & The Rattlesnakes @ Alexandra Palace (15/02), and Fontaines D.C. @ Norwich UEA (24/02)
Festival of the Year
The coronavirus pandemic completely obliterated the 2020 festival season, as early optimism that some festivals would survive was eventually swallowed whole by this horrible virus. With social distancing in place, festivals just were not possible. But didn't I say that the music industry is the most creative and innovative industry? Whilst some promoters attempted to arrange socially distant shows, tours and festivals, few succeeded; with even Live Nation cancelling a huge programme of drive in shows.
I was lucky enough however to venture to two such festivals at the Norfolk Showground near Norwich. A mixture of entertainment was laid on in a specially designed arena with socially distanced 'pods' maintaining the necessary safety measures. Brickfest was a one day festival focussing on covers band with a handful of original acts like headliners Bad Touch thrown in. The day was a huge success given the circumstances, as was our 2020 Festival of the Year – Wild Fields Festival!
Wild Paths Festival debuted in Norwich last year with acts gracing venues across the fine city. This year the event embraced the outside arena and rebranded as Wild Fields Festival over two days was an eclectic line-up on offer. The first day featured great sets from many young artists including Lauran Hibberd, Indoor Pets, Another Sky and headliners Gengahr.
Even through the greatest adversity the power of the arts shines through and Wild Paths was a shining example of how to put on a safe, fun and thoroughly entertaining festival during a global pandemic.
WINNER: Wild Fields Festival
The Contenders: Brickfest
Artist of the Year
Our final award is for Artist of the Year. In a such an unprecedented and difficult year this award is going to an act that has considerably contributed to making the year better. Fantastic new music has played a hugely positive role in improving a hard year. With this in mind that means that IDLES, Biffy Clyro, Enter Shikari, Bring Me The Horizon, Fontaines D.C. and Yungblud are all in the running for this award.
Beyond that however real live music when possible has been an even greater high than normal. As such Frank Turner enters the running as an act I somehow managed to catch live this year some four times including the aforementioned Gig of the Year.
But this year is different, new albums and live shows whilst normally the lifeblood of our industry almost feel insignificant when you look at the horrors witnessed across society, both inside and outside the music industry. One saving grace for many this year has been the arrival of the music livestream. A number of those already mentioned have dabbled if not excelled in this activity.
Our winner however has taken this new outlet to heart. They have provided joy and distraction to thousands of people during what must be a record setting number of livestreams. More than that, they have managed to raise an amazing amount of money for a cause I have already championed in this blog. That cause is of course the Save Our Venues campaign and our Artist of the Year is clearly that man again, Frank Turner!
In 2020, Frank Turner has probably played more real shows and more livestreams than anybody else. He has recorded and released new music including collaborations with NOFX and Jon Snodgrass. He has produced the fantastic new Beans On Toast record. He has thoroughly entertained and provided much needed distraction from the real world to thousands; and he has raised an incredible amount of money for charity.
In reality Turner deserves a medal, but what we can give him is our Artist of the Year award!
WINNER: Frank Turner
The Contenders: IDLES, Biffy Clyro, Enter Shikari, Bring Me The Horizon, Fontaines D.C., and Yungblud
2020, a year we will all be hoping to forget very quickly, but there has been some great music released. All focus now however is on 2021 and those vaccinations. We hope that sooner rather than later we will be able to safely gather again in those venues and fields to watch our favourite artists in the flesh.
There will also likely be an avalanche of new music coming our way with artists having been isolated with their creatively for company. Let's just hope that not every song is about lockdown!