Thursday 14th January 2021
Livestream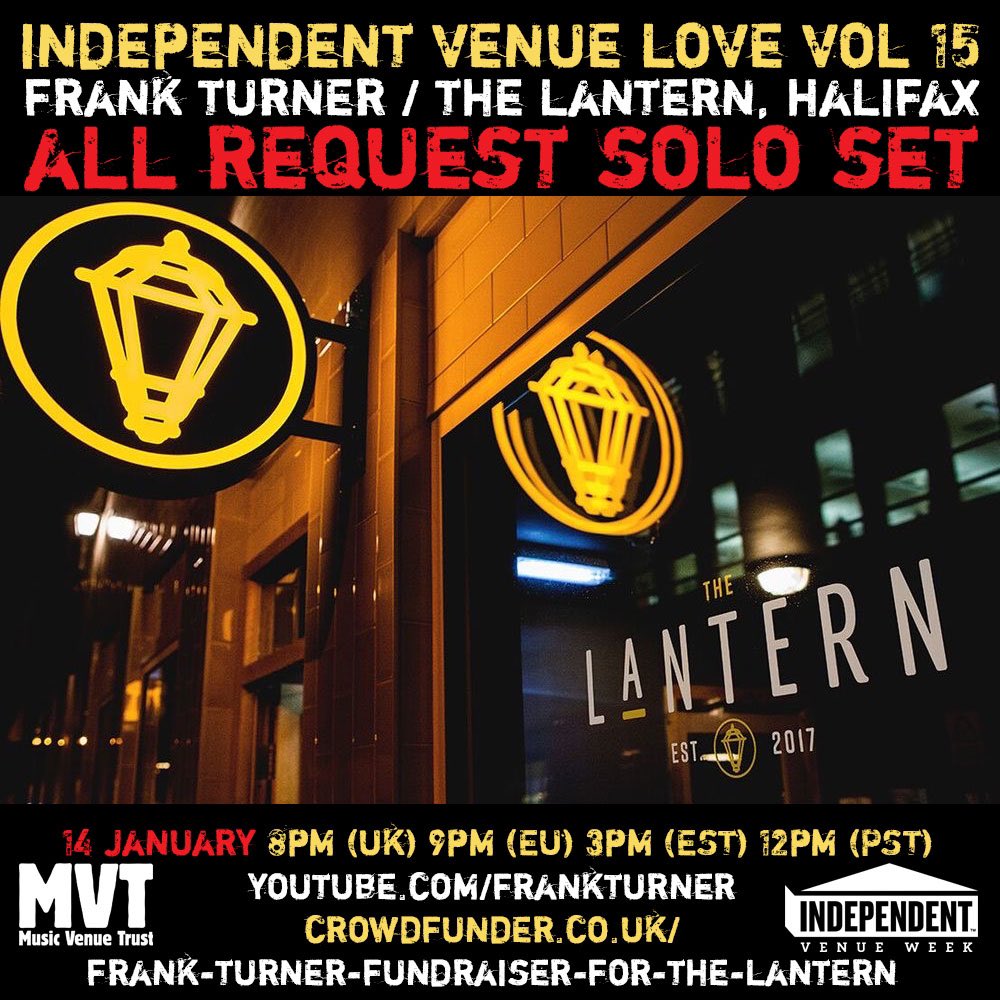 Follow us on our social channels to see new content first!
Frank Turner – Live Review
Throughout the first national lockdown musicians were forced to find creative and innovative new ways to connect with their fans. This unique time saw the popularity of the music livestream rise as exponentially as the cases of the horrible virus that created the situation.
read our blog on the impact of livestreams on the music industry
The pandemic has caused us all to feel many negative emotions such as fear, worry, grief and sadness. For music fans, it has robbed us of a vital outlet which impacts greatly on our mental health. I recently discussed the immense impact of music on my mental health in my blog post 'Mental Health, Music and Me'.
For musicians and everybody that works within the music industry it has caused significant crisis. Our beloved grassroots music venues are at risk. Musicians and live events workers employment has vanished overnight. Plus a light has been shone on the unfair recompense for artists from streaming.
read our blog on the #BrokenRecord Campaign
In amongst the darkness however there has been the odd glimmer of light. One man that has taken the power of livestreaming to heart is Frank Turner. Not only that but he has used this platform to raise awareness and valuable funding for those struggling venues, becoming a champion of the #SaveOurVenues campaign.
read our blog on the #SaveOurVenues Campaign
Turner's Thursday night livestreams dubbed 'Independent Venue Love' have been a huge success. They have provided Turner with a connection to his fans. They have provided those fans with a vital distraction to raise their spirits. Whilst importantly they have raised the aforementioned funds. The success of these livestreams was one of the reasons we gave Turner the 'Artist of the Year' award in our review of 2020.
Now as we enter what has been dubbed Lockdown 3, Frank Turner has picked up his guitar once more ready to serenade his adoring fans. Turner will also again raise some much needed money and awareness for struggling venues. Tonight that venue is The Lantern in Halifax and the crowdfunder is here.
During his initial wave of livestreams, Turner focused on albums, or periods of his career to structure the events. This time around however, having exhausted his back catalogue, in order, last time around, Turner is handing the setlist over to his fans.
This 'All Request' format works extremely well with Turner's wife Jess Guise behind the keyboard, monitoring requests and feeding them to Turner. It must be said that Turner's ability to remember how to perform obscure songs from his catalogue at the drop of the hat is very impressive ('English Curse' aside ? )!
Turner has always been an artist that can turn the largest room into the smallest space, so the ability to watch him from your own living room certainly brings a new meaning to an intimate venue.
Whilst some of the livestream events that have taken place during these troubled time have felt somewhat soulless affairs akin to watching a soundcheck video on Youtube, the same certainly cannot be said of Turner's livestreams. Tonight he once again somehow manages to captive and enthral us from his own house. This is a quality that cannot be taught and is an assertion of Turner's talents as both a musical showman and a human being.
The requested setlist tonight is a mixture of the usual suspects with 'If Ever I Stray', 'Be More Kind' and 'Get Better' intertwined with rarer numbers such as 'Romantic Fatigue', 'Cleopatra In Brooklyn' and 'Rivers'. These events certainly provide Turner fans with the opportunity to hear some tracks that wouldn't normally get a look in at a regular gig.
The highlight of the evening however comes around the midway point of the 90 minute show when Turner delivers two new tracks. With a new album on the horizon fans will be eager to hear what new music is on offer. Tonight Turner whets the appetite with two excellent tracks, the sombre tribute to Scott Hutchison 'A Wave Across the Bay', and the punchy 'Punches'.
With the tease of more Thursday night streams to look forward to, Frank Turner continues to provide a vital public service not just to his fans in need of entertainment but music venues in desperate need of help.
share this article on social media