Roundhouse, Camden
Thursday 16th – Sunday 19th September 2021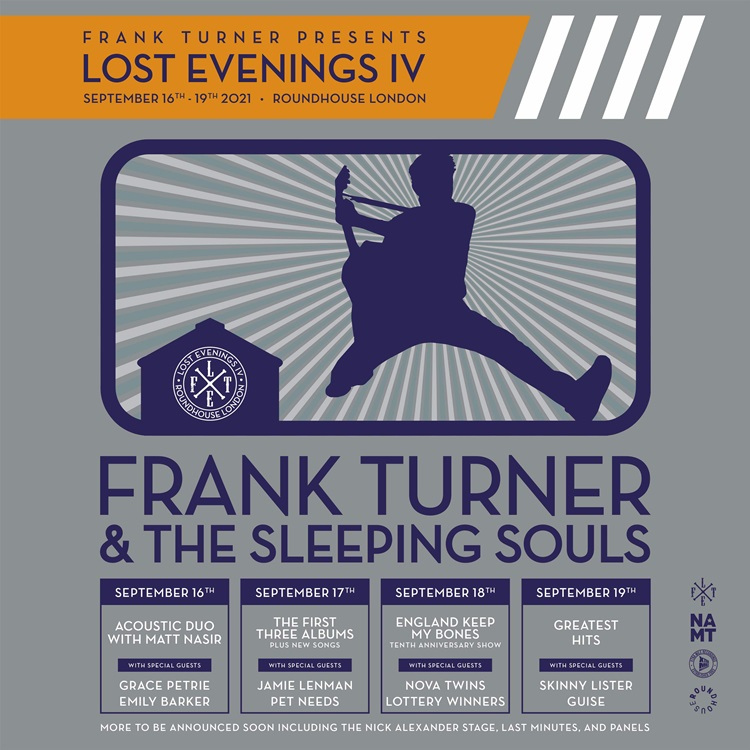 Follow us on Social Media
LOST EVENINGS – ROUNDHOUSE, CAMDEN – LIVE REVIEW
Few musicians command such a passionate and dedicated fanbase as Frank Turner does. Since 2017, he has held an annual pilgrimage known as Lost Evenings. 4 days of activities based on the man himself punctuated by 4 headline sets each offering something different.
Last years event in Berlin was cancelled for obvious reasons and with the world not out of the woods yet Turner has chosen to return to the spiritual home of the event, Camden.
Whilst the main event takes place at the legendary Roundhouse, the festival takes over most of Camden. There are multiple stages of music, pop up gigs, panels, tattoos and much more.
THURSDAY
So let's start unpacking the events of Lost Evenings 4! The event commenced on Thursday for the solo show of the weekend. No Sleeping Souls (well, just one – Matt Nasir on mandolin), as Turner explores some of the hidden gems of his back catalogue.
There are two fantastic support slots on the main stage from Emily Barker and Grace Petrie. Two incredible musicians who both manage to grab the audience with both hands, each joining the other during their sets as they encapsulate the spirit of the event.
Throughout the weekend Beans on Toast acts as master of ceremonies introducing each act. Next he welcomes Turner for the first of four occasions!
Turner and Nasir proceed to serenade the partisan audience who relish the opportunity to hear a few lesser played numbers. Turner states that he will endeavour to repeat only a few songs over the weekend.

Thursday highlights include new single 'Haven't Been Doing So Well', the emotional 'A Wave Across A Bay', rarer numbers 'Losing Days', 'Substitute', 'Tattoos', 'Josephine' and special sing-a-long cover 'Somebody To Love' with Turner joined by Petrie and Barker. All in all a great way to start the festival.
FRIDAY
Friday sees Turner joined by his band The Sleeping Souls for a set billed as "the first three albums plus new songs".
As far as support goes we start with the new – PET NEEDS. The young band from Colchester showcase tracks from their brilliant debut album including 'Toothpaste', 'Pavlovian' and 'Tracey Emin's Bed', which receive big reactions from the crowd.
Read our review of 'Fractured Party Music' from PET NEEDS
Next up it's something old with longtime Turner contemporary Jamie Lenman joining the party. Given the theme of the evening you'd assume those in attendance would be aware of Turners hardcore past, but there are more than a few deer in headlights reactions to Lenman's hard and heavy outing. It is however an excellent performance that ensures any first night hangovers are blown away.
It's then Turner time again and tonight we get a carefully curated set of early favourites. Fans again get some rarer tracks from the vault including 'Live Fast Die Old', 'Once We Were Anarchists', 'Back In The Day', 'This Town Ain't Big Enough for the One of Me', 'To Take You Home', 'Nashville Tennessee', 'Imperfect Tense' and 'Sons of Liberty'.
There is also a special section where fans get to hear three new songs from upcoming album 'FTHC' in the shape of 'Non Serviam', 'Punches' and 'Haven't Been Doing So Well' again.
Listen to 'Haven't Been Doing So Well' on our Spotify Hot List!
The night is rounded off by 'I Knew Prufrock Before He Got Famous', 'Father's Day', 'St. Christopher Is Coming Home' and 'Photosynthesis' sending the crowd home happy.
SATURDAY
Saturday now and we first head to the Lock Tavern for an Xtra Mile Recordings takeover with special acoustic sets from PET NEEDS, BERRIES and Johnny Lloyd.
Both BERRIES and PET NEEDS play delightful sets to a packed room which go down very well. Sadly it is then announced that Johnny Lloyd is unable to make it. Thankfully master of ceremonies Beans On Toast is on hand to play an impromptu set.
As expected Beans On Toast has the audience in the palm of his hand as he regales them with tales and songs relating to Camden. A lovely afternoon that represents all that is great about Lost Evenings.
It's very quickly time to head to the Roundhouse for round number three, which on Saturday sees Turner play his seminal album 'England Keep My Bones' in full.
Watch Frank Turner on Episode 1 of the Full Pelt Music Podcast!
Before we get there we have two more fantastic support acts. First up this evening is the highly entertaining The Lottery Winners. With their catchy songs and endearing onstage banter, the group are a delightful opening act.
Next the incredible Nova Twins take to the stage and initially elicit somewhat of the same response as Lenman the day before. However by the end of their set they have captured the imagination of the whole crowd. Nova Twins future is bright and on the evidence of tonight it shouldn't be long before they are headlining venues this size.
The next may well be the most hotly anticipated performance of the entire weekend. The main man playing, in full, an album that catapulted his career and won a legion of fans. Those in attendance know that this will be special…
..And special it is! Not just said album in full but all accompanying b-sides and associated tracks. From the moment Turner takes to the stage and opens with 'Sailors Boots' the energy in the room of immense. This is only amplified when playing the likes of 'I Am Disappeared', 'One Foot Before the Other', 'Peggy Sang The Blues', 'Redemption' and 'I Still Believe'.
Joined at times by string and horn sections the finale sees everything come together with 'Eulogy', 'If Ever I Stray' and 'Glory Hallelujah' delivering a memorable and worthy finale to the evening.
SUNDAY
The final day of the festival is billed as the greatest hits day. Turner who has kept to his promise to limit repeats, has held back some of his most loved songs. But first, Guise! Fronted by Jess Guise, the band do a great job warming up the crowd. They may be on home turf with Guise married to Turner, but it's their music that earns the fans adoration come the end of their set.
Our last support act of the weekend is another band Turner fans are familiar with. Skinny Lister are possibly the perfect band to raise any tired spirits after a busy weekend. They bring the party, get the crowd moving and ensure the stage is set for Turner to close out the event in style
Read our review of Frank Turner live at Coda, Colchester
Tonight's mission statement is clear from Turner – send the fans home happy. 'Get Better', '1933' and 'Little Changes' kick off a set full of fan favourites.
In a well structured set list Turner includes some lesser played favourites such as 'Thatcher Fucked The Kids' and 'Glorious You'. From start to finish he has the audience in the palm of his hand.
The encore of 'The Ballad of Me and My Friends', 'Photosynthesis', 'Recovery' and 'Four Simple Words' provides just the ending required to what has been another incredible weekend.
As we said at the start, not many artists could create and sell out a weekend like Lost Evenings, but Turner has built something very special and Lost Evenings 5 is surely in the pipeline already!
Share this review on Social Media
Read our feature on the 'Independent Venue Love' series from Frank Turner